Just when I thought that I had covered all of the 6″ and larger Marvel Legends action figures that Hasbro had on display at New York Toy Fair 2016, I remembered that I hadn't given my impressions of the new 12″ Marvel Legends on display at the event. Not only did I get to see Iron Man and Captain America in person, but a Marvel Legends 12″ Spider-Man figure was announced and leaped into the showroom for photos…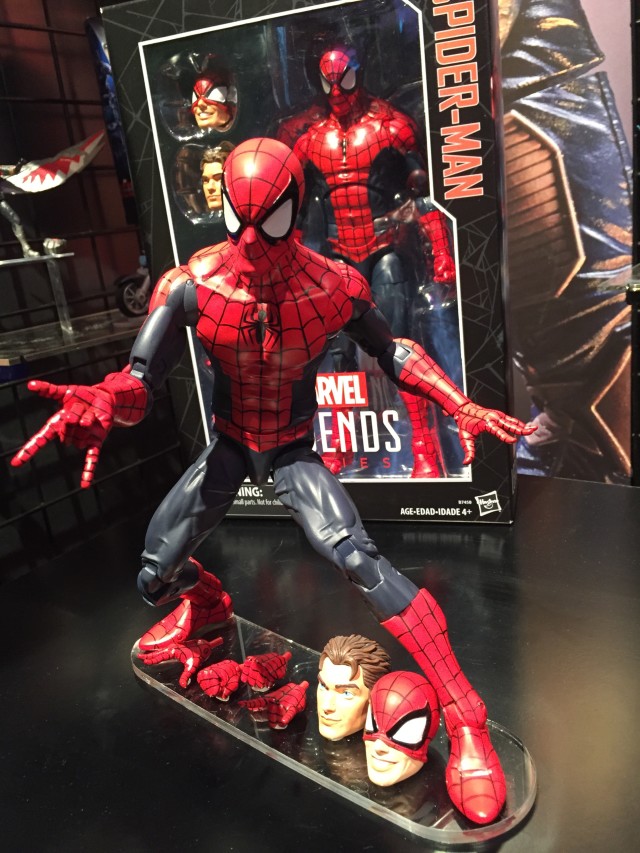 When Hasbro announced their new sixth scale Captain America and Iron Man figures prior to the start of the 2016 Toy Fair, I figured that was all they had planned for the first wave of the series.
But while two is a nice number to start a new line with, three is 50% nicer, right? And so, during the Hasbro Brand Entertainment Presentation at the show, the Hasbro Marvel Legends sixth scale Spider-Man swung into the line (and our hearts)!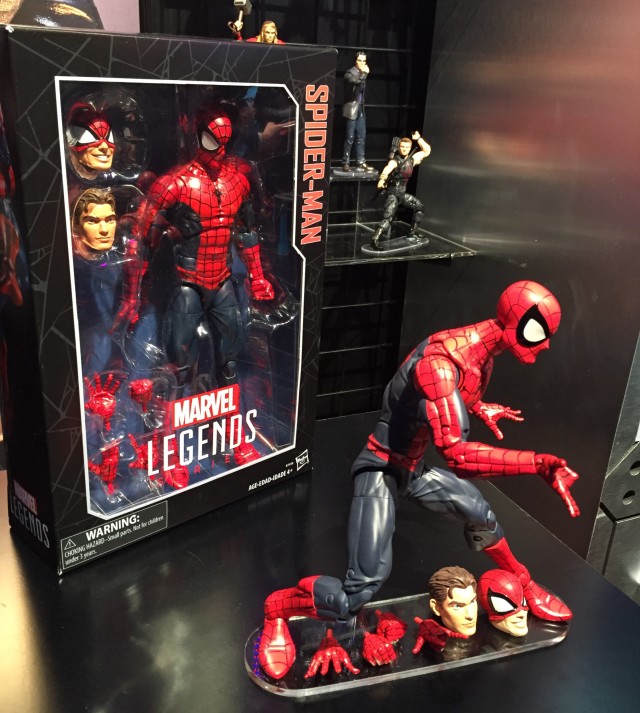 Basically, this ML Spider-Man 12″ figure is everything you would want from a comics-based 1/6 Spider-Man. The sculpting, proportions, articulation and accessories are all superb. I've never been fully satisfied with the Hot Toys Spider-Man figures available, so I'm much more excited about adding this guy to my collection than Cap or Iron Man.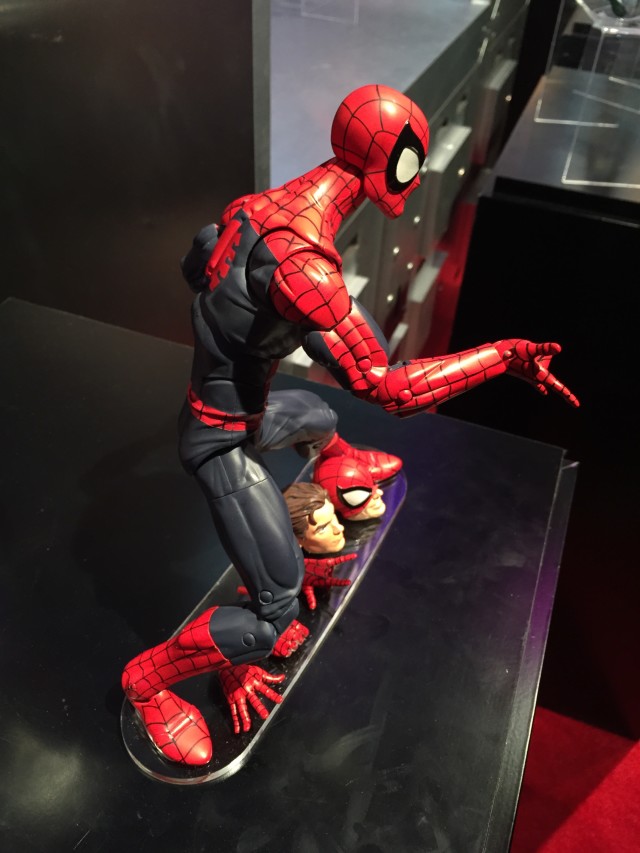 Like his wave mates, Spider-Man will feature 30+ points of articulation and come with a variety of worthwhile accessories.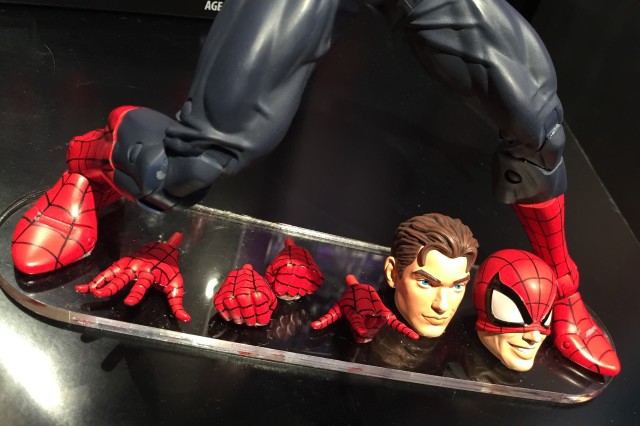 And by worthwhile, I mean things like "three pairs of interchangeable hands", "an alternate Peter Parker head" and a "half-pulled up Spider-Man mask head". I really, really dig the unmasked Peter Parker head–I think this may be the best comics-based Peter Parker head that we've ever seen! All we need is a slice of pizza and this guy would be just about perfect!
In addition to Spidey, the freshly-announced Marvel Legends 12″ Captain America and Iron Man were also on display at show.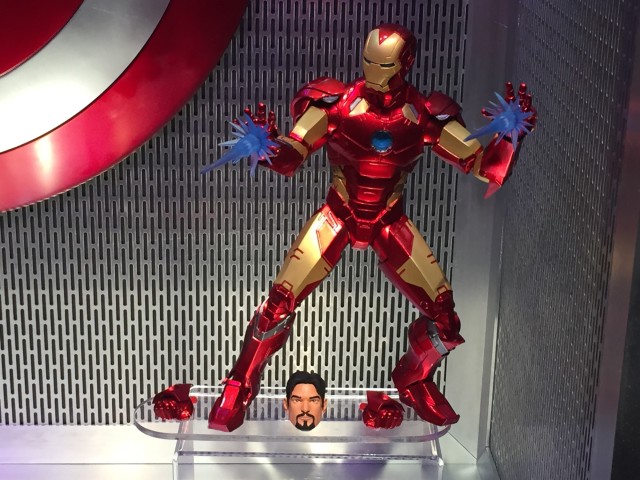 Iron Man looks polished and shiny, just as he should, but I own a mind-boggling number of 12 inch Iron Man figures already, so he was of the least interest to me. I liked the interchangeable hands and effects pieces that he comes with, but I'm unconvinced by the Tony Stark alternate head.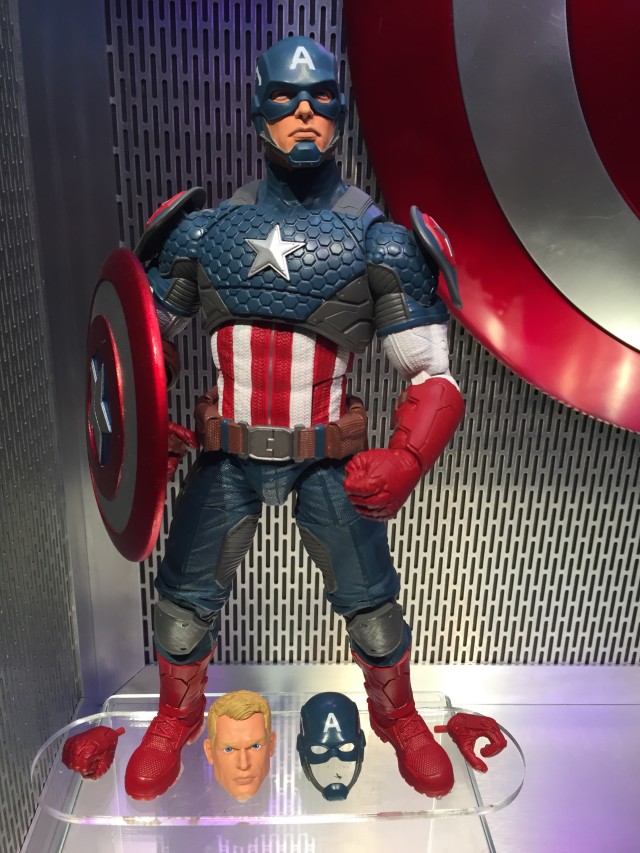 Cap's costume is inspired by his "Marvel NOW!" look, although it isn't completely authentic to that design. Even so, the intricate sculpting detail on Cap's costume and armor is phenomenal. I think that when collectors complaining about the price on these see them in person, they'll really be won over.
Cap's alternate Steve Rogers head was also on display, which looks okay, though still a bit too much like G.I. Joe's Duke for my tastes.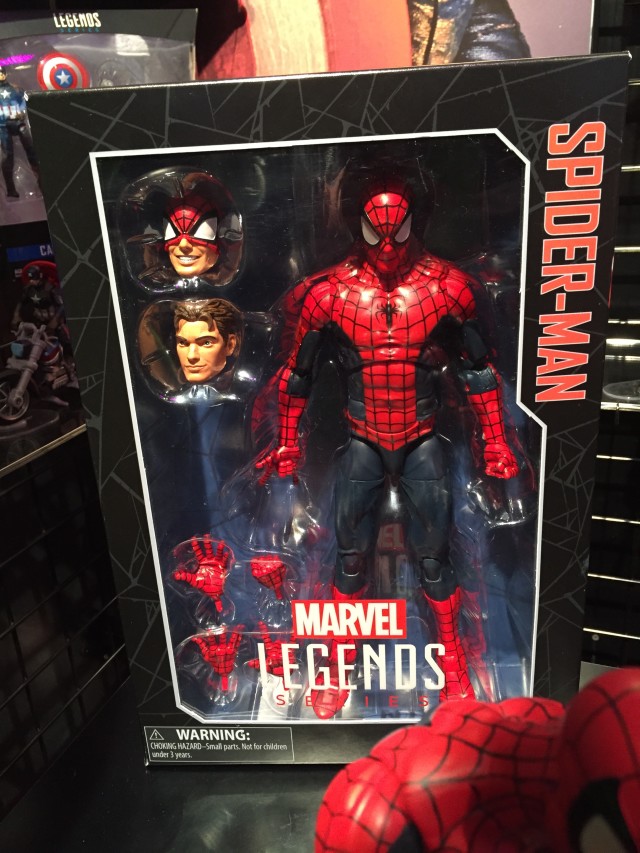 The 12 Inch Marvel Legends figures are scheduled to go up for order within a few weeks, and are due out in stores by summer 2016. The $49.99 MSRP on these is a bit pricy by Hasbro standards, but I'm definitely going to try out the Spider-Man and Captain America figures once they're released to see if this comics-based line is for me.
Which of the first three Marvel Legends 2016 sixth scale figures is your favorite? Are you willing to give the line a try, or at fifty bucks a pop are you passing on the biggest Marvel Legends scale ever?