For a long time, I legitimately thought I was the only adult collector out there keeping tabs on the Hasbro Marvel Titan Hero figure line. But I learned last year that there's actually a thriving fandom for the line, so while I was at the Hasbro showroom at New York Toy Fair 2016, I made sure to take some hi-res photos of Hasbro's multi-tiered display of all this year's 12″ Titan Hero figures–including Crossbones and more!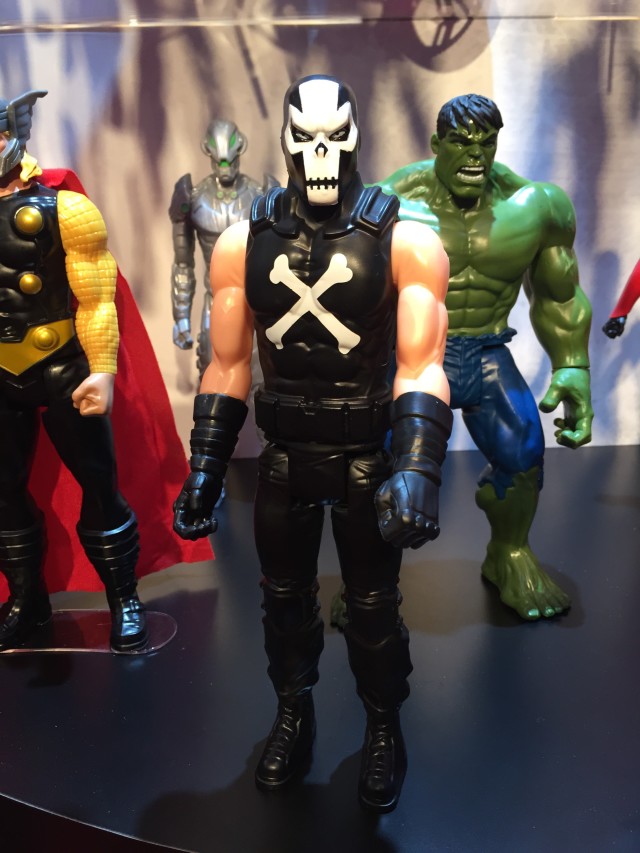 The first thing that caught my eye when I walked into the 2016 Toy Fair Hasbro Marvel booth wasn't Marvel Legends (there was already a mob of press obscuring those)–it was a
huge
 three-tier display of Marvel Titan Hero 12″ figures!
Most of the figures are ones that we've seen before (though not all have shown up yet in the United States), but I didn't want to risk missing anything, so I went ahead and took hi-res photos of them all!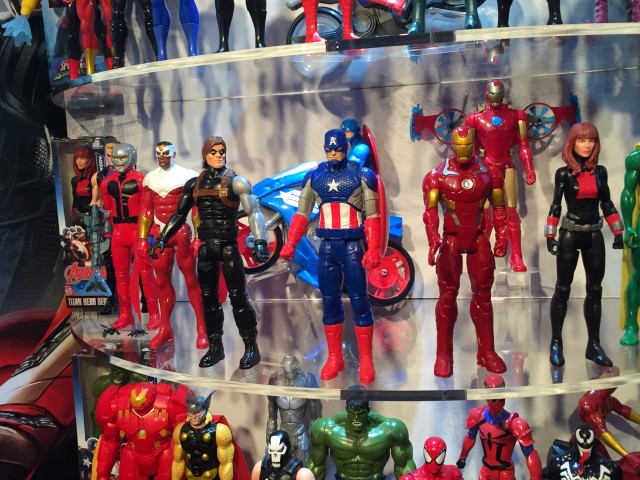 The one figure that I am reasonably confident I've never seen photographed or mentioned online before is the new Titan Hero Crossbones figure, who was front and center in the display.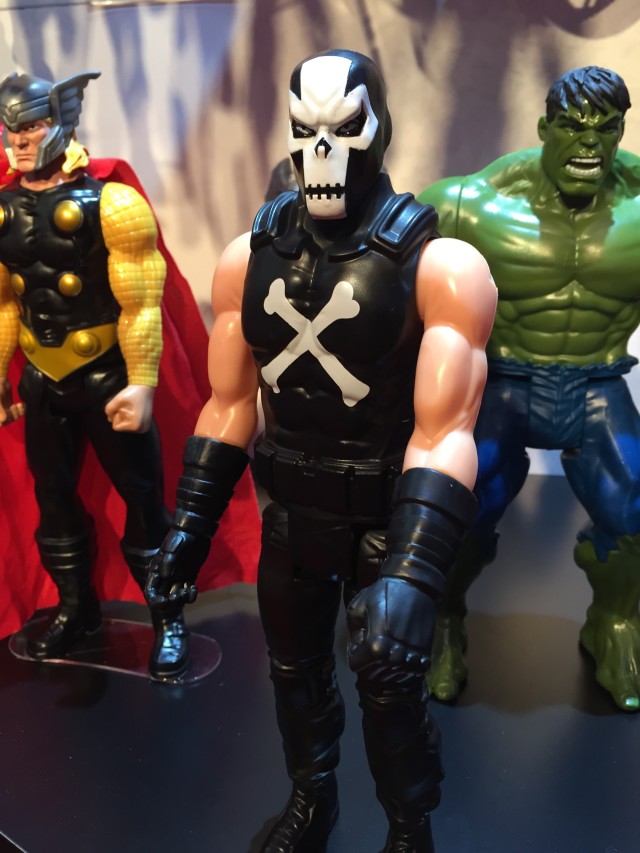 I wish that Crossbones looked a wee bit bulkier, but the paint deco on the figure–particularly his mask–does look pretty good.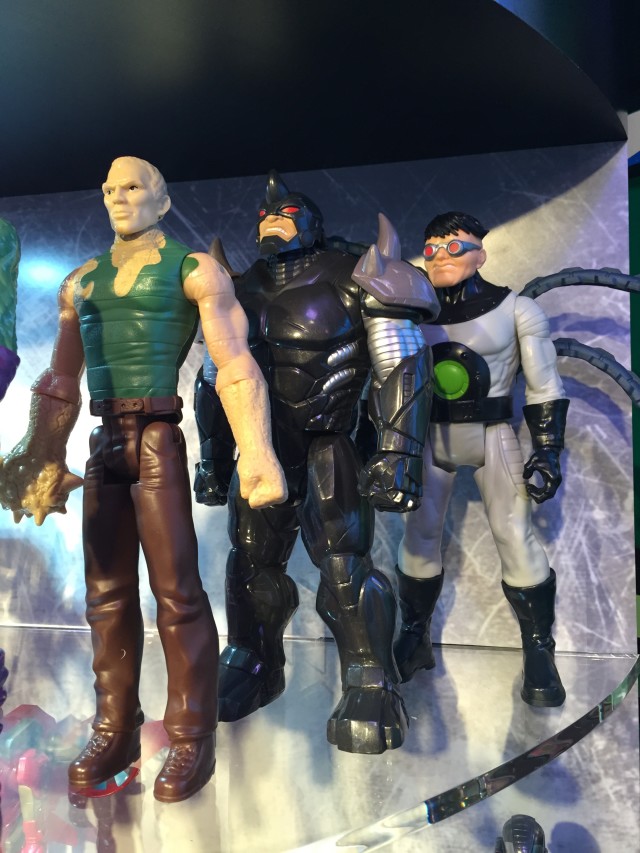 The other figures that I hadn't seen before which were on display–but that I had heard of the existence of–were Titan Hero Doc Ock, Rhino and Spider-Knight. I know that Sandman was released a few months ago internationally and has now started to pop up in the United States, but I haven't seen or heard any domestic reports of Rhino or Doctor Octopus showing up in stores just yet.
For a $10 Titan Hero figure, the Rhino looks surprisingly great! Has anyone spotted Rhino at retail yet?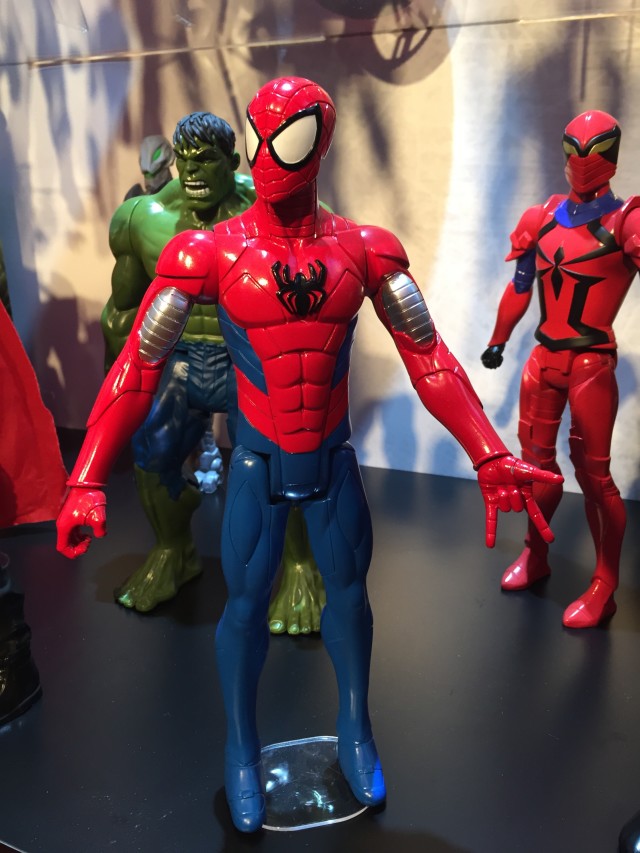 There was also a weird Spider-Man on display that apparently has some "metal" bits. I'm not sure precisely what iteration of Spidey this is meant to be, honestly, but it's always nice to get new versions of Spider-Man himself.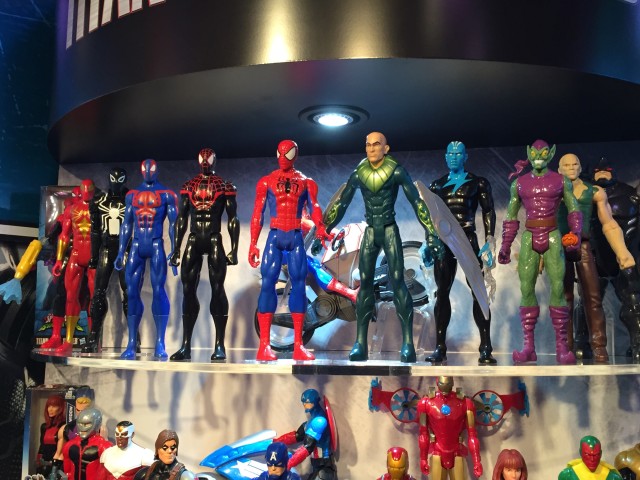 The rest of the Spider-Man 12″ figure series was also on display, though most of the figures shown have been available for at least a year now.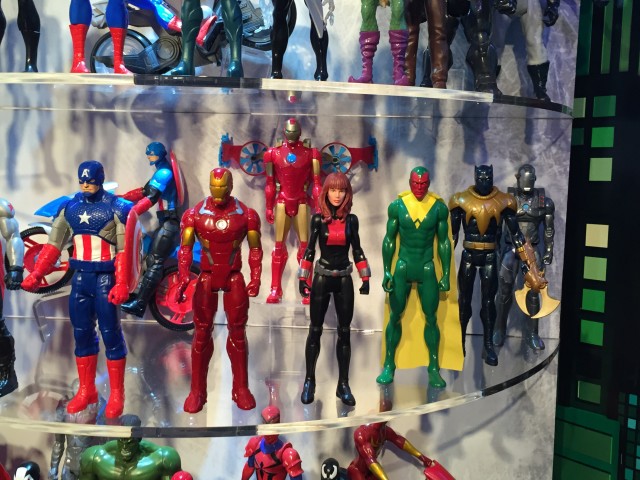 All of this year's previously-announced Titan Hero figures were also on display in the Hasbro showroom, including the hyped Black Widow, as well as Black Panther, Winter Soldier, Ant-Man and more.
There were no placards or presentations giving further information on the 2016 12″ Marvel Titan Heroes action figures at the Toy Fair, but this tends to be a pretty simple line to track down and collect in retail stores.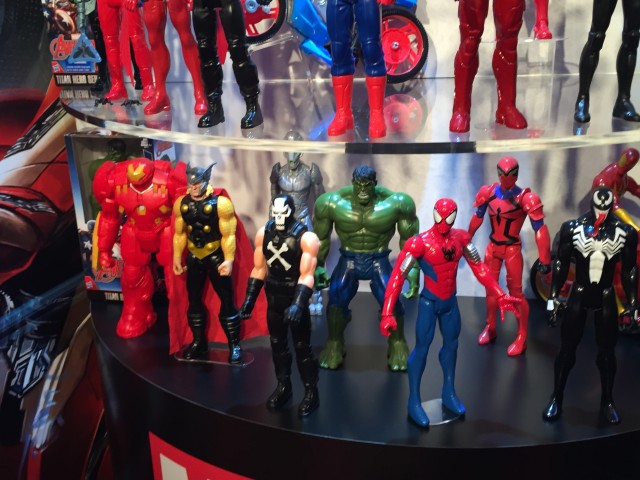 I'll post an update when Crossbones is spotted for the first time in retail stores, so stay tuned to this site and the Marvel Toy News Twitter and Facebook Page for future updates. If anyone has any questions on what was shown at Toy Fair, go ahead and leave a comment and let me know and I'll do my best to answer, but there was very little actual information on the line at the event.
What do you think of this year's range of Titan Heroes toys, Marvel collectors? Are you impressed with the expanding breadth of the lineup, or were you hoping to see more new characters debut at New York Toy Fair 2016?