Thor, thou hast finally hit the big time with thine own LEGO set! For the first time ever, The LEGO Group (TLG) is releasing movie sets to coincide with the release of a Thor movie–this fall's "Thor Ragnarok" movie! The builds themselves don't look that grandiose, but that's not what people really buy LEGO Marvel sets for. Get ready for the first-ever minifigures of Gladiator Hulk, Thor with a helmet, and even Hela!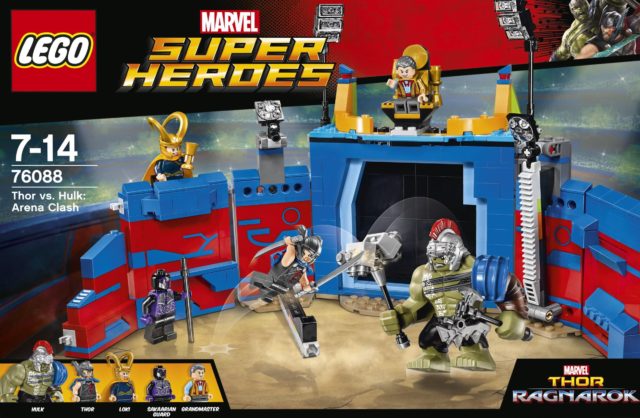 Since we weren't allowed to see the Thor Ragnarok sets at all at the 2017 New York Toy Fair in February–
much
less photograph them–I figured we were probably still
far
away from seeing images of the two sets being released for the movie.
But to my surprise, the sets must have been farther along than we thought, because images hit the Internet yesterday and have spread across many of the "reputable" brick sites without being pulled. And  so, unless we're told otherwise, I'm gonna leave these photos up on the site and talk about them now.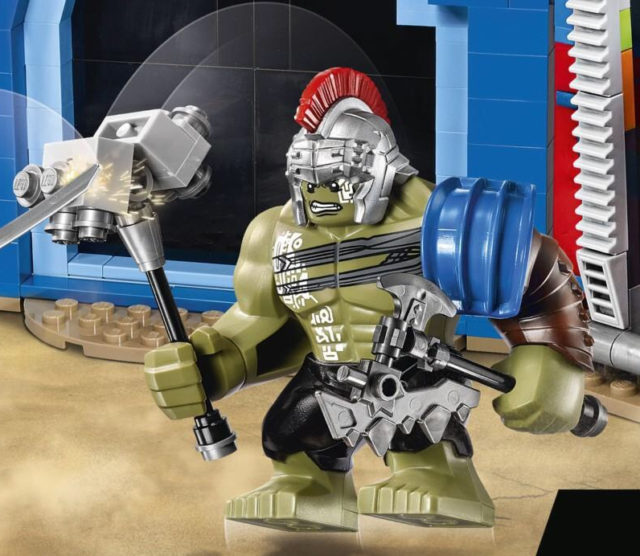 First, we've got 76088 LEGO Thor vs. Hulk Arena Clash. This is one of those builds where you kind of have to create the majority of the play set in your mind–because all that's here is a red and blue wall with an opening gate and sticker decals. For $59.99, it is not exactly the most inspiring model I've ever seen.

…But–! I think this is one set where the minifigures absolutely pick up a lot of slack for the play set build portion. There's a LEGO Gladiator Hulk BigFig Figure that looks awesome, as well as minifigures of the Grandmaster, Loki, Thor and a Sakaarian Guard (I don't like that Guard's chances).
I still don't know if I'm willing to drop 60 bucks on this set, but during a sale…? Yeah–gotta have that Gladiator Hulk LEGO.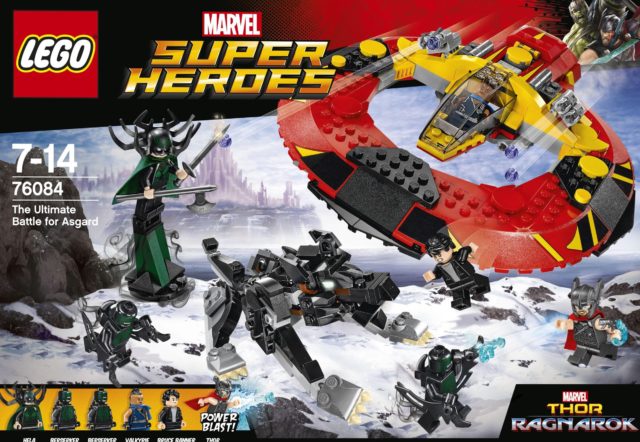 Meanwhile, 76084 The Ultimate Battle for Asgard features a really cool Asgardian spaceship (which is round like a UFO–neat!), and will retail for $49.99. The actual build of the spaceship is pretty bland, but I love the round ship in theory. However, there's one more build with this set–a giant wolf! Is this a LEGO Fenris Wolf? I'm not sure, but I dig it either way.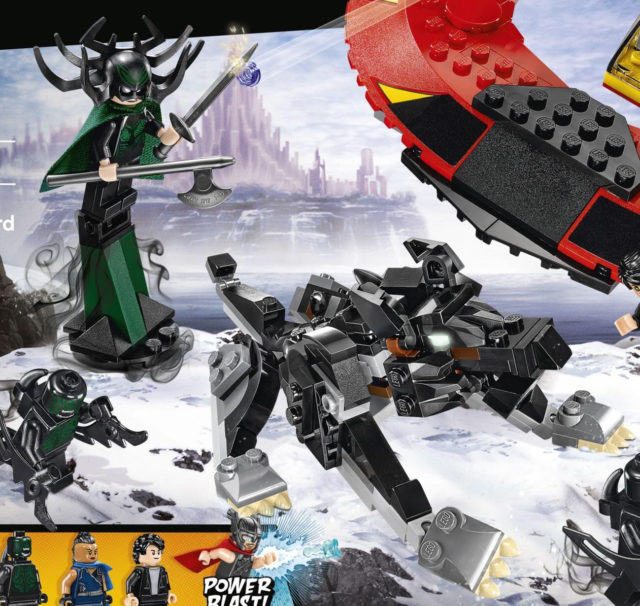 Along with the spaceship and potential Fenris wolf, the set also includes six minifigures: another Thor with helmet (in his more recognizable costume), Bruce Banner, an exclusive Valkyrie, an exclusive Hela, and two Berserkers.
I'm a total mark for Hela merch (and seriously, who ever thought there would be a LEGO Hela minifigure?!), so I will be snagging this set as well… once I see it for a sale price somewhere.This is another set that I think is cute, but doesn't strike me as being $50 cute.

What do you think of the two Thor Ragnarok LEGO sets coming our way this summer, Marvel collectors? Is there anything in either of these sets that you consider to be a must-have, and if so, are you planning to pick up these sets straight-away or are you planning to wait for a sale?