I was going to call it a day for my series of Doctor Strange Marvel Legends figure reviews, but I've had quite a few people ask for a review of a figure I hadn't expected to get requests for, so here goes one more! One of Hasbro's surprise hits for me last year was the Marvel Now Doctor Strange figure, who was pretty great except for his lack of a cape. This year, that figure is more or less back with a new cape–and shipping this week for online orders! Is it worth buying another Marvel Legends Doctor Strange to get it?
The Right:
When rumors began swirling like mystical energies that there was a comics-based Dr. Strange figure scheduled for the Marvel Legends Doctor Strange series, most collectors naturally assumed that it was to be a classic Doctor Strange Marvel Legends 6″ figure to complement last year's Marvel NOW version.
But nope–it looks like fans of the classic look will have to be patient somewhat longer, as the modern Marvel NOW! costume is back again. What's been upgraded this time, and does it make it worth purchasing another figure of the Sorcerer Supreme?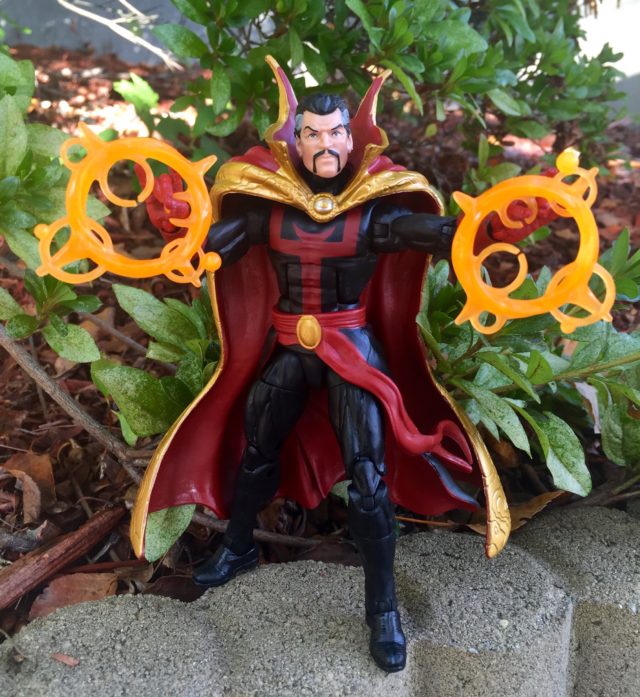 Believe it or not, while it's certainly quite similar, this is not just last year's Hulkbuster Series Doctor Strange 6″ figure with a new cape. No, really! Instead, it's that figure extensively repainted and with a couple of new molds.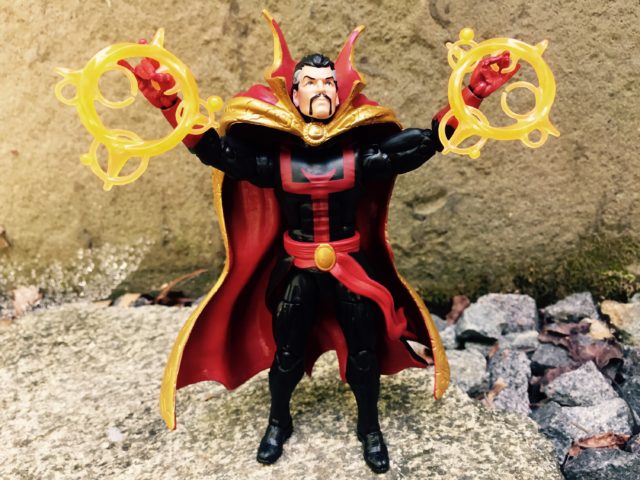 Last year's version's costume was painted a dark blackish-blue color with maroon as the secondary color, while this year's iteration's costume is pure black with a vivid red complementing the darkness. The changes sound minor, but they really change the look of this figure so it doesn't feel like just a repack.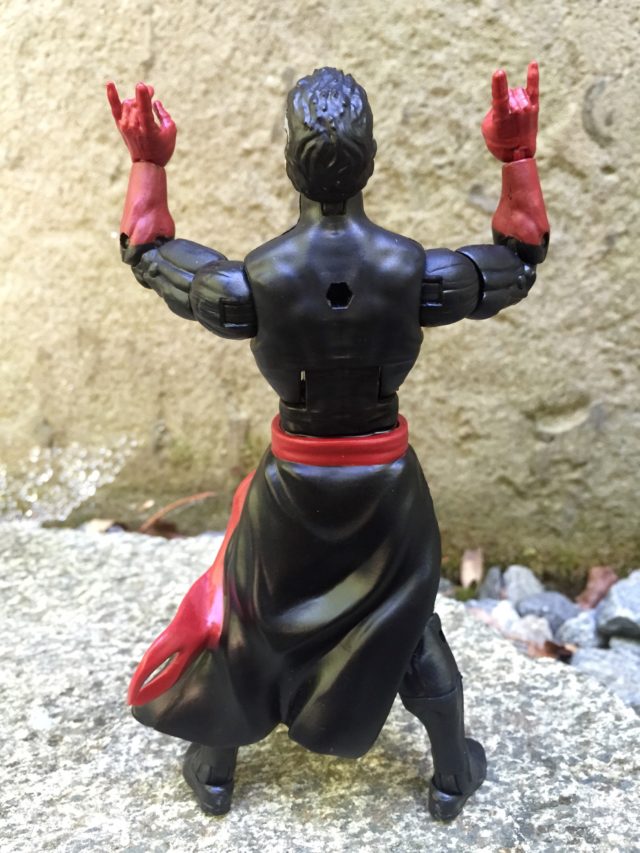 In addition, while I liked the pointy gloves on the 2015 Marvel Legends Dr. Strange figure, there was one problem with them–they weren't accurate. Hasbro amends that with this release, which now has an authentic smooth transition from the gloves to the rest of the arms (as this time the gloves are just painted on).
The gloves from last year were more fun to look at, but I guess I can't complain about increasing a figure's accuracy!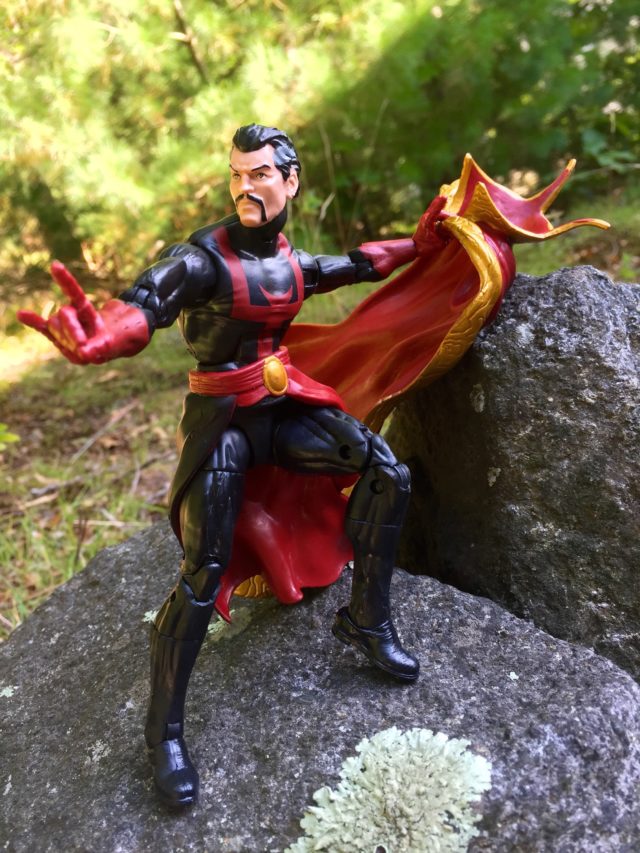 But the big addition to this action figure that's going to make it worth getting again for many collectors is the cape. For a time Stephen Strange was no longer the Sorcerer Supreme in the comic books (Brother Voodoo–who I coincidentally reviewed over the weekend–was), and thus no longer had the Cloak of Levitation and the Eye of Agamotto. As a result, last year's Hulkbuster wave figure came with neither.
But, as anyone familiar with comic books knew was an inevitability, Stephen quickly became Sorcerer Supreme again, and this figure is based upon his appearance when he did.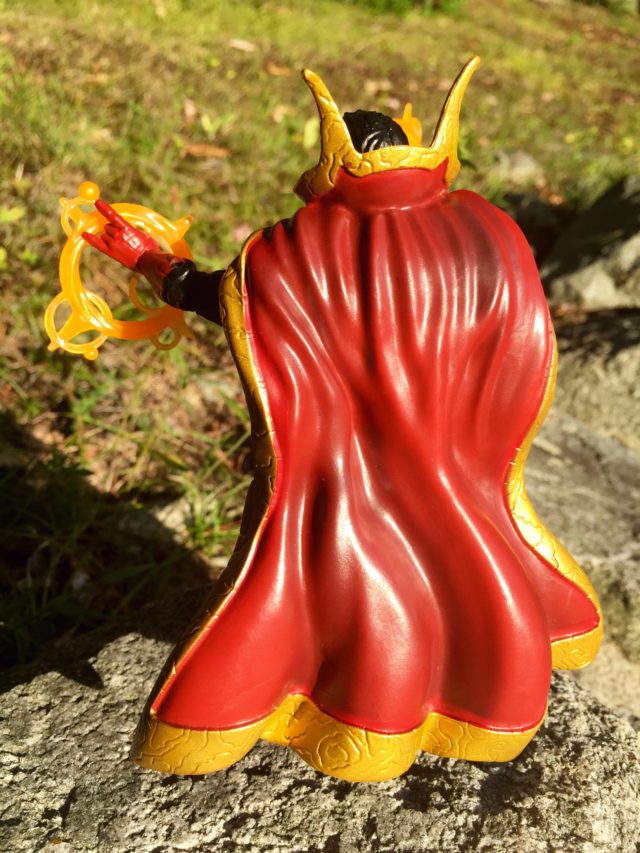 Doctor Strange's new cape is, well… pretty nice. The pointed bits of the cowl have been rendered nicely, and the border of the outer cloak is intricately sculpted. The Eye of Agamotto painted onto the front of the cloak could probably look a little sharper, but as a whole this is a nice-looking plastic cape that will make this version of the Doc look more complete most folks than the old version.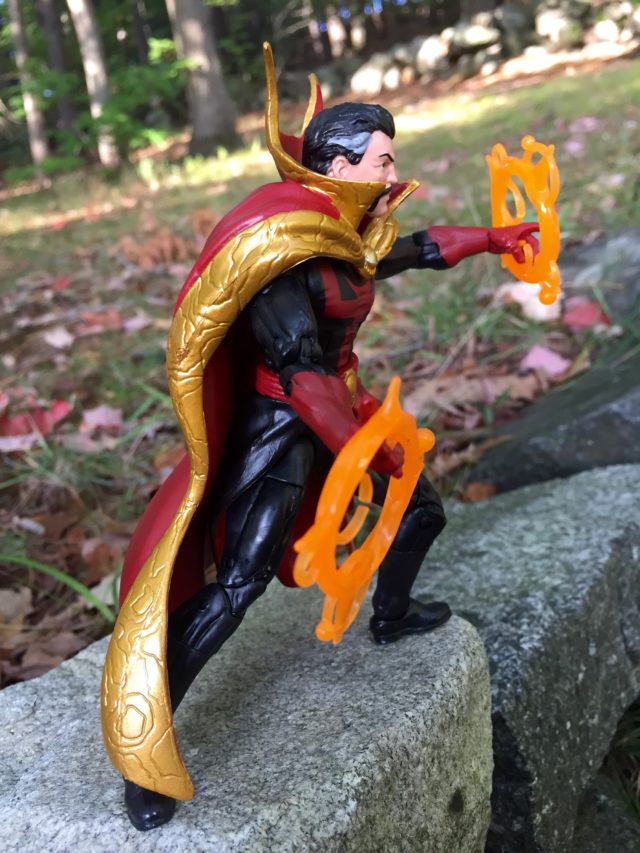 If you have last year's toy, you know exactly what to expect from this figure's articulation. The Cloak of Levitation really limits the range of motion and flexibility of the figure, but the base articulation is the same:
The Wrong:
This is basically a 2.0 version of last year's figure, and as a result, it simply does not feel feel fresh.
There's obviously been no upgrade to Stephen's articulation, and while the magic effects accessories were still new and cool over a year ago, they feel tired and commonplace now. I also don't like the translucent orange color chosen for them–combined with the bright red and yellow on the costume, the fall colors feel overwhelming to me.
In addition, while it's nifty to have a new cape, it ends up getting in the way of the articulation a lot and also makes the figure back-heavy and harder to pose stably. I sort of wish the cape was a bit harder so that it could hold the Doc up, honestly.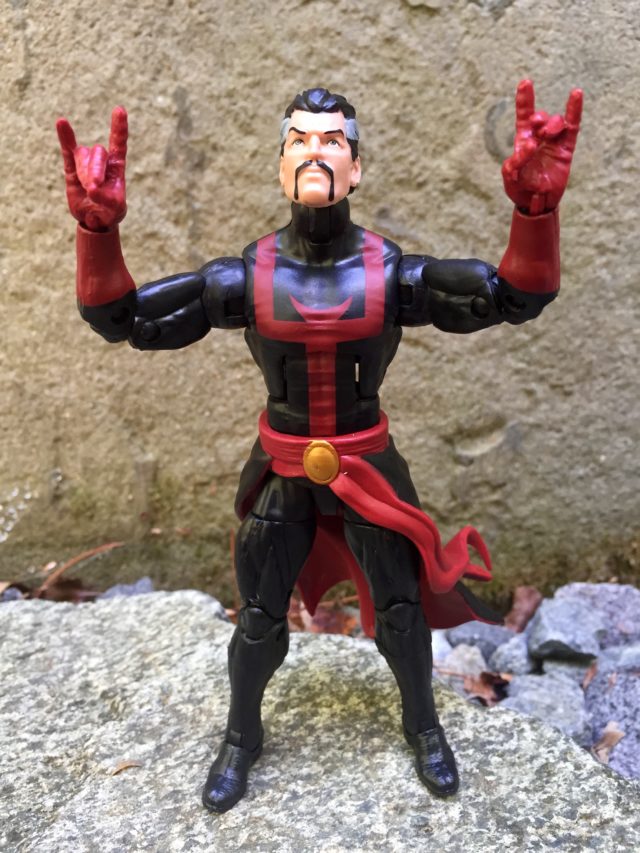 Also, some new interchangeable hands would have been nice so that Doctor Strange doesn't have to be eternally spellcasting or throwing up the horns. The cape is the only new part of this figure, so I think at least one pair of neutral hands could've made its way into the budget.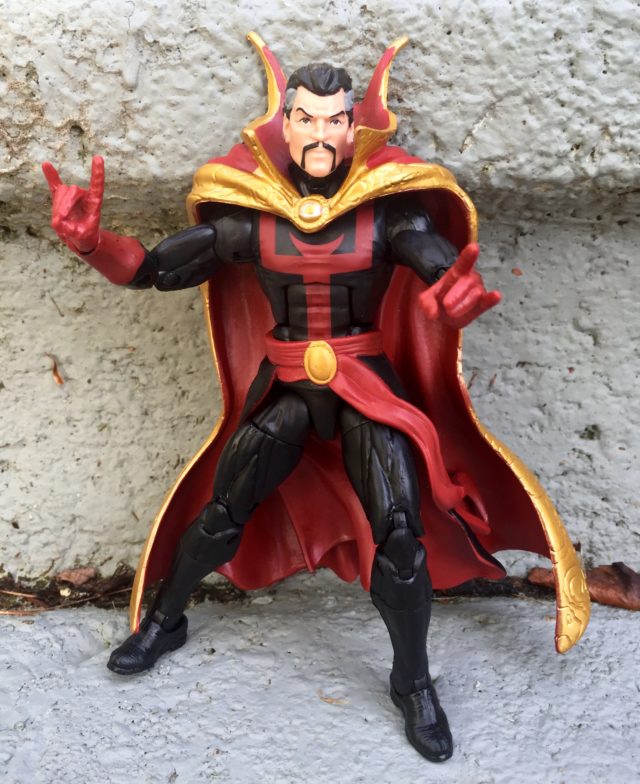 Finally, as this figure uses straight-up black plastic for the body, the limbs are all really rubbery and the joints feel wobbly/weak. It's not as much of an impediment here as it has been on some other figures in this wave, but it's a QC issue I don't feel right not mentioning.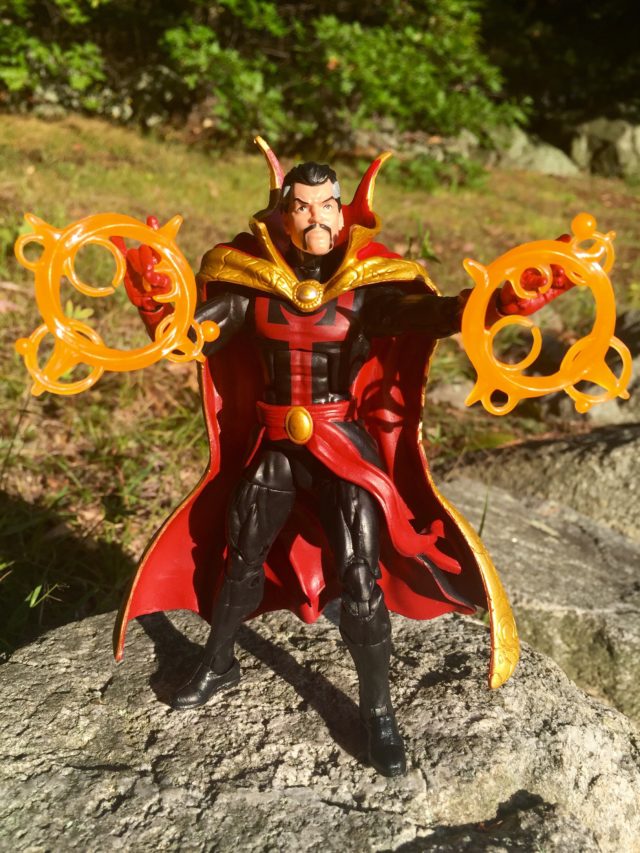 Overall: Truthfully, this figure does feel a little rehashed–but it's also accurate and a strong figure overall. I don't particularly love Marvel Legends Doctor Strange in these colors or this costume, but this is an excellent representation of it. The magic effects pieces are officially getting old with this release, the plastic rubbery and I much prefer the muted colors and pointed gloves of last year's version, but if you don't have a modern comics-based Doctor Strange yet, this one is well-done.
GRADE: B+