Back before I got sidetracked with a tidal wave of Marvel toy news from New York Toy Fair 2016, I was reviewing the first waves of Marvel Legends 2016 figures. But now that the news has subsided a bit, let's get back to talking about this year's first series of Spider-Man characters with a review of the Marvel Legends Venom! Venom is tough to find and selling for a couple bucks over MSRP on the aftermarket right now–is he worth the hunt?
The Right:
Despite his status as unquestionably the most marketable Spider-Man villain of all-time (if not Marvel's most popular villain period), it's actually been a few years since we got a classic Venom 6″ figure from Hasbro.
But after a parade of copycat symbiotes from Anti-Venom to Toxin to Carnage to Agent Venom (okay, I admit it–Agent Venom is the same symbiote and not a copycat, but I digress), it's classic Venom's turn to shine once again as part of the Spider-Man Legends Absorbing Man Series!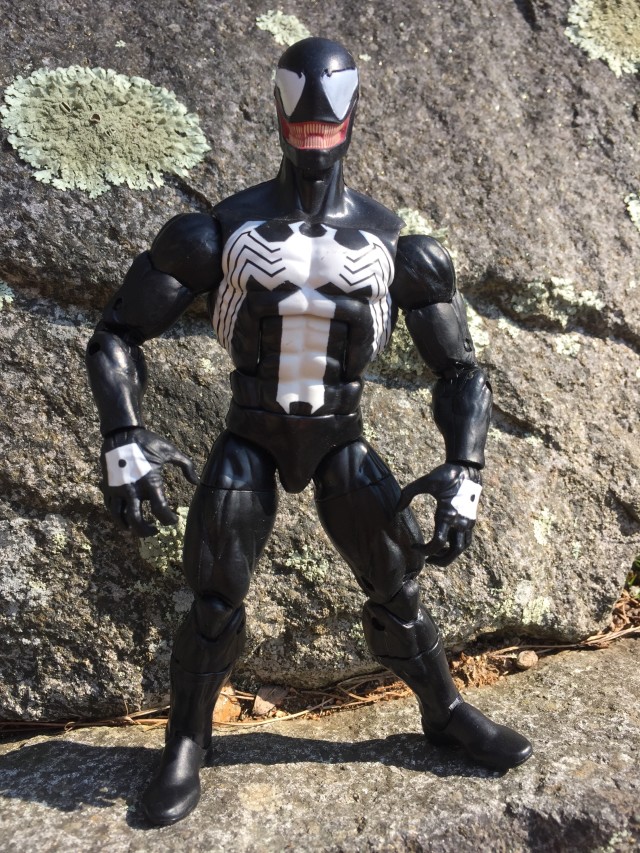 Hasbro chose the "heavyweight" mold for Venom's body which was definitely the right choice for the symbiote. Venom feels bulky and powerful, and looks intimidating when posed off against the much thinner Spider-Man action figures.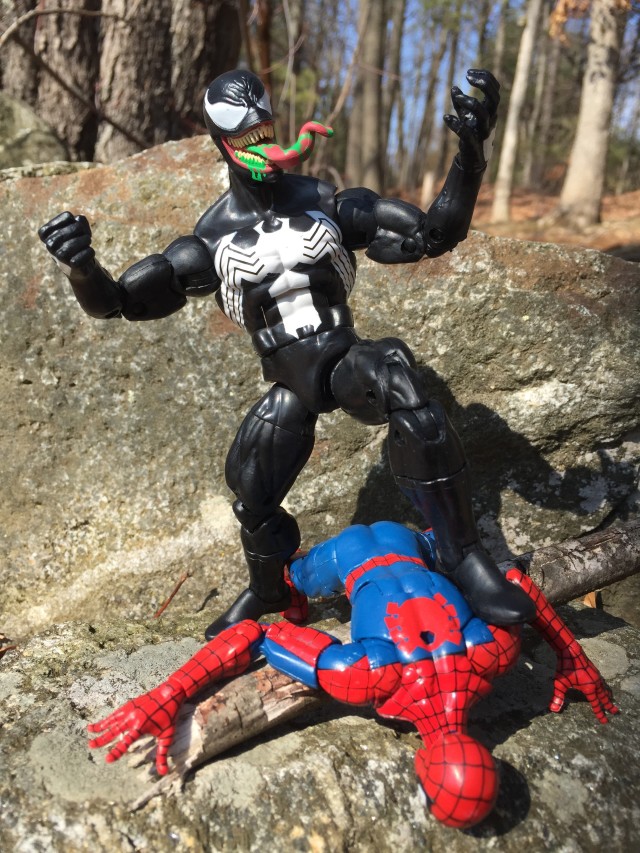 From an articulation standpoint, this is a model six inch action figure. Almost every possible point of articulation has been incorporated into this $20 toy, including the ever-popular ankle rockers, swivel calves, thighs and biceps, double-jointed knees and elbows, ball-hinge shoulders and wrists, an upper torso ab crunch, swivel waist and ball-hinge head.
I think I would have preferred ball-hinge hips to the simple ball-jointed hips that we got here, but that's really my only complaint with the articulation scheme.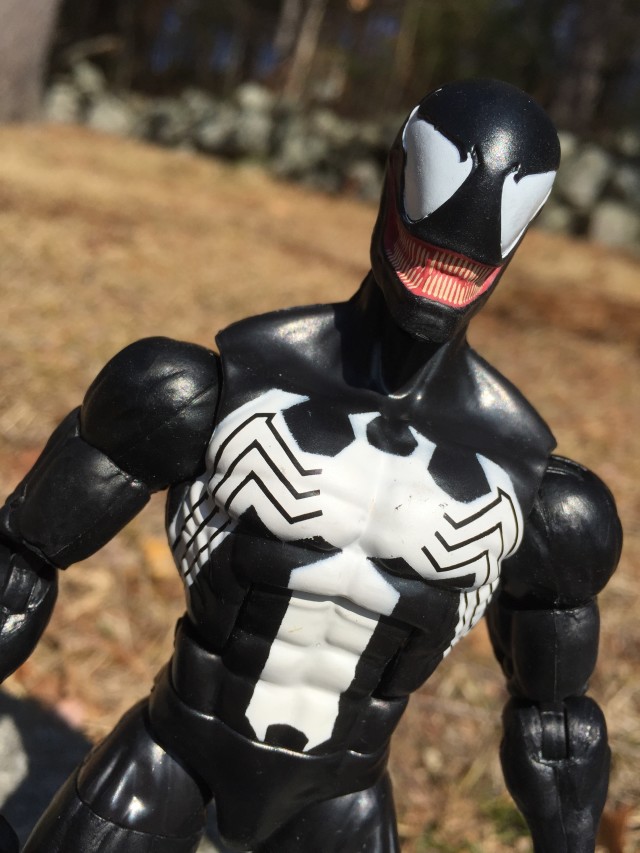 My favorite thing about this Hasbro 6″ Venom figure is the inclusion of two different heads for him (plus the two included Absorbing Man Build-A-Figure heads). While neither is quite at the level of detail of the Marvel Select Venom released several years back (which is still my favorite Venom action figure ever made), Hasbro hits the two best looks for classic Venom here: one version with tongue out, and one version sans tongue.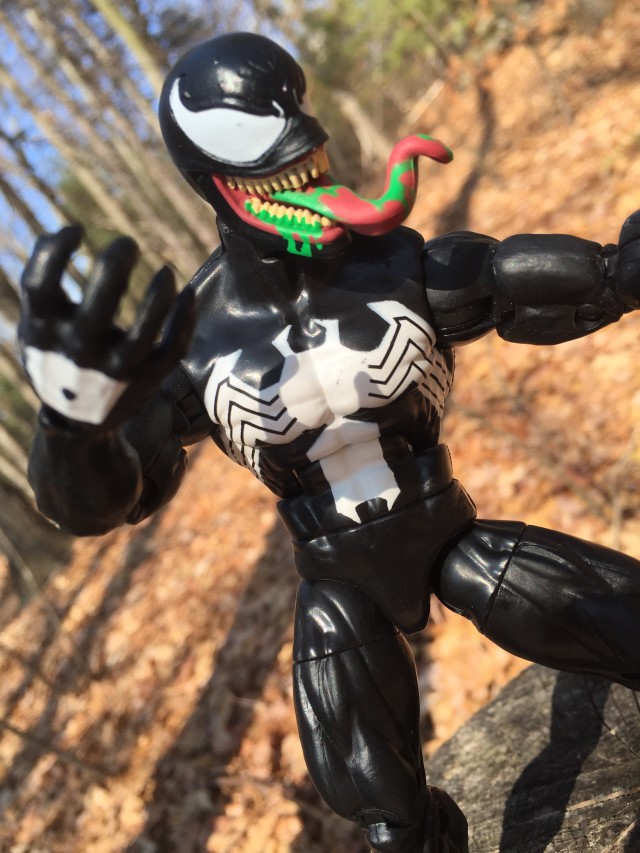 I thought that I was going to prefer the sans-tongue look for Venom, but once I popped on the tongue-twirling Venom head with green saliva oozing out of his mouth, I knew that this was going to be my head of choice forevermore. We don't get enough Venom action figures without the iconic tongue-out, but that may be for good reason: the tongue really adds something to the dynamic aesthetic of the character.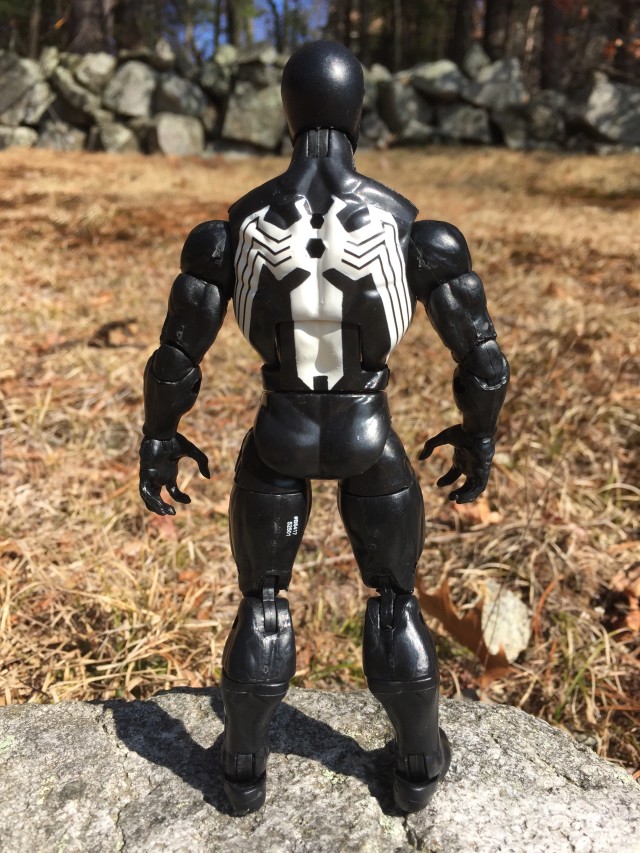 Also, props to Hasbro for being proactive with the case ratios on this figure. Realizing early that the Venom Marvel Legends figure was going to be hot, a revision case where Eddie Brock will be packed at two-per-case instead of one-per-case. Good call, Hasbro!
The Wrong:
When I think of the Lethal Protector going on the attack, I picture Venom with claw hands and symbiotic tendrils lashing out at helpless victims.
So with that in mind, it's a tad disappointing that this Marvel Legends 2016 Venom figure includes only grasping hands and gifts, with nothing more deadly to be found as far as accessories go. Venom's not exactly known for his boxing skills, so having fists as his primary mode of offense just seems weird.
Other that that, my only gripes with this figure have to do with quality control. The black plastic used in this wave–and which is used for basically all of this action figure–is rubbery-feeling and makes Venom feel much less sturdy and stable than the other figures in the Absorbing Man Build-A-Figure Series.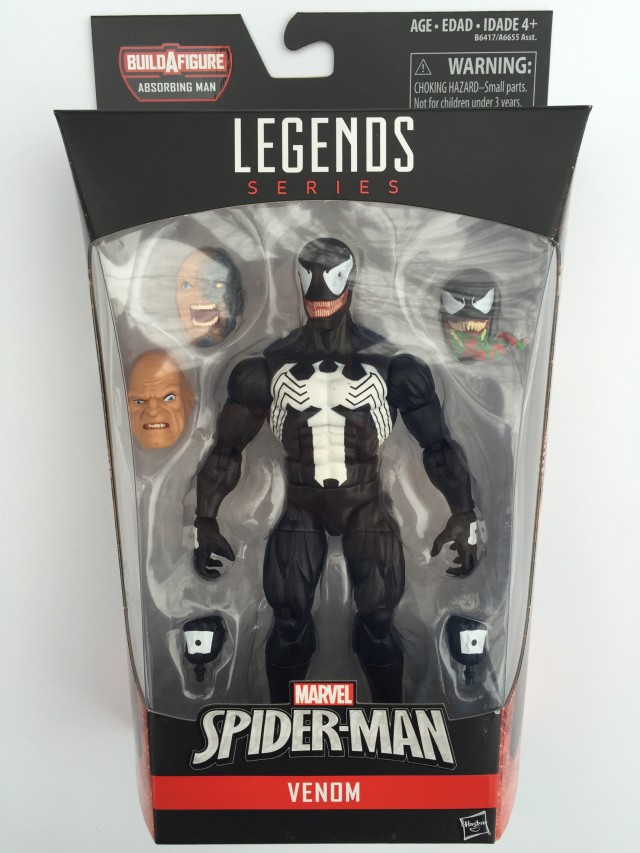 In addition, the paint deco on this figure is good for the most part, but with enough stray marks on the white portions to make the overall appearance of Venom's deco slightly off the mark.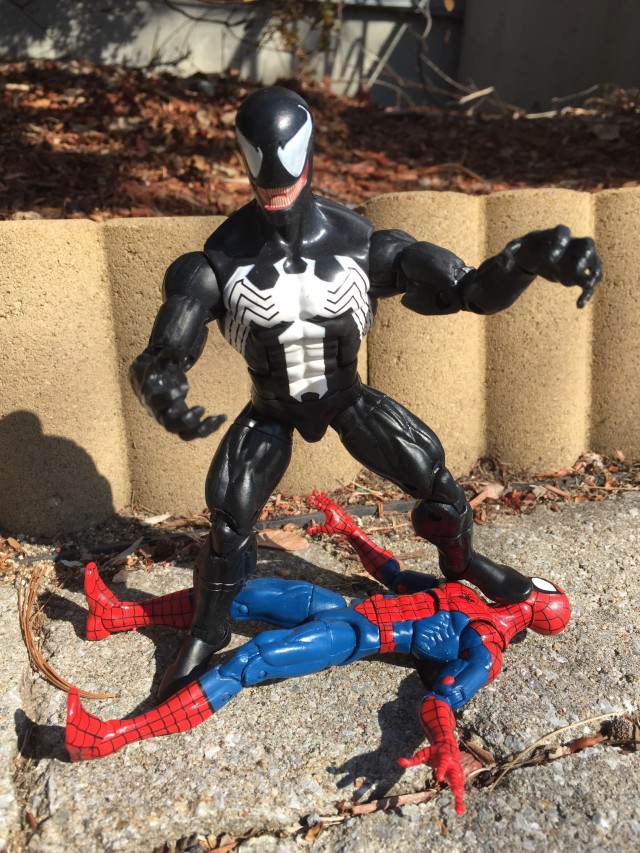 Overall: I teetered on the edge of giving this Spider-Man Legends Venom figure a low 'A', but I've got enough nitpicks with the figure to knock him down to a 'B+'. I really love both Venom heads included here and the usual level of Legends super-articulation, but the lack of claw hands, rubbery plastic and imperfect paint deco hold this back from being the definite classic Venom figure that the Marvel Select version is.
GRADE: B+