The Spider-Man Marvel Legends Rhino Series is one of my favorite Hasbro Marvel Legends 6″ series ever, as it's filling in character gaps both vital (Ben Reilly Scarlet Spider, Chameleon) and ridiculously obscure. Last time I talked about the almost-perfect Misty Knight figure, but she's not the only female in this wave! The Marvel Legends White Tiger figure is also now available for order, and while she may not be a mainstream icon, she is a pretty stellar action figure…
The Right:
To begin, let me once again praise Hasbro for this year's incredible 6″ Marvel Legends character selection. I don't want to sound like a sycophant, but any mass-retail manufacturer releasing obscure female characters like Mayday Parker, Thundra, Misty Knight, Ultimate Spider-Woman, Valkyrie, Hellcat and now White Tiger deserves a truckload of credit.
Bravo and kudos, Hasbro–you are setting an amazing example for toy producers everywhere this year.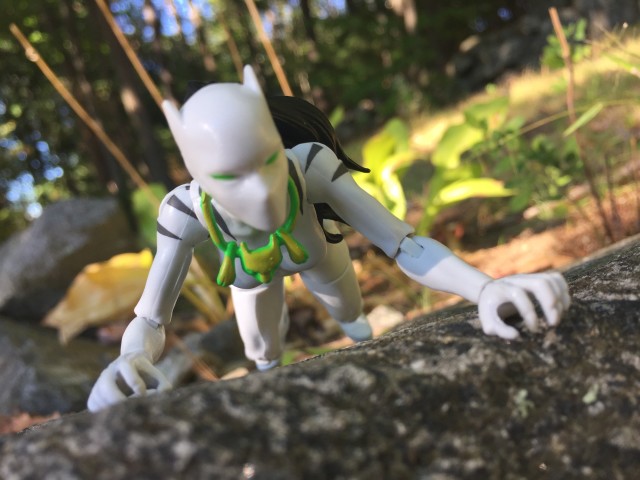 But beyond character selection, the Spider-Man Marvel Legends White Tiger action figure itself has plenty of positives to offer!
The most striking thing about this White Tiger Angela Del Toro figure is the color scheme. We get very few Marvel figures that are primarily white (I believe the last one was the beloved Future Foundation Spider-Man), and that helps this figure to really stand out from its peers.
While I initially thought that the few grey paint apps on this figure weren't enough to catch my attention, the more I look at this 6 inch White Tiger action figure, the more I like her. The few grey areas complement the base white wonderfully.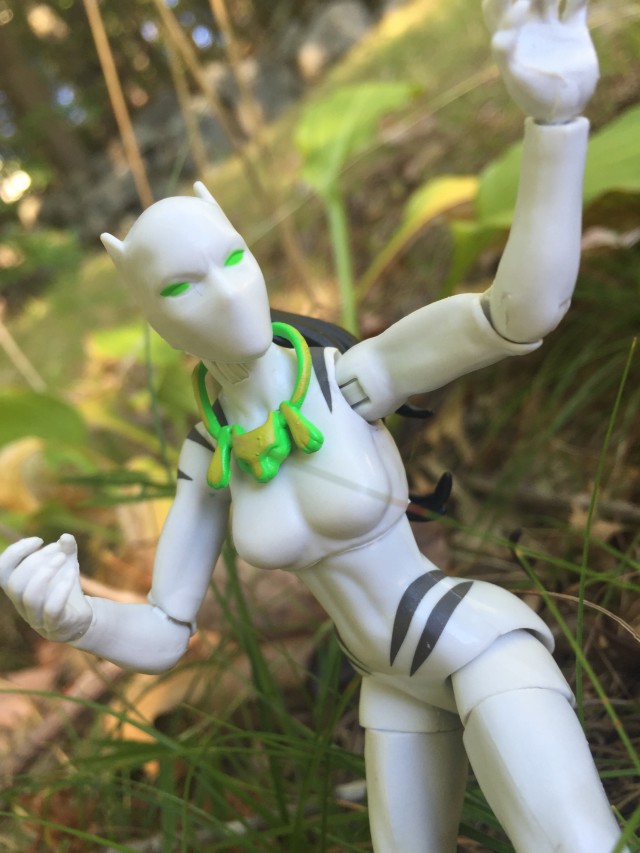 Meanwhile, after a while I realized that the neon green amulet that I initially thought looked like a cheap toy pairs wonderfully with Angela's eyes. The bright green portions really give this figure's appearance a supernatural, mystical aura and I love it.
The figure's black ponytail rounds out the color scheme, completing a very cool-looking figure than I thought looked rather bland at first.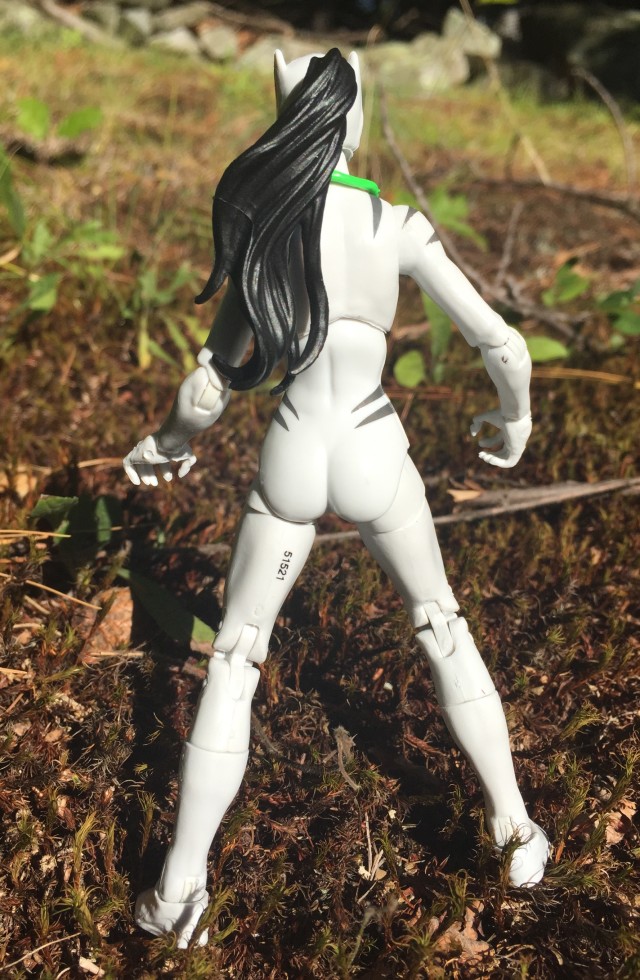 When you're painted on a bright white base, every little paint flaw shows, but Hasbro's factories did an outstanding job here for the most part. There's a pinpoint sized white imperfection on one of the grey body stripes that bothers me, and one of White Tiger's eyes wasn't placed quite on the sculpted spot it was supposed to, but otherwise her paint apps are perfect.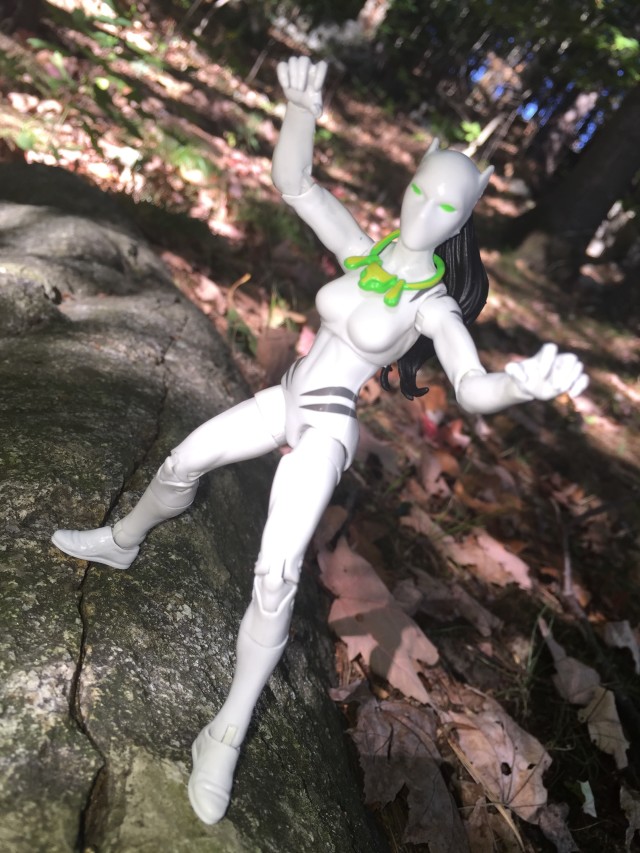 Considering the botched paint deco I've seen on so many Marvel Legends 6″ figures this year, the paint on a primarily white figure being this well-done is very, very satisfactory to me.
And as far as articulation goes, the Hasbro White Tiger Marvel Legends figure is just short of being fantastic. The ever-important ankle rockers, ball-jointed head and wrists, double-jointed knees, upper torso ab crunch and ball-hinge shoulders/elbows make for a solidly-articulated figure, but she does still have some drawbacks, which I'll be discussing in just a moment.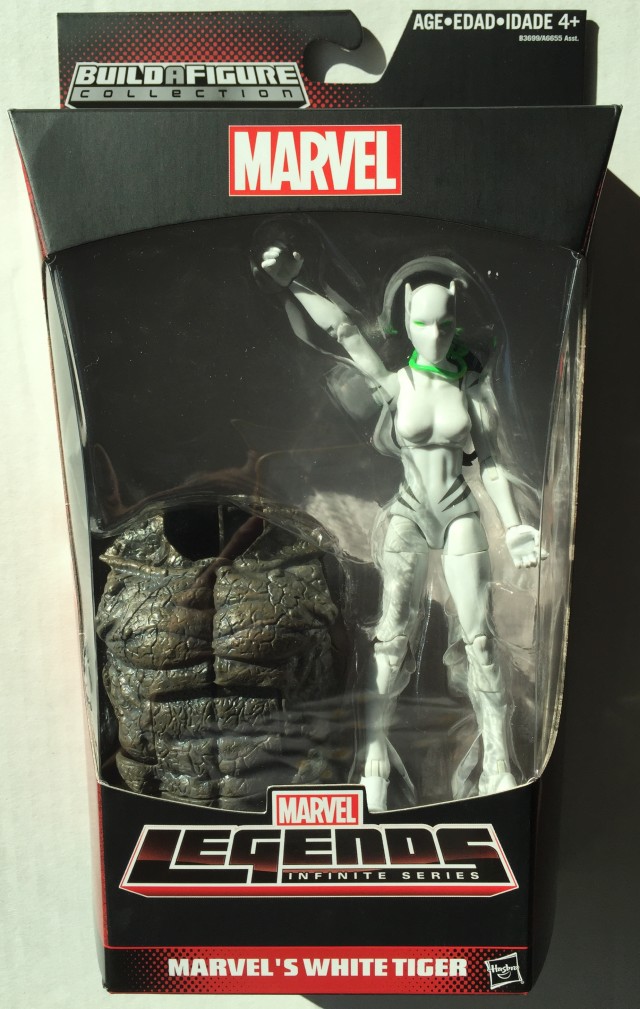 But first, here's one more serving of praise for Hasbro: thanks for giving White Tiger and Misty Knight the same Rhino BAF part (the main body). I bought both figures, but plenty of collectors will not want both of these obscure women, and it's nice of Hasbro to not force collectors to buy extra figures they don't want here. Nice work, Hasbro.
The Wrong:
While this 6″ White Tiger Marvel Legends action figure far exceeds the (nonexistent) expectations that I had for it, it definitely still has a few weak points.
First and foremost, I have a lot of concerns about the elbow joints on this figure. I've had two MC2 Spider-Girl figures (that share White Tiger's mold) break on me now due to the fragile elbow joints, and every time I go to pose Angela I feel like her arms are going to snap off at the elbows.
I've been very careful and it hasn't happened yet, but I have no doubt that many, many collectors are going to have this figure break on them.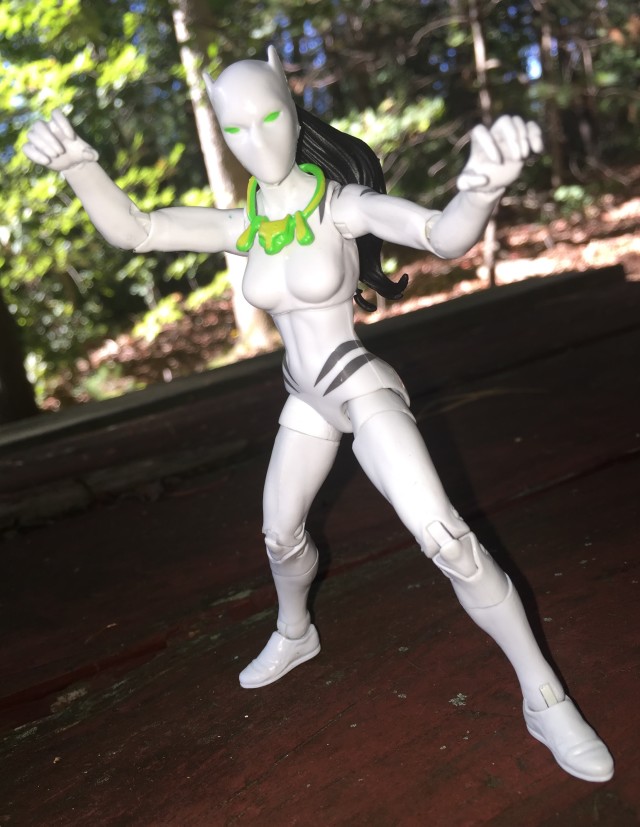 In addition, it's disappointing that the ML White Tiger 6″ figure has such poor forward-and-back range-of-motion on her hips. It's not unexpected–the Spider-Girl figures sharing this mold have the same issue–but for a karate expert's flexibility to be so limited is always a bummer. And speaking of White Tiger's karate…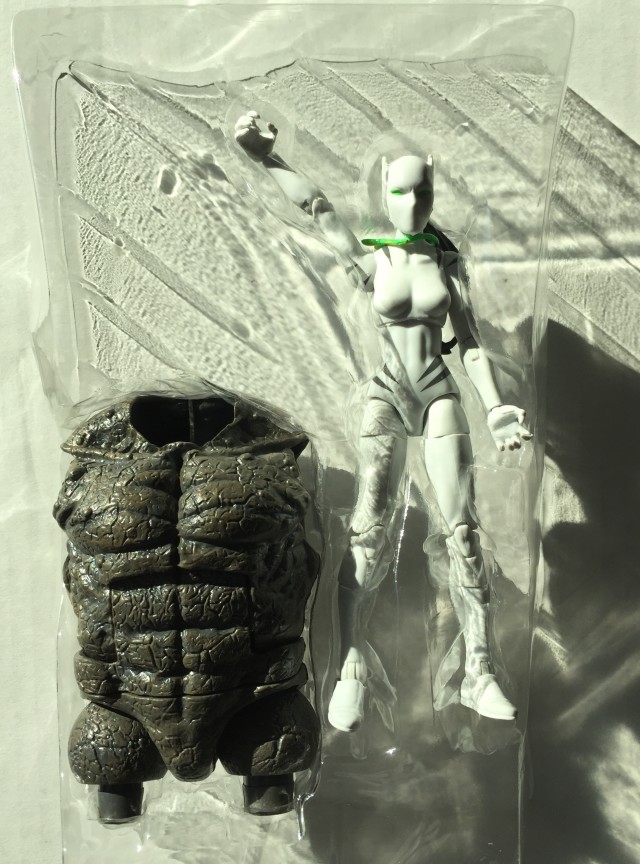 Finally, seeing as how the female White Tiger is a martial artist, it would have been nice to get some non-clawing hands with her to greatly increase her number of potential poses. Without alternate hands, she's got zero accessories (no, the Rhino Build-A-Figure torso absolutely does not count). For 20 bucks, we deserve something for accessories.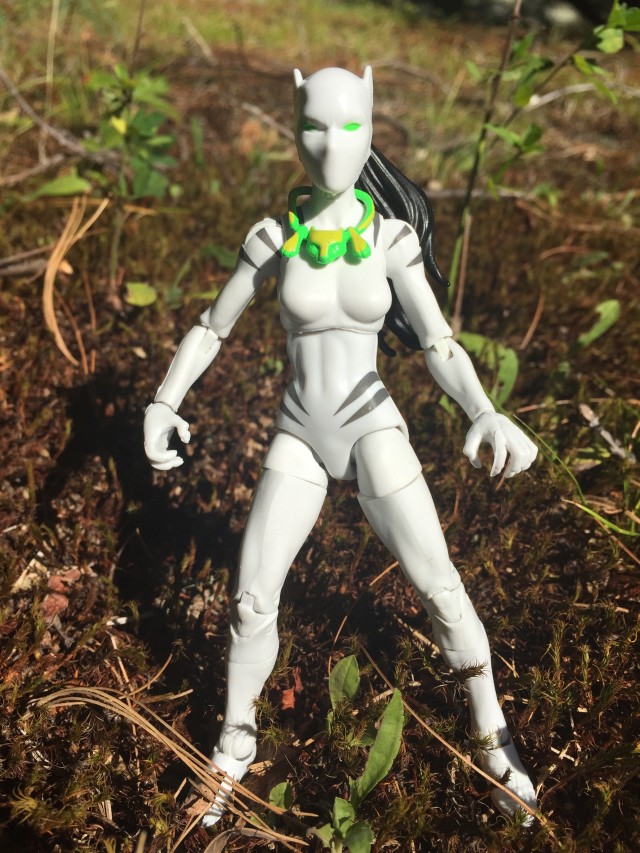 Overall: Although this Angela Del Toro White Tiger is a character that I could give or take, I have to give kudos where they are due: Hasbro made an excellent action figure of the character here. There are a couple spots where White Tiger's paint is ever-so-slightly imperfect, her legs could use a slightly larger range of motion, and I am terrified of breaking her lower arms off. All that said, this Marvel Legends White Tiger figure is fun, eye-grabbing, and destined to be the very best toy representation of this character ever made. If you like the female White Tiger, this is an absolute must-buy for you.
GRADE: A-