I hadn't planned on moving Marvel Toy News to a new (expensive) high-powered server this year, but my hosting company had other ideas, and so… anyway, welcome back! I've got a number of things to catch up in this week (including my first Spider-Man Marvel Legends 2017 figure reviews!), but first, let's look at a 6″ Spidey of a different sort–the long-awaited Mezco ONE:12 Collective Spider-Man figure is now up for order!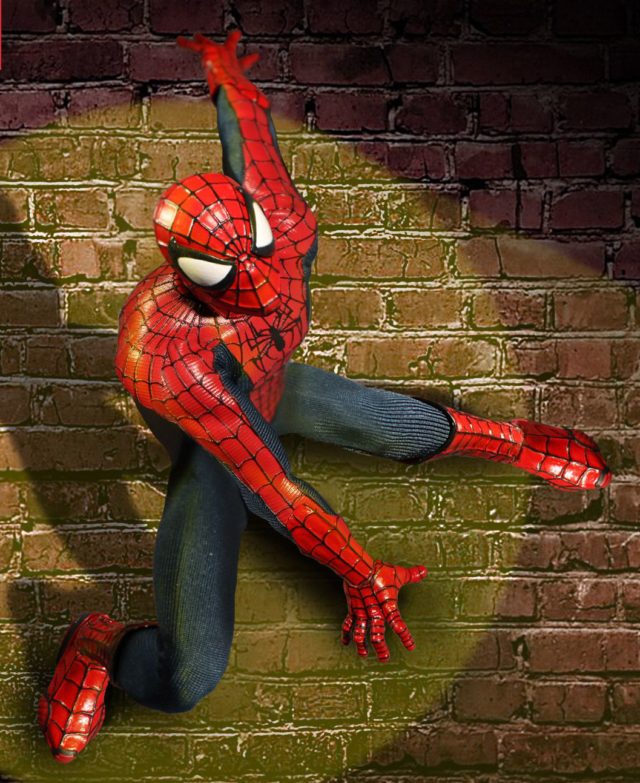 Though Mezco Toyz revealed and solicited quite a few figures and prototypes in their Marvel Comics ONE:12 Collective six inch figure series this year, only two characters have actually been released to anxious collectors' grubby hands this year: Captain America and Deadpool.
But in 2017, quite a few new additions will be arriving, including multiple versions of Punisher, Red Skull, Deadpool, and now… Spider-Man! Mezco Toyz doubtless has a multitude of Spider-Man variants pegged for release in 2017, but let's start by checking out the Classic version…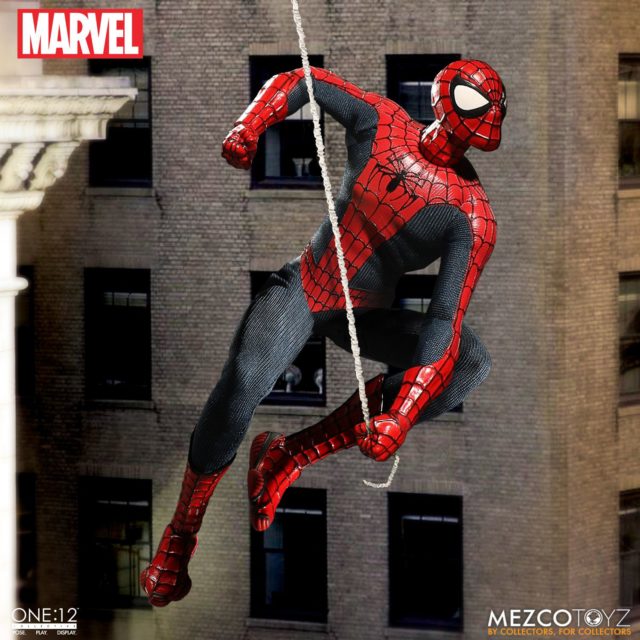 I wasn't as pleased by the look of the ONE:12 Collective Captain America figures as I wanted to be, as Cap's costume turned out looking a wee bit too oversized and pajamas-like for my tastes. Luckily, Spidey doesn't suffer the same fate–ONE:12 Spider-Man's costume looks much more fitted and better-tailored than Captain America's did.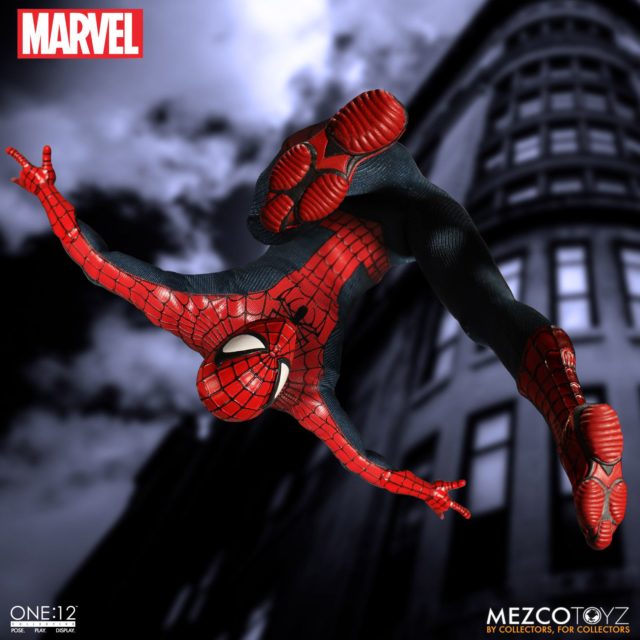 And hey–he's even got an all-new slim and slender body with 30 points of articulation that looks terrific!  (I wonder if Deadpool will be using this same body…?) I also think the texture on Spidey's boots is really eye-catching, and a detail that I've never seen on a Spider-Man six inch figure.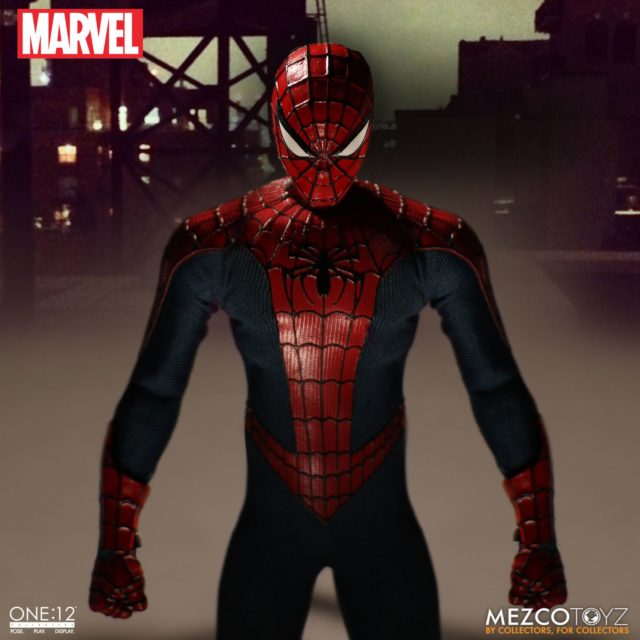 I'm also very impressed with the style of the Classic Spider-Man head  with its smaller acrylic eyes and the detailed, sculpted webbing on his mask. This is definitely one of my favorite 6″ Spider-Man heads ever, and I suspect many other Marvel collectors are going to feel the same.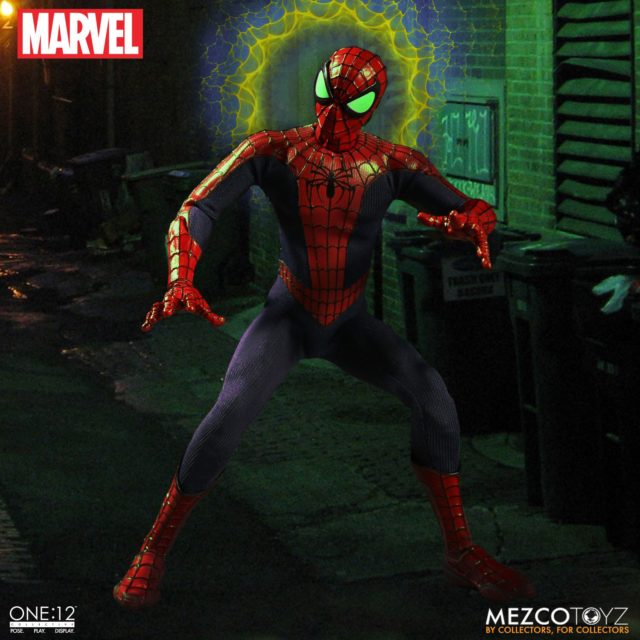 And for those who don't dig the small eyes, there's an alternate head with the recognizable larger eyes as well!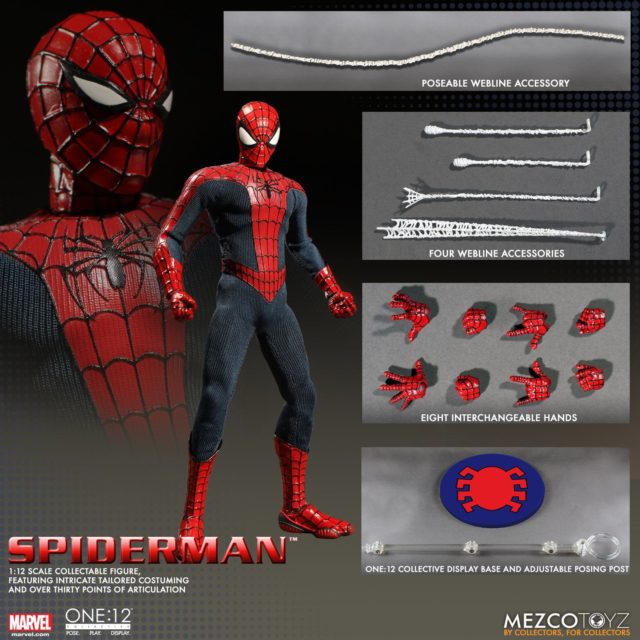 Along with the extra head, this figure will include four different types of weblines, eight interchangeable hands, a spider-logo display base with posing pole.
If there's one thing about this figure that really lets me down, it's some of the conspicuously absent accessories–including the lack of a Spider-Sense effects piece for Spidey!
The Radar Sense effects piece that comes with Daredevil is the coolest part of that figure (in my opinion), so I'm disappointed to see Spider-Man not getting similar treatment.
In addition, it doesn't appear that we'll be getting a Peter Parker interchangeable head to go with the Mezco Spider-Man figure. That's a bummer, since Mezco Toyz already gave us Matt Murdock and Steve Rogers heads.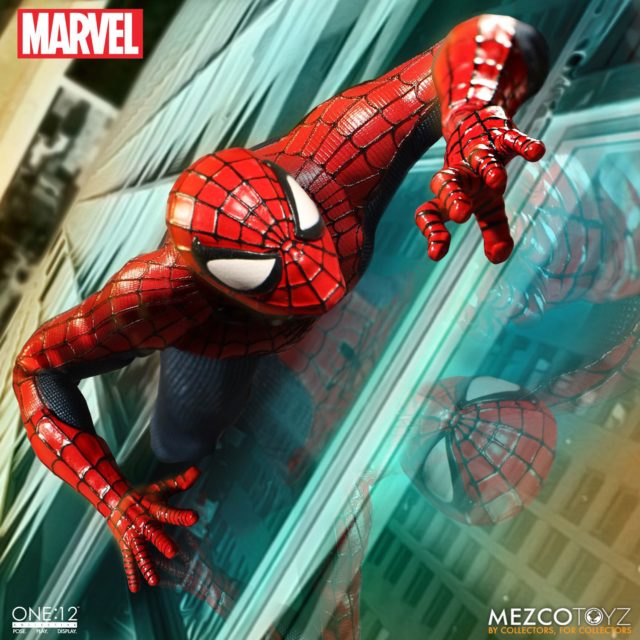 The Mezco Toyz Spider-Man ONE:12 Collective figure is now up for pre-order, and is scheduled to be released in mid-2017. I suspect we'll be hearing about variants (including a black costume Spider-Man) in a few months, as we approach Spidey's release date. All online retailers are charging 80 bucks for this figure, but EE has free shipping on him, so they're getting my dollars.
Are you excited for this mixed media Spider-Man 6″ figure now that Mezco has solicited him and shown off final official prototype photos, Marvel collectors? And if so, are you planning to drop 80 smackers on this "mini-Hot Toys" Spidey?