I was totally surprised by the lack of a Funko POP Vinyls Green Goblin in the Villains Marvel Collector Corps subscription box that came out last month, as I figured ol' Gobby was a shoe-in for a release as a limited exclusive in that box. Well, turns out a Funko Green Goblin is on the way–and he is a limited exclusive! A second series of Walgreens Exclusives has been revealed with Green Goblin, Taskmaster and Iron Spider POP Vinyls!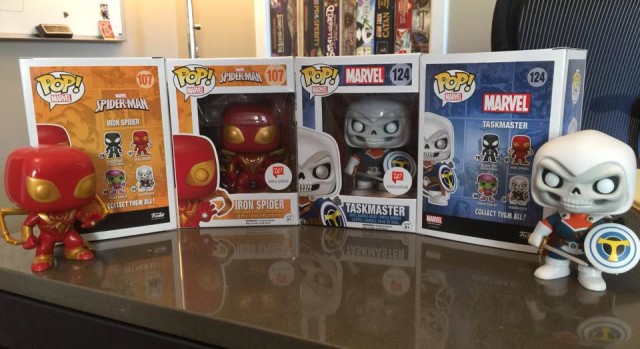 The rumors are true! Word leaked out a couple months ago that another trio of Funko Marvel exclusives would be hitting Walgreens stores soon, and now we not only know what they are–we've actually gotten to see the production versions of two of them!
Three new Marvel Funko POP Vinyls will be exclusive to Walgreens this winter:
Taskmaster
Green Goblin
Iron Spider Spider-Man
I really, really hope that Funko doesn't shortpack the Spidey variant this time, as I suspect that the Iron Spider POP Vinyl will be the most popular figure from this wave. The one-per-case Spider-Man 2099 and Black Costume Spider-Man POPs were not fun to find for most foks(more on that later).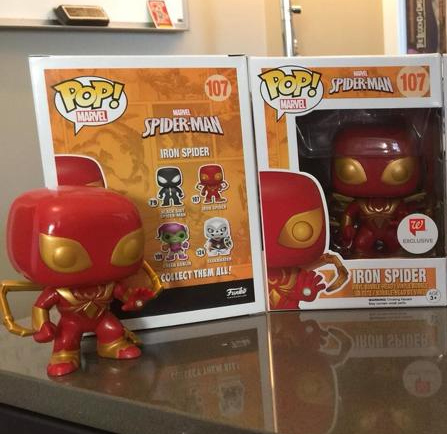 The actual Funko POP! Vinyl Green Goblin figure hasn't been revealed yet, but he's clearly visible on the back of the boxes for Iron Spider-Man and Taskmaster, so if that's not confirmation of his impending release, I don't know what is.
I believe that all three of these figures are using all new tooling (with the exception of Iron Spider-Man's head), but I could be mistake. Does anyone recognize any of the molds being used for these figures as originating elsewhere?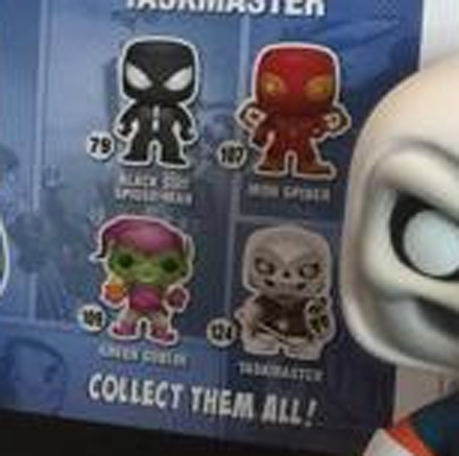 From the back of the box, it also appears that this year's Funko Black Costume Spider-Man POP Vinyl will also be repacked and shipped with the new exclusive wave.
While I still would have preferred another all-new character, Symbiote Spider-Man has not been easy to find at retail this year (in fact, I've never seen one in a store ever). So if Walgreens needed a repack to round out this assortment, this Spidey is definitely a solid choice.
I'll post an update here and to the Marvel Toy News Facebook and Twitter pages once they pop (no pun intended) up in stores, so keep your eyes peeled if you're pumped up for another grueling toy hunt at Walgreens (I know I'm not, but alas).
How do you feel about more Walgreens Exclusive Marvel POP Vinyls, collectors? Have you had an easy time finding your Walgreens Funkos in the past and don't mind the hunt, or are you cursing Funko's name for making unique characters exclusive to a drug store chain yet again?