If there's one thing that action figure companies absolutely love, it's figures that can be easily repainted into other versions or characters. And while Square-Enix uses 100% unique tooling for every individual character they make, even the Play Arts Kai line isn't immune to "Special Color Versions"! And so, now that the PAK Deadpool is shipping in the United States this summer, we should have all guessed that this obligatory Play Arts Kai X-Force Deadpool figure was in the works…
For the first year and a half of its existence, it really looked like Square-Enix intended to keep their Play Arts Kai Marvel figures line totally free of repaints. But when
PAK "War Machine", "Carnage" and "Symbiote Spider-Man" appeared last year
(straight-up Special Color Ver. repaints of Iron Man, Venom and Spider-Man) , we all knew it was only a matter of time until repaints of the other most popular figures in the line would be announced.
And today, that time was up when the X-Force Deadpool Play Arts Kai figure was officially announced!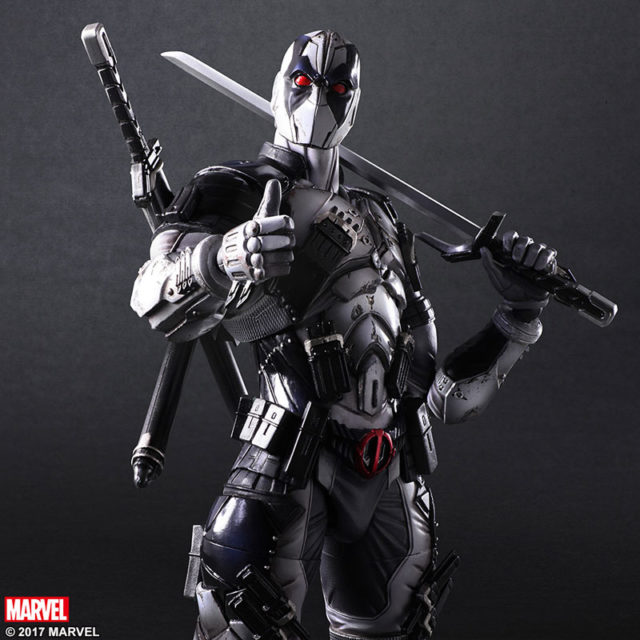 If you've bought–or even just looked at–the Play Arts Kai Deadpool figure that Square-Enix unveiled last year and shipped this year, then this Deadpool X-Force PAK figure probably looks a wee bit familiar to you.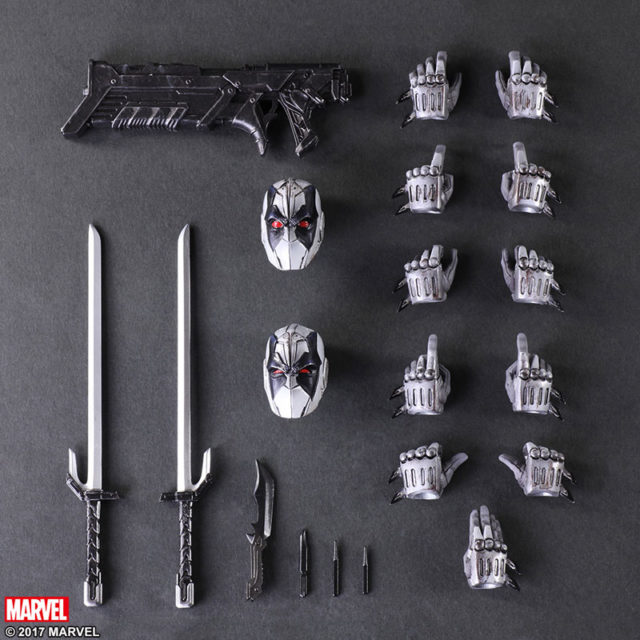 Because, of course, it's the exact same 10″ figure–in grey. In fact, even the accessories–every one of them–have been repainted and put with this new Deadpool Special Color Version figure. This is truly a color variant and nothing more.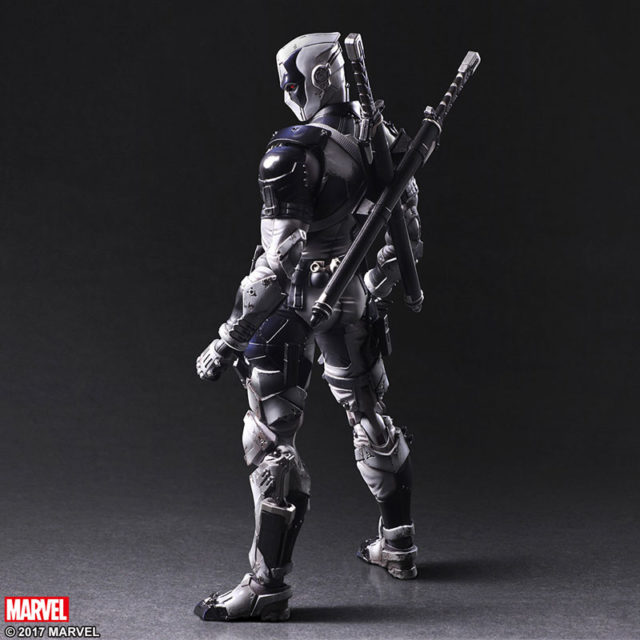 But hey–that's not necessarily a bad thing! Although Deadpool rarely wears his X-Force costume these days (I can't remember the last time I saw him wearing it in a comic book), I've always been a big fan of be sleek, deadly look that the grey gives the Merc with a Mouth.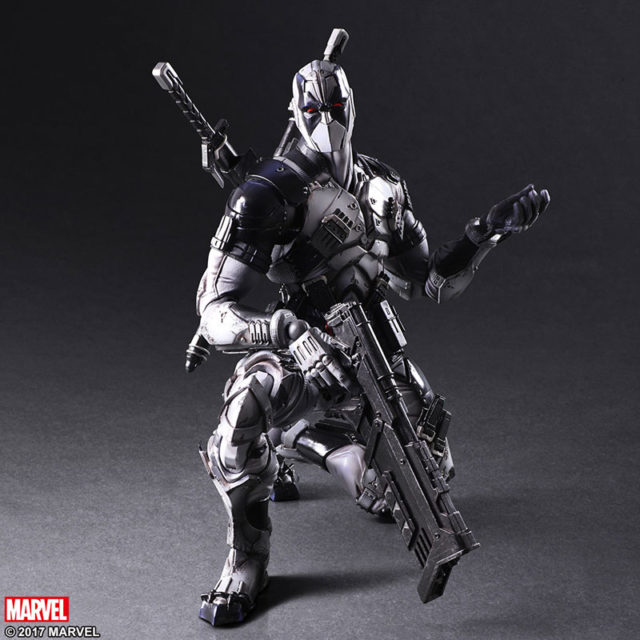 Crazy as it sounds, I actually think that the red eyes on this repainted grey version of Wade actually makes him look a little friendlier and more comical than the original red version. For whatever reason, I feel like this repaint captures Deadpool's personality just a bit better (or perhaps I'm just projecting here, as X-Force Deadpool is my costume preference).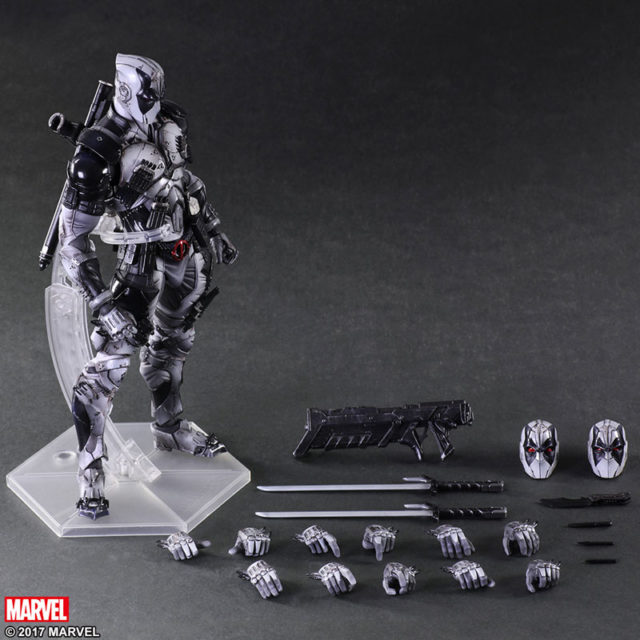 Oddly enough, this figure doesn't bear the same "Limited Special Color Ver." tag that the previous repaints had, which makes me wonder if Square-Enix is planning to (or at least hoping to) produce this X-Force variant in massive quantities, unlike the "Limited" versions of Iron Man/War Machine, Venom/Carnage and Black Costume Spider-Man last year.
But more importantly, with a Deadpool X-Force variant now officially announced, can an X-Force Wolverine PAK repaint be far behind…? Hmm…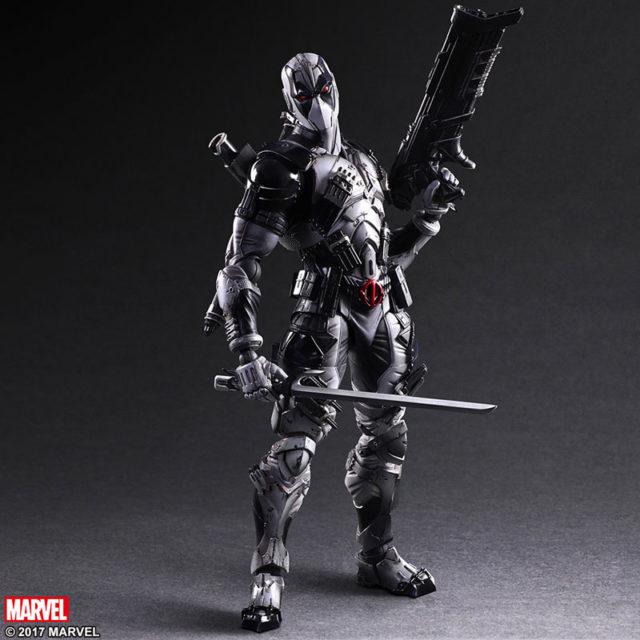 The Play Arts Kai X-Force Deadpool should go up for order in the U.S. in the next 24 hours, so if you're a Wade Wilson fanatic keen on owning this figure, you'll be able to lock one in shortly. At ~$145, I'll be skipping this variant, personally (unless it ends up getting blown out for a great price, anyway).
What do you think about the new X-Force-colored Deadpool figure, Marvel collectors? Is this the version of this figure to own, or do you prefer the original red version? And while Square-Enix is in the mood for repaints, are there any other Marvel PAK figures you're hoping to see get an alternate color scheme?