It was right around this time last year at the Miyazawa Model Exhibition Fall 2016 that Kaiyodo revealed what was the first genuine jaw-dropper in their Amazing Yamaguchi series: the Revoltech Venom figure. So it only seems appropriate that after the monumental success of that figure last year, we get to see Venom's spawn at this year's Fall 2017 Miyazawa Model Exhibition: this just may blow every other version ever made out of the water–it's the Kaiyodo Revoltech Carnage figure!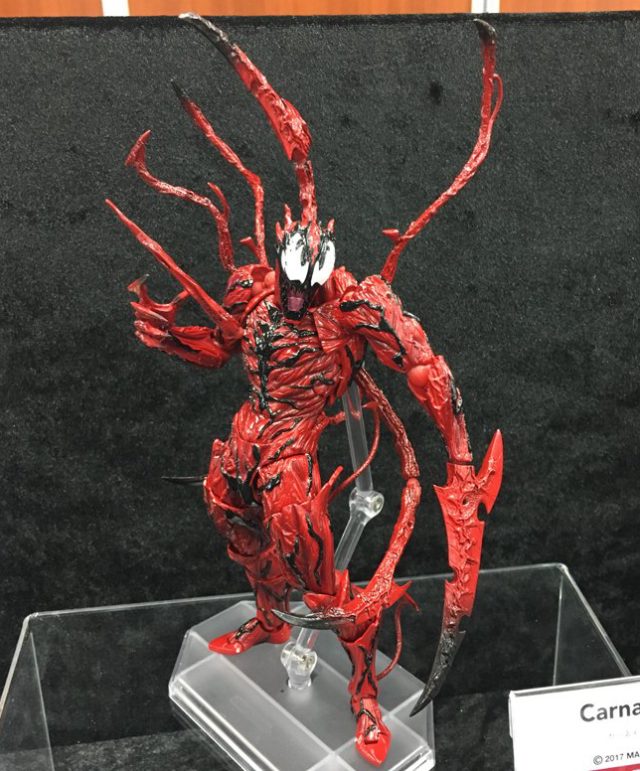 While Mezco Toyz's ONE:12 Collective has hogged most of the headlines as far as being a hot new stud in the Marvel 6″ figure marketplace over the last two years, Kaiyodo has quietly been building a collector base for their own line of 1:12 scale Marvel figures: the Marvel Amazing Yamaguchi Ame-comics series.
Kaiyodo has had some outstanding figures in the Ame-comics line this year–including Venom, Magneto, Spider-Gwen and more–but I think that this latest reveal takes the cake for my favorite addition to the line since, well… ever! Finally, the psychotic serial-killer symbiote Carnage will be getting a 6″ super-articulated figure from one of the premier overseas manufacturers!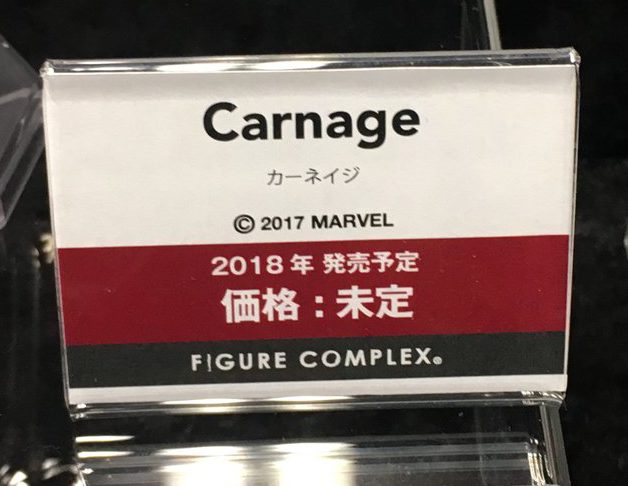 I am a big fan of Carnage–much more so than Venom, actually–so I'm always excited to see a new Carnage collectible revealed (especially since he gets vastly less merch than his sire does). With Revoltech Captain America scheduled to ship out in January/February 2018, Carnage looks destined to be the second release of the year, arriving sometime in early spring.
Considering how wicked this figure looks, that's going to be a heck of a wait, but I'll (err, I mean, "we'll") endure it somehow.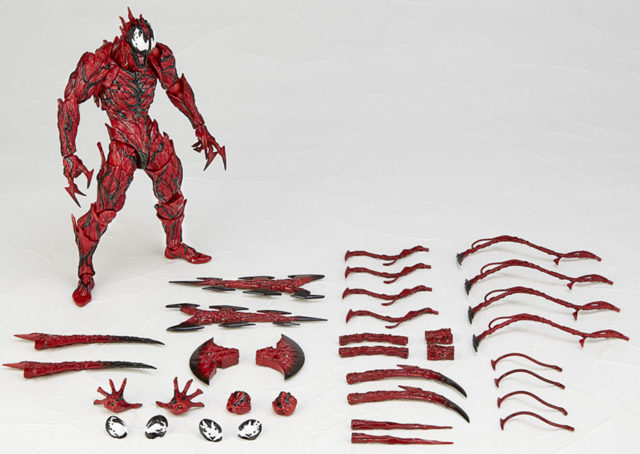 As far as accessories go: Uh… holy crap. The Kaiyodo Carnage Revoltech figure comes with almost three-dozen interchangeable parts, including various axe hands, eyes, tendrils, scythes, and so forth. As far as pure number and variety of accessories goes, this puts every Carnage action figure ever made–and probably that ever
will
be made–to shame.
I really love my Marvel Legends Carnage figure from 2014… but yeah, he's going into storage when this Revoltech Carnage gets here. Masterpiece!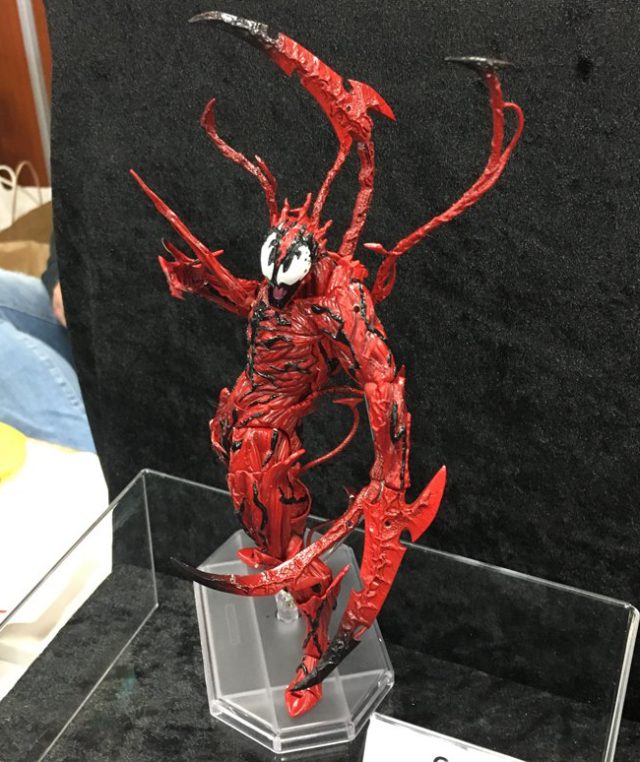 The Kaiyodo Revoltech Carnage figure should be up for order online this winter, and has a delivery date in 2018 according to the placard at the 2017 Miyazawa Model Exhibition. As Kaiyodo doesn't have a U.S. license to sell these figures, if you want this Carnage, you'll need to either import him from overseas yourself or buy him from an import store like BBTS. Pricing is currently unannounced, but I'd just he'll be in the $80-$90 shipped range in the United States.
I'm (clearly) a little infatuated with this Carnage action figure myself, but what do you think of him, Marvel collectors? Does Kaiyodo's version compare favorably against the Hasbro Marvel Legends or Diamond Select Toys versions, or are you sticking with one that you've already got in your collection?