Another day, another San Diego Comic-Con 2013 exclusive announced! Marvel Funko POP! Vinyl collectors have really dodged a bullet this time, as it briefly appeared that one of the most wanted Marvel Movie POP! Vinyl figures ever was going to be an overseas exclusive not available in America at all. Luckily, word has now come out that the hotly anticipated Funko POP Iron Man 3 Mark 42 Unmasked Tony Stark figure will also be available next month as a SDCC 2013 exclusive!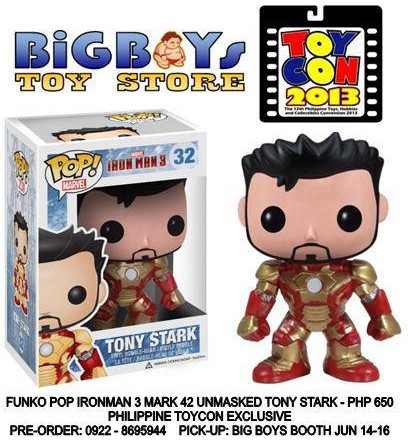 Last week, word came out that the first ever Iron Man Tony Stark POP! Vinyl was being released in the Philippines as an exclusive for the Philippine Toycon 2013 being held from June 14-16 2013. American collectors instantly became transfixed by images of the Funko Tony Stark POP Vinyl and demanded to know when, where, and if it would be available in the United States. Funko has now confirmed that the Funko POP! Unmasked Iron Man Tony Stark figure will also be available in the United States as part of San Diego Comic-Con.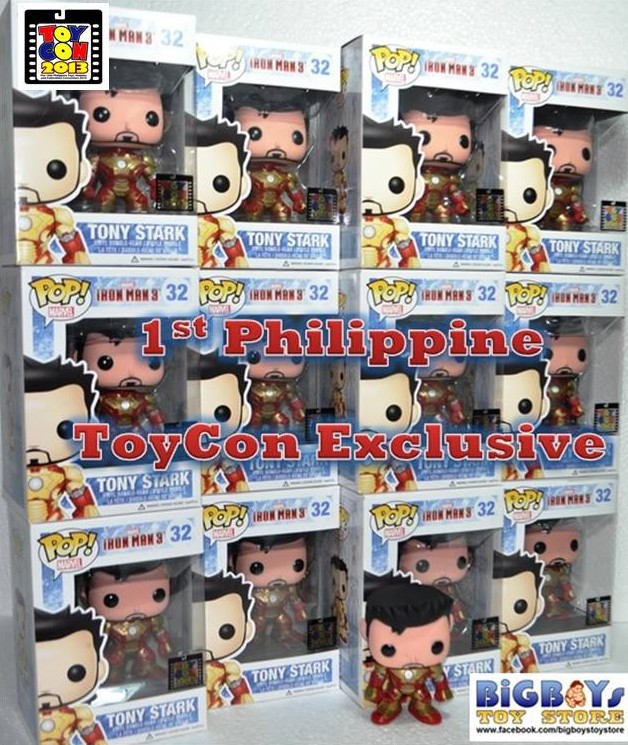 The Philippine Toycon 2013 will still be sort of exclusive to that show, as all the boxes sold at that con will have a really nice metallic sticker on them. No, really–it's a really nice sticker. Funko collectors wanting the Philippines Toycon 2013 version of the Funko POP! Tony Stark can order one now off ebay, although there are limited numbers of it available.

In May, Funko released a massive list of hints, teasing Funko collectors as to what the 57 (yes, 57) Funko SDCC 2013 exclusives were going to be. There's a number of likely SDCC Exclusive Marvel POP! vinyls on the list, including the two hinted at below:
"19. A Superhero Pop! UNMASKED! – $15
20. A wingman Pop! UNMASKED as well! – $15″
Well, now I think we can safely determine that Funko San Diego Comic Con 2013 Exclusive #19 is this Iron Man Mark XLII Unmasked Tony Stark POP! Vinyl figure, with #20 obviously referring to an Iron Patriot Unmasked James Rhodes POP! Vinyl. The limited edition quantities of these particular Comic-Con 2013 Funko POP! Vinyls have not been released yet, but in the past many Marvel POP! Vinyl SDCC exclusives have been limited to as little as 480 produced (hence why last year's Movie Loki POP! Vinyl sells for a small fortune on ebay).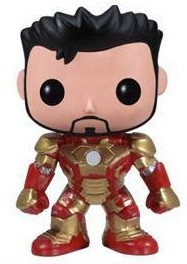 The two Funko POP! Iron Man 3 SDCC exclusives will retail for $15 each at the Funko booth. I'll post more information and official images of the Funko San Diego Comic Con 2013 exclusives (including the Iron Man 3 Unmasked War Machine and Iron Man figures) as more details and specifics become available. And you can also follow Marvel Toy News on Facebook to get updates sent instantly to your Facebook Newsfeed!