Though it's just two months now until San Diego Comic-Con 2016, it's been all quite in the Marvel SDCC 2016 exclusives front–at least, until now! Diamond Select Toys has officially announced their SDCC Exclusives for the show, and there are a lot of them! Perhaps the most exciting ones, though, are a trio of women statues from the affordably-priced PVC statue lines: SDCC Unmasked Spider-Gwen, Mohawk Captain Marvel and white Emma Frost are now up for order!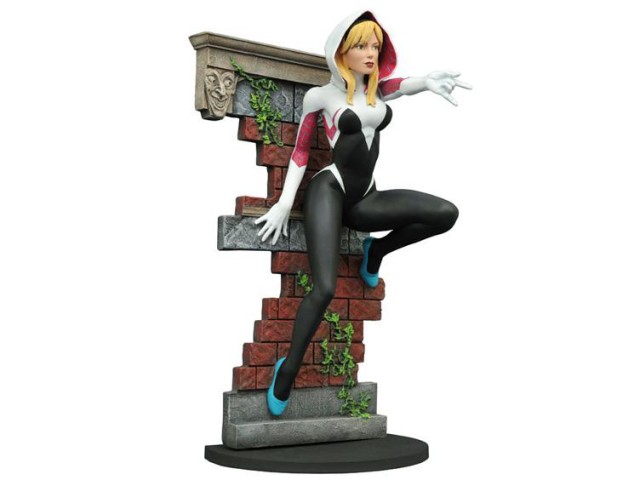 Traditionally, Diamond Select Toys doesn't do a whole lot of Marvel SDCC exclusives. Usually there's a pack of Minimates or two, and, well… that's about it. But this year is different, because this year DST has launched their sure-fire blockbuster line of low-priced 1/8th scale Marvel Gallery statues! And two of the first characters produced for the line will have limited exclusive variants at San Diego Comic-Con 2016: Unmasked Spider-Gwen and Mohawk Captain Marvel!
And for whatever reason, DST is also bringing one of Kotobukiya's exclusives to the show themselves as well: a white variant of the Koto Emma Frost ARTFX+ statue, which is the final piece in the X-Men series for now!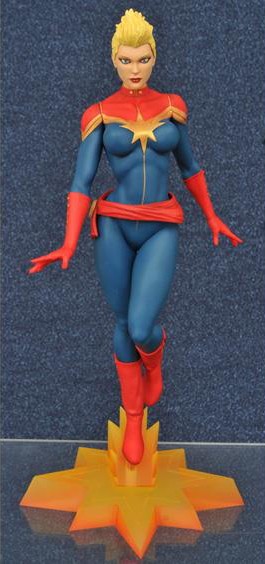 Of the three exclusive Marvel statues Diamond Select Toys has for Comic Con, the Mohawk Carol Danvers Captain Marvel statue is easily my least-favorite. It looks almost exactly like the regular version that I talked about a few months ago, but with a new hairdo and a limited edition size of 1,500.
DST must have also realized that this statue won't be nearly as popular as the others, as both Unmasked Spider-Gwen (LE 3000) and White Version Emma Frost (LE 2000) have much larger run sizes. The SDCC Spider-Gwen Unmasked statue could stand to look a little friendlier, but I like her nonetheless.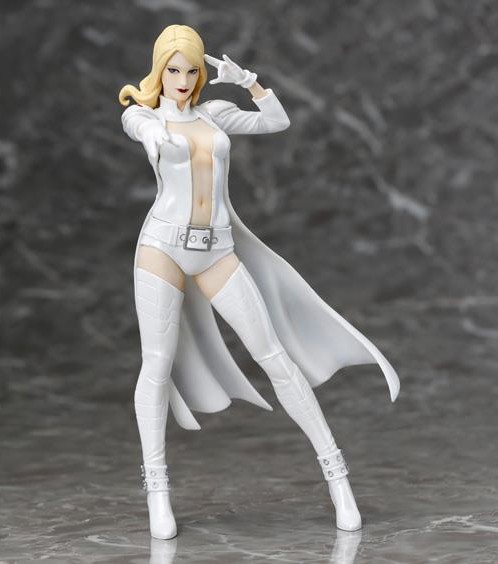 Meanwhile, I think that the Kotobukiya SDCC 2016 exclusive White Queen statue is going to be a big hit. While the black costume on the regular edition of this statue was technically the accurate choice for the Marvel NOW era that the statue is meant to represent, I reckon there are plenty of folks who expect their White Queen statue to be, well…
white
.
So while this Kotobukiya ARTFX+ Emma Frost White Ver. statue may not be entirely accurate to the comics era that it's based upon, I think it's going to sell out and become one of the most in-demand pieces in the whole Marvel ARTFX+ line in the long run.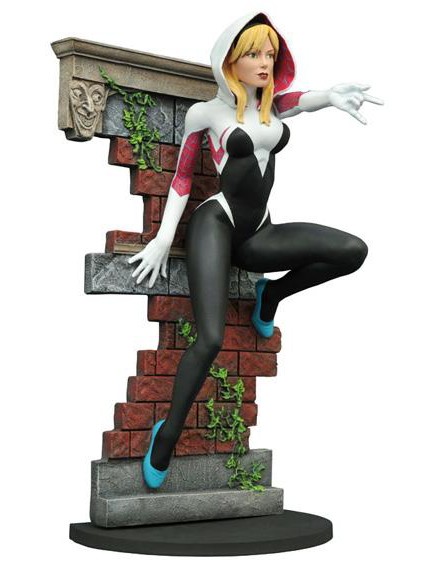 The Diamond Select Toys SDCC 2016 exclusives are now up for order, and are expected to ship out shortly after the end of Comic-Con (so late July, early August). Like most con exclusives being sold to non-attendees, there's a very good chance that the pre-orders for any or all of these statues may sell out fast, so definitely snap up any that you want while you still can.
What do you think of DST's trio of femme fatales Comic-Con exclusives, Marvel collectors? Will you be picking up Koto's White Emma Frost for your ARTFX+ collection, kicking off your Marvel Gallery with Unmasked Spider-Gwen and Mohawk Carol Danvers, or passing on these limited exclusive statues altogether?