With production costs of high-end statues exploding over the past few years, Sideshow Collectibles has wisely began producing new statue lines that are slightly smaller and way cheaper than their beloved, long-running 1/4 Premium Format Figures series. Iron Man kicked off the Avengers Assemble 1/5 series of statues last month, and Tony won't have to wait long for some camaraderie: the Sideshow Exclusive Captain America statue is now up for order!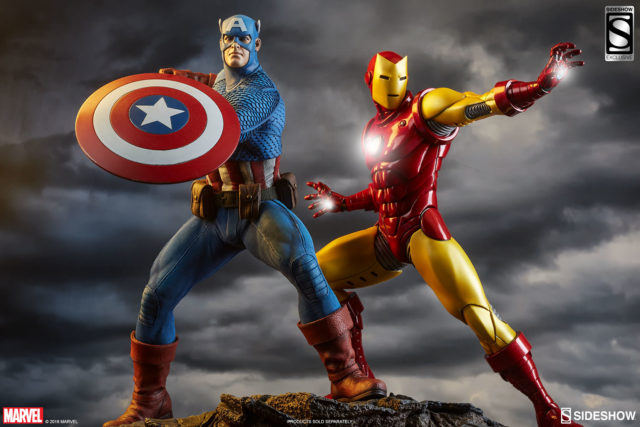 Real talk: We're at a point now where the prices of quarter-scale statues are pricing a lot of collectors out of the market (not to mention the spatial limitations collectors have to deal with). Personally, I can't see a promising future for most 1:4 and larger statue series after the next year or two.
So I am deighted to see Sideshow cutting down on size (a little) and cutting down on price (a lot) with their new 1/5 Teenage Mutant Ninja Turtles and Avengers Assemble statues. (Give me a 15″ statue for $350 over an 18″ statue for $500 any day.)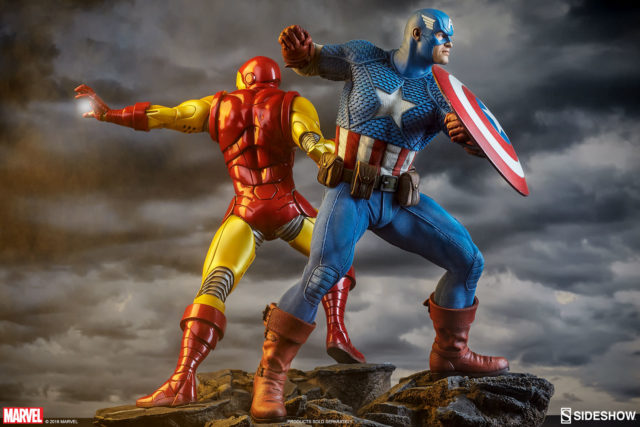 I thought Sideshow did a splendid job with the 1/5 Iron Man statue that they debuted earlier in the winter, but I was curious to see if the other characters in the Avengers Assemble series would be as nice. If this Captain America statue is any indication, we've got nothing to worry about.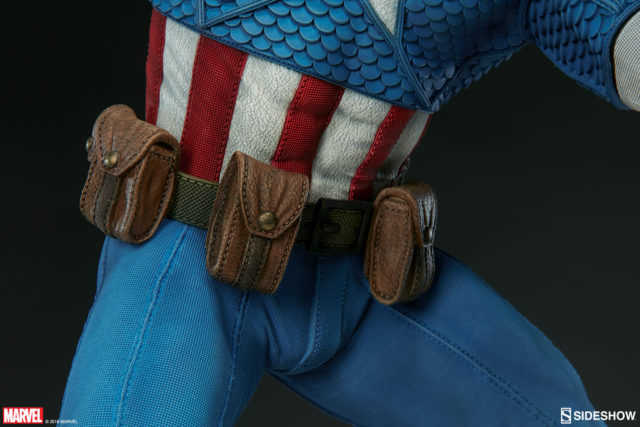 Cap has his iconic shield raised to head into battle, and is standing atop a rocky battleground. There's nothing flashy going on here–just a beautifully sculpted, finely textured and painted comic book style Captain America statue.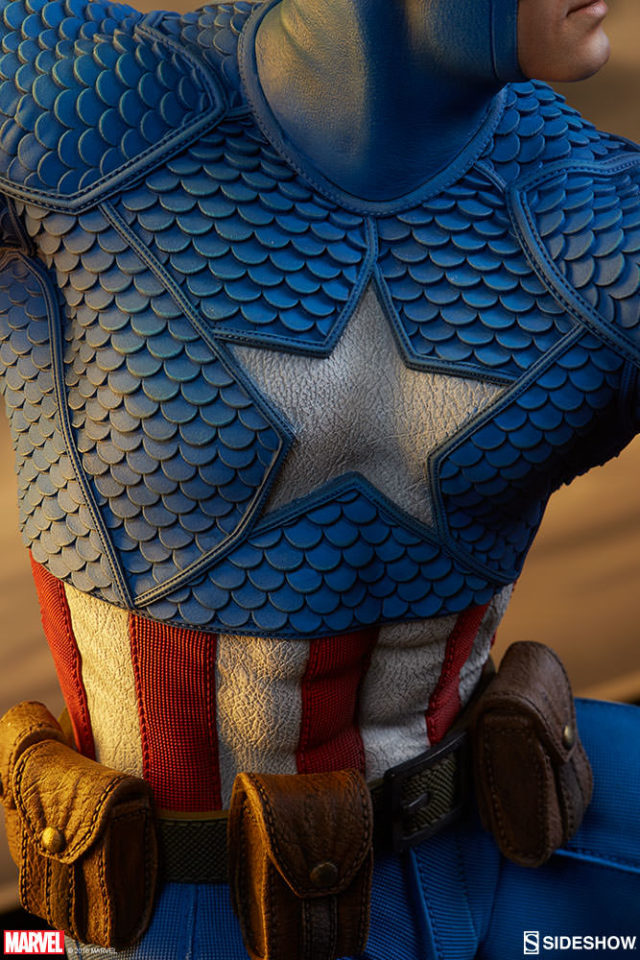 The level of texturing and sculpting intricacy on Cap's costume is drop-dead amazing. Though it's "only" 15 inches tall, I think fans would be hard-pressed to find a Captain America statue with a sculpted costume as insanely detailed and lifelike as this one.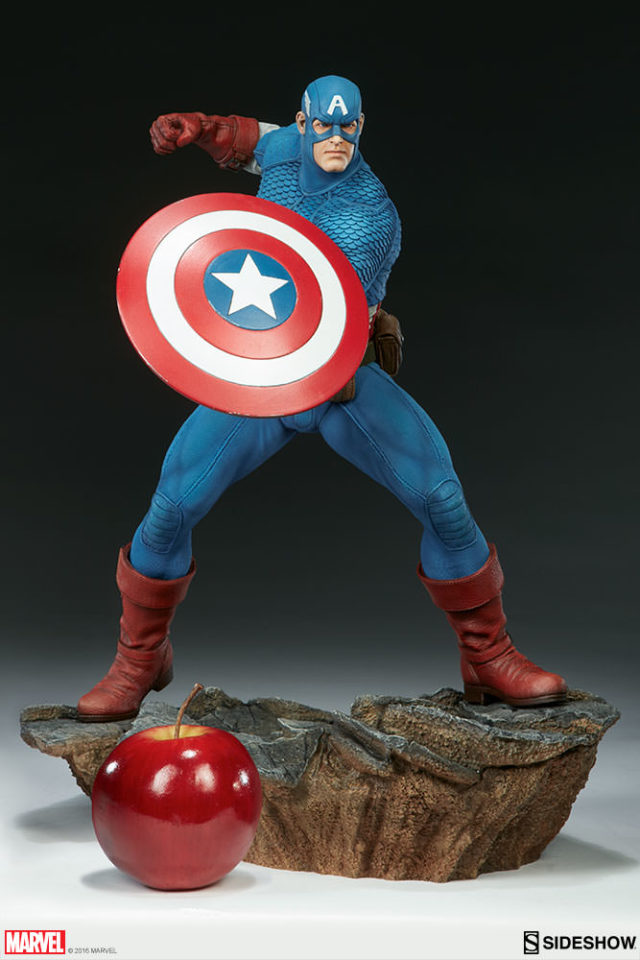 This new Avengers Assemble line is somewhat larger than the Bowen Designs 1/6 Marvel statues, but the classic comic book look and feel of the pieces really does harken back to the golden days of Bowen Designs. I'm loving this line.
And speaking of "classic", that's just what the Sideshow EX version of Avengers Assemble Captain America is going to give us more of: "classic" Captain America!
The exclusive bonus item for folks who order early through Sideshow Collectibles is an interchangeable head for Cap featuring the Silver Age winged mask with big "A" on the forehead. Again, this is another statue where I consider the EX bonus to be a must and not just an extra that would be "nice to have".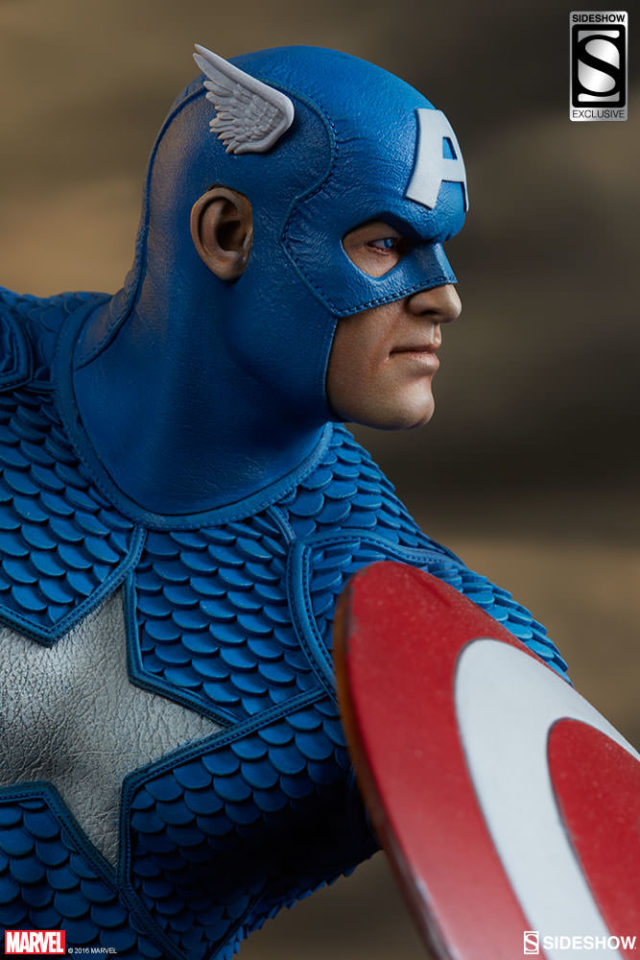 The Sideshow EXCLUSIVE Captain America statue is now up for order, and is scheduled to be released in Q4 2017. Sideshow has already announced (but not unveiled) Hulk and Thor statues to follow, so they clearly have big things in store for this slightly-smaller-than-usual Marvel statue line.
What do you think of the second piece in the Sideshow Collectibles Avengers Assemble series, Marvel collectors? Are you intrigued by the classic comic book look or the smaller, cheaper style of these statues, or has Sideshow filed to catch your interest with this line thus far?