Sideshow Collectibles has made it no secret that they were planning on making variants of their new-for-2016, gravity-defying Spider-Man Premium Format Figure. In fact, before ol' classic red-and-blue Spidey even went up for order, an image had already leaked out of a Black Costume Spider-Man Premium Format statue. At SDCC 2015 last month we got our first official look at the piece, and now the day has arrived that black costume fans can finally claim their Spidey of choice: the Sideshow Premium Format Symbiote Spider-Man statue is now available for order!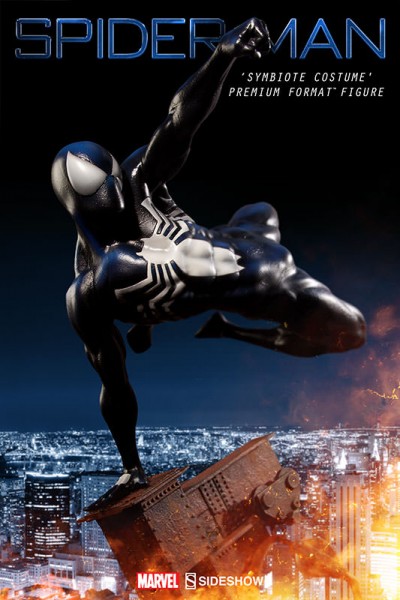 When I saw the design for next year's Sideshow Collectibles Amazing Spider-Man Premium Format Figure, I was instantly in love. Though the iconic red-and-blue isn't my favorite Spidey costume, as soon as I was satisfied with Sideshow's assurances that there wouldn't be quality-control/leaning issues, the exclusive version of that statue was an instant pre-order.
Having already plunked down a non-refundable deposit for one $470 Spider-Man statue this summer, I thought it was unlikely I'd be willing to do the same again in the same summer. But I am weak.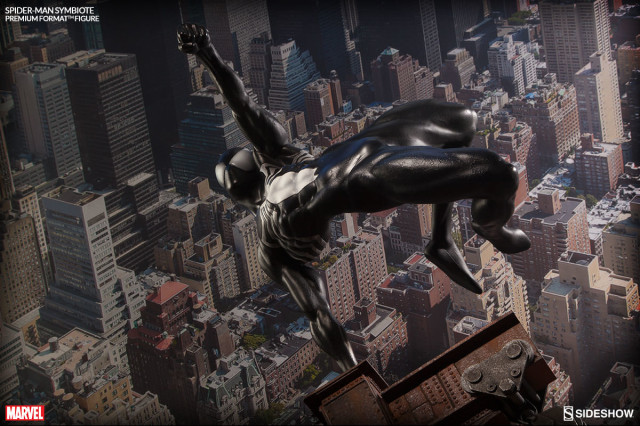 Money is definitely an object for me with all of the various lines that I collect, but once I saw the official photos of this Symbiote Costume Spider-Man statue and videos from San Diego Comic-Con, I knew that resistance was futile.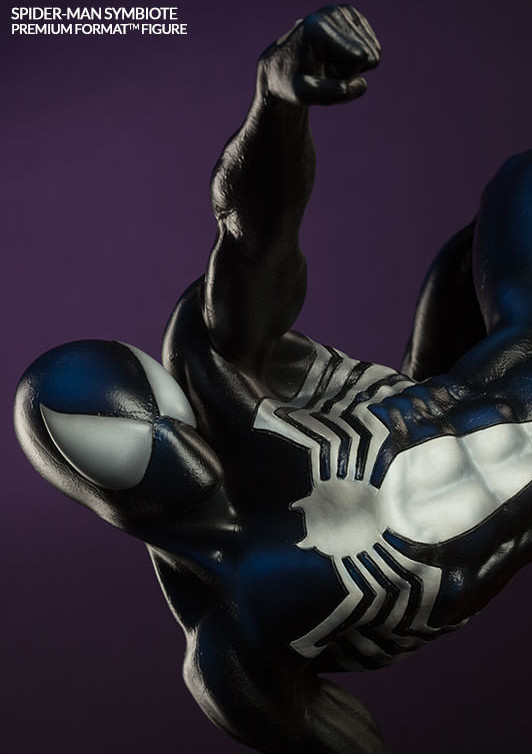 Unlike most Sideshow Marvel Premium Format variant statues (such as White Costume Storm and White Costume Black Widow), this statue isn't quite a complete repaint of the original version.
Black Costume Spider-Man has always been more intense-feeling and aggressive than traditional Peter Parker, so it seems appropriate that this figure exclusively comes with a left fisted hand instead of the web-shooting hands the regular version includes.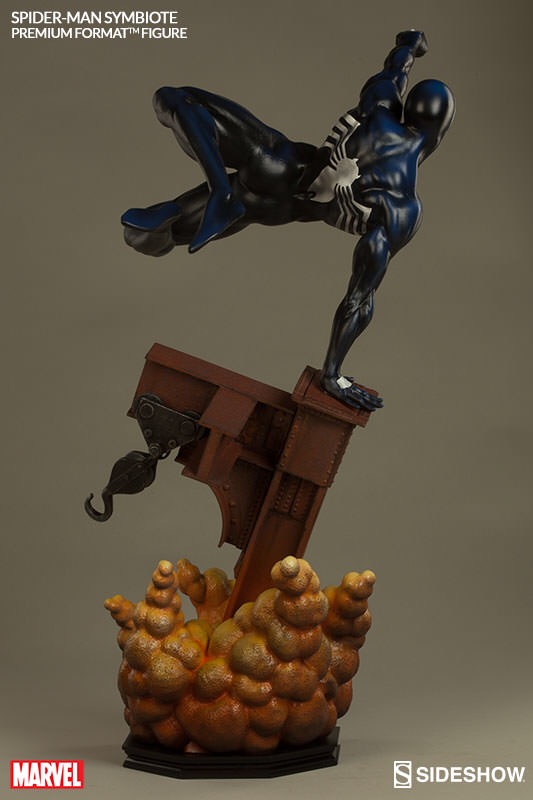 In addition, the Green Goblin pumpkin bomb has been removed from the base.
There is, of course, a big downside to this beautiful statue of Black Costume Spider-Man, and anyone who ordered (or thought about ordering) the previously-solicited Amazing Spider-Man statue knows what it is: the big price-tag.
The Premium Format Figure Symbiote Spider-Man will retail for a mighty $469.99. Even though this statue stands around two feet tall and is a complicated design, that is still a huge price-tag for this piece. Hopefully Sideshow is limiting production on this beauty so that it retains its value even without an exclusive edition.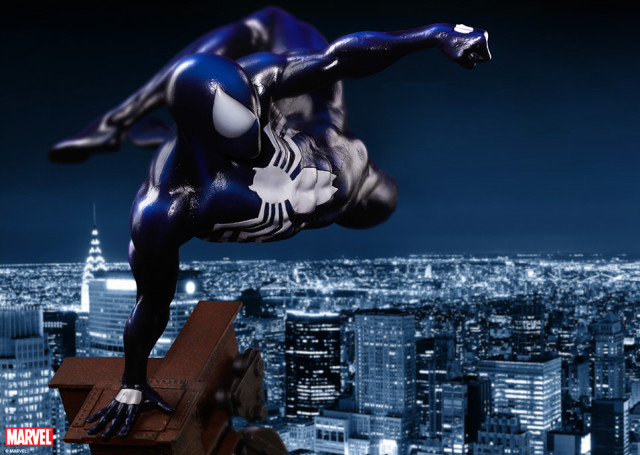 The Black Costume Spider-Man Premium Format Figure is now up for sale on the Sideshow Collectibles website, and is expected to ship out in mid-2016. There is no exclusive edition on this particular statue, so it's entirely possible that it may stick around for quite a while before selling out. But then again, Sideshow may have learned their lesson from the X-Force Deadpool PF and set a limited number of Symbiote Spideys for production–we'll just have to wait and find out.
Thoughts on this Spider-Man Symbiote Premium Format Figure, Marvel collectors? Anyone paying out the big bucks for the slickest Spider-Man costume, or did you opt for the Classic Spider-Man PF–or no Spidey at all?