We've been wondering about the 2016 Marvel Legends X-Men wave ever since it was announced in mid-2015, but now we need wonder no more! At the New York Toy Fair 2016 Hasbro press event today, Hasbro finally revealed the seven figures making up this summer's X-Men Legends wave–including Phoenix, Kitty Pryde, Iceman, Cable and more!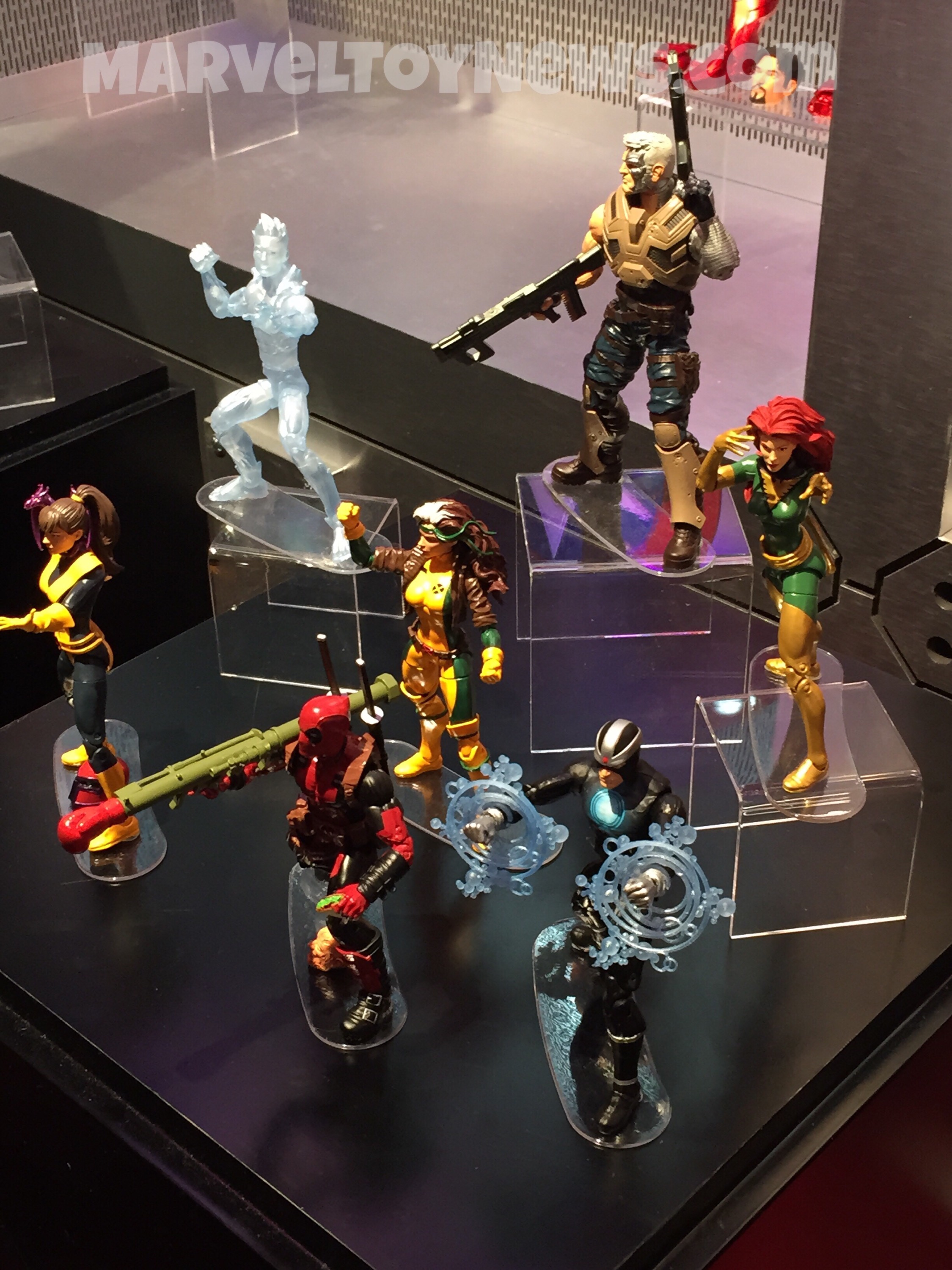 I'll be updating with details and thoughts on these figures throughout the afternoon, but I imagine what you guys REALLY want to see is the photos of the lineup.
And so, without further ado, the Marvel Legends 2016 X-Men Series will contain:
Iceman (Modern)
Deadpool
Kitty Pryde (Marvel NOW! X-Men) with Lockheed
Phoenix Jean Grey
Havok (Modern)
Cable (Modern)
Rogue (Jim Lee)
Yes, that's right–THREE women in a single wave of Marvel Legends! Insanity, right?! But hey, if ever there were three females that could all be in one wave and sell like gangbusters, it's Kitty Pryde, Rogue and Jean Grey! Fans have been asking for a new Jean Grey Phoenix action figure since the Fan Poll in 2009, so I think the time for a new green Phoenix is long overdue at this point.
Also, note that Shadowcat (Kitty Pryde) comes with a new Lockheed dragon as well as the heavily-demanded classic Onslaught head for the Build-A-Figure that's already out. Kitty Pryde is gonna be in top demand this summer!
Meanwhile, the new Marvel Legends Deadpool that Hasbro revealed on Thursday night is sporting some wacky accessories including a taco and a boxing glove-shooting bazooka! Plus: an unmasked Deadpool interchangeable head! Best Deadpool action figure ever…? I think so!
Despite being the leader of several high-profile teams over the years (including the Avengers, X-Factor and the X-Men), it's astounding that there's only been a singe Marvel Legends Havok figure ever released–and that was as a Toybiz exclusive a decade ago! So yeah–like Phoenix, this Uncanny Avengers Havok 6″ figure is well overdue. And his new translucent blue effects pieces are, quite frankly, sweet.
Hasbro is not revealing the identity of the Build-A-Figure for this wave at this time. I've always expected it to be a new Marvel Legends Apocalypse Build-A-Figure (especially with the Apocalypse movie and huge comic book crossover coming up this summer), but that's strictly my own intuition (which really doesn't count for much). I think the tooling is there to make a great new Apocalypse BAF, but we shall see in a few months if I'm correct or not.
What do you think of this year's Marvel Legends X-Men series? And who are you hoping the Build-A-Figure will be?