Remember that one crazy time (okay, it was last week) when the Marvel Legends Dark Phoenix & Cyclops figures two-pack arrived in Australia before anywhere else in the world…? Well, it's happening again–this time, with a full team five-pack! But while the Toys R Us Exclusive Marvel Legends Guardians of the Galaxy box set that's arrived on ebay may be bigger and more expensive than the Dark Phoenix pack, it's not necessarily better, that's for sure…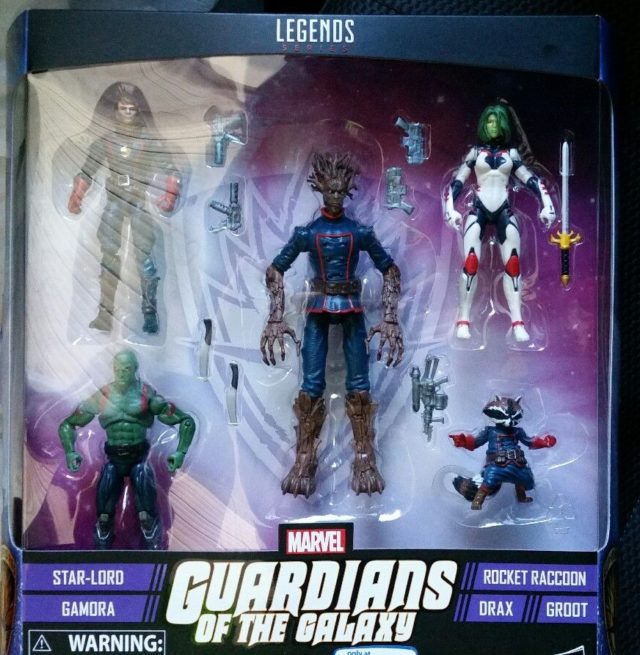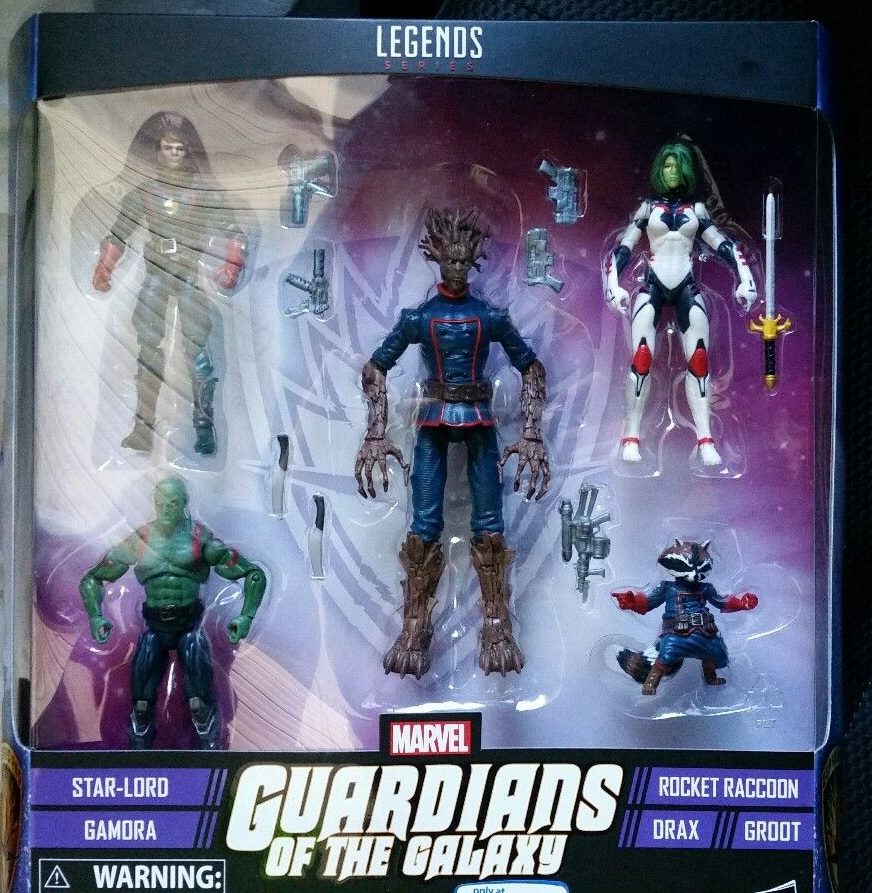 When I first heard the announcement of an exclusive Toys R Us Guardians of the Galaxy Marvel Legends pack of comic-based figures at Hasbro's press event at New York Toy Fair 2017, my face lit up… for about three seconds.
Then I realized that the figures shown on the slide in front of me weren't 6″ figures, but actually the Marvel Universe 3.75″ scale. Which isn't bad in itself, except that every figure in the set is a repack–most of which from over half a decade ago…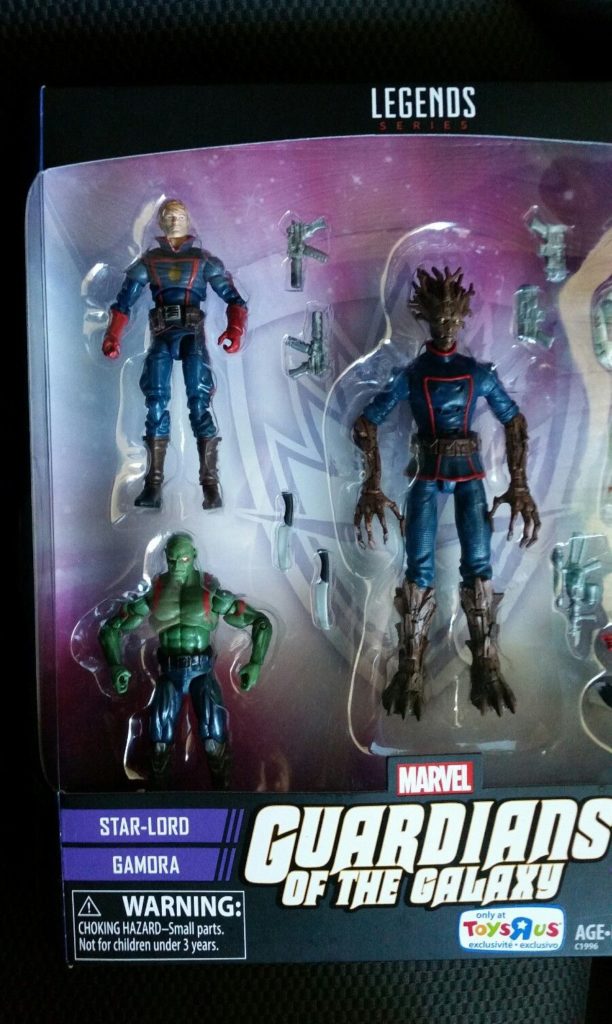 There's only one newly-molded piece in the entire set, as far as I can tell: a new unmasked Star-Lord Peter Quill head. There isn't (and shouldn't be) any Chris Pratt likeness, but as far as heads go, this Star-Lord unmasked head is pretty generic.
The same Marvel Universe Drax and Rocket Raccoon figures that came in that Marvel Universe team pack from half a decade ago will also be returning. This is the fourth release of this mold for Rocket and the third release for Drax, so I'm not overly enthusiastic about these figures at the moment (although I loved them years ago).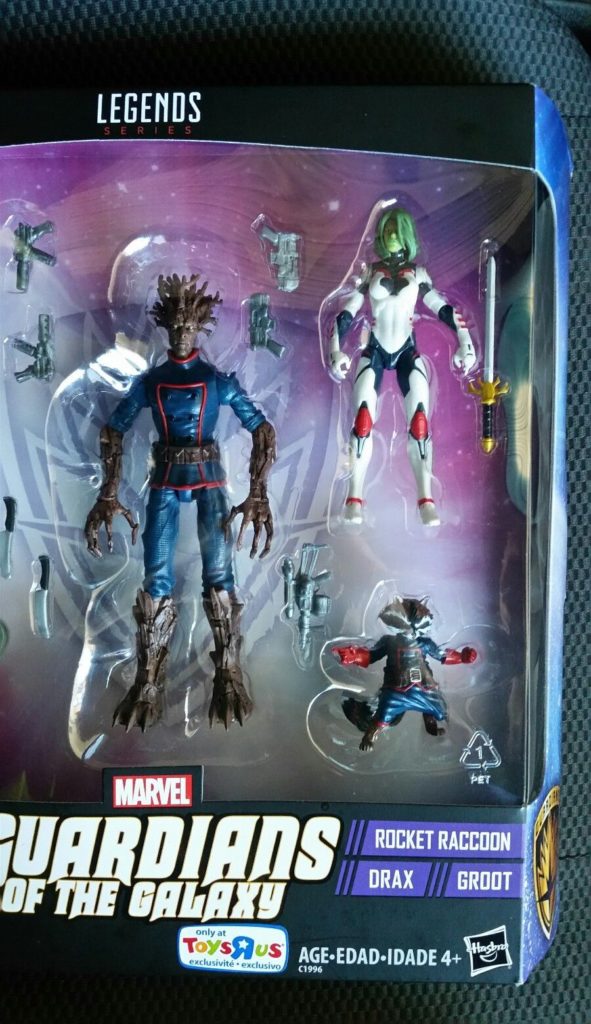 Rounding out the set are Marvel Legends Gamora and Groot 3.75″ scale figures. This Annihilation era Groot figure was actually released in a comic pack with Rocket late in 2016 (with white lining instead of red), but I've never seen that two-pack in a store ever, so I don't mind an encore for Groot.
This exact Gamora, on the other hand, is getting its third release in just the past year in this set. I love Gamora and this is a really nice mold and all, but ouch. Thankfully I didn't purchase the Gamora/Star-Lord comic pack in the winter, but even so, this will still be my second time buying this figure after the individual release last summer.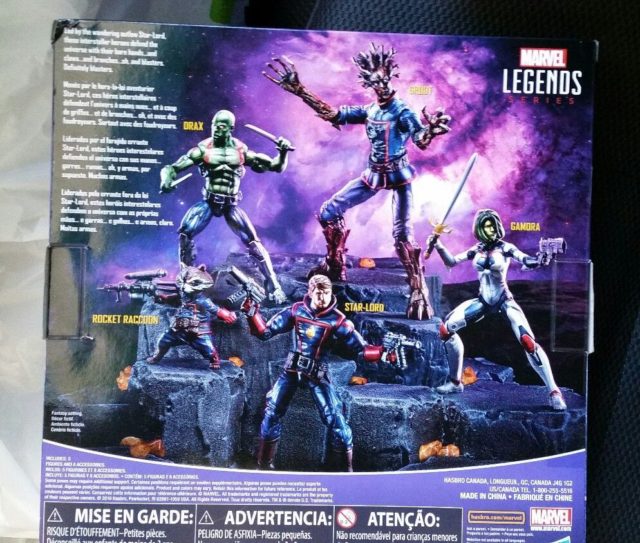 You can see the TRU Exclusive Marvel Legends 3.75″ Guardians of the Galaxy set on eBay now, although I don't recommend anyone paying to import this box set off the aftermarket. There should be plenty of this pack to go around once it reaches Toys R Us stores in the United States this summer (where it will very likely sit and collect dust for months and months). And big thanks to Shan Bowie for directing me to the auction with the first in-hand photos of this set!
What do you think of the Guardians of the Galaxy Marvel Universe/Legends complete team set, Marvel collectors? Is anyone psyched for the chance to get all five members of the team in one go, or are you as sick of these recycled molds as I am?