It's been quiet times for Marvel collectors as we approach the end of 2014, but if there's one collecting genre that pretty much always has new figures coming out to talk about, it's designer vinyls! But this article isn't about Funko (believe it or not), it's about the Marvel vinyl figures being put out by Emperor Mickey Mouse himself–Disney! Coming to the Disney Parks and online in December 2014–the limited-edition Marvel Vinylmation Iron Patriot, War Machine, and Ant-Man vinyl figures!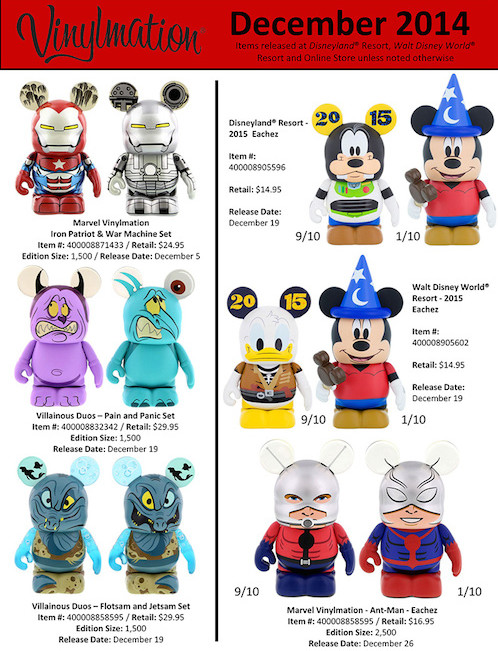 I've swayed a bit from my path as a hardcore Disney Vinylmation collector this year, but I still make it a point to pick up every one of the Vinylmation Marvel figures that come out (which isn't all that difficult, since Disney only released about 20 total Marvel Vinylmation figures per year).
But just when I thought Disney was done with Marvel for 2014, however, they're ready to cash in again with some limited edition figures–two familiar armors from old comics and movies, and two character from the comics with movies yet to come!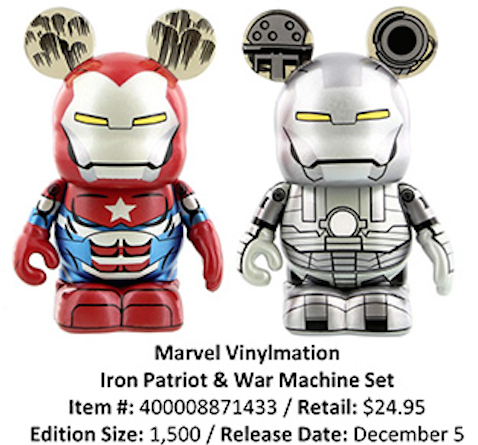 First off, coming up in just a few weeks, we've got the Marvel Vinylmation Iron Patriot & War Machine set! Pretty much every company in the free world that released an Iron Patriot figure repainted it into War Machine and sold him as well, so why not Disney, right…? (Of course, this particular figure is a bit different, since the mold is the same across the entire Disney Vinylmation line and has already been repainted well over a thousand times, but I digress.)
Though James Rhodes' (Rhodey's) Iron Patriot and War Machine armors are quite beloved after being featured in the Iron Man 3 and Iron Man 2 movies, these Vinylmation figures are based off the comic book versions of the armors. Limited to just 1,500 sets produced, the pair will retail for $24.95. I think a LE 1500 is way too low for such high-profile characters, but maybe Disney wants to drive up demand for this duo.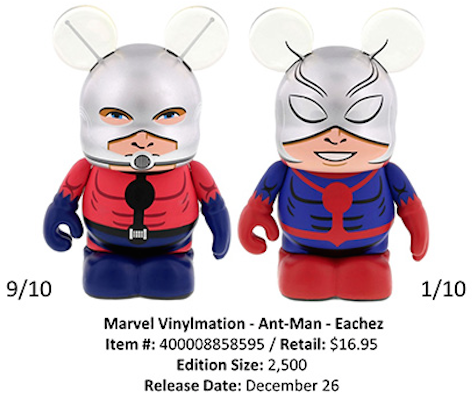 The other December 2014 Vinylmation Marvel release will be a $16.95 Blind-Boxed Ant-Man Vinylmation figure limited to 2,500. The catch? 2,250 of the blind-boxes will contain the classic Hank Pym Ant-Man Vinylmation, while just
250
of the blind-boxes will contain Scott Lang Hank Pym.
With an edition size of LE 250, the Vinylmation Ant-Man variant Scott Lang figure will be the most limited Disney Vinylmation figure ever made.That's pretty bizarre, seeing as how Scott Lang Ant-Man will be the featured character in the Ant-Man movie next year. Crazy.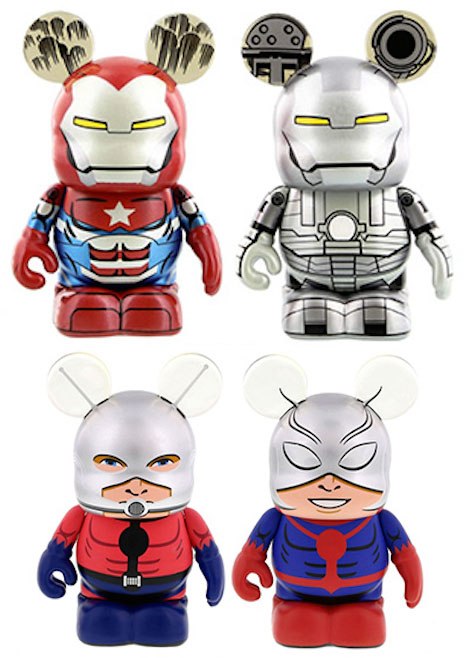 The Disney Vinylmation War Machine & Iron Man two-pack will be released on December 5th 2014, while the Vinylmation Ant-Man Eachez blind boxes will be released on December 26th, 2014. Presumably both items will be available online, and I'll post links to the Marvel Toy News Facebook Page to order them when/if they go up online. Vinylmation limited-edition items like these usually sell out in just a few hours online, so be prepared to strike if you want these.
What do you think about the final four Disney Vinylmation Marvel figures for 2014, Marvel collectors? Is Disney right to make these characters limited (particularly Scott Long Ant Man at LE 250), or have they severely underestimated the popularity of their characters?