Yesterday I talked about the first wave being released for what's arguably the single most popular line of Marvel action figures with collectors: Marvel Legends. So today, let's turn that upside-down with a line of Marvel toys that are super-popular with kids and casual fans, but uh, "less so" with many collectors. The first 2016 Marvel Titan Heroes figures have been released–including Black Widow, Black Panther, Sandman and more!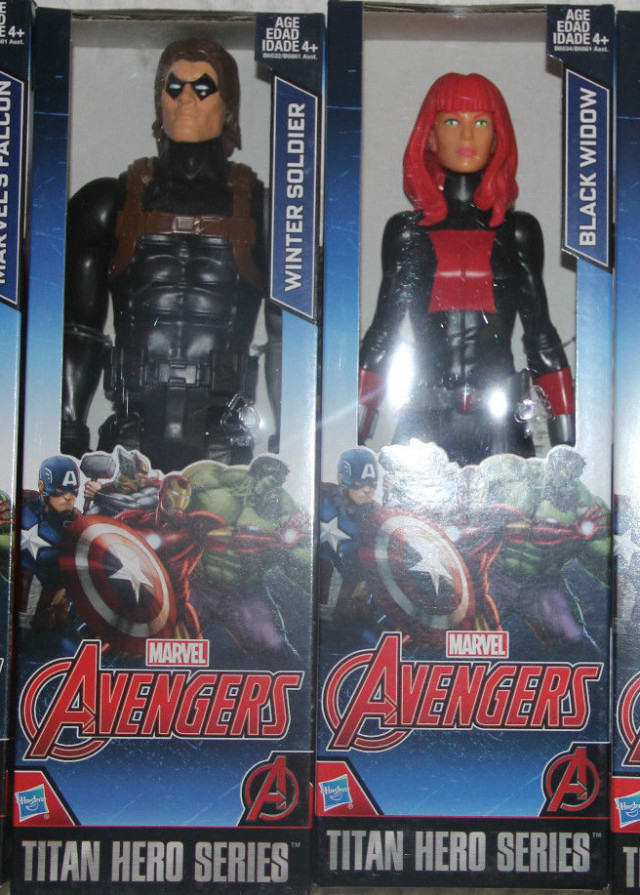 Although quite a few adult collectors have a bit of rage built up toward Hasbro's affordably-priced, 12″ Marvel Titan Hero figures series, the line remains one of Hasbro's best-sellers at retail.
And it looks like Hasbro is taking the success of the 12″ Titan Heroes to heart, because there are seven new Titan Hero action figures being released to kick off 2016!

First up is the big one: Titan Hero Black Widow! It's long been a complaint by many that no females are released in this series, but in one fell swoop Hasbro is able to fell that criticism and also cross off another line Black Widow hasn't appeared in.
At this point, we have Black Widow action figures available in virtually every single major Marvel toy line out there, with the exception of Marvel Mashers. I don't know how Disney would feel about breaking a woman to bits and merging her parts with a man's (wow, that sounded way dirtier than I intended), so sadly we may never get a Mashers Black Widow.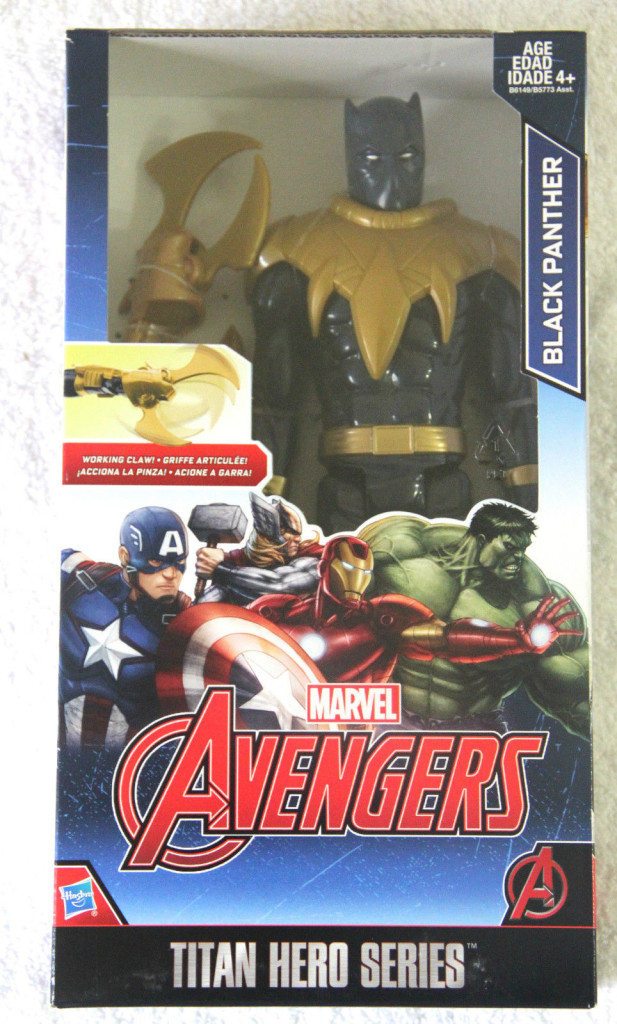 Next up is a real surprise release: the Deluxe Titan Hero Black Panther! With his upcoming MCU debut in Captain America: Civil War, I guess it was only a matter of time until T'Challa made his debut in the Hasbro "kids" lines.
The "deluxe" part of this figure refers to the additional gold accessories he comes with, which make this look like a Marvel Knights Black Panther to me. Nifty!

Thirdly, we've got a character that comes as a real surprise to me: a 12″ Winter Soldier Titan Hero! Bucky is a popular character and a driving motivator in Civil War, so I guess his inclusion here makes sense.
And maybe I'm just crazy, but does the paint deco for the Winter Soldier figure look especially good for this line…?
A new War Machine is the fourth new release. We've had a couple War Mahines before in this range, but this one looks to have updated paint apps and a mold that I can't recall seeing used for him before.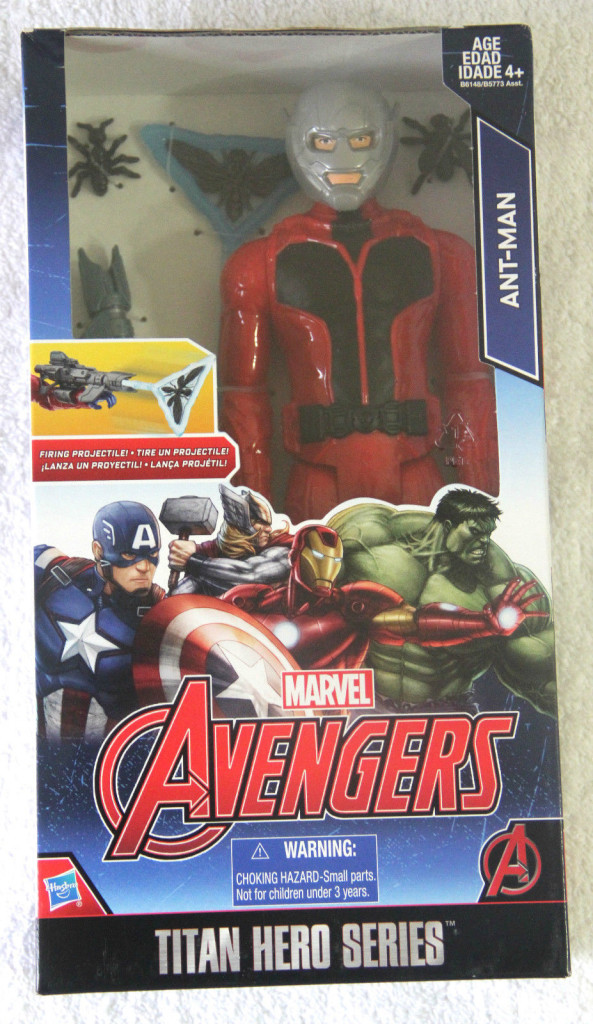 The last new Avengers Titan Hero figure for 2016 is another I did not expect at all: a Deluxe Hank Pym Ant-Man! With little insects as accessories (and some sort of insect-shooting projectile blaster), I'm liking this version a lot more than the boring Titan Scott Lang Ant-Man we got last year.
But that's not all! The Ultimate Spider-Man Titan Hero is getting himself a pair of new villains to ring in the new year as well this winter: Sandman and Vulture!
Unfortunately, I'm not altogether tickled by either of these figures. The lack of accessories in this line means that Vulture will be flying wingless, while that Titan Hero Sandman looks plain awful with such limited paint deco that his shirt is even missing its stripes! I know they can't all be winners, but this 12″ Sandman figure is pretty disgraceful. Alas.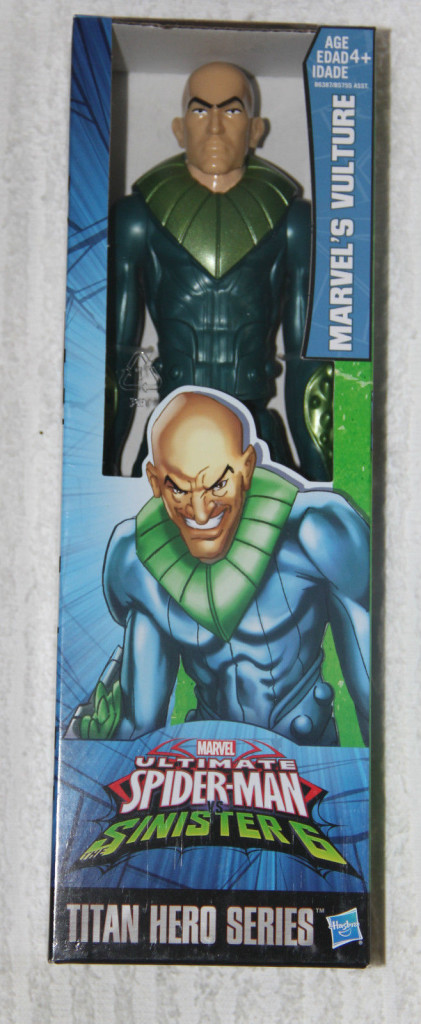 The Hasbro Marvel Titan Heroes 2016 action figures should be arriving in stores this winter, and if past releases are any indication, shouldn't be very difficult or expensive to track down at all.
Hands up, Titan Hero collectors! What do you think of the new additions for 2016? Which of these characters (if any) will you be adding to your collection this winter?