On Valentine's Day 2015, Hasbro won back the love of thousands of Marvel Legends movie figure collectors when it revealed the Amazon exclusive Marvel Legends Avengers Age of Ultron 4-Pack Box Set. Up until the 2015 New York Toy Fair, it appeared that the entirety of the 6″ Marvel Legends Age of Ultron lineup would simply be retooled Captain America, Iron Man and Hulk figures. But Hasbro made their commitment to completing the core team known, and now we can see the fruits of their labor: the Amazon Avengers Legends set is now available for order!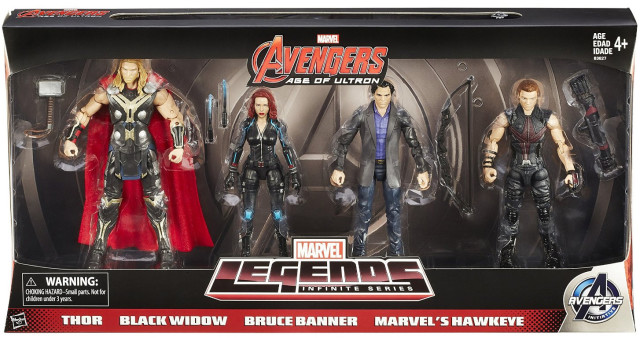 Original Story 7/3/2015:
Hold on a second! Don't get too excited! Amazon has
not
fully-opened pre-orders yet for their Marvel Legends exclusive box set.
However
, they did finally create the item page for the set, which includes our first packaged image of the hotly-awaited four-pack (and the image above can be inflated to super hi-res to take a better look).
While only a handful of collectors were able to place orders during the extremely brief period before pre-orders were closed, those who did get through said that the price-tag was set at the expected $79.99 MSRP (a reasonable $20 per figure–same as usual, but certainly not a "deal"). It is anticipated that the set will go back up for order in the very near future for the remainder of the run of this set.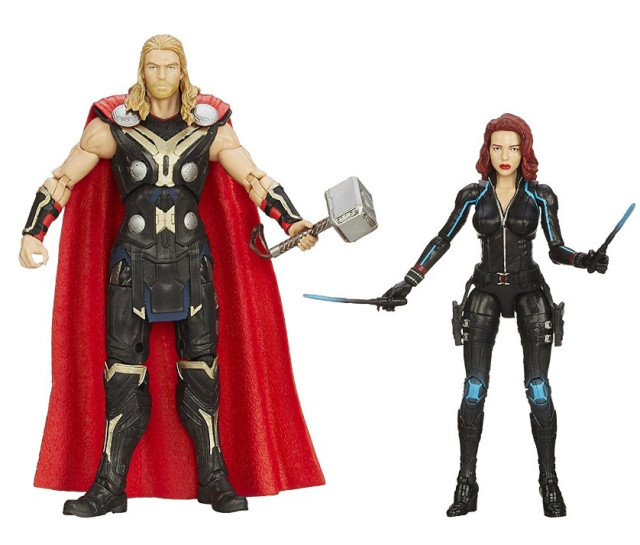 The exclusive Amazon set includes four 6″ figures–
Marvel Legends Age of Ultron Thor: This is meant to be AOU Thor, but I think Hasbro somehow got their wires crossed. This 6″ Thor action figure is wearing the gold armor that Thor wore in Thor: The Dark World, whereas Thor wore silver armor in the Avengers Age of Ultron movie. On the bright side, we never get a Marvel Legends Dark World Thor, so this is still a new canonical movie figure–just not necessarily the one that Hasbro intended.
Marvel Legends Black Widow (AOU): This is the previously-released Winter Soldier Black Widow repainted with the awesome blue Tron highlights on her costume and with a new pair of batons packed in. I really like this Black Widow costume, so I'm happy to see this released.
Marvel Legends Bruce Banner: The only true "new" character being released as part of this set is the first-ever non-Hulk Bruce Banner Marvel Legends action figure. While the body of this figure is a complete reuse of existing tooling, we do get an all-new head for Mark Ruffalo here! Is it the best? Well… I'll leave that up to you guys to decide.
Marvel Legends Hawkeye: This looks almost identical to me to the Hawkeye Legends figure from the previous Avengers movie. This new release is good for those who missed that short-packed Walmart exclusive figure back in 2012, but a bit lame for everyone else.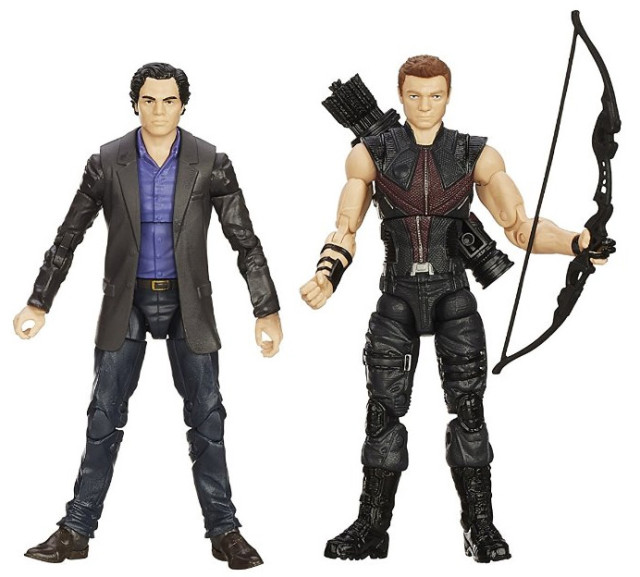 Now, while this release is going to make a lot of Marvel Legends movie figures collectors happy, it's also going to increase the number of folks asking about Marvel Legends movie Vision, Quicksilver and Scarlet Witch figures. With Vision and Scarlet Witch appearing in the Captain America: Civil War movie next summer, I think it's almost a certainty that we'll be seeing new movie Scarlet Witch and Vision Marvel Legends figures by this time next year (and quite possibly sooner).
As for Quicksilver, well… it's possible that he's run his last Marvel Legends race. Maybe we'll get a movie Marvel Legends Quicksilver figure, and maybe we won't. We'll see. And in the meantime, Hot Toys should be debuting the Hot Toys Quicksilver figure very soon!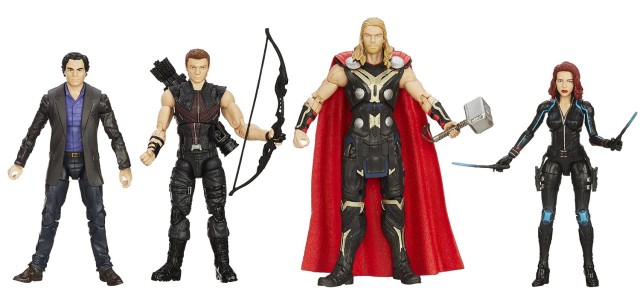 The Amazon Exclusive Avengers Legends 4-Pack set should be going up for order soon, and is expected to be released in July/August 2015. The MSRP for the set is said to be $79.99, but as it's an Amazon exclusive, they can reduce the price by putting it on "sale" for whatever they want, right out of the gate. I'll post an update here and to the Marvel Toy News Facebook Page as soon as this set officially turns up for sale.
Now that you've seen hi-res packaged photos of the set, how do you like this 6″ Marvel Legends Amazon set, Marvel fans? Are you willing to plunk down 80 smackers for three updated movie figures and the first Marvel Legends Banner figure, or will you be passing on the most-anticipated store-exclusive Marvel Legends set of 2015?