Ever since the first photo leaked of the back of the Kamala Khan POP Vinyl's box, we've known that a number of classic Marvel comics characters (who just happen to be starring in their own TV Series in 2017) would be joining the POP Vinyls lineup. We just didn't know when or where they'd be coming–until now! The Previews Exclusive Funko Luke Cage, Iron Fist and Black Bolt POP Vinyls are now up for order!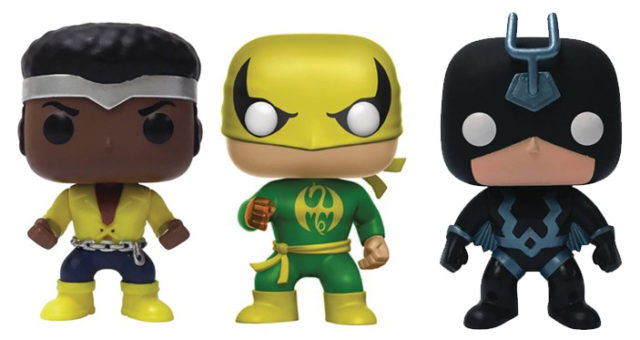 2017 is poised to be a breakout year for certain traditionally not-mainstream Marvel characters, with Black Bolt and the Inhumans coming to NBC (and IMAX Theaters!), and Iron Fist joining Luke Cage and getting his first ever TV Series on Netflix.
And to celebrate, it's finally time for these three Marvel mainstays to make their debuts–in super-deformed Funko POP Vinyls form! All five of the POPs discussed here will be exclusive to retailers who order from Diamond Comics Distribution through Previews Magazine.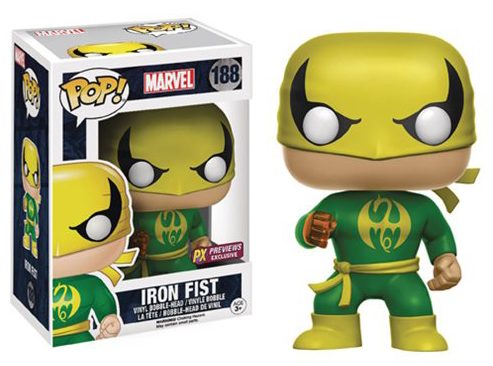 First up, we've got the Iron Fist POP Vinyl. We actually began seeing leaked photos of Iron Fist a few months ago, but now both versions of the figure are confirmed as being PX (Previews Exclusive). I love the way that Funko has designed the "iron" fist effects on this figure!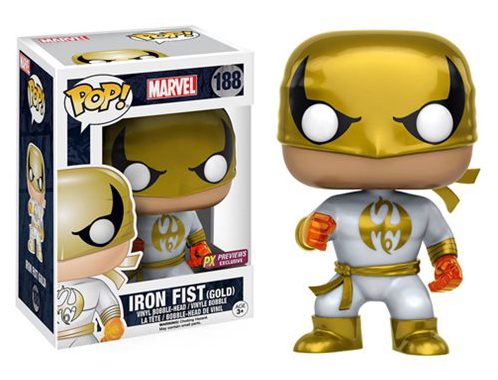 The Funko White Iron Fist has long been labeled as a Free Comic Book Day (FCBD) 2017 exclusive, even though it's been up for pre-order for months and we're still over five months away from Free Comic Book Day 2017 as of writing. I think it's pretty cool that Funko gave the modern white version of Iron Fist different-looking effects fists and made both fists powered-up.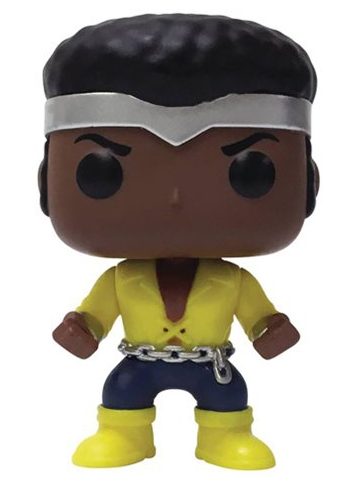 Of course, you can't have Iron Fist without his BFF, Luke Cage–Power Man! Funko will be releasing two versions of Luke Cage in 2017–a Netflix-like modern Luke Cage POP Vinyl in the Jessica Jones POP Vinyls series, as well as a Classic Power Man with his afro, yellow shirt and tiara as part of this PX wave.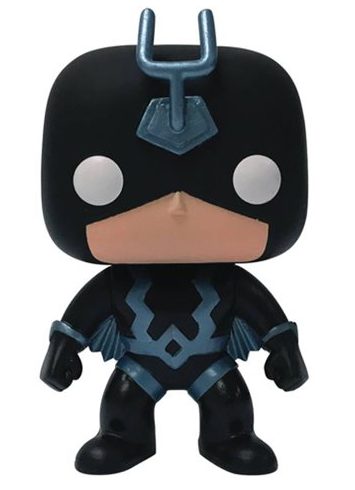 Last (and maybe least), it's the king of the Inhumans–Black Bolt! I thought that a Funko Black Bolt POP Vinyl was a bit of an odd choice when this was first revealed, but now that we've learned about the Inhumans TV Series, his existence makes a whole lot more sense.
What is a big surprise, though, is that there will be two versions of the POP Black Bolt: a classic version with blue costume with blue stripes and a modern version black costume with silver stripes. I don't know that we needed a variant version of this character, but it's neat that Funko is giving us the option.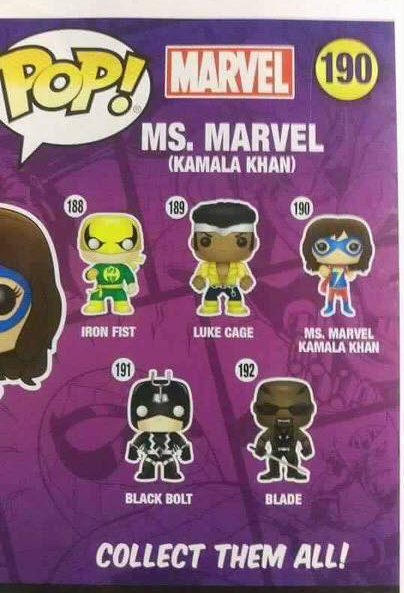 The only character missing from the back of the Kamala Khan packaging is the Funko POP Blade figure, depicting the popular Vampire Hunter. Since all of the other characters on that packaging have ended up being exclusives, it stands to reason that the Funko Blade will be as well. The question is: to where?
Given the nature of Hot Topic, I would think that they're most likely to get an exclusive Blade figure, but that's solely my speculation right now.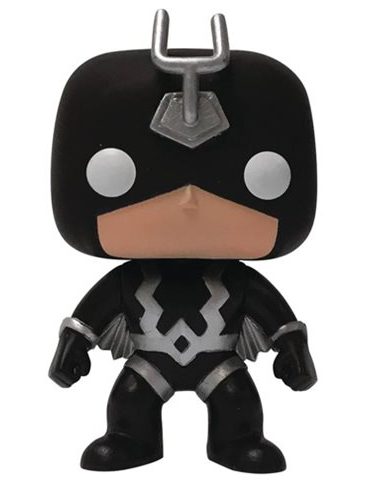 The Funko POP Vinyls Iron Fist, Luke Cage and Black Bolt figures are now up for order, and are scheduled for release in February 2017. I imagine that the Netflix-related characters Power Man and Iron Fist are going to be the top sellers and hardest to find figures from this lot, with both Black Bolt versions being slower sellers, but perhaps there's more Inhumans fans out there than I think?
Thoughts on the newest trio of characters making their POP Vinyl debut in 2017, Marvel collectors? Which versions–if any–of these classic characters will be joining your Funko collections this winter?