When Funko made a huge deal out of the upcoming expansion of their X-Men toys range–including NYCC Exclusives and all-new packaging for the X-Men Dorbz series–I had a feeling that we'd be seeing the X-Men finally appear in a certain subscription box sooner than later. And that intuition has borne fruit–the Funko Marvel Collector Corps X-Men Box is now up for order! What exclusives do I think might be in it? Read on…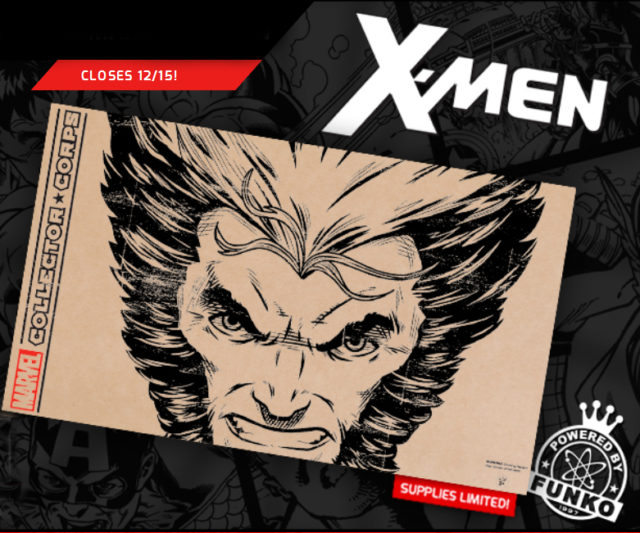 Although I'm still waiting for the Doctor Strange Collector Corps box to arrive so that I can review it, the next theme has been announced for December 2016, so let's begin speculating as to the contents of the Funko X-Men Collector Corps Box!
The number of major mutants who haven't appeared yet as POP Vinyls or Dorbz is pretty staggering, so let's take a look at what we know about the box…
Wolverine is on the Funko X-Men Box Itself: It's not a surprise at all that the MCC X-Men box has been strategically placed to release as far away from both this year's FOX X-Men Apocalypse movie and next year's Wolverine movie, as we all know Disney isn't big on promoting FOX's X-Men endeavors.
What I am a little surprised by is unmasked Wolverine on the box itself. There's a Logan POP already scheduled for release this winter according to Gamestop's database, so I doubt the box will contain an unmasked Wolverine POP Vinyl figure. That said, we've never had an unmasked Wolverine Dorbz yet. Hmmmm.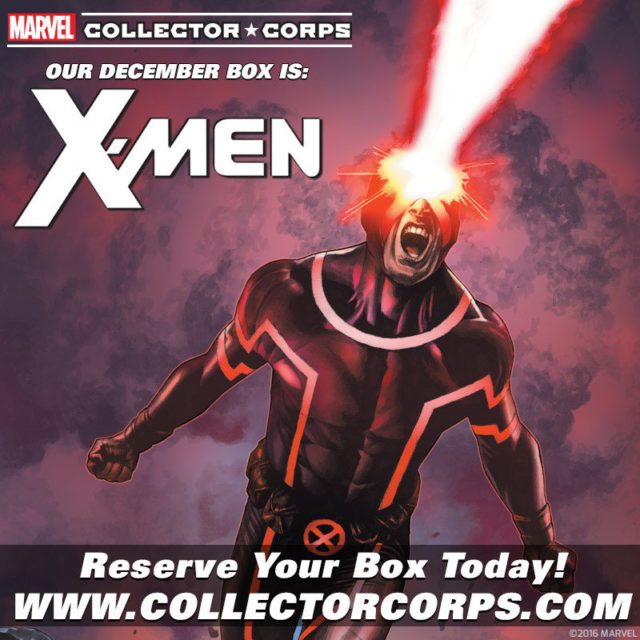 Cyclops is on most of the ads for the box: The character most associated with the leadership of the X-Men is Cyclops, and he appears on many of the ads for the latest box in his modern Marvel NOW costume.
With no Funko Cyclops POP presently available, could we be seeing a new Scott Summer POP! Vinyl this December? It seems like a longshot (no, not Longshot the X-Man), given that we've already had a Jim Lee Cyclops (and visor-less variant) released in the line, but I wouldn't totally discount the possibility…
There's Only One X-Men POP Vinyl in the Box: Several of the advertisements for the box seem very clearly indicating that there's only going to be one singular POP X-Men figure in the box. That's a real shame considering the crazy number of X-Men team members that still needs their own vinyls.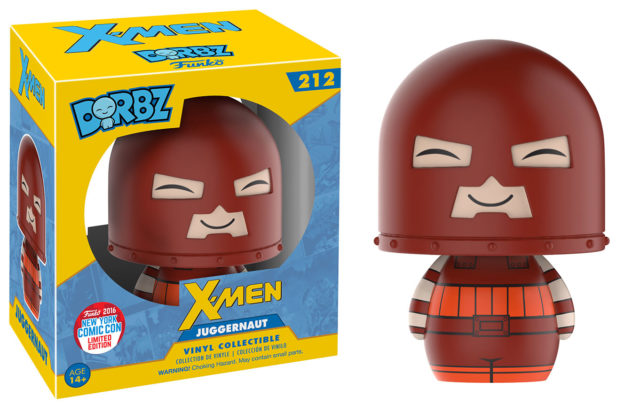 The Juggernaut and Iceman Dorbz have no counterparts: Currently, there are only two X-Men characters released only as Dorbz and not as POP Vinyls–Iceman and the Juggernaut. Iceman is a media darling right now because of his orientation and is getting his own series in a few months–could he headline the X-Men MCC box as well?

Juggernaut seems like a more likely choice for the box than Iceman, as I feel like Funko wouldn't make the only POP in the X-Men box a character that's traditionally a villain, but these Powered by Funko subscription boxes are nothing if not unpredictable!

There May Be Mystery Minis in the Box: Although they still have not been officially announced, a promotional image of the X-Men Mystery Minis Series leaked out last week. With that series likely to hit around the same time frame as this box, it seems only natural that the box might contain an exclusive Mystery Minis figure or two…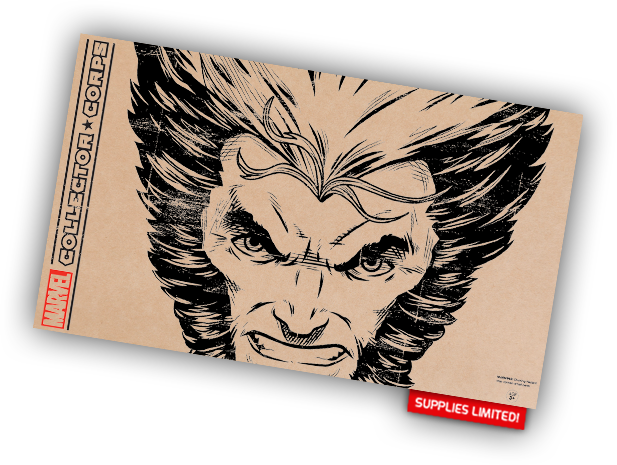 The Marvel Collector Corps X-Men box is now available for order, and is scheduled to ship out in December 2016 (just in time for Christmas!). I'll update when and if Funko post any more hints or clues to help us determine just who (or what) will be in their first-ever X-Men box.
What do you think will be in the inaugural X-Men MCC box, Marvel collectors? What characters and figure types do you most hope to see appear in the box, and which do you think are actually the most likely to appear?