While I was spelunking into my huge box of Marvel action figures that still need to be reviewed today, I discovered that lo and behold, I had unwittingly reviewed all of the final wave of Captain America Marvel Legends 2016 6″ figures but one. And as the remaining character continued a near-iconic member of the Avengers by many, I figure I might as well finish the job. If you haven't seen him locally (and I sure haven't), he's available for MSRP online with free shipping–it's the 2016 Marvel Legends Wonder Man figure!
The Right:
Although the Marvel Legends Captain America 2016 Wave 3 series was by far my least-anticipated Hasbro Marvel set of the year, the series has ended up featuring some gorgeous standout figures that I love far more than I expected to, including
Captain Britain
,
The Eel
, and even
Secret War Captain America
.
So it seems only fitting that the last figure from the wave that I review is another that exceeds my expectations: Wonder Man.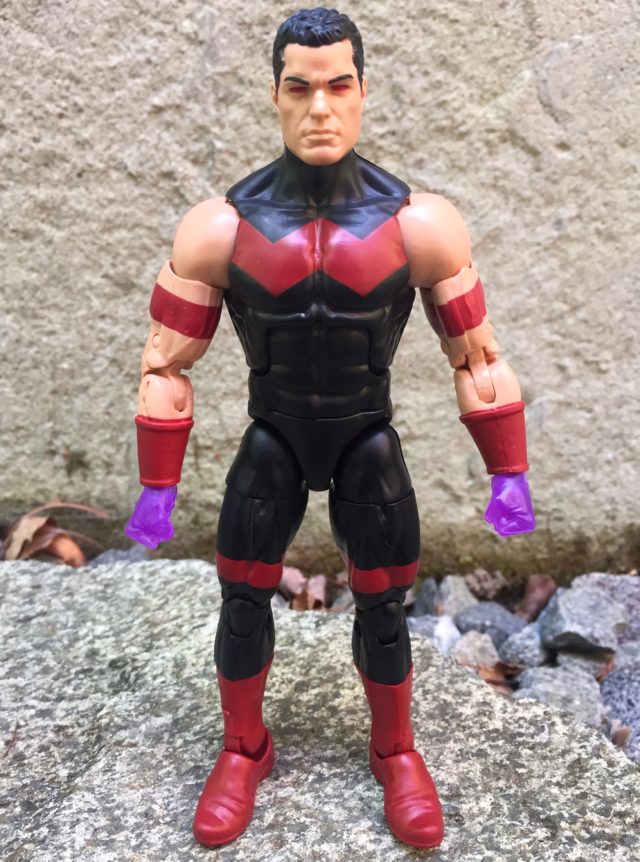 While Toybiz released two versions of Wonder Man back in their Toybiz Marvel Legends series, those were classic West Coast Avengers and Ionic Form Wonder Man iterations, whereas this is a modern comic version of Wonder Man.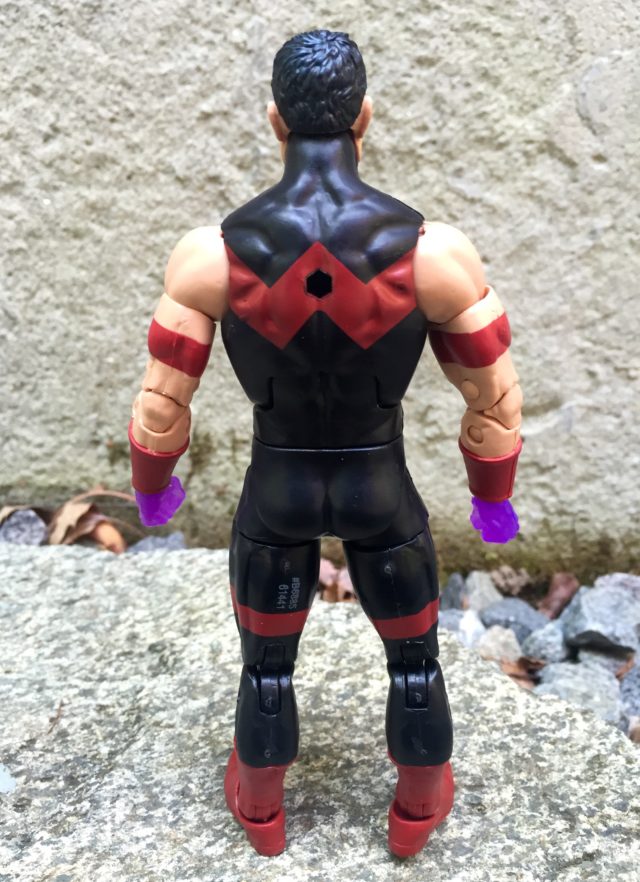 We're fast-building a modern lineup of Avengers figures, so getting a new version of Simon Williams here is a great choice.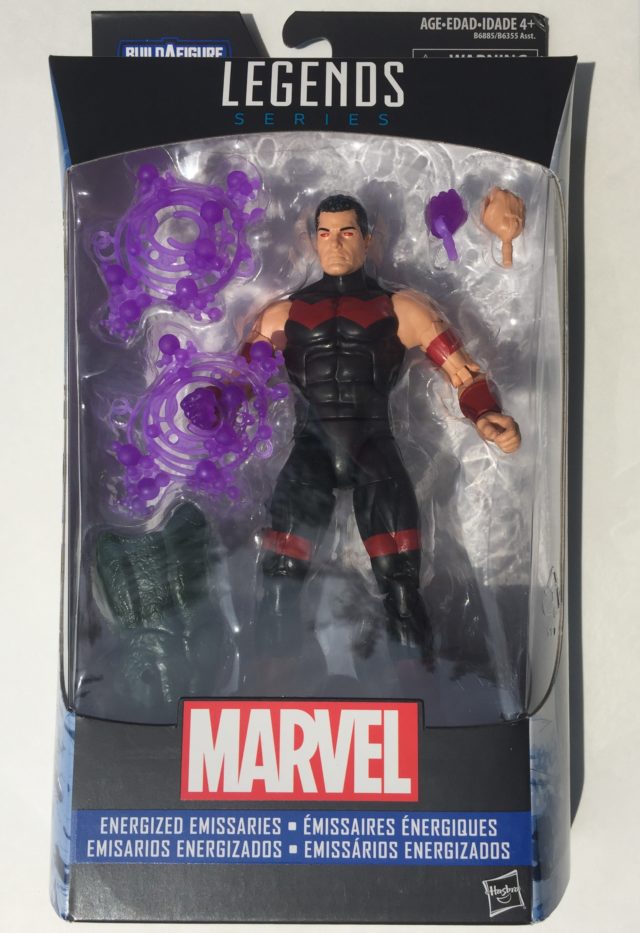 Hasbro chose the "beefcake powerhouse" body mold for Wonder Man, which I think was the right choice and the most appropriate tooling available. It's weird seeing Simon without a red belt, but I can't fault Hasbro's designers for making him authentic to the source material.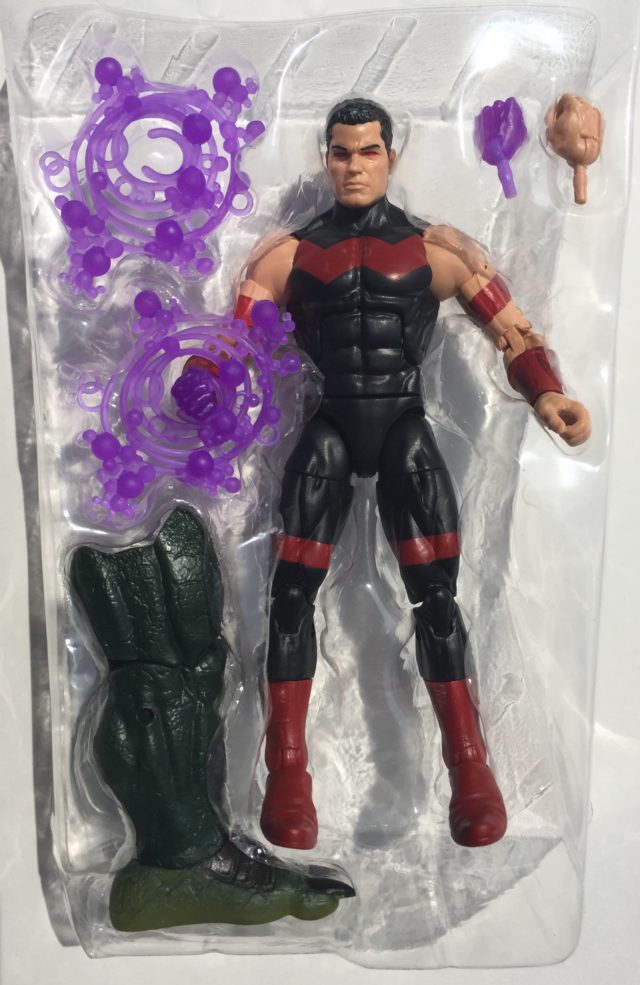 The red bands on Wonder Man's thighs and biceps are painted on rather than sculpted, but the paint deco here is totally clean and well-applied, so they still look perfect. In fact, the paint on this 6″ Marvel Legends Wonder Man figure is pretty fantastic all-around.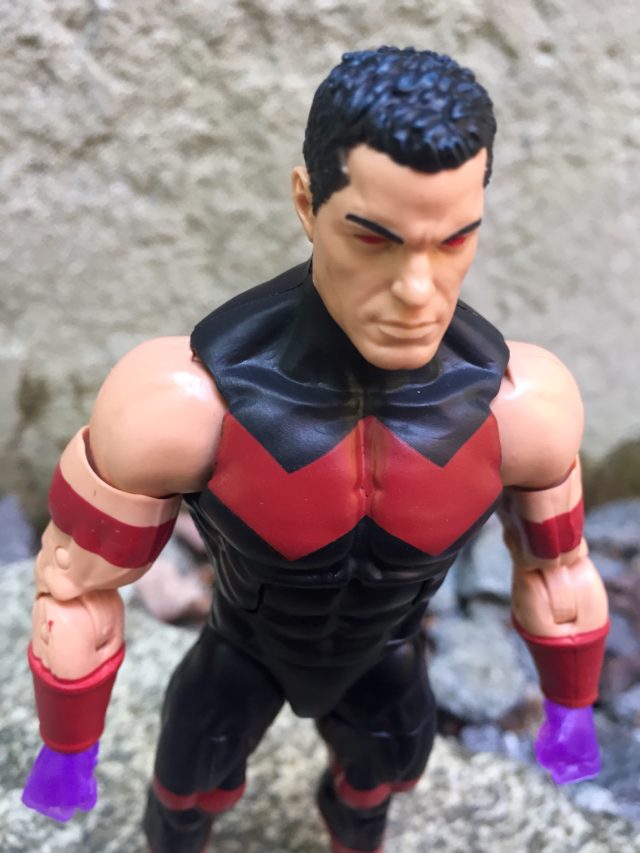 Simon's trademark red eyes look sufficiently piercing, but my favorite paint detailing is actually on his hair–Hasbro added a lot of blue highlights to his hair that really add depth to the hair sculpt and makes it look striking.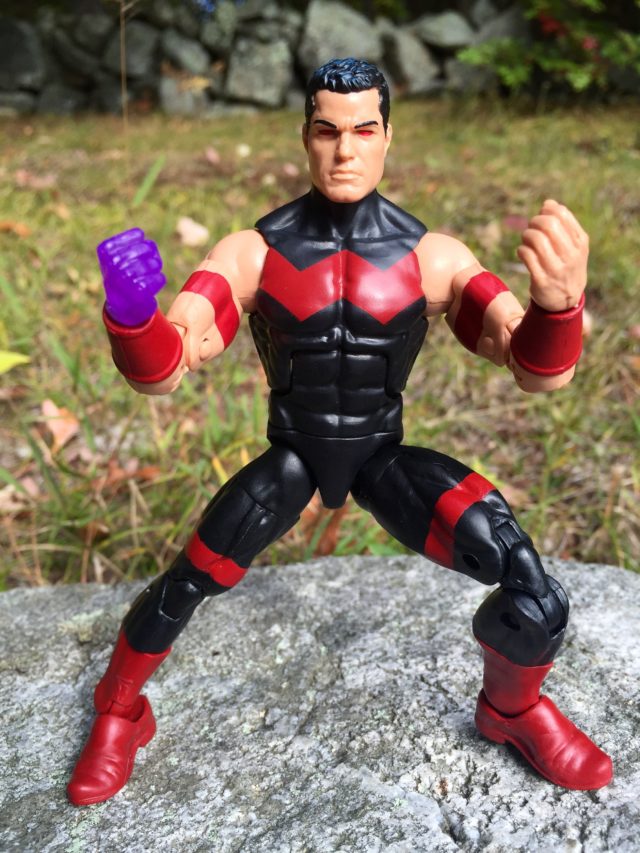 Hasbro was also nice enough to give us two pairs of hands for Wonder Man: both normal grasping hands and translucent purple fists. I prefer the awesome-looking clear purple hands, but I know a lot of folks will opt for the regular hands for their displays.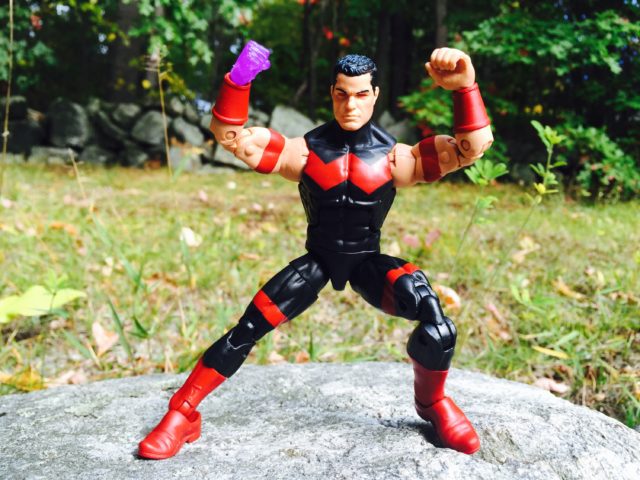 Like Secret War Cap, Wonder Man's articulation scheme is the total package: double-jointed knees and elbows; ankle rockers; swivel biceps/waist/boots/thighs; ball hips, ball-hinge head/shoulders/wrists; ab crunch… every POA you'd expect in a Marvel Legends figure is present.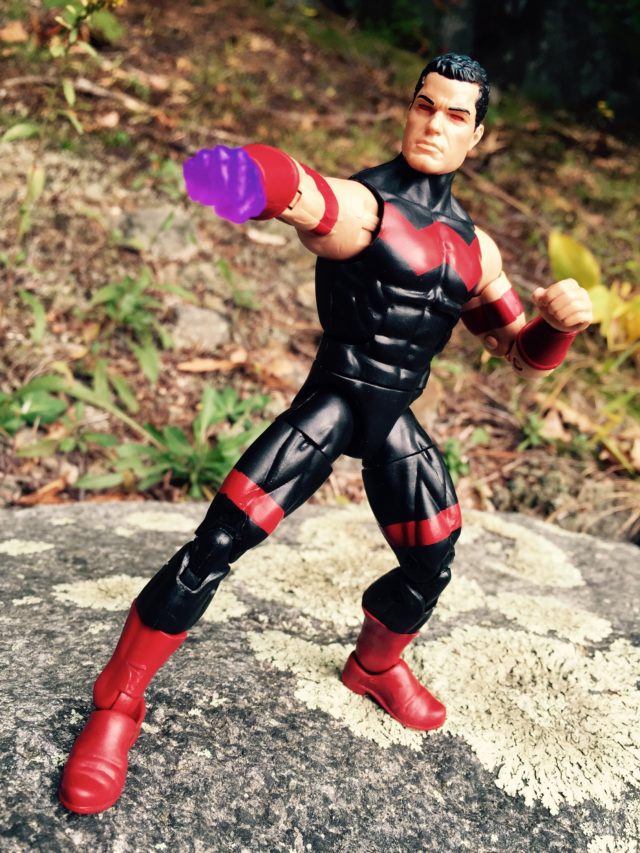 Other than a slightly larger range of motion in the hips, I've got zippo gripes with this level of articulation.
The Wrong:
When I first saw this Captain America Legends Wonder Man 6″ figure, I was pretty "ehn" about it. But the thing is, looking at the source material from modern Avengers comics that this figure is based upon, I can't really find much of anything to complain about.
Wonder Man's costume is totally on-the-money, his articulation is near-perfect, his plastic quality isn't rubbery at all, the paint apps are well-done… he's phenomenal.
If there's one thing I feel like nitpicking, it's the accessories. As much of an effects piece whore as I am, I just don't think that Havok's bubbling energy cosmic effects are right for Wonder Man.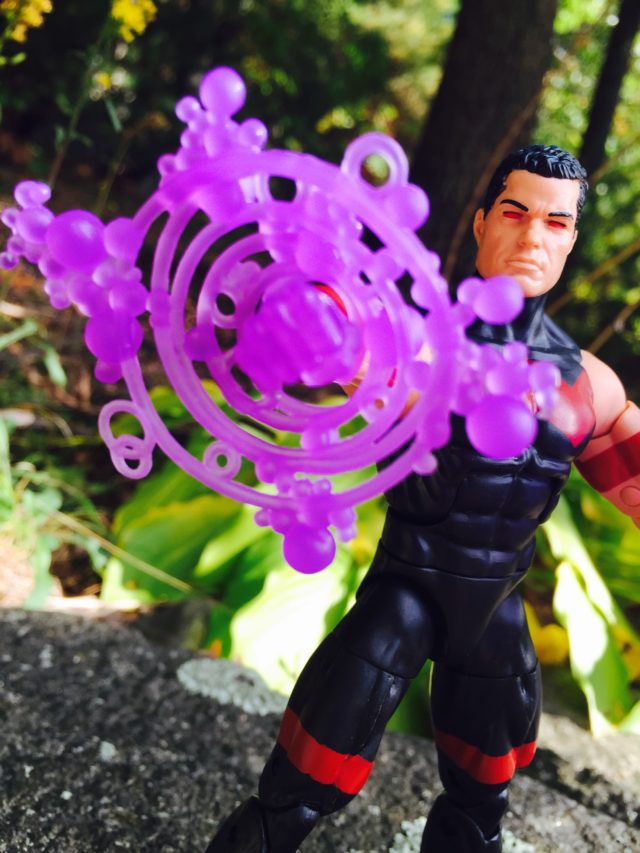 The clips on the effects pieces are super rubbery and don't stay on my Legends Wonder Man's wrists well at all, and the shape of the energy doesn't seem like an appropriate portrayal of ionic energy as seen in the comics.
I took a ton of photos of Wonder Man with the effects pieces on because it makes the figure look less plain, but in a perfect world I think Simon would get newly-molded effects instead.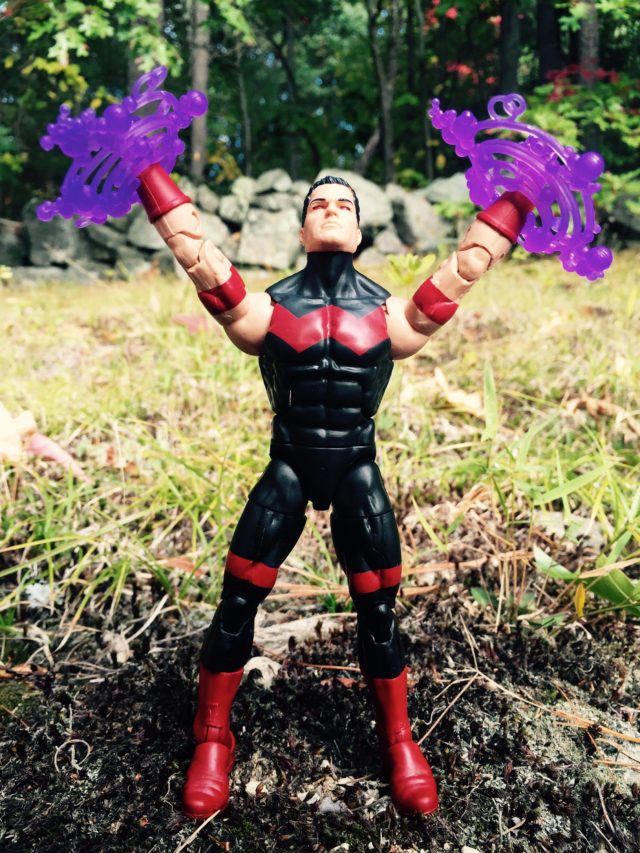 Overall: While the new Wonder Man Marvel Legends figure isn't the most groundbreaking or creative figure in this wave, I'm hard-pressed to say what I would do differently to make this toy better other than creating some different effects pieces. The figure itself is a bit bland–but, well… so is Wonder Man's Marvel NOW costume. If you're a fan of the modern Wonder Man look or missed out on the Toybiz versions, this is a fine upgrade that I don't have any major misgivings about.
GRADE: A