LIFO is an acronym for "Last In, First Out" in Computer Science (it's one of the few things I remember from when I was getting my Computer Science degree). I don't program anymore, but even so, I think of LIFO every time a new toy gets both announced and released before ones that we've seen and been waiting for for longer (yes, the whole world is toys to me). Such is the case with the Funko POP Vinyls Guardians of the Galaxy Unmasked Star-Lord figure that went up for sale long after its comrades, but has now arrived ahead of all the other Funko GOTG POP Vinyls…
The Right:
One of the things that really bummed me out about the merch for the Avengers movie was that virtually every company seemed to be obsessed with producing Hawkeye wearing his glasses, despite the fact that he barely wears them in the movie (if at all).
Now, Starlord is unquestionably going to be wearing his mask more than "never" in the Guardians of the Galaxy movie, but he'll certainly be seen more without it than with it. So every Guardians of the Galaxy Star Lord figure or toy that depicts him mask-less gets a big thumbs up from me for existing.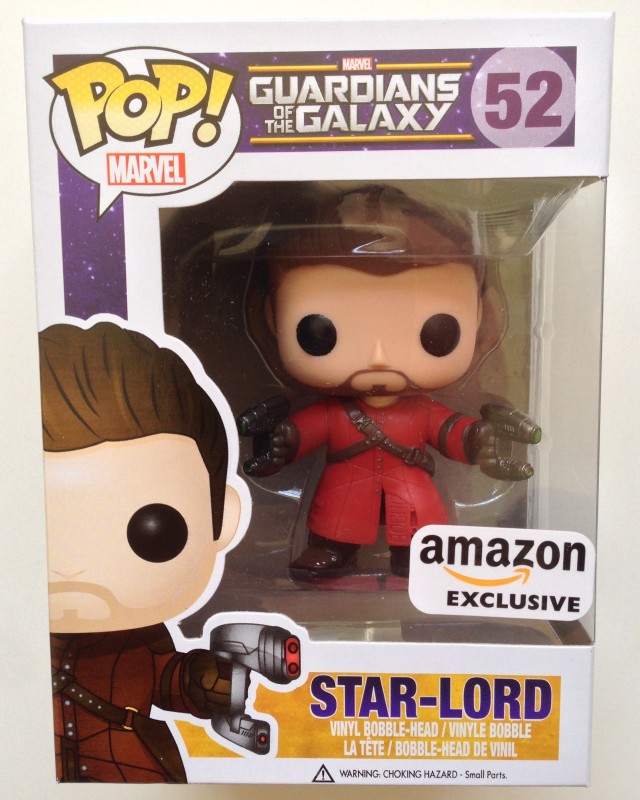 Funko chose to make the Unmasked Star-Lord POP! Vinyls bobblehead the exclusive version of the figure. Sometimes acquiring Funko exclusives can make me want to pull my hair out, but this one was actually not a pain at all to obtain, as the Funko POP Vinyls Unmasked Star-Lord figure is available exclusively on Amazon for $10.99 and eligible for free shipping.
Considering most stores in my area want $12 plus tax for a POP! Vinyl to begin with, I certainly wasn't going to turn my nose up at getting an exclusive I actually wanted for less money with free shipping.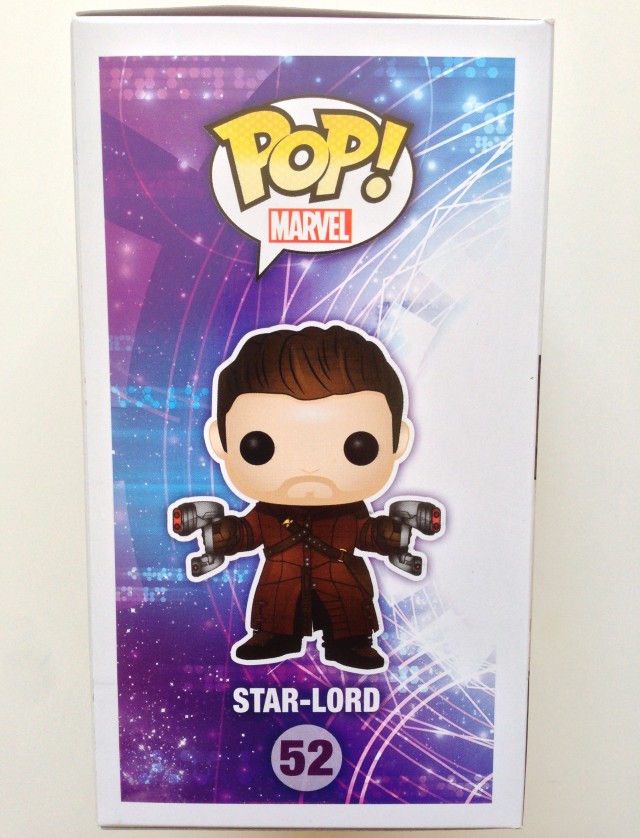 While Amazon has had various other exclusive Funko POP! vinyl releases before, this is the very first time that any Marvel POP! Vinyl has been exclusive to Amazon. As such, it's pretty thrilled to see the "Amazon.com Exclusive" sticker on the front of Unmasked Starlord's box (I know, I'm a loser).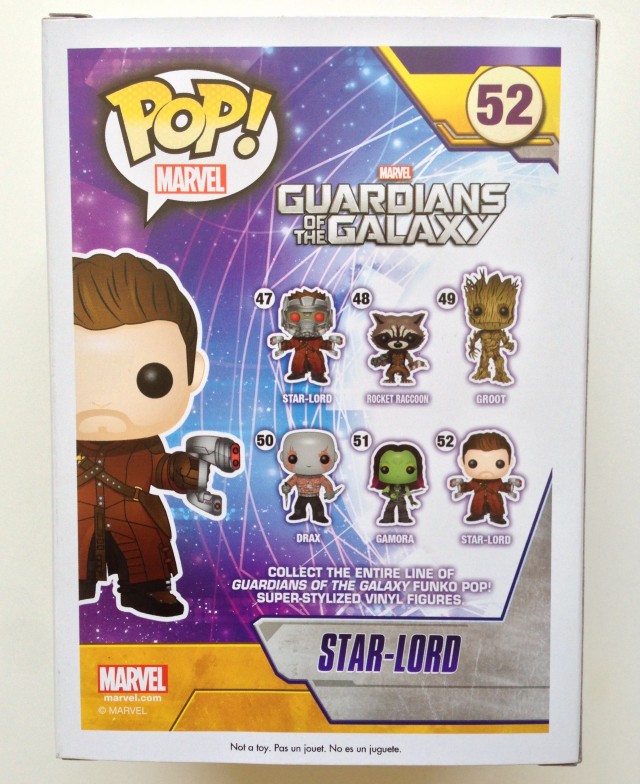 Oftentimes Funko will do really halfassed exclusive releases that don't get their own numbering designation or box art. Thankfully, the Funko POP Vinyl Star-Lord Unmasked figure is a full-fledged release that gets both its own number (#52–the masked Star-Lord POP! is #47) and unique box art on three of the four sides of the box.
These touches make this feel like a legitimate exclusive release and not just a money-grab. Thanks, Funko!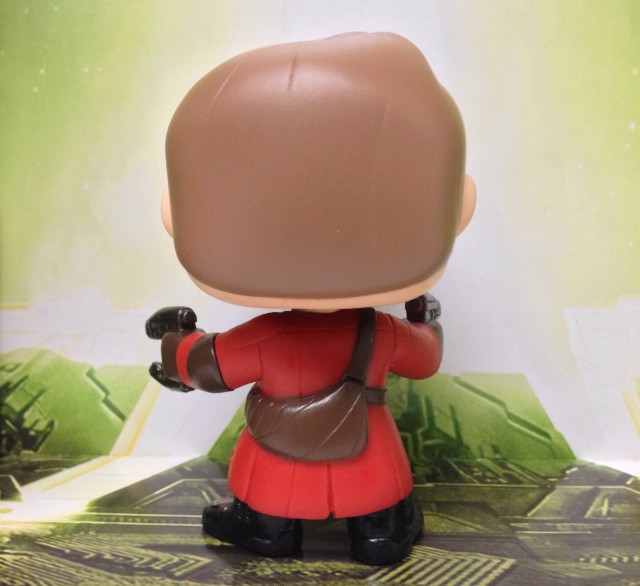 Although Funko has done a few lazy releases this year recycling a lot of preexisting tooling, I believe the Funko Guardians of the Galaxy Star-Lord figure is a 100% new sculpt (though the masked and unmasked variants obviously share the same body). There's an impressive amount of sculpting detail on Star Lord's costume, and I was pleased to see the paint deco on Star Lord's boots, coat and even his dual-wielded blasters.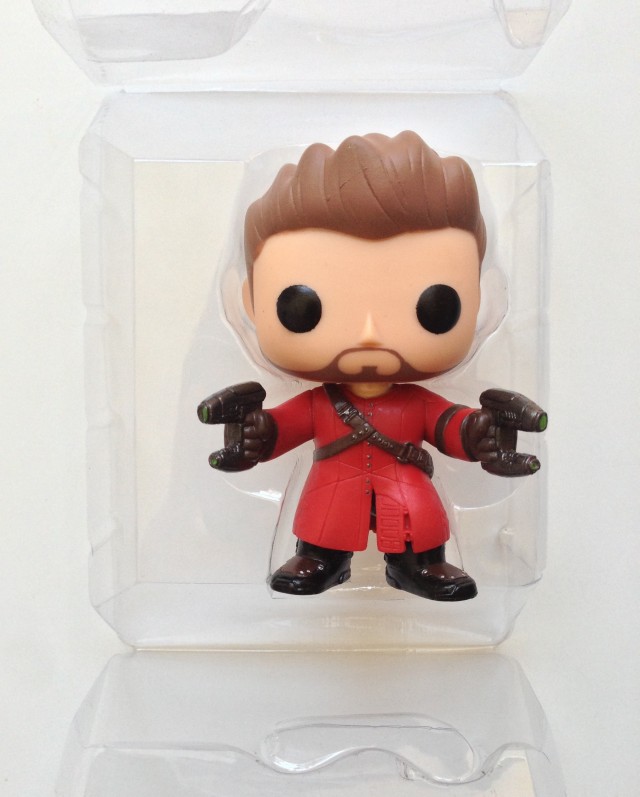 As far as any likeness to actor Chris Pratt goes, well… Funko makes super-deformed caricatures, so this figure was obviously never going to have a Hot Toys-like Chris Pratt portrait or anything like that. I think Funko did a really nice job matching the hair and beard to Chris Pratt's Star-Lord, so while the Unmasked Starlord POP Vinyl figure has little actual resemblance to Chris Pratt, you can definitely still tell who the character is.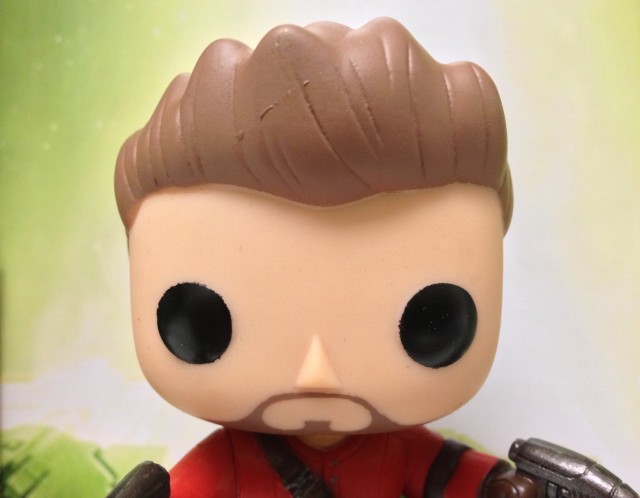 Quality control is usually the downfall of Funko POP Vinyls, but in the case of the Unmasked Star-Lord figure my problems are pretty minimal. The exclusive Star-Lord POP! Vinyl figure has a couple bumpy areas of paint on the front of his hair, but from a foot away on my desk I don't even notice them–and certainly not enough to play Funko QC Roulette and try to exchange him for another one.
Funko has much improve quality-control and paint applications in 2014, and I am grateful for it.
The Wrong:
The only place where I think Funko really missed the mark with this Funko POP! Vinyls Unmasked Starlord variant figure is with the color of Star-Lord's trenchcoat. Funko went for a fairly light red color for the coat, whereas in reality Star Lord has a maroon/crimson trenchcoat. In certain screenshots and under certain lighting the coat does look a brighter red in the trailers, but I think the deep maroon color would have been overall more accurate for this figure.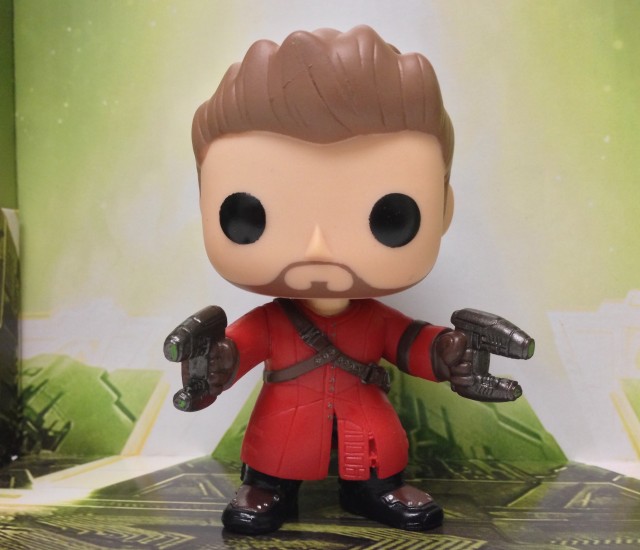 Overall: Funko may have had some shaky releases in past years, but the 2014 Funko Marvel POP! Vinyls releases continue to impress me. I think the Chris Pratt Star-Lord POP Vinyl figure is extremely well-done with plenty of costume sculpting and paint details and a terrific pose. I think this will ultimately be the more desirable version of Star Lord, but the exclusivity of this figure release just makes it a little bit sweeter. If you're already a big Guardians of the Galaxy fan or think you might become one, I'd recommend picking up this exclusive Unmasked Star Lord POP! Vinyls figure while it's still available–it's a keeper.
GRADE: A-