Marvel has begun giving female characters their rightful spotlight in recent years, so it seems only right that that main focus has now moved on to one of the most popular wings of Marvel toys with the Funko Marvel Collector Corps Women of Power box! We've been speculating for months exactly what would be in this box, but the time for speculation is over! Read on for my Women of Power Collector Corps box spoilers, review and unboxing photos…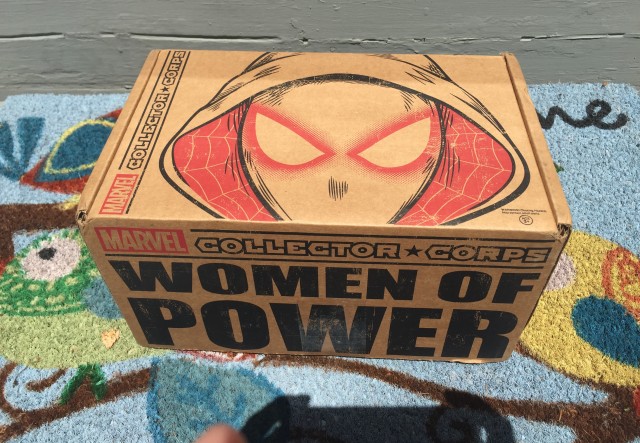 For whatever reason, Funko decided to do an official, spoiler-filled video unboxing of this month's Marvel Collector Corps Women of Power box themselves–before anyone received their boxes!
The idea of Funko employees who already know what's in the box unboxing a mystery box seems inauthentic and pretty lame to me, especially since their spoiler photos went viral, making this the first Funko MCC box that got spoiled for me in ages. Big thumbs down.
Anyway, though I had a pretty solid idea of what was in this box before opening it, let me open up this box and try to give my genuine initial reactions…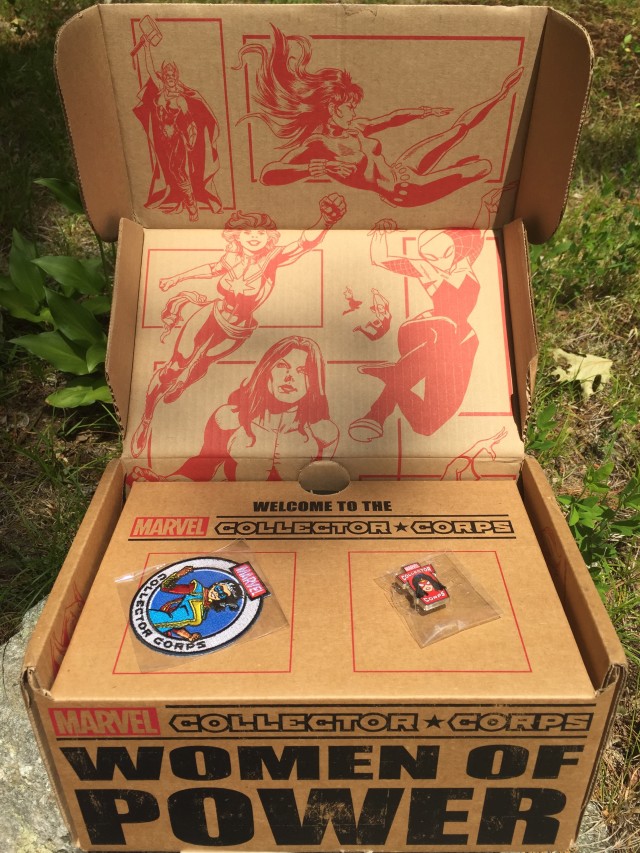 Inside the Funko Women of Power box we find the usual very cool comic book artwork, along with this month's patch and pin.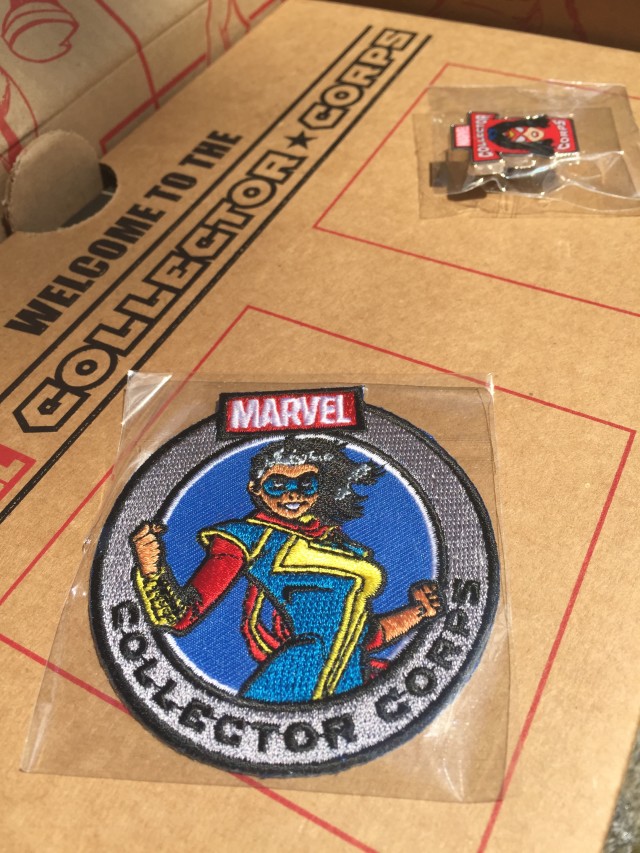 Ms. Marvel Kamala Khan gets her first-ever Funko representation with this patch. Apparently this was going to be a Carol Danvers Ms. Marvel patch initially, but Marvel wanted Kamala instead. Thank you, Marvel! Now if only we could get a regular release Funko POP Ms. Marvel…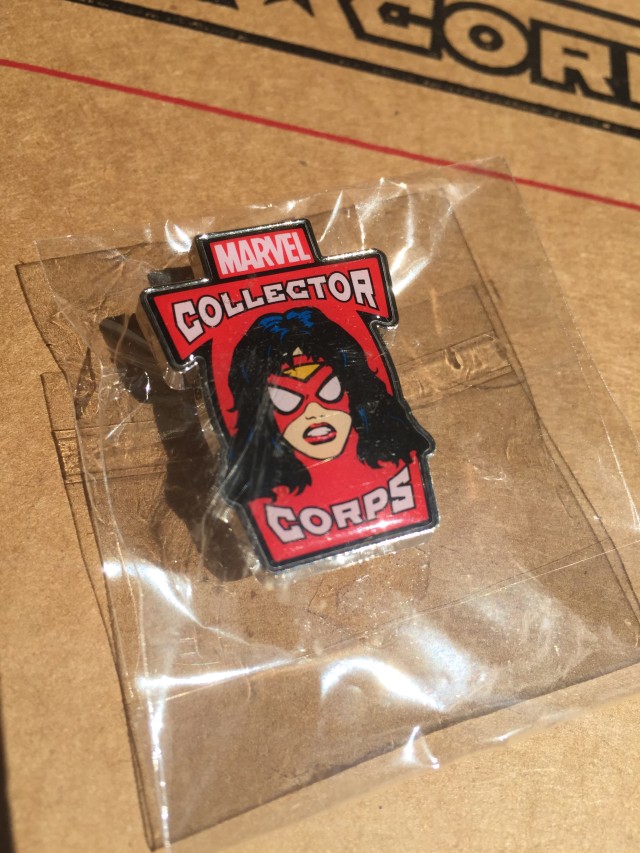 The pin this month is Jessica Drew Spider-Woman. It's alright.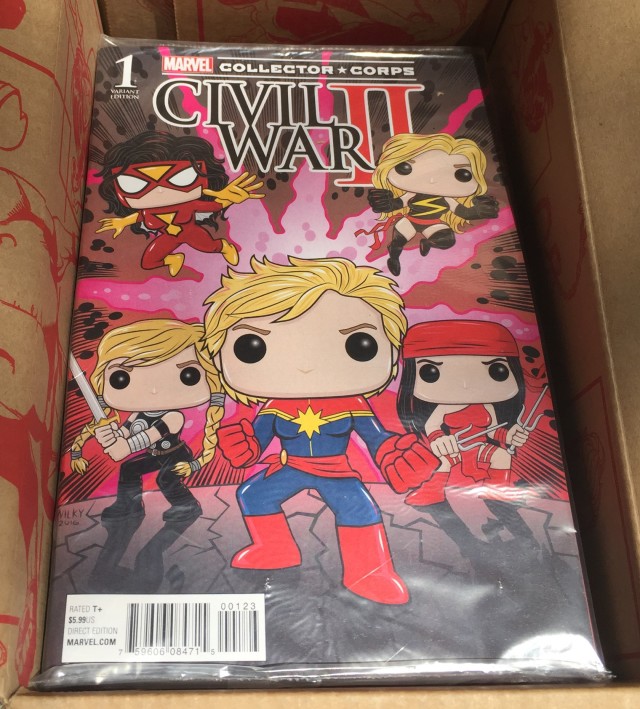 For the comic book, we get a Marvel Collector Corps Exclusive Civil War #1 variant cover with various Funko POP Vinyls Marvel heroines on it! You'll notice poor She-Hulk isn't present on the cover, which is a nice detail given the content of this issue.
What is a little bizarre though is that Carol Danvers appears twice on the same cover as both Captain Marvel and Ms. Marvel! Is being in two places at once one of Carol's new abilities…?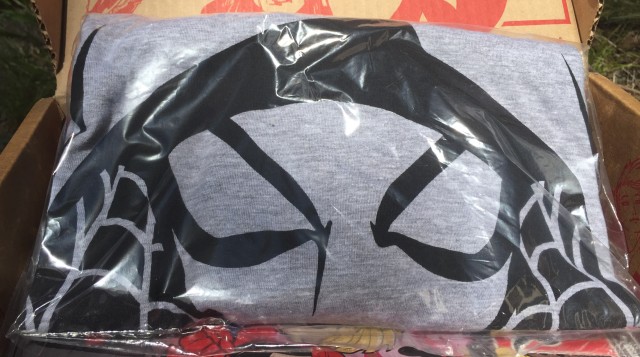 Underneath the comic we find this month's shirt–a grey shirt with a black Spider-Gwen head and logo printed on it. This isn't a terrible shirt, but it's not very exciting.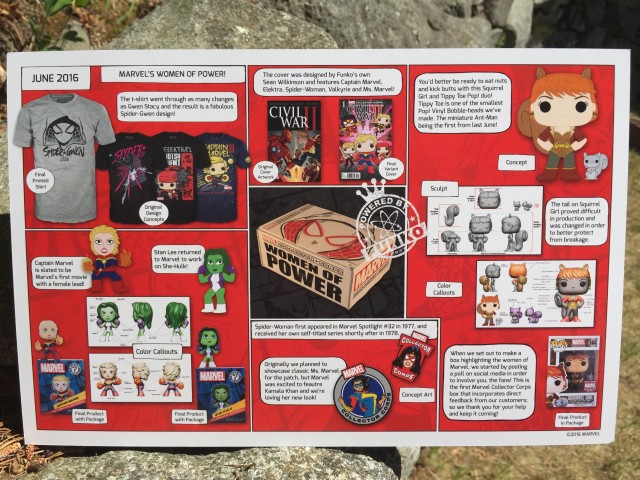 What makes the shirt worse, however, is the little card included that shows concept shirts for Elektra, Captain Marvel and Spider-Gwen! All three of the concept shirts are colorful and beautiful and leave me totally bummed out that the final shirt we got ended up being so boring.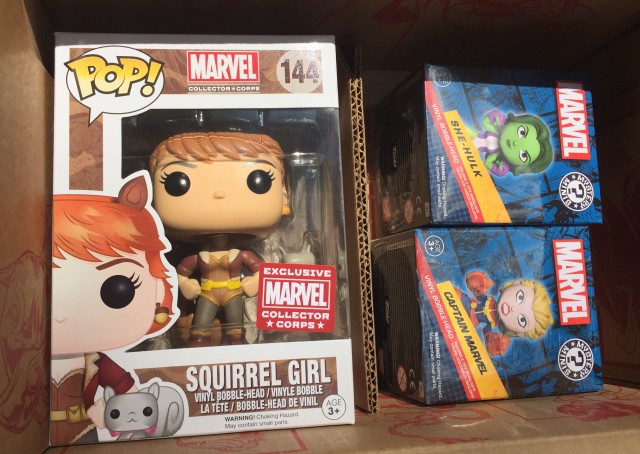 Under the shirt we find the prize most folks will be interested in from this month's box: the vinyl figures! And this time, there are three of them!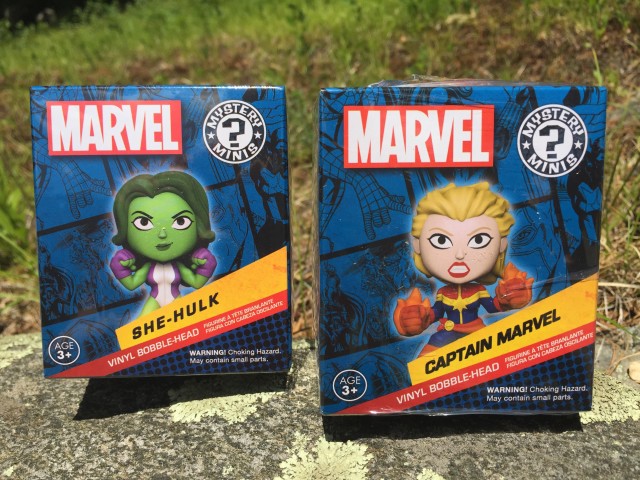 The first two figures are non-blind boxed Mystery Minis of Captain Marvel and She-Hulk. (I guess that makes them non-Mystery Minis?)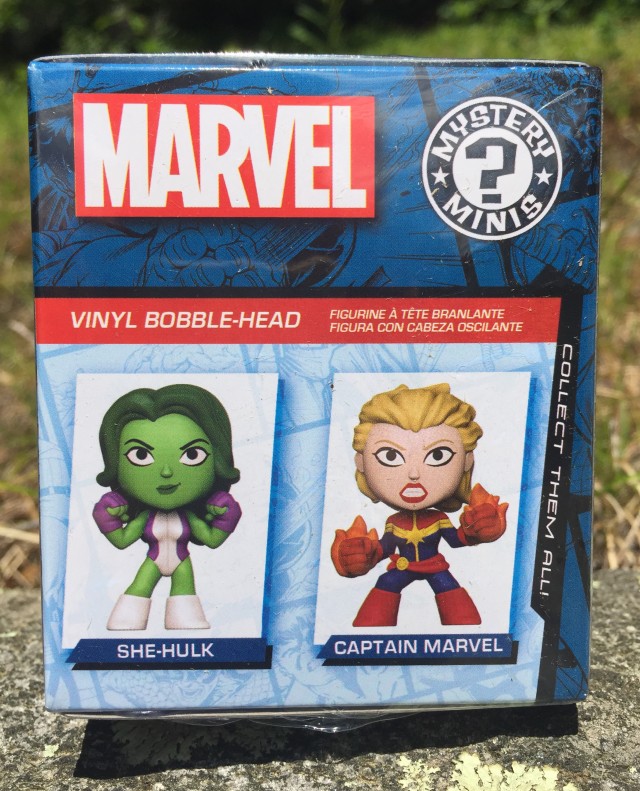 With both these characters getting mass released POP Vinyls this month, I had hoped for Dorbz vinyls, but Mystery Minis are nice too (and allow us to get two other characters instead of just one).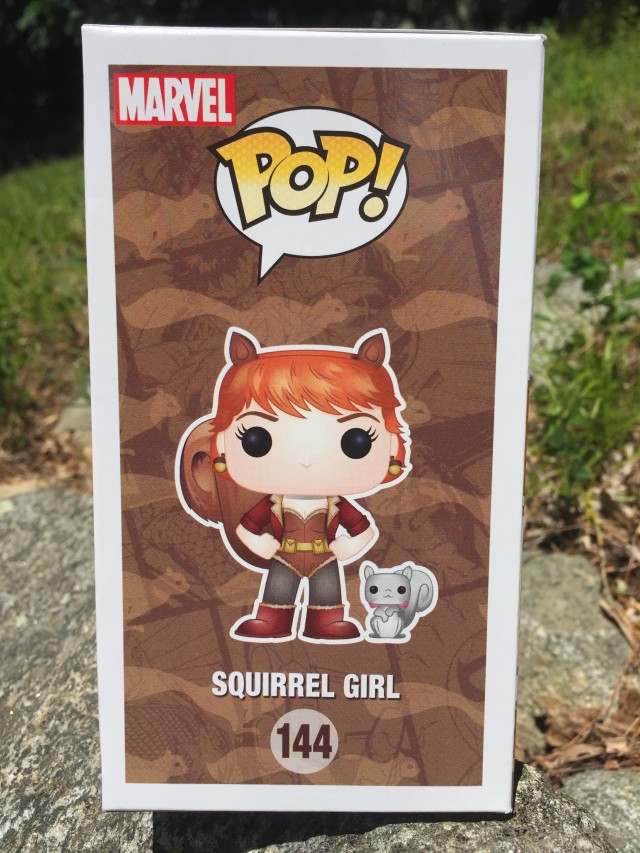 Finally, we've got the main event of the box–and a character that many collectors correctly guessed–the Funko Squirrel Girl POP Vinyls figure!
I can't stand the Squirrel Girl comic book (forgive me), but the Unbeatable Squirrel Girl is a character with a cult following who definitely deserves a POP Vinyl. And since she requires a unique mold and would bomb at retail, this was the best way to get a Funko POP Vinyls Squirrel Girl.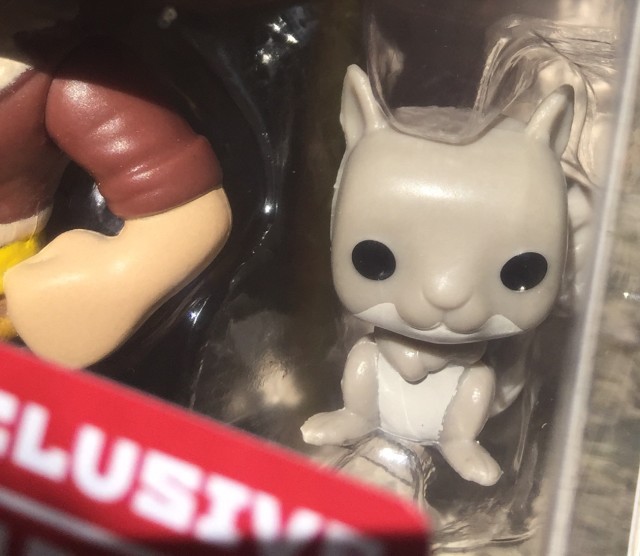 The high point of this figure for me, though, is that Squirrel Girl isn't coming alone–she includes a little Tippy-Toe POP Vinyls figure as an accessory! SO CUTE!!!!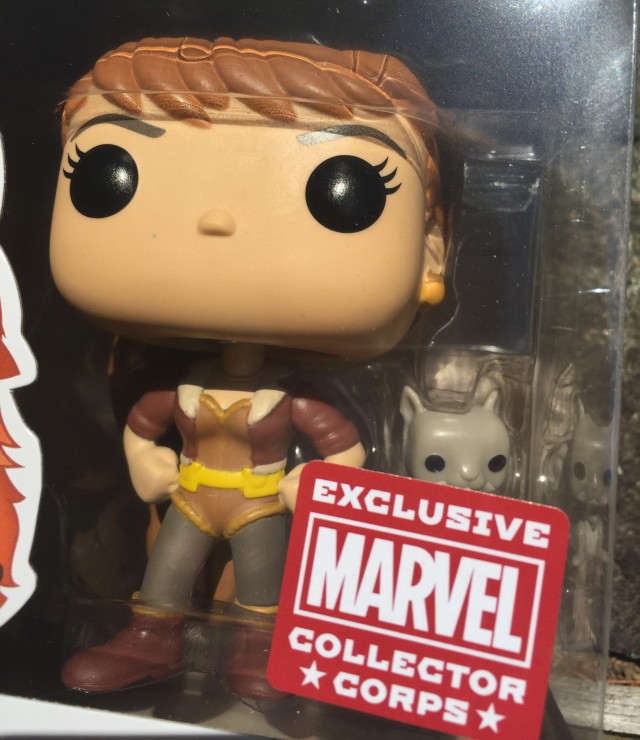 Overall, this is a decent box that I wish hadn't been so virally spoiled all over social media. I think the exclusive Squirrel Girl POP was an excellent choice, the Civil War II #1 comic book variant cover is adorable and I dig Carol Danvers and Shulkie in Mystery Mini form.
The only big disappointment in this box for me was yet another dull shirt with one color ink on it that I'll never be wearing. It's real salt in the wound for Funko to show us those sensational initial concepts for the shirt and then give us what they did.
A good month overall, and another fun subscription box from Funko.
GRADE: B