Just when Marvel Legends fans thought they were safe… he's back! If there's one character that Marvel collectors were reasonably certain would not show his armored face as part of the Guardians of the Galaxy Marvel Legends series, it's Iron Man. But, well… here is. To Hasbro's credit, they did choose an Iron Man armor that's strongly linked to the GOTG, however. For better or worse, we're stuck with Marvel Legends Cosmic Iron Man, so let's take a look at the final production version of the figure and see if it's any good…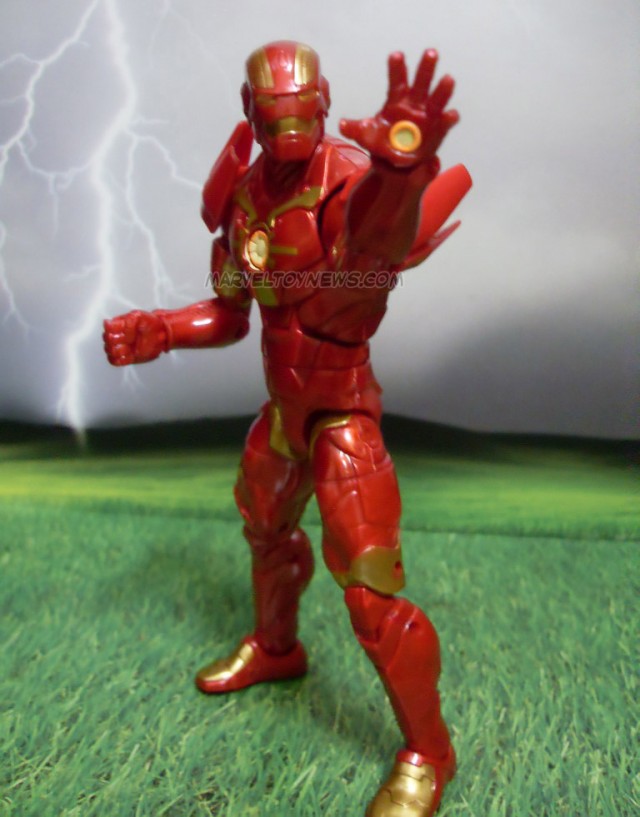 For those not reading the Marvel NOW! Guardians of the Galaxy comic book series by Brian Michael Bendis (which, I imagine, is quite a few of you), as a bizarre marketing tactic to launch the series, Bendis had Iron Man officially join the Guardians of the Galaxy–before quitting after six issues. What can I say; as any number of Tony Stark's female love interests will tell you: Tony's just not one for commitment.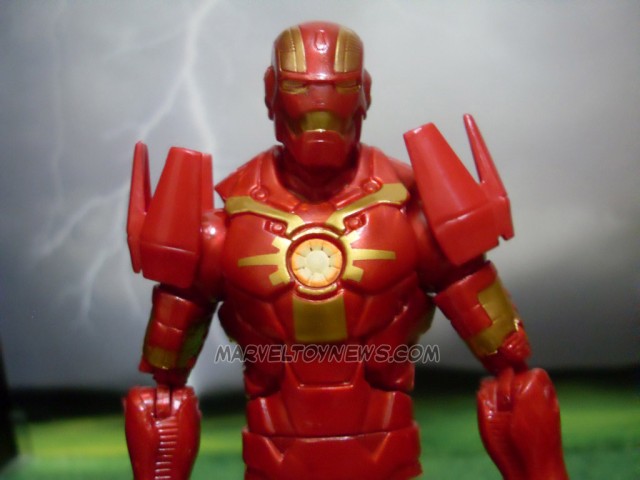 During his handful of appearances in Guardians of the Galaxy (as well as several issues of his own comic book), Tony dons the Cosmic Iron Man armor. It's a red and gold Iron Man armor that's wholly different from any Iron Man armor that we've ever seen before. The first time I saw the Iron Man Cosmic armor I thought it was quite ugly–especially compared to the gorgeous Iron Man 3 armors–but it's grown on me since Tony stopped wearing it (go figure).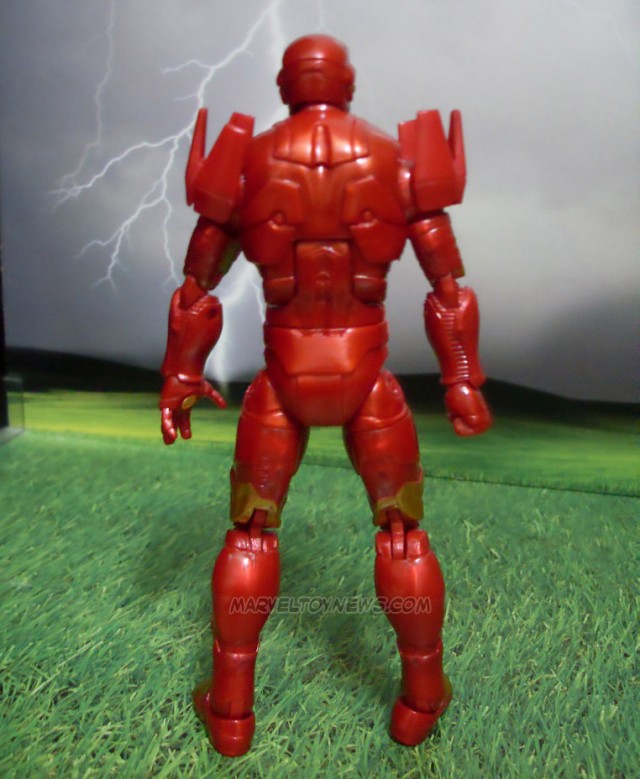 The back of the Guardians of the Galaxy Iron Man space armor is rather bland and almost entirely red, but that is comic accurate to the source material, so I can't really complain about it. Since there's less color to distract when looking at the back of the Cosmic Iron Man ML figure, it's more obvious how very cool and distinct the shoulder armor is on this particular 6″ Iron Man action figure.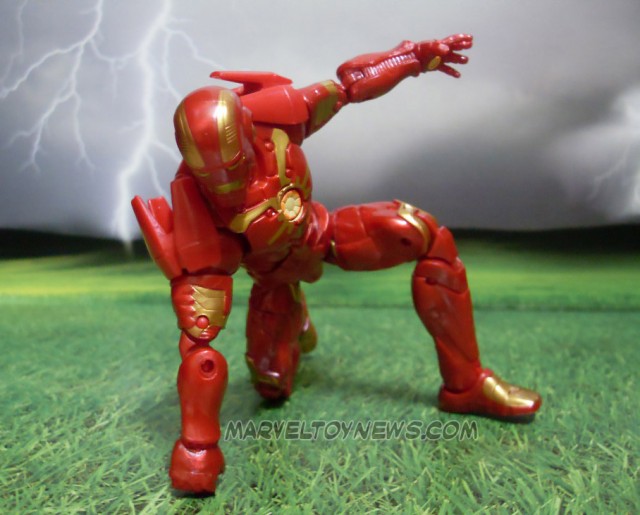 The level of articulation on the Cosmic Iron Man Marvel Legends GOTG figure is about what you'd expect from a Marvel Legends Iron Man figure: not absolutely perfect, but pretty dang good.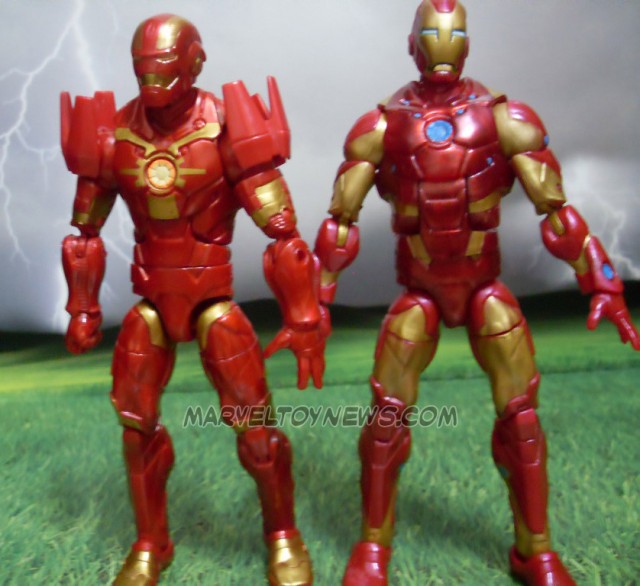 As you can see, the Cosmic Iron Man armor isn't a totally new sculpt (not that it needs to be), as it reuses preexisting parts last seen in the 2013 Iron Man 3 Marvel Legends line. The red paint that Hasbro used for the Marvel Legends Guardians of the Galaxy Cosmic Iron Man figure looks a whole lot cheaper than the shiny paint used last year, though.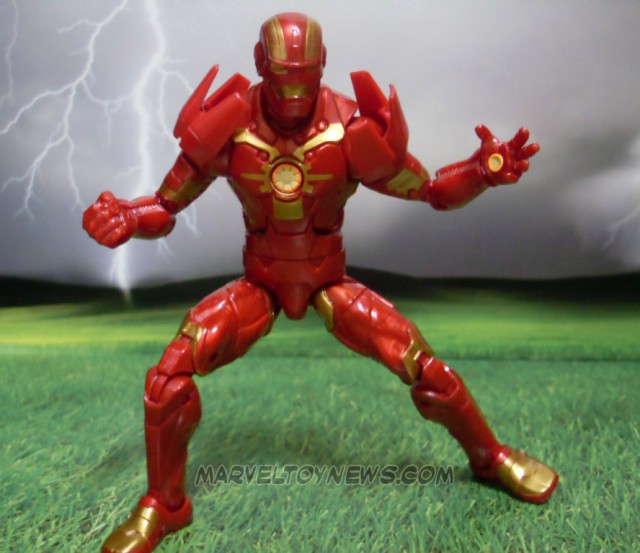 With Cosmic Iron Man scheduled to ship at two-per-case in the Marvel Legends Guardians of the Galaxy Infinite Series shipping next month, I can't imagine that
anyone
will have a hard time finding this particular figure at retail. The fact that Hasbro is shortpacking Rocket Raccoon at one-per-case and heavy-packing a comic book Iron Man figure in the same case is absolutely shocking to me.
Hasbro evidently thinks kids are going to go gaga for this comic book-only Iron Man figure, but I'm not sure that even comic fans are going to care enough to want a figure of this particular armor…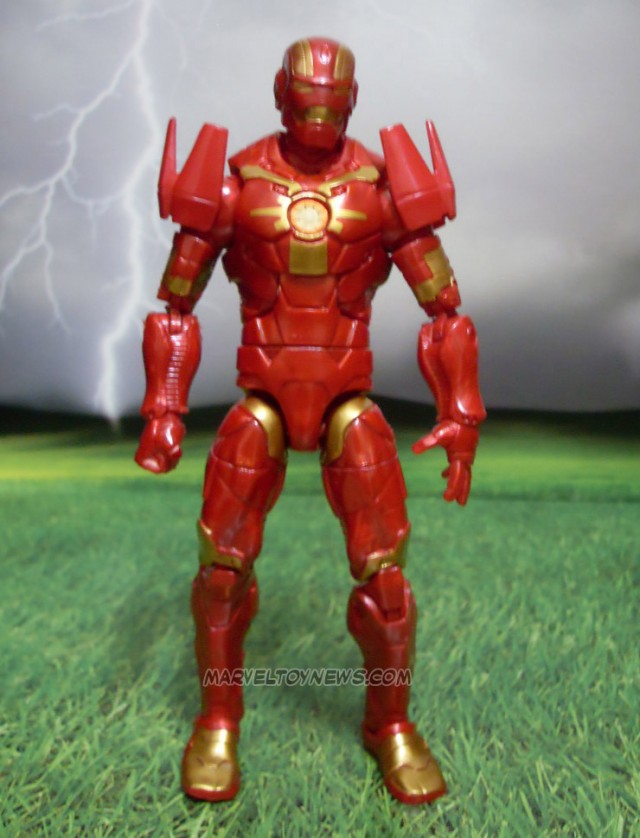 I'll be updating with more photos of the finished production Marvel Legends Guardians of the Galaxy figures as the week goes on, and you can 'Like' Marvel Toy News on Facebook to have more news and photos sent direct to your Facebook Newsfeed.
What do you think of what looks to be the only Marvel Legends 2014 Iron Man figure, Marvel fans? Is Cosmic Iron Man a figure you're planning to buy because you want him, solely for his Groot Build-A-Figure piece, or not at all?