UPDATE 12/6/2017: Those who were patient "win" (the right to have more money in their bank account) again–the other Deal of the Day today only is the Marvel Legends Spider-Man Homecoming 2-Pack with Iron Man and Unmasked Tom Holland Spider-Man for $19 shipped! If you wanted that Tom Holland Peter Parker had been didn't want to pay 40 bucks for it, now is your time…!
ORIGINAL (7/7/2017): Opening day has finally arrived for a film that many fans never thought would actually exist: the first Spider-Man movie set in the official Marvel Cinematic Universe (MCU)! A day this momentous deserves to be commemorated, and that's why it's only fitting that a long-anticipated multi-pack is finally popping up in stores: the Marvel Legends Spider-Man Homecoming with Iron Man has now popped up on ebay and in some local Toys R Us stores!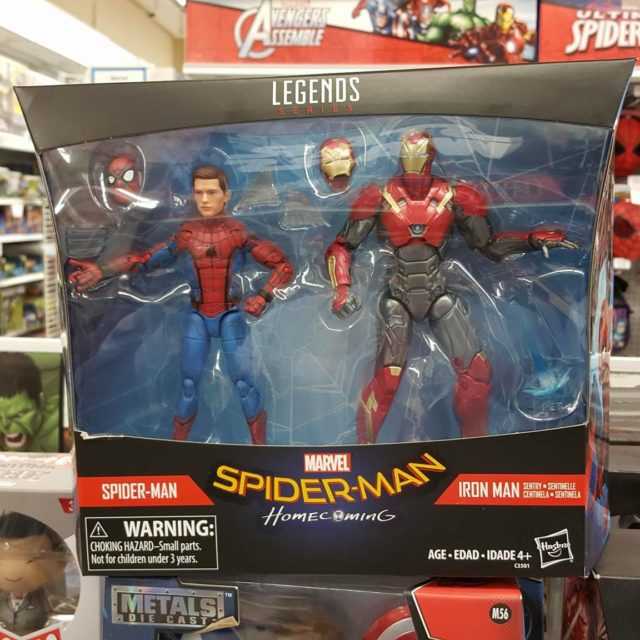 Hasbro cut it a little bit close to the wire, but just in time for Spider-Man Homecoming to arrive in theaters, the final 6″ Marvel Legends Homecoming figures have finally started to appear in stores: the Iron Man Mark XLVII (Mark 47) armor figure and the unmasked Spider-Man Tom Holland figure!
This duo was first revealed in the build-up to New York Toy Fair 2017 back in February, and we've been wondering when the box set would show up in stores ever since the Homecoming Marvel Legends wave hit Amazon back in April. With the movie hitting theaters this week, it didn't seem like these last two figures were going to make it for release weekend–but, well–here they are!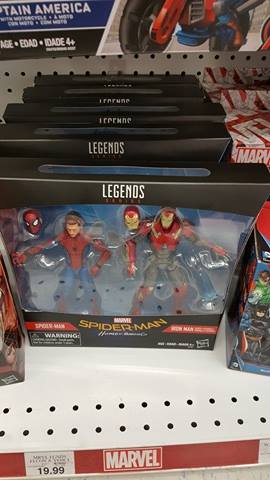 Cory Flippen discovered the new Marvel Legends Spider-Man Homecoming set at his local Toys R Us store after seeing an opening night showing of the movie (he said it was awesome, if anyone is wondering), and was kind enough to send over some photos and give us permission to run them here on Marvel Toy News. Thanks, Cory!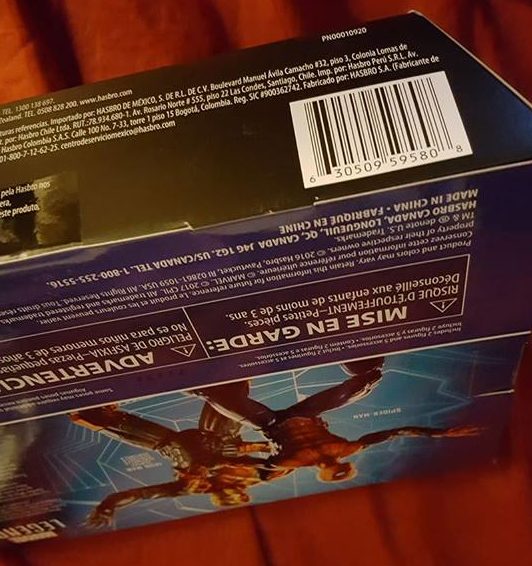 As we knew from the official photos, this set contains a repaint of the new Web Wings Spider-Man with a new Tom Holland Peter Parker head, as well as a repaint of last year's Civil War Iron Man figure with a new "empty" Iron Man helmet. This set isn't a store-exclusive and should eventually be widely available, although so far it's only popped up at Toys R Us stores.
For those wanting to call their local stores and have them check inventory on this set, thanks to Cory, we now know the UPC code for the Spider-Man Homecoming Legends two-pack: 630509595808. The set will also eventually have its own DPCI code for lookup at Target, although the pack hasn't actually been spotted at any Target stores yet nationwide.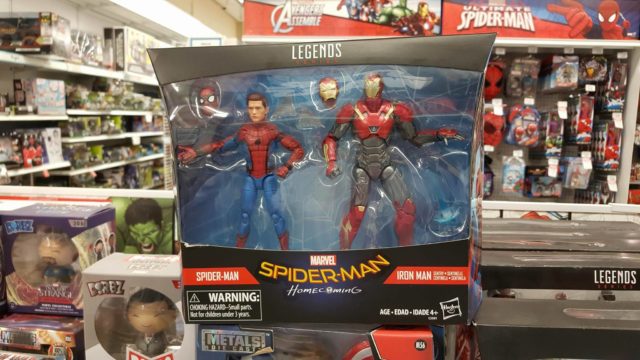 As is always the case whenever hot new figures hit retail, the Marvel Legends Spider-Man Homecoming two-pack has already hit ebay, where it's selling for a little over $70 shipped now. Now, that's not a terrible price, as the set retails for $39.99, so it'd likely cost someone about $56 to ship it to you (after tax, Paypal and shipping fees), but personally, I'd wait a week or so–I really don't think that finding this particular two-pack is going to be all the problematic once it hits full distribution.
Have you spotted the Spider-Man Homecoming Marvel Legends 2-Pack at any of your stores yet, Marvel collectors? If so, what stores and what do you think of the pack? A worthwhile $40 purchase, or too much money for what's essentially just a new Tom Holland head and some new paint on old figures?