Square-Enix has been teasing Deadpool lovers worldwide with the unpainted prototype of their upcoming Marvel Play Arts Kai Deadpool figure at events all over the world since this summer, but finally, they're ready to show all their cards and tell us all of the glorious details of this 'Pool. Coming our way this spring, it's what's destined to be the best-selling Play Arts Kai Marvel Variant figure ever: the Deadpool Play Arts Kai figure is now up for order! Although the price may give those not familiar with this line a little bit of sticker shock…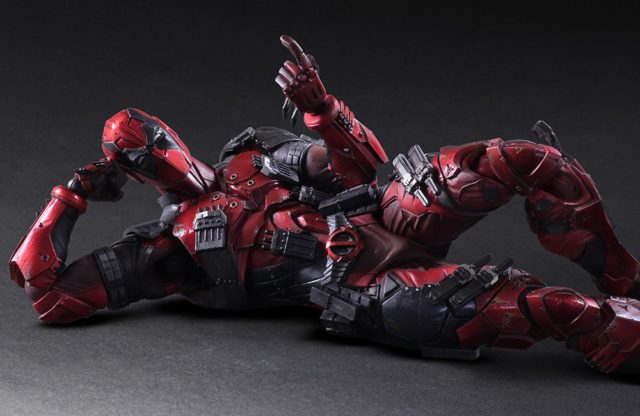 I was reasonably sure that the Square-Enix Play Arts Kai Marvel Variant figures line was totally dead in the water–right up until Square-Enix
unexpectedly debuted Wolverine and Deadpool prototypes outta nowhere
at San Diego Comic-Con 2016.
Wolverine went up for order earlier in the fall to some fanfare, but collectors have been stuck waiting for more details and painted photos of PAK Deadpool–until today! The Square-Enix Deadpool figure has now been fully revealed, and it does not disappoint!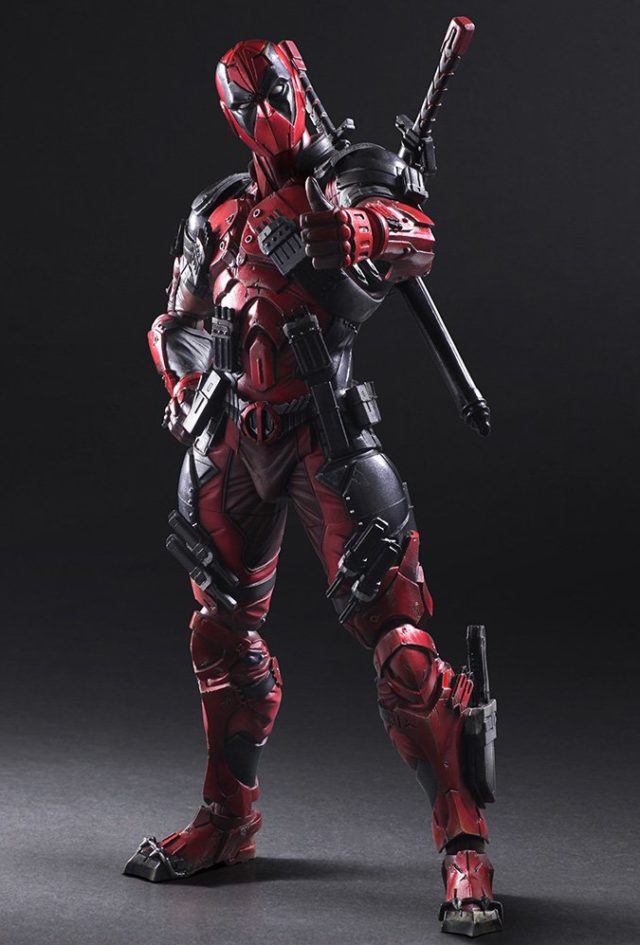 For those unfamiliar with the Square-Enix Play Arts Kai toy line, these are big figures (slightly smaller than sixth scale) that are super-articulated, utilize original designs, use 100% new tooling and with very few exceptions are never reissued.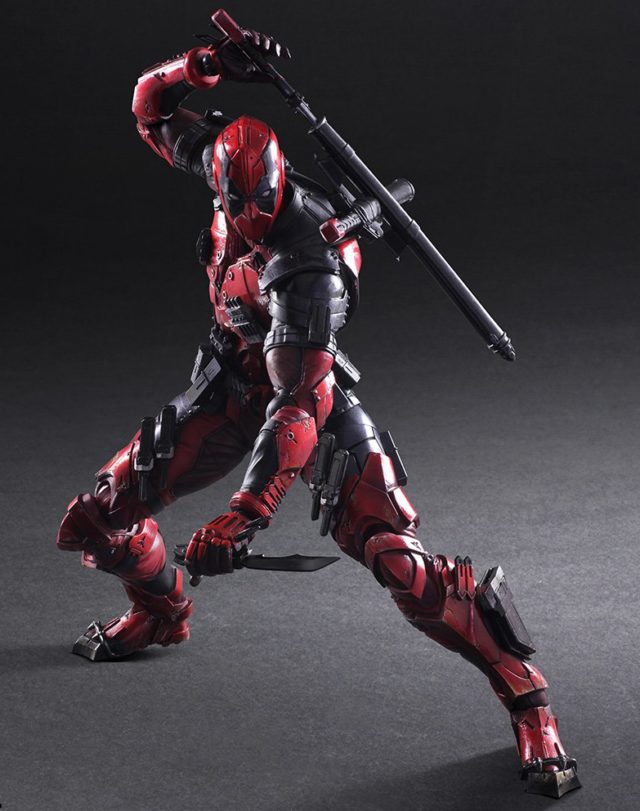 For their interpretation of Deadpool, Square-Enix has gone with an armored look that honestly works a lot better here than it did on previous figures like Spider-Man. Love those ammo clip "pouches" all over DP!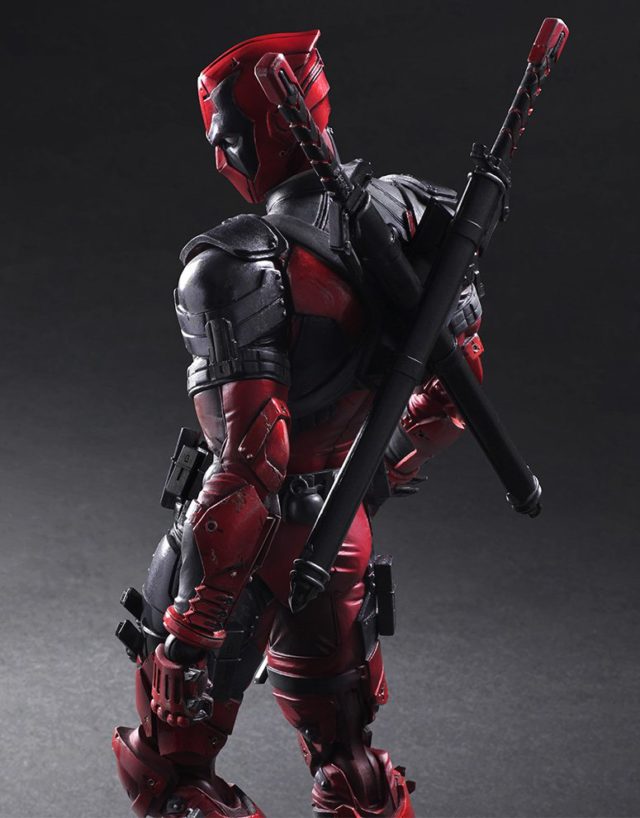 Of all the Marvel PAK figures put up for sale to date, I think Deadpool is not only the best-looking, but also the figure with the most potential to totally sell out during pre-orders. Deadpool Mania is running wild, and fans worldwide are devouring DP merch with a rabid appetite.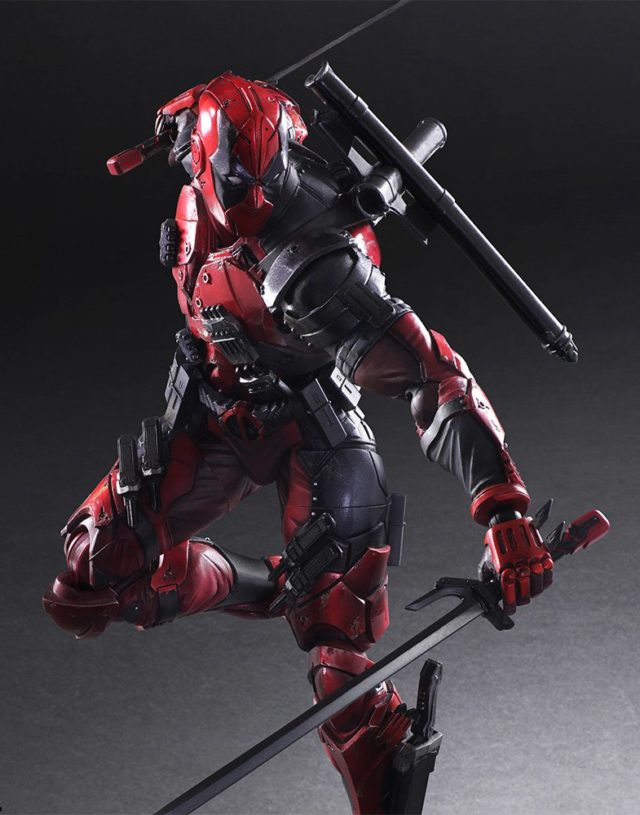 The Deadpool Play Arts Kai figure will stand around 10.5″ tall (265 mm) and will retail overseas for a beefy 15,984 Japanese yen (ouch!!). At around $150 USD, that ties Deadpool with Thor as the single most expensive figure in the line.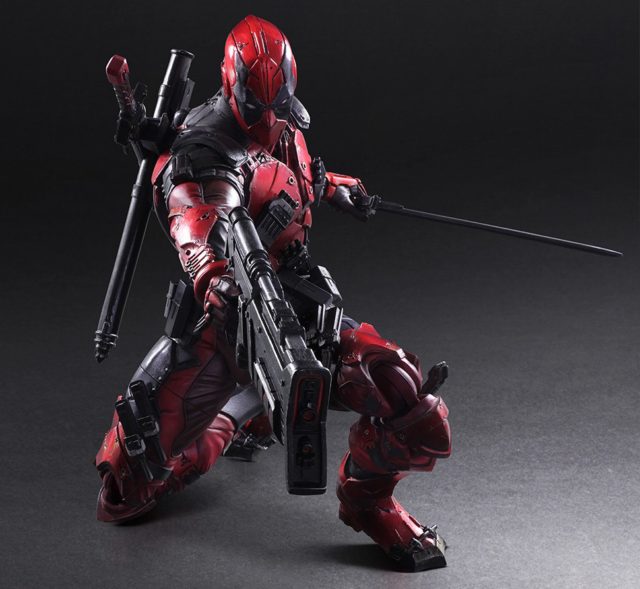 Ordinarily I'd balk at paying the better part of a Hot Toys figure for a 10″ action figure, but this figure is so outstanding and indispensable for my collection that it's going to be my first full-price Marvel Play Arts Kai purchase.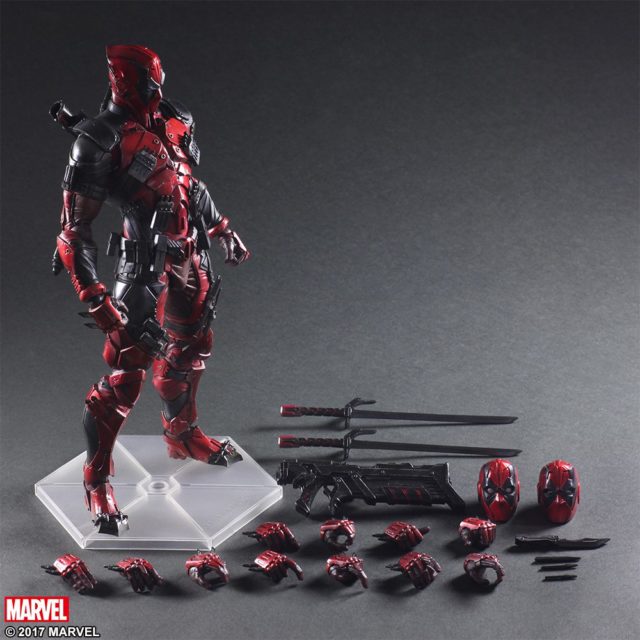 See, while Wade may not be as big as the previously released Thor and Venom PAK figures, he comes with more accessories than any Marvel Play Arts figure ever. In fact, his crazy number of accessories even blows away the Hasbro Marvel Legends Deadpool I reviewed last week–and that figure was positively loaded with extras!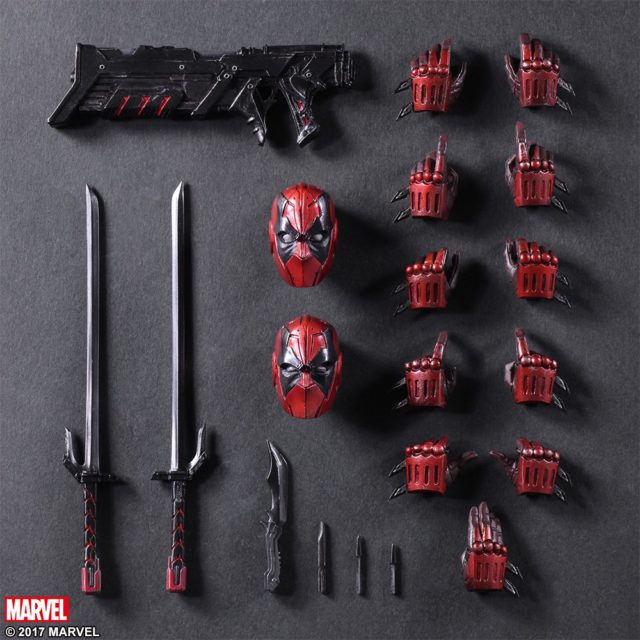 Along with the traditional awesome Play Arts Kai figure stand display base, Deadpool comes with two faces (one with smaller eyes for serious looks, one with larger eyes for… less serious… looks),
eleven
 interchangeable hands, and
seven
 weapons!
Wade's arsenal will include a blaster rifle and a pair of katanas–all of which with great paint deco, as well as four knives in various sizes. It doesn't look like you can attach the gun to his back, but there are sheaths all over his body to store all the bladed weapons! Now that's convenience!
The Square-Enix Deadpool Play Arts Kai figure is now up for order, with a release date in March 2017. With the release date that close at-hand, it's likely this figure is already deep in production, so if sales are higher than Square-Enix predicts (and I suspect they will be), this will very likely be the first Play Arts Kai Marvel figure to sell out during the pre-order stage.
What do you think of Square Enix's take on Wade Wilson, Marvel collectors? Did you dig this figure's armored look, and how do you think he compared to the many other Deadpool figures in the land we've seen this year?