Bandai Tamashii Nations shocked the Figuarts collecting world last month when they put the SH Figuarts Iron Man Mark VI & Hall of Armor set up for order in the United States–the first Marvel Figuarts figure ever released domestically! Many longtime Iron Man Figuarts collectors were wondering if this 2017 Mark 6 figure was improved enough to warrant a new purchase, but now we can judge for ourselves with new comparison photos…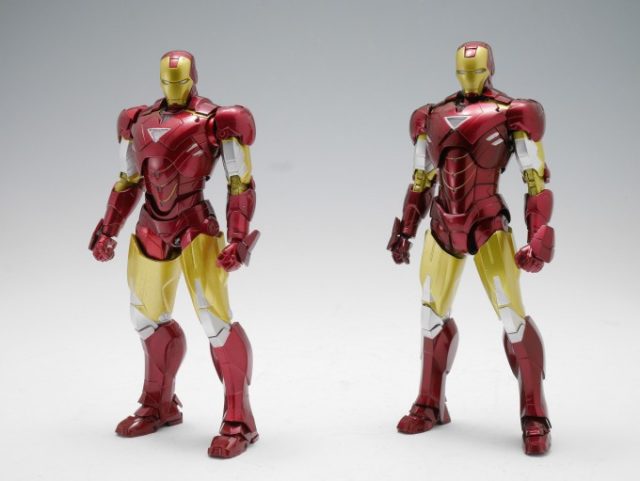 Way back in 2013, the S.H. Figuarts Iron Man Mark VI figure was released, the beginning of a Marvel line of action figures that would become one of the most acclaimed in existence.
Available only overseas, that Iron Man Mark 6 figure quickly sold out and became quite expensive on the secondary market, deterring many new collectors from going after their favorite movie armor and instead opting to pursue newer armors from "Iron Man 3", "Avengers: Age of Ultron" and other more recent movies.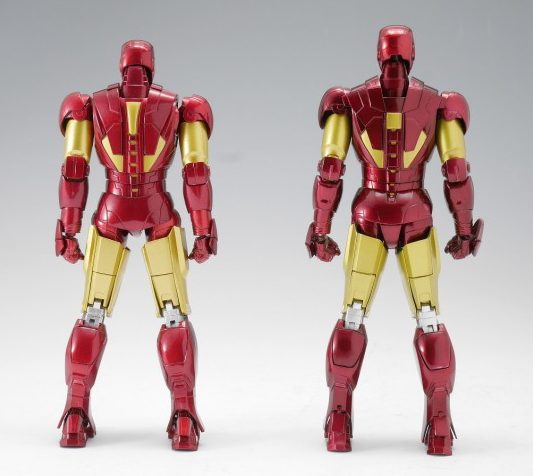 But now, the beloved armor permutation from the Iron Man 2 and Avengers movies is back–and the improvement is pretty obvious when you scope out the side-by-side comparison photos.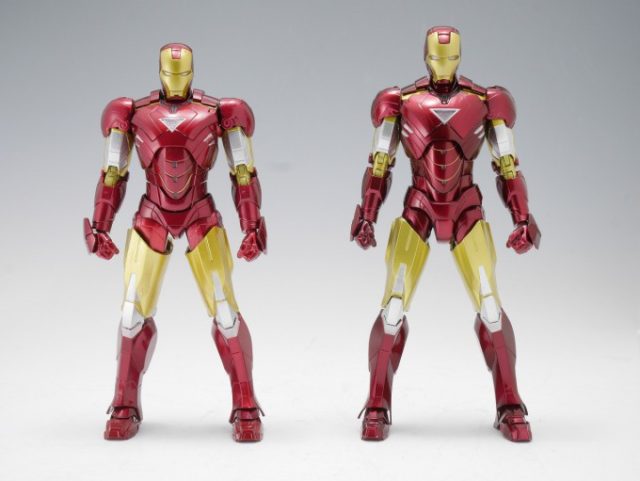 First of all, the size on this figure has been slightly increased overall–the figure is taller, which will please fans by being far more compatibly scaled with the blockbuster Hasbro Marvel Legends 6″ figure line–the most-collected Marvel action figure line in the world.

In addition, Bandai Japan opted for a much darker and more metallic-looking cherry red for the armor this time, which makes the Mark VI Iron Man figure look more authentically screen-accurate than its previous incarnation did. The old version really does look a little bit "toy-like" (no offense) when compared side-by-side with the newly-developed version!
The sculpting and paint details on the toy are clearly sharper and more pronounced in the new version, making it a worthwhile upgrade for those who have the original, in addition to those getting an SH Figuarts Iron Man Mark VI for the very first time.
I own the original version from Spring 2013 myself, but am I down for a newly-sculpted version with a larger size, improved paints and better detailing…? Heck yeah–bring it on, Bandai! (For that matter, bring on Mark I Iron Man and the rest of the missing movie armors!)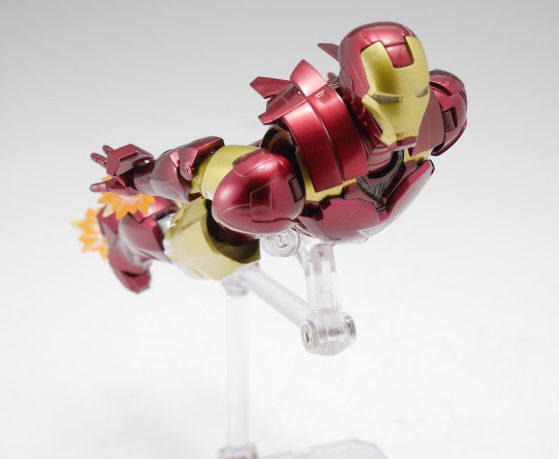 The Bandai SH Figuarts Iron Man Hall of Armor & Mark VI set is now available for order in the United States, and is scheduled to be released in spring 2017. It's not clear how limited the quantities being brought over for sale in North America are, but Bluefin Distribution has said that additional Iron Man armors will follow in the future. Be aware that due to licensing restrictions, it's unlikely that any Iron Man figures will be released in the U.S. without an accompanying Hall of Armor pod, however.
Having seen the side-by-side pictures, how do you feel about the new SH Figuarts 2017 Iron Man Mark VI figure, Marvel collectors? Has Bandai perfected the armor with this upgrade, or are you satisfied with the original 2013 iteration (or no Mark 6 at all)?