Sideshow blindsided everyone when they made their biggest Marvel New York Comic-Con reveal of all-time back in October: new Premium Format Carnage and Venom statues scheduled for release in 2017! Hundreds of collectors worldwide have been saving up their pennies (and Sideshow Rewards!) for months in anticipation of the first pre-order for one of the symbiotes, and it's come just in time for pre-Christmas: the Sideshow EXCLUSIVE Carnage Premium Format Figure 1/4 statue is now up for order!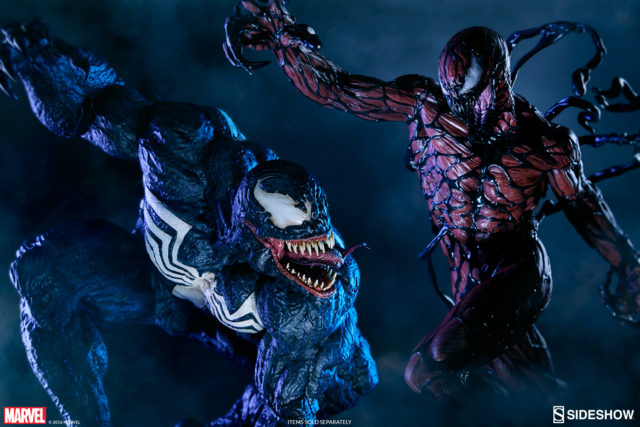 I genuinely was not expecting any more major Marvel pre-orders to occur before the holidays, so we jaw just about fell out of my mouth when I looked at my phone and saw a multitude of readers messaging me to inform me that not just any Marvel item had gone up for order, but one of the
most
-anticipated Marvel items of the year!
Carnage is easily one of the most popular Spider-Man villains created in the past 25 years, and there's a constant demand for new figures and statues of the serial-killing symbiote. And just in time to close out 2016, Sideshow is delivering the solicitation for everyone's favorite psycho symbiote!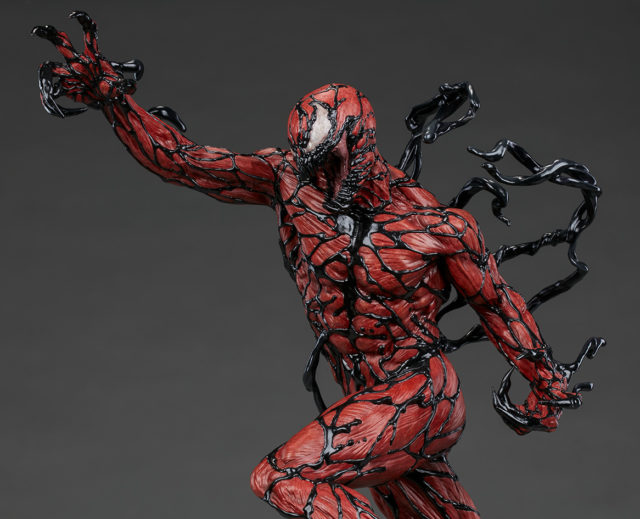 It would be very difficult to call any sculpture of a crazy symbiotic monster "beautiful", but I'll settle for calling this Carnage statue "beautifully-detailed". The texture on Carnage's body and the oozing tendrils emanating from it are just awesome.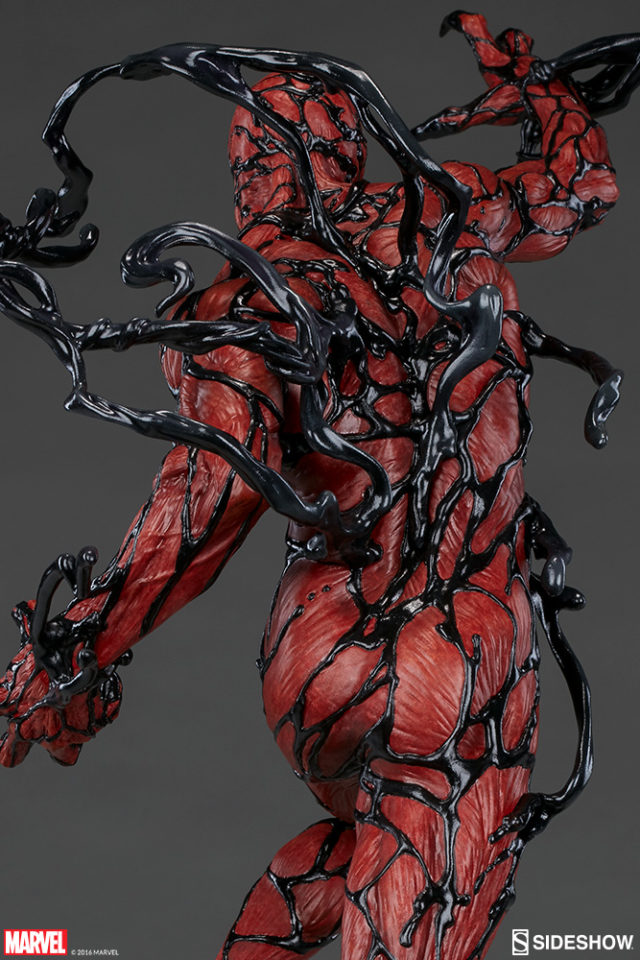 The oily look of Carnage's black tendrils is really creepy up-close, and definitely helps to give this piece a monstrous, alien look.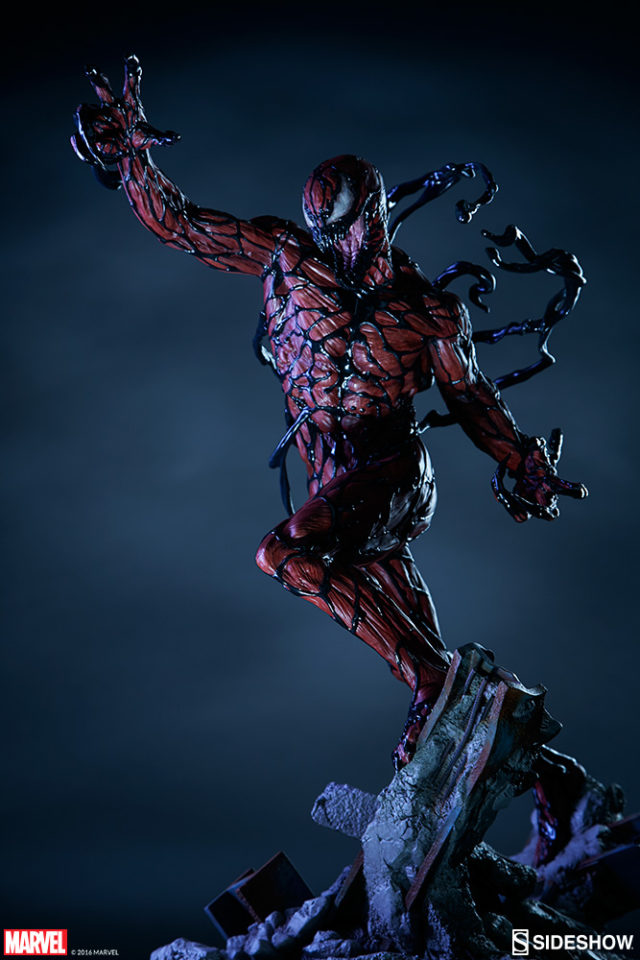 It's apparent from just one look at this statue that Carnage is a twisted killer bent on homicide and not the anti-hero vigilante that his "father" Venom is so often portrayed as.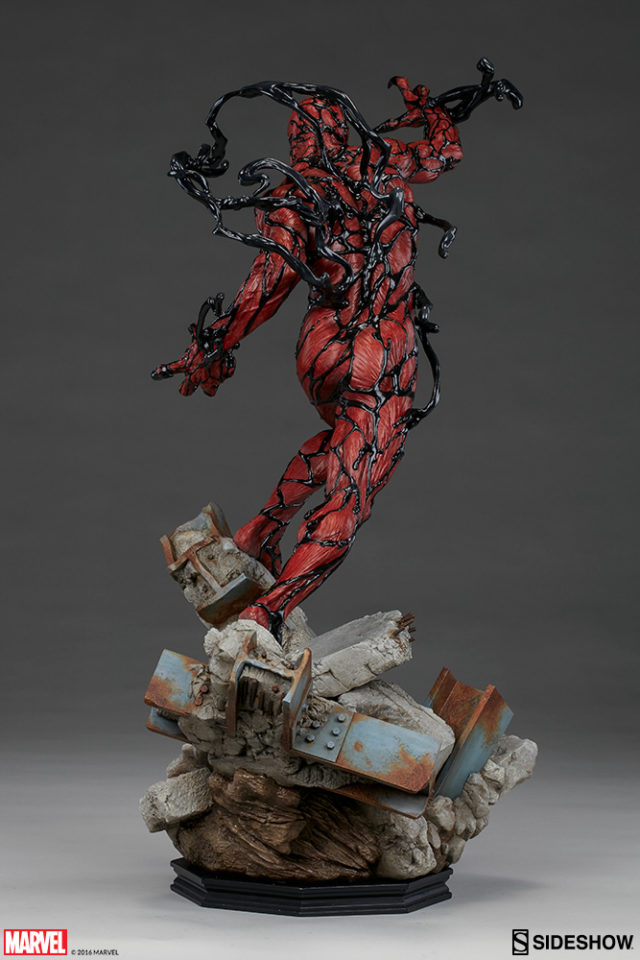 And to my astonishment, Sideshow has actually lowered the price (at least a little bit) from the $500 price-point that they've become so comfortable with for Marvel Premium Format Figures this year. I honestly kind of feared that Sideshow would capitalize on Carnage's mass appeal by upping the price to even crazier levels, but the 22″ statue actually has a slightly below-average price-point of $479.99. Thanks, Sideshow!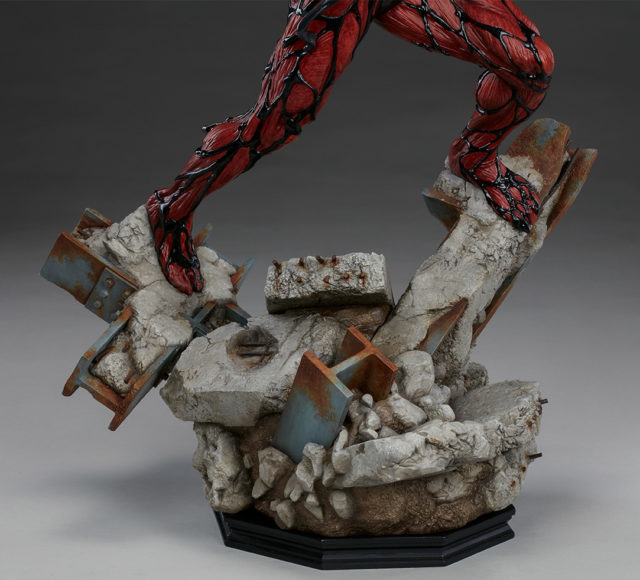 Carnage always leaves a trail of death and destruction in his wake, so the debris of a wrecked building makes for a perfect base for him. It's not pretty–nor should it be! It's simple and helps keep the price of this piece down, and that's A-OK in my book!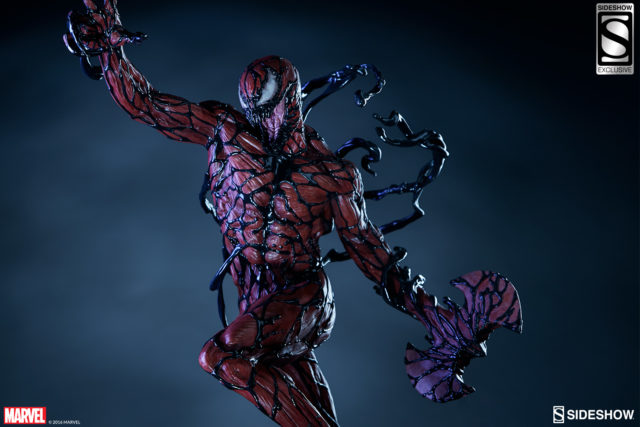 As with the vast majority of Sideshow Collectibles statues, there is an exclusive version of the statue only available directly through Sideshow's website. And in this case, it's a pretty compelling exclusive bonus accessory: an alternate double-bladed axe hand!
Considering the nature of Carnage's abilities and his murderous demeanor, I don't feel like my Premium Format Carnage figure would be complete without having the option of switching-out for this lethal weapon arm, personally. This is going to be an exclusive release that I foresee being in much greater demand than the regular version, no questions asked.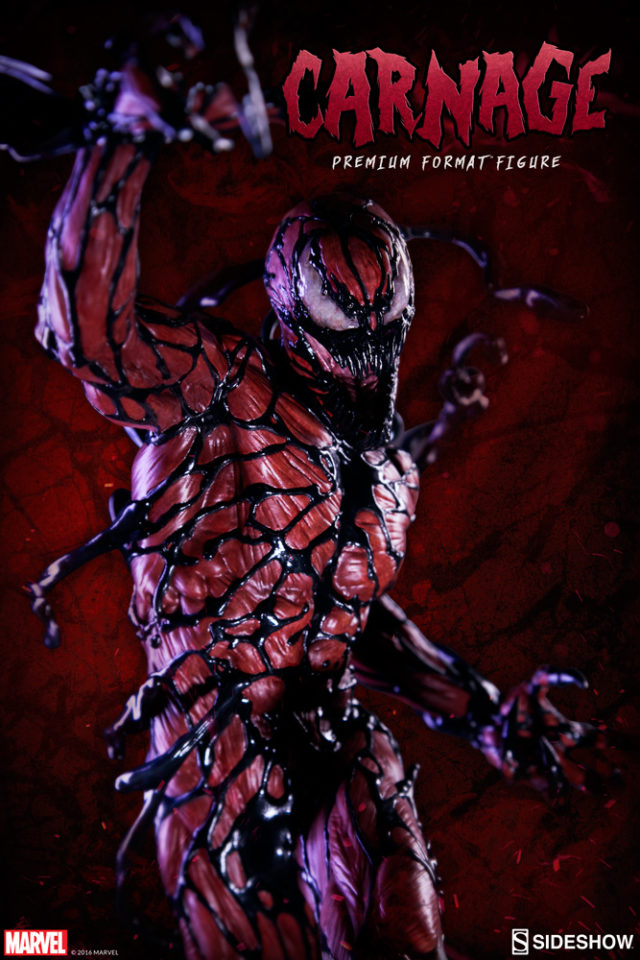 The Sideshow EXCLUSIVE Premium Format Carnage statue is now available for order, and is scheduled to be released in Fall 2017. Given the massive popularity of Carnage and the relatively low price on this figure, I have very, very little doubt that the exclusive version of this statue is going to sell out way before this piece ships. If you think you're going to want this statue (and I know I do), it might be wise to lock it in and set up a payment plan while you have the option of doing so.
Show of hands, Marvel collectors! Now that he's finally available for order, who's going ahead and pre-ordering their very own 1/4 Carnage Premium Format Figure? If so, are you planning to purchase Venom to accompany him? And if not–why not?