I so badly want to get back to posting reviews (I have a floor full of new figures waiting for review like you would not believe) and discussing some of the smaller companies' new toys that I saw at New York Toy Fair 2017–but it looks like those things are going to have to wait a bit more, because the Hasbro Marvel Legends train isn't slowing down at all! We only saw them revealed last weekend, but now Spider-Man Homecoming Marvel Legends packaged photos have already turned up!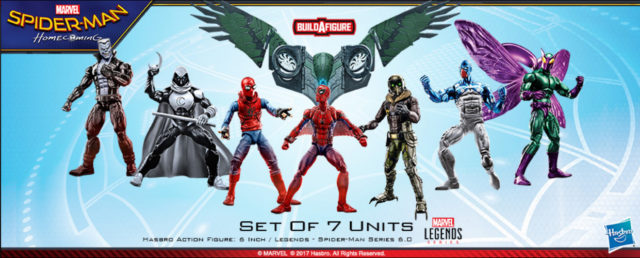 With the new Guardians of the Galaxy Marvel Legends having hit stores a few weeks ago and the Spider-Man Homecoming movie just two months behind Guardians of the Galaxy Vol. 2 at the box office, I figured we'd be seeing official photos of Marvel Legends Spider-Man 2017 Wave 2 sooner than later–but even I wasn't expecting it to be quite
this
soon (care of the overseas Toy Sapiens website)!
Hasbro revealed all seven action figures and the "Build-A-Figure" last week, so there's no shockers here (he was in the last series–ha). Let's have a look…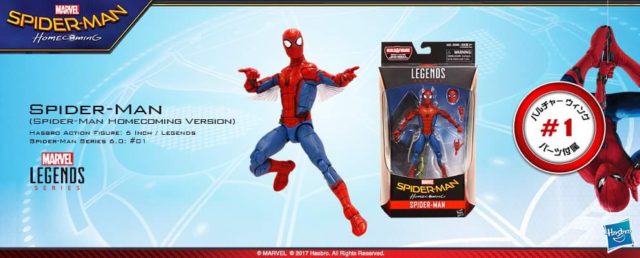 The standard Marvel Legends Spider-Man Homecoming figure is the headliner of this wave–as he should be–and will be the two-per-case figure in the series beyond almost any shadow of a doubt.
Notice that this Web Wings Spider-Man figure has an alternate masked head and two pairs of hands, but no Tom Holland Peter Parker head: you'll have to buy the two-pack with Homecoming Iron Man for that.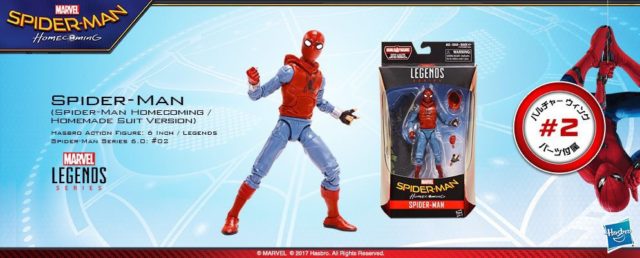 Figure #2 Spider-Man Homemade Suit Version with alternate hands and interchangeable hoods (for up or down action).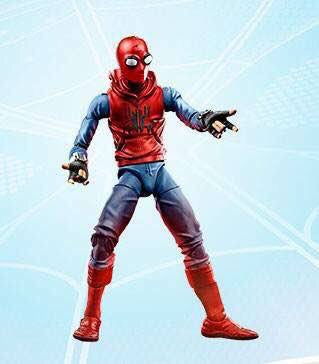 I really, really dig the way the packaging for this movie pops off the shelf because of the blue background and yellow Spider-Man logo really changing things up. I wonder if it's time for a shake-up to the standard packaging colors…?
Third is the figure that I expect to be the hot seller from this series as far as comic-based characters go: 6″ Marvel Legends Moon Knight in his modern costume. He looks terrific!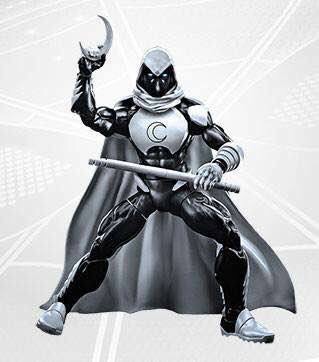 After getting the 3.75″ version yesterday that comes with bupkis, it's gratifying to see the 6″ Moon Knight will still come with alternate hands, a staff, three mini Moonerangs and a big Moonerang boomerang.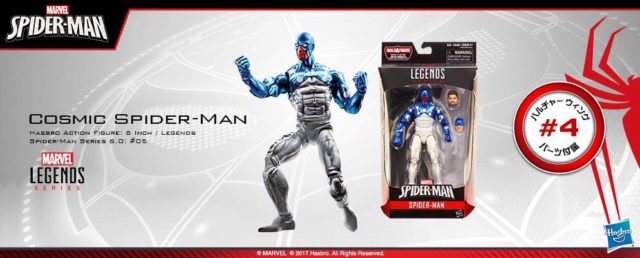 Fourth is the first-ever Hasbro Marvel Legends Cosmic Spider-Man Captain Universe figure! I love love Captain Universe, and have been wanting a new figure of this version for many years.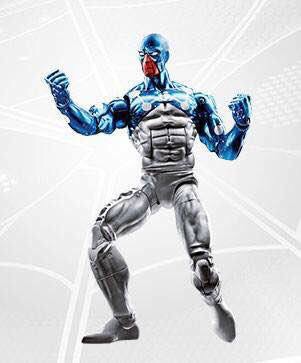 The three interchangeable heads included are absolutely awesome, and the only thing I would have wanted in addition would be some energy effects pieces.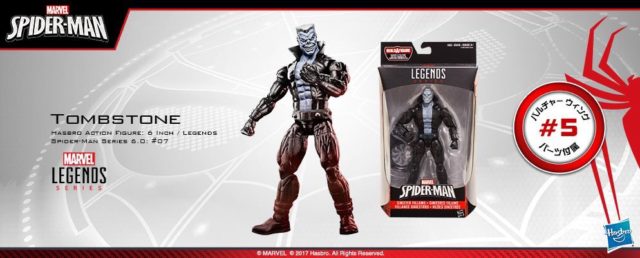 Tombstone punches his way into the series at #5. I know Hasbro is working hard to give us modern versions of as many characters as possible, but this is an instance where I would have greatly preferred a classic Marvel Legends Tombstone. This figure has pegwarmer written all over it, sadly.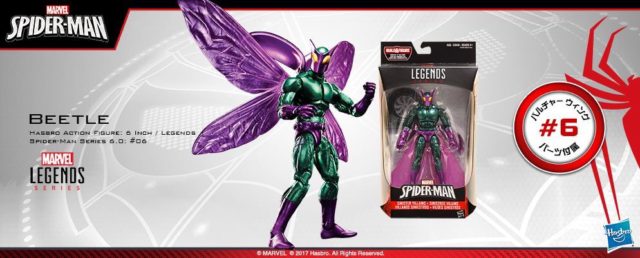 Figure #6 is the classic Abe Jenkins Beetle Marvel Legends figure we've all been waiting for. He looks spectacular and will hopefully not suffer the same peg-warming fate as his predecessors.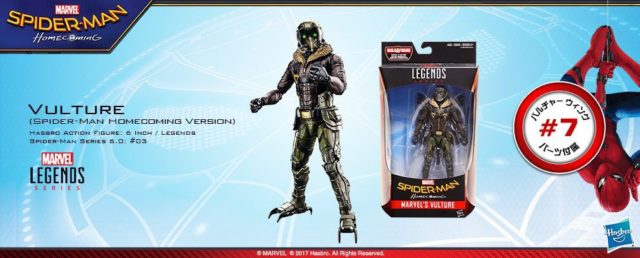 Lastly, we've got the Marvel Legends Vulture movie figure. I'm sure he cost a bundle in unique sculpting, but he really looks lonely and sad in his packaging without his wings. I don't know how well Vulture will sell to those not planning to buy the whole set and build his wings…
The Vulture Flight Pack Build-A-Figure is a first for Hasbro, and I hope the gamble pays off. The wings have an insane wingspan and loads of sculpting detail and articulation, so Hasbro really went all out with these. I think in person collectors will be really impressed.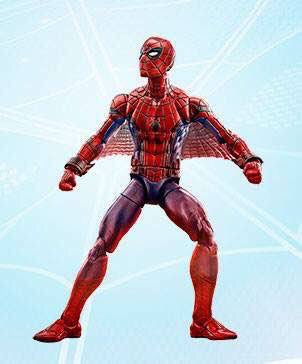 The Marvel Legends Spider-Man Homecoming Series figures should be up for order within the next 1-3 months and are scheduled for release in Spring 2017. I'll send out alerts via the Marvel Toy News Twitter and Facebook Pages as soon as figures go up for order as sets and individuals.
Now that we've gotten a look at the finished figures inside their packaging, what do you think of this year's second batch of Spider-Man Legends, Marvel collectors? Will you buy the whole series to build that 20″+ Vulture Flight Pack, or is that not enough incentive to earn a whole wave purchase from you?