Here I thought that I had discussed all of the new Marvel Legends shown in my New York Toy Fair 2017 coverage last weekend, when I flipped through my photos today and realized I never talked about a trio that didn't debut at the show. Not only did Hasbro bring the soon-to-be-shipping Marvel Legends 12″ Deadpool to show off at Toy Fair, but they also had the recently-revealed 12″ Thor and 14.5″ Hulk there. And I have to say, both these figures look a lot better than I expected in person…
I've been a huge proponent of the 12″ Marvel Legends figure series ever since Hasbro premiered Spider-Man, Captain America and Iron Man at the 2016 Toy Fair last year. Even if the line hasn't exactly been tearing it up sales-wise, I absolutely wanted to see more releases in 2017.
Hasbro is making that dream come true with Deadpool shipping this spring and now Hulk and Thor in the fall, and while the official photos of 12 Hulk and Thor didn't sell me on them, seeing them with my own eyes at the 2017 New York Toy Fair did…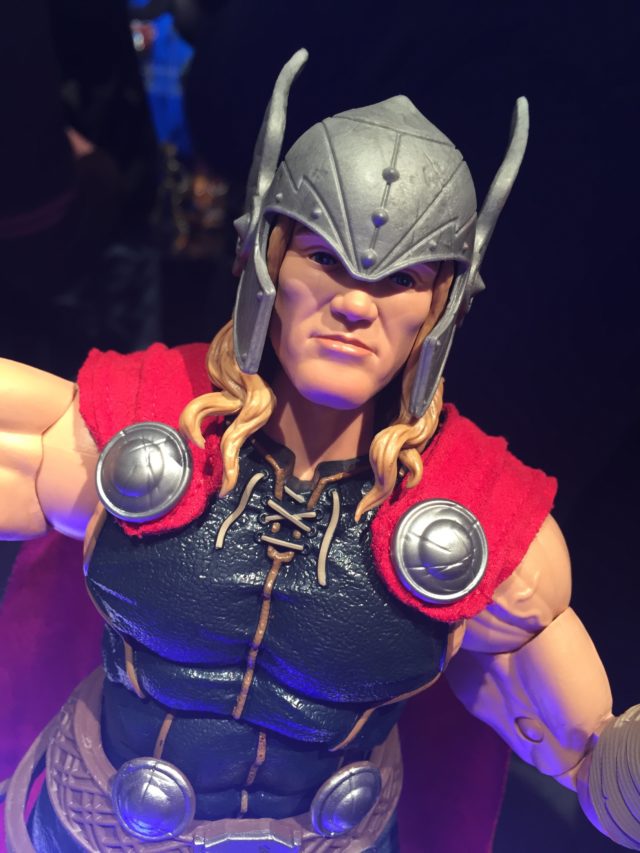 Let's start with Thor: I didn't like the heads for this character (bearded or not) at all in the Hasbro hi-res photos, as I thought neither face looked quite right to my memories of Thor from the comics.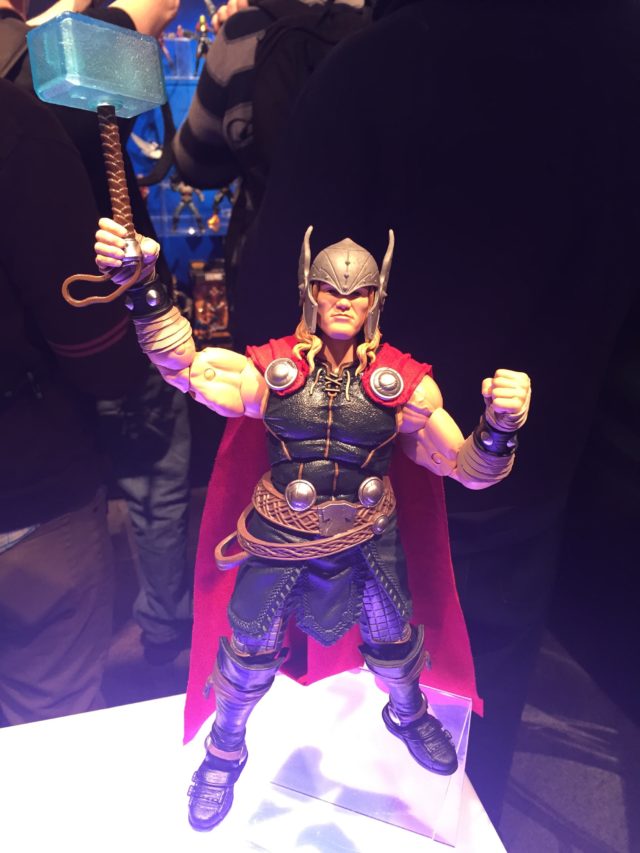 But seeing them in person, I felt like I was seeing totally different and more authentic heads for Thor–they just looked "right" to me, which I definitely was not expecting.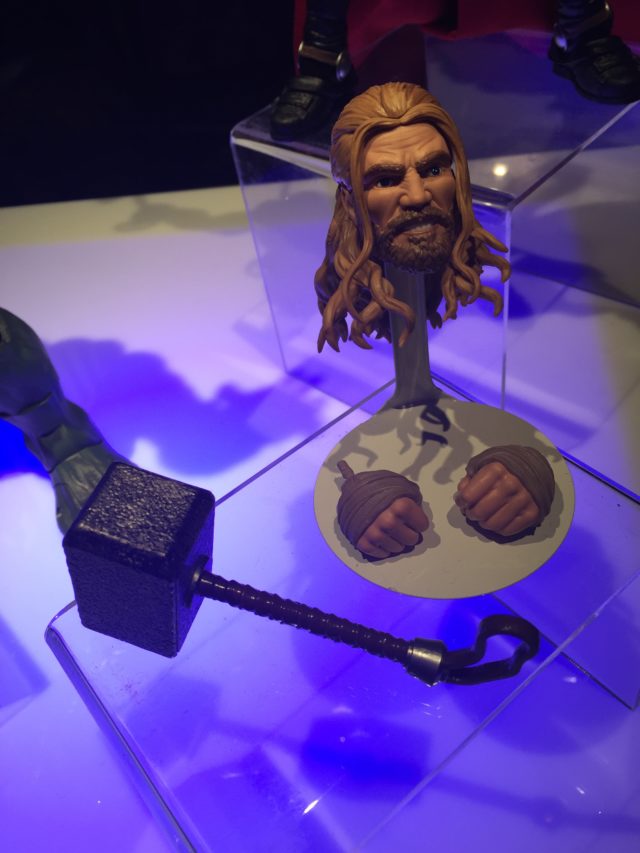 Even in my own photos the heads for Thor don't look quite right, so I wonder if maybe he just doesn't photograph well. Regardless, I've turned around on this Thor 12″ figure.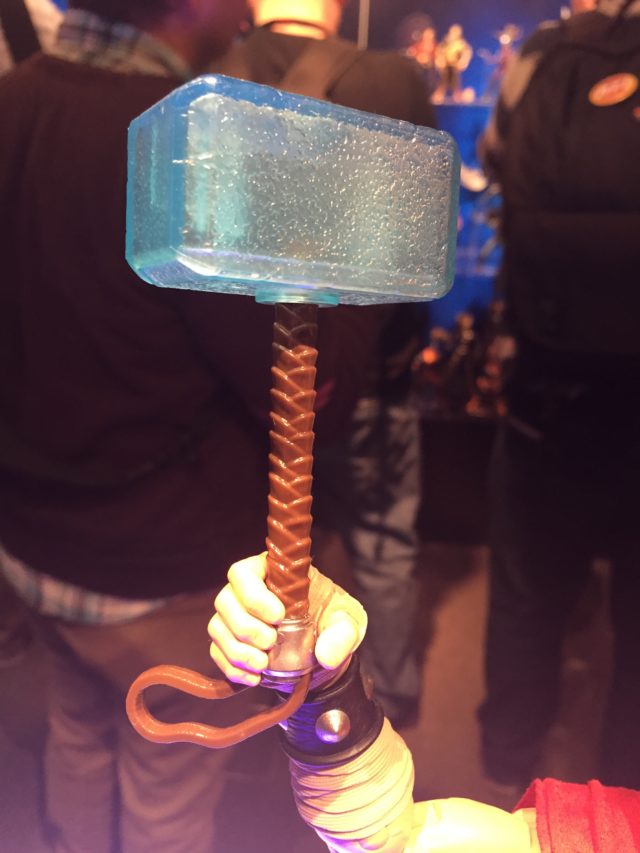 Another thing that sold me on Thor was Hasbro revealing during their presentation that Thor will include two hammers (both an electric-charged translucent hammer shown at Toy Fair and the regular hammer), and also Thor's faces and helmet/hair are interchangeable so that you can create any of four different looks for The God of Thunder (though not the female one, obviously).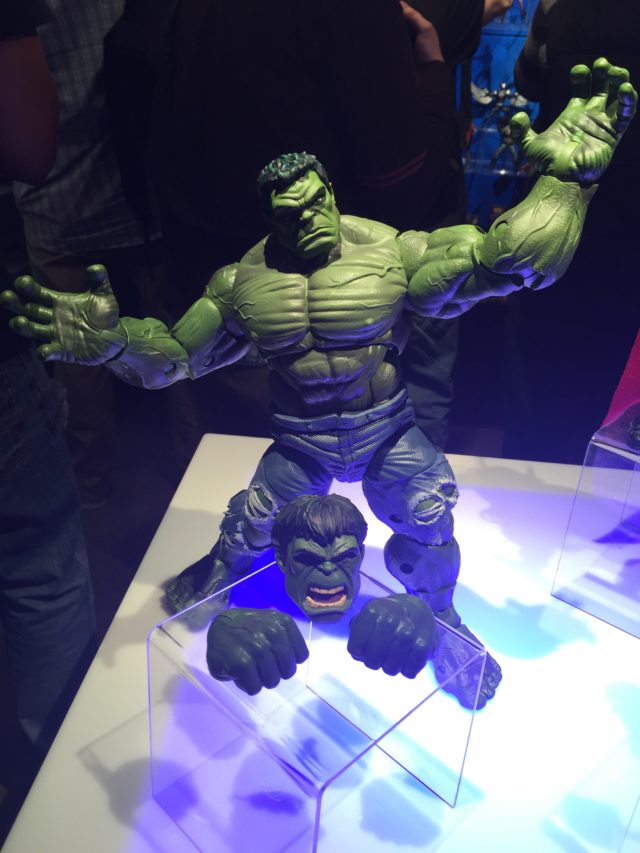 Meanwhile, we got confirmation that Hulk is 14.5″ tall and will ship separately from Thor, as he's going to have a different price ($74.99) and he also comes with a bigger package than Thor's (no, not that package).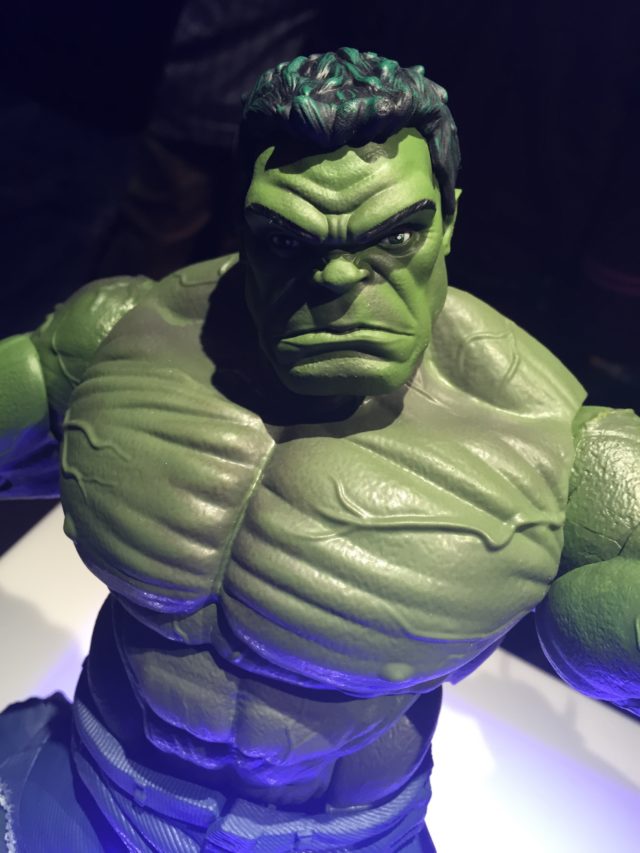 14.5″ may not sound all that much bigger than 12″, but Hulk is absolutely massive in person compared to the normal sixth scale figures in the line.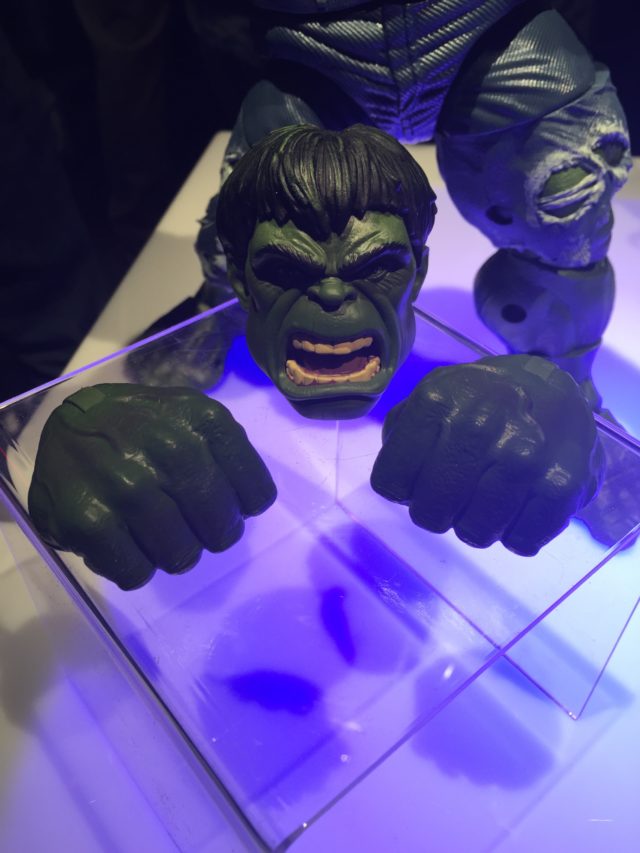 Hulk comes with grabbing hands and fists, as well as classic and more modern heads. It's not a huge assortment of extras, but I like everything present.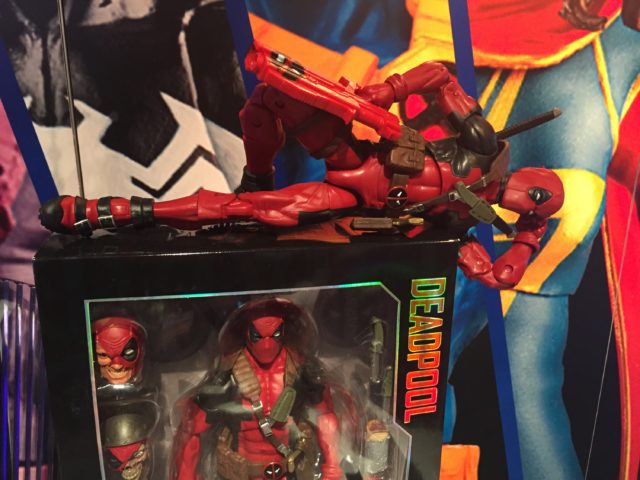 Finally, we've got the Marvel Legends 12″ Deadpool figure that's set to hit stores any time now. We've been seeing this figure since SDCC 2016, so I didn't spend a lot of time with him, but I couldn't resist snapping some photos since Hasbro had him set up so elegantly.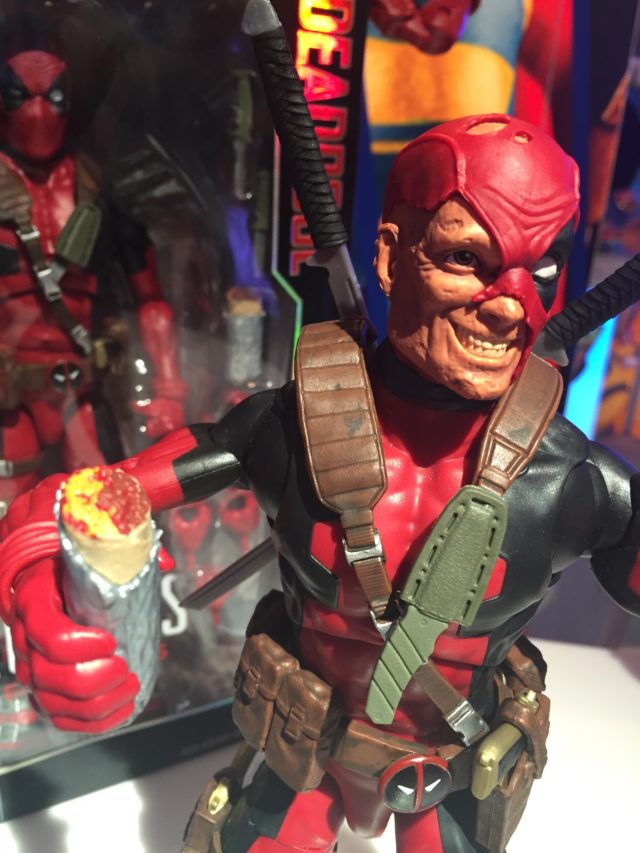 If any character is going to "save" the sales of this line, it's Deadpool. Wade comes with a much deeper assortment of weapons than any other figure in the series, is by far the hottest character Marvel has going right now, and simply the most "fun" entry in the 12″ Legends series.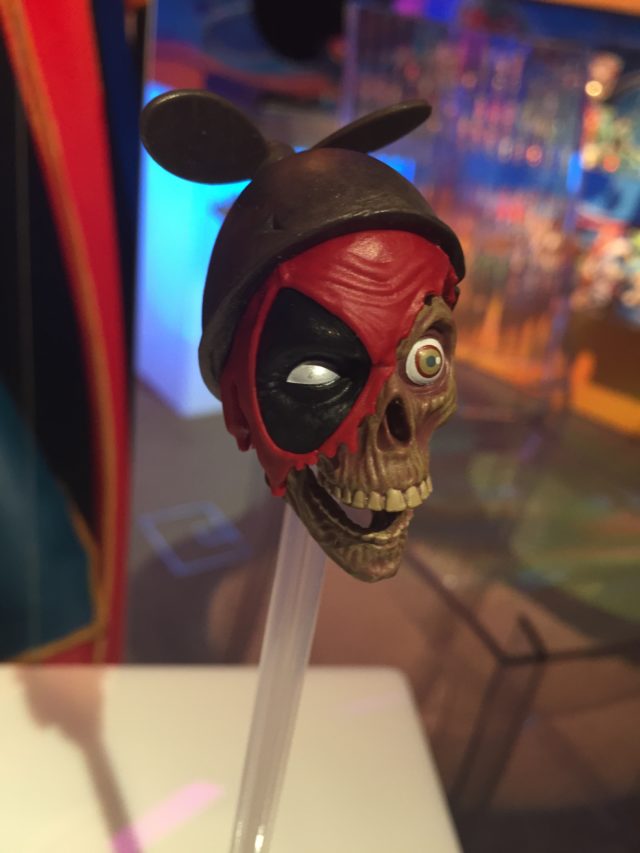 Look at the paint deco in that burrito (or is it a chimichanga–I'm terrible at identifying toy food), and how much personality the half-masked Wade Wilson and Headpool heads have! Clearly a lot of love went into this action figure. And for those wondering: yes, I did see the Headpool head being used
on
Deadpool's body at the show, so it can be done.
In addition to Headpool and the unmasked Wade Wilson head and the southwestern style food of some sort, Marvel Legends 12″ Deadpool also comes with a pair of twin katanas, a couple different guns (with Deadpool logos, of course), alternate hands and a regular masked head.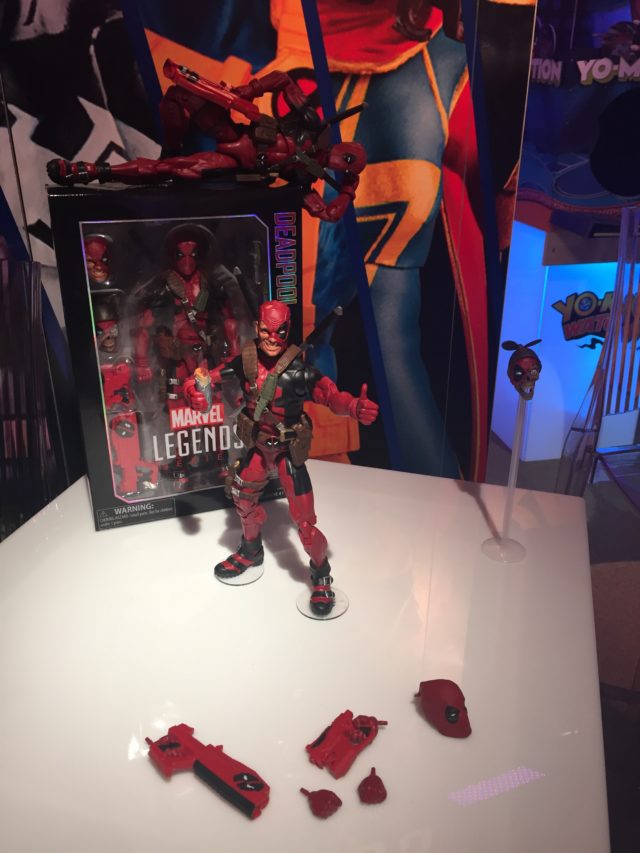 I expect to see the Deadpool 12″ Marvel Legends figure going up for sale any time in the next few weeks, and will post links to the Marvel Toy News Facebook and Twitter Page once Wade's up for sale. I fully expect Deadpool to be the first (and maybe only) fast-selling figure in this range. I'll post more information on Hulk and Thor as their release date in the fall approaches.
Now that you've had a chance to see photos of the actual 12″ scale  Marvel Legends Hulk and Thor figures–plus the final production version of Deadpool–what do you think of Hasbro's biggest Marvel Legends versions of these characters ever? Are you planning to bring home any of these figures this year, or are you still not sold on some aspect of this line?