While I was at Target this morning hysterically tossing the new X-Men Marvel Legends figures into my basket, I caught a glimpse of something out of the corner of my eye that it took my brain a moment to comprehend. Though I hadn't heard any reports about them hitting stores yet, the Marvel Universe scale 3.75″ Marvel Legends 2017 Wave 1 figures were all in-stock and in front of my face, including X-23 Wolverine, Moon Knight, Maestro and more!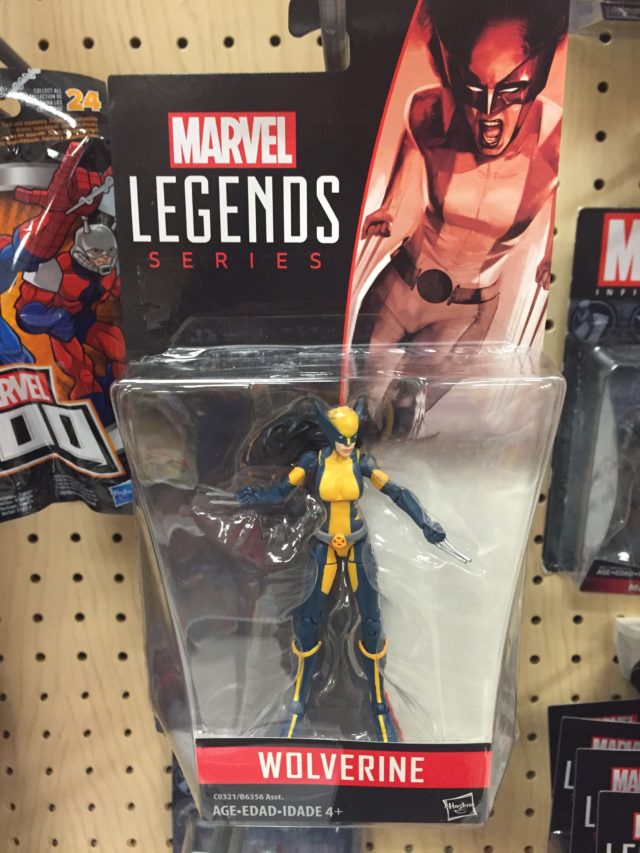 I'm not gonna lie: we see so little news regarding the comic-based Hasbro Marvel Universe scale 4″ Marvel Legends figures these days that I tend to forget that new figures are released in the line at all when they're not right in front of me.
Luckily, today it just so happened that the very first half-dozen new releases in the 2017 Marvel Legends 4″ figures series really were right in front of me–and on sale for 50% off, too! Thanks, Target!
There are six figures in the series, all of which revealed way back at San Diego Comic Con 2016 in July 2016 (it's no wonder I forget this line is still going!).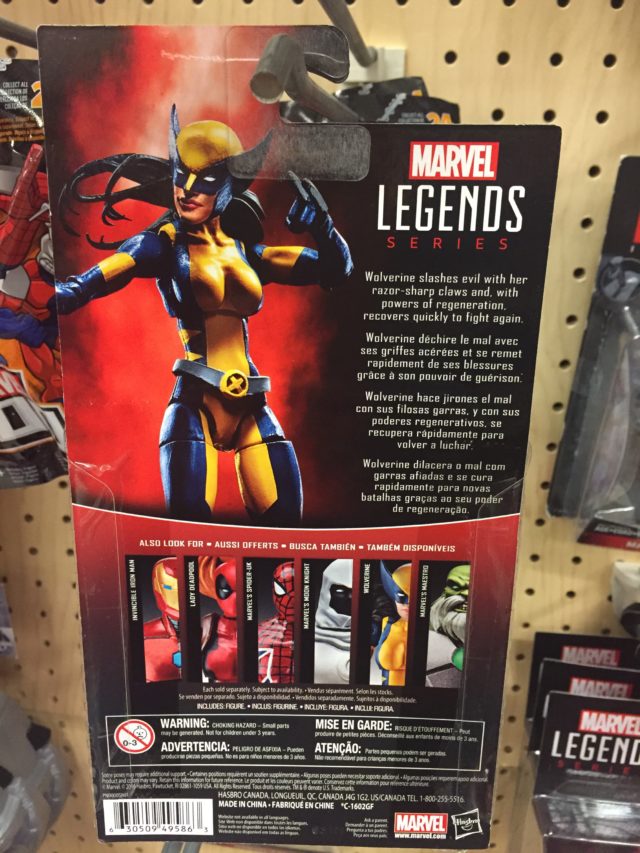 The figure in this series that I expect to be the hottest seller and most popular of the wave by far is the new Marvel Legends X-23 Wolverine (AKA All-New Wolverine), as it's the first mass market release for Laura. The paint apps could have been a bit cleaner on the two at my store, but Wolverine X-23 was coming home with me no matter what.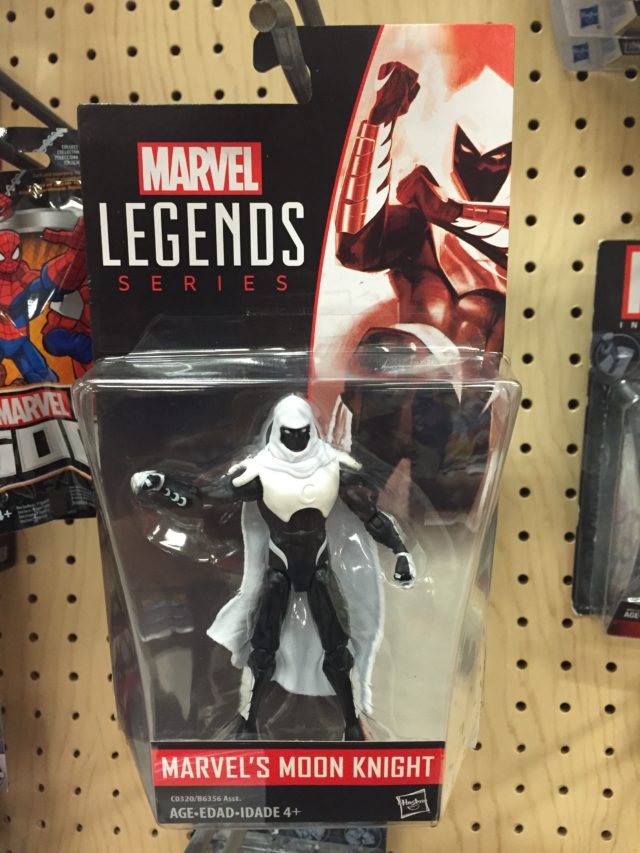 The other action figure in this series that I expect to be mega-popular is the Marvel Legends Moon Knight 4″ figure.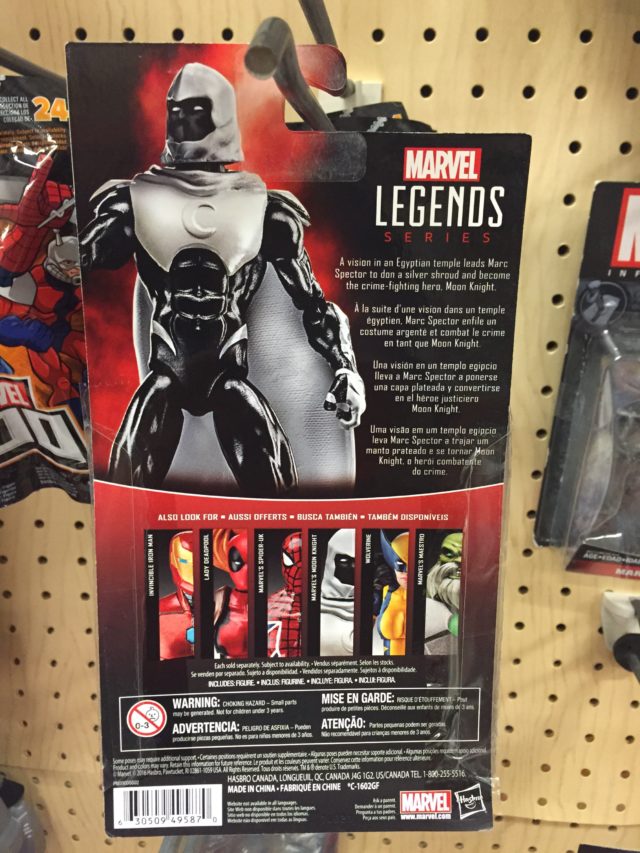 We'll be getting a bigger and better version of 6″ Moon Knight in this costume in a couple months with accessories and more articulation, but I'm a Moon Knight fanboy and couldn't resist purchasing this one as well.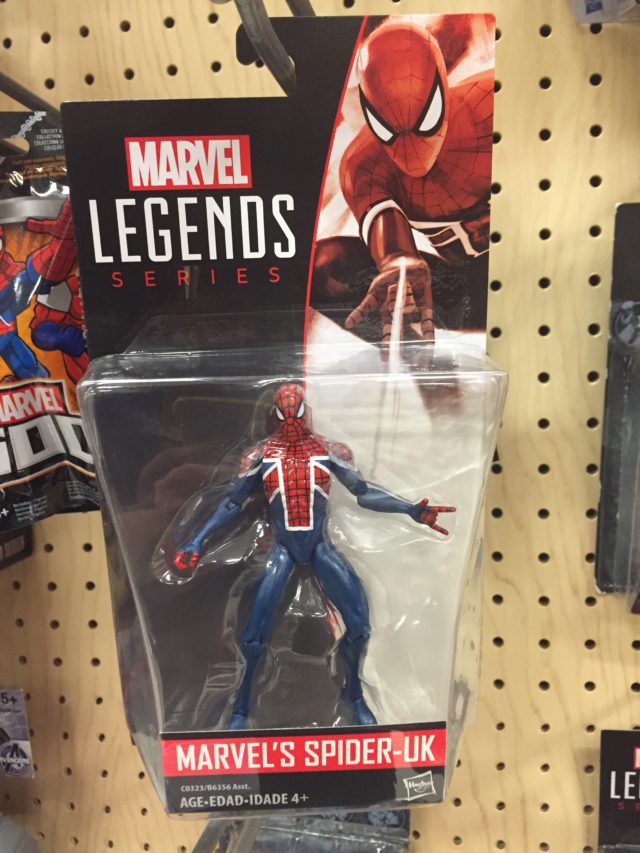 Joining his 6″ figure that's currently hitting stores, it's the 3.75″ Spider-UK! I'm a mark for Spider-Man variants, but I hate this unarticulated torso so much that I couldn't bring myself to buy this particular figure, as much as I wanted to.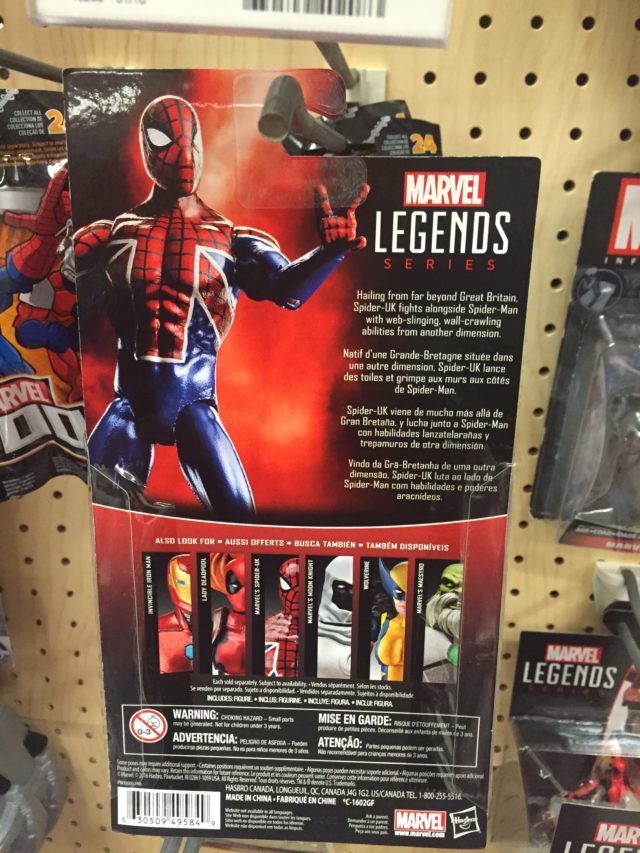 Does anyone else think it's weird that this is "Marvel's Spider-UK" on the package? Are there really other companies that have a character named Spider-UK?! The world may never know.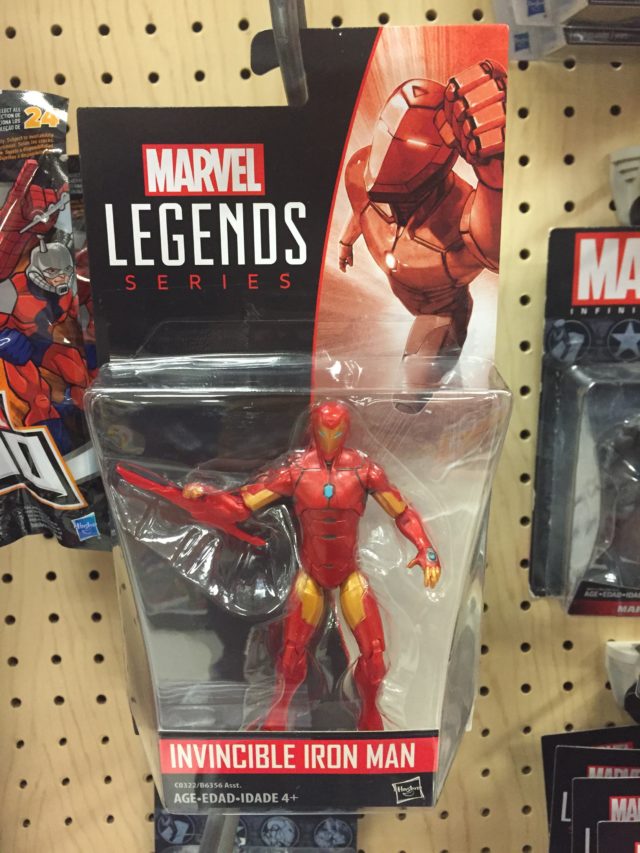 Next, we've got All-New All-Different Iron Man making his Hasbro Legends toy debut! Even without an Avengers wave to put him in this year, I feel like this armor needs to get a release by this time next year.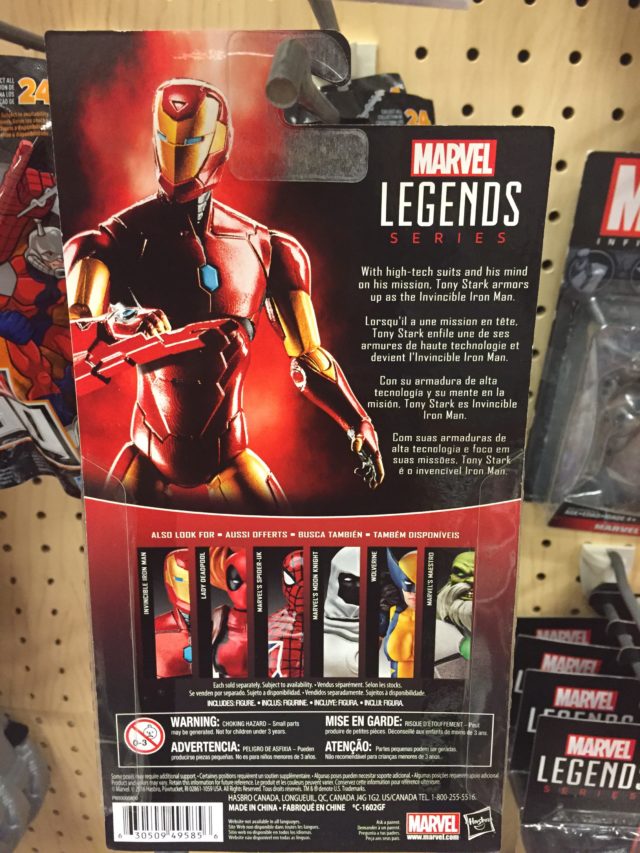 I wonder if Hasbro might be holding off on releasing this armor to do a slightly different Marvel Legends Ironheart figure instead…?
4″ Marvel Legends Maestro is the fifth figure in this series, and a character that's traditionally been pretty popular whenever he's released.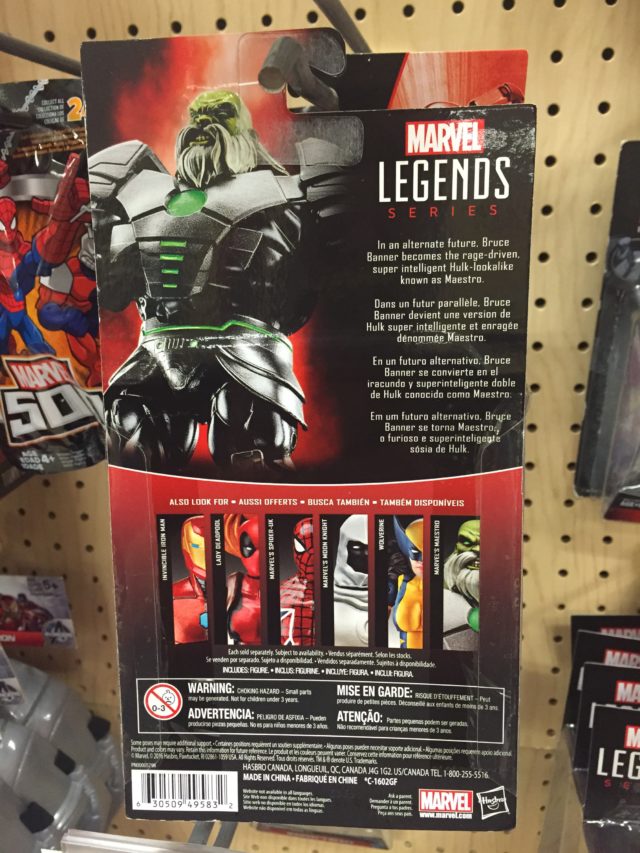 I'm genuinely not a fan of the modern Maestro in battle armor, so I'm not nearly as excited about this Maestro figure as I'd like to be. It'll be interesting to see how well this version does sales-wise.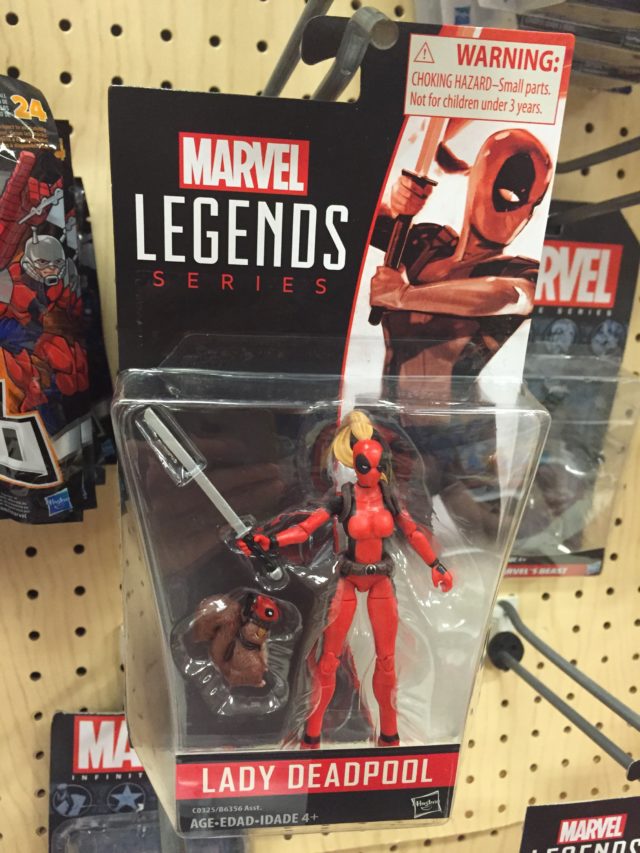 Finally, we've got a two-pack (of a sort) rounding out the series: Marvel Legends Lady Deadpool and Squirrelpool! Both of these figures are repacks from the SDCC 2013 Deadpool Corps exclusive set.
Despite Wanda Wilson basically being a non-entity in the comics these days, she's remained popular and has a Lady Deadpool Marvel Select figure currently available for order, and a Marvel Legends 6″ figure almost guaranteed (in my mind) for a 2018 Deadpool Legends series that hasn't even been hinted at yet and currently only exists in my imagination.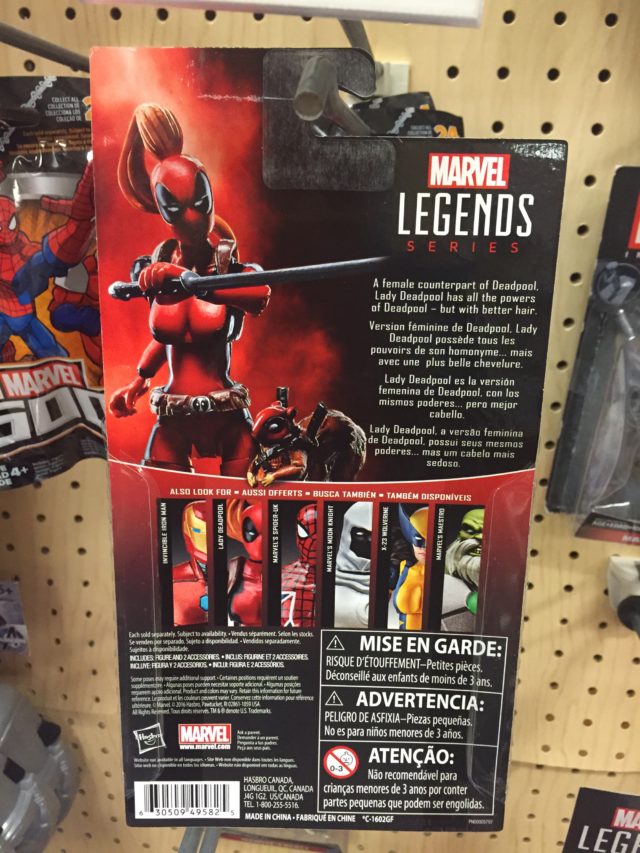 I haven't seen any online retailers taking orders for this series yet, but there are ample 3.75″ Marvel Legends 2017 figures on eBay now at inflated prices for those who absolutely cannot wait. I'm not in love with this series like I used to be, so I wasn't going to spend a penny above MSRP on these figures. Your collecting mileage may vary, of course. For those who want to try their luck with the shared DCPI # for this series at Target, the number is 087-06-1970.
Anyone else spot this just-released wave of Hasbro Marvel Universe figures at their own stores yet? Who (besides me) is still collecting toys from this line, and what do you think of these new releases?