While I knew that Black Panther making his debut in the Marvel Cinematic Universe (MCU) as part of this summer's Captain America: Civil War movie was going to be a big deal, I was totally unprepared for the overwhelming hype and demand for Black Panther toys that has manifested over the last few months. Not only is the Marvel Legends Black Panther selling for hundreds on the aftermarket, but even his POP Vinyl has been a tough grab. In fact, I had to grab my Funko Black Panther POP Vinyl online: was be worth it?
The Right:
I've been pretty vocally annoyed about how long we had to wait for Funko to produce a Falcon POP Vinyl figure–Falcon finally got his own POP! after two years and four movies this year. Luckily, we're not being forced to wait that long for the next great black hero of the MCU: the King of Wakanda, Black Panther!
And unlike Falcon, everyone will have a chance to get their hands on this POP Vinyls Black Panther figure, as he's a non-exclusive mass release.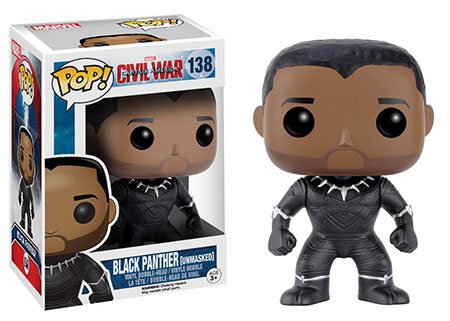 And not only is Funko releasing this regular version of T'Challa a few months before he makes his movie debut, but he's even getting an unmasked Black Panther variant as a (ugh) Walgreens exclusive. Nice work, Funko.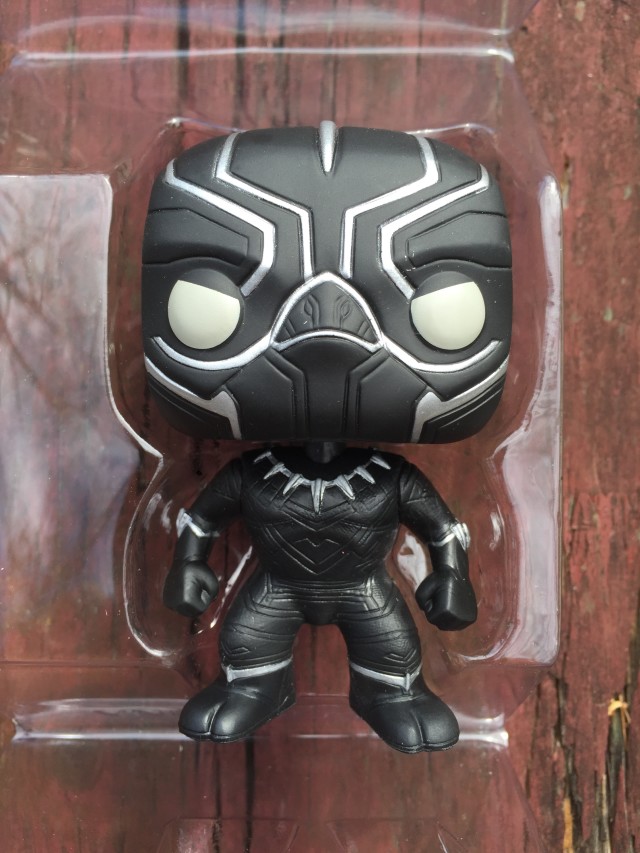 The POP Black Panther figure itself is a 100% new sculpt, exactly as it needs to be. The head is my favorite part, as the stylized "panther ears" and "cat nose" are the only part of this figure that strike me as being really "cute". Black Panther definitely has the grumpy cat look going on!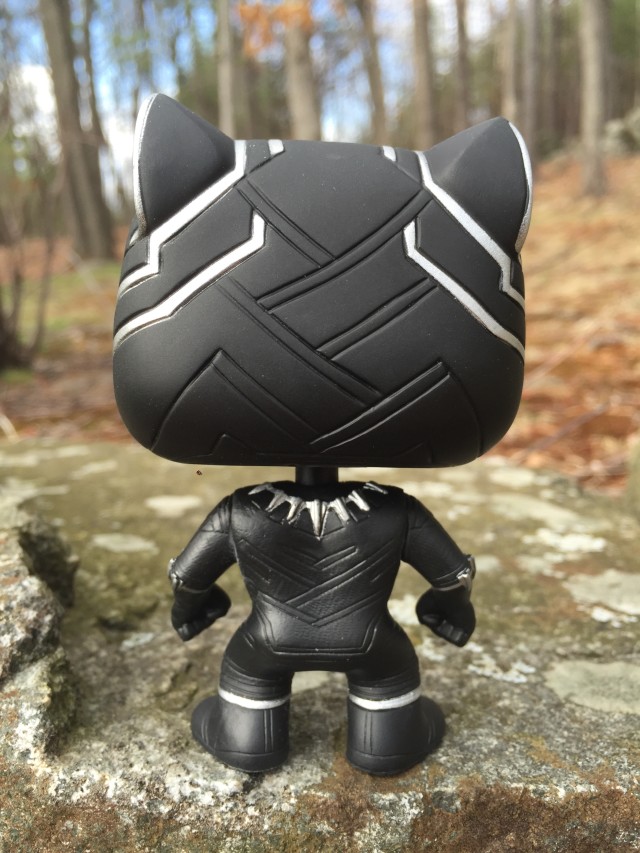 Funko could have tried to cheap out and just paint on all the details of Black Panther's movie costume, but that would have likely looked awful. Instead, they took the high road and added an impressive amount of sculpting detail that really makes this figure look excellent.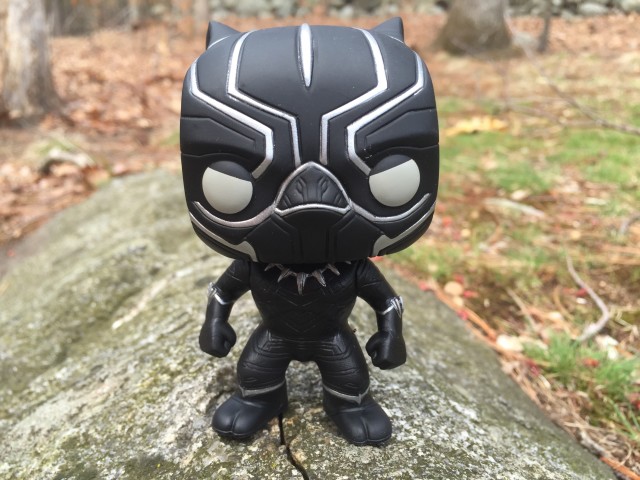 Sloppy paint applications are always a concern when you're painting white/silver paint on a black body, but Funko's factories have really gotten it together in the past year or two and bad paint apps are rarely a problem these days. Consequently, I've got no complaints at all about Black Panther's paint deco.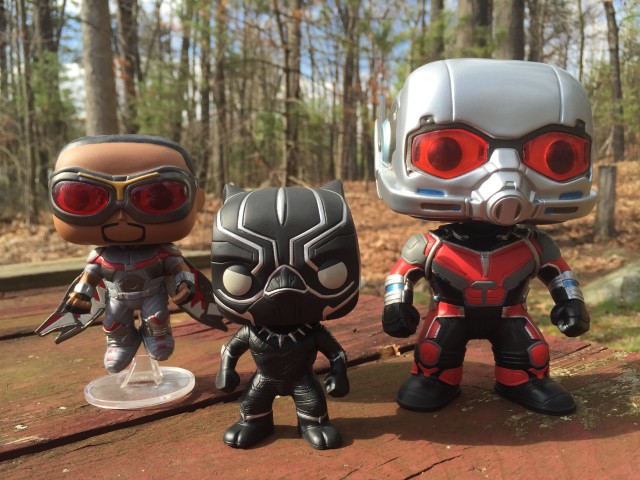 As he's a standard-sized Marvel POP, Black Panther stands 3.75″ tall (just like the Hasbro Marvel Universe figures). I like displaying him with characters like Giant-Man and Falcon who have varying heights to add a bit of size diversity to the lineup.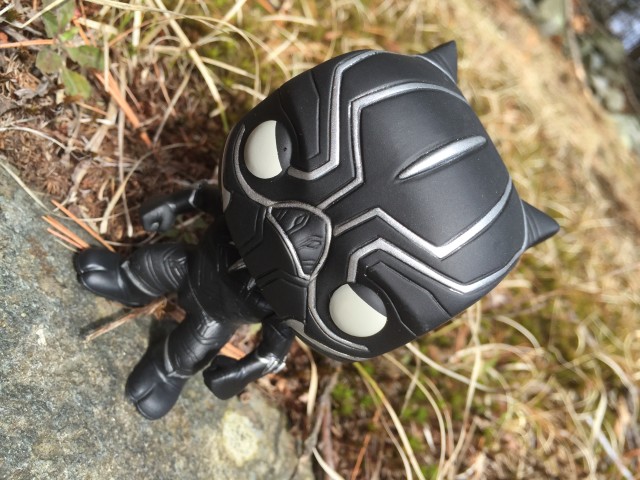 Like the rest of the Marvel POP Vinyls out there, Black Panther has one point of articulation: a turnable bobble-head. It's not a lot, but these figures aren't really meant to be posed, and just being able to turn T'Challa's head is a bonus in my books.
The Wrong:
There's only one thing bugging me about this Black Panther Funko figure, and it's the fact that the actual figure doesn't quite match the design shown on the box art.
Whereas the packaging art shows T'Challa with yellow-ish eyes–similar to how he appears in many modern comics–the actual toy has totally white eyes.
Looking at screenshots and promo photos it's difficult to say exactly what color Black Panther's eyes are in the movie, but I don't think they're going to be the pure bright white of this toy.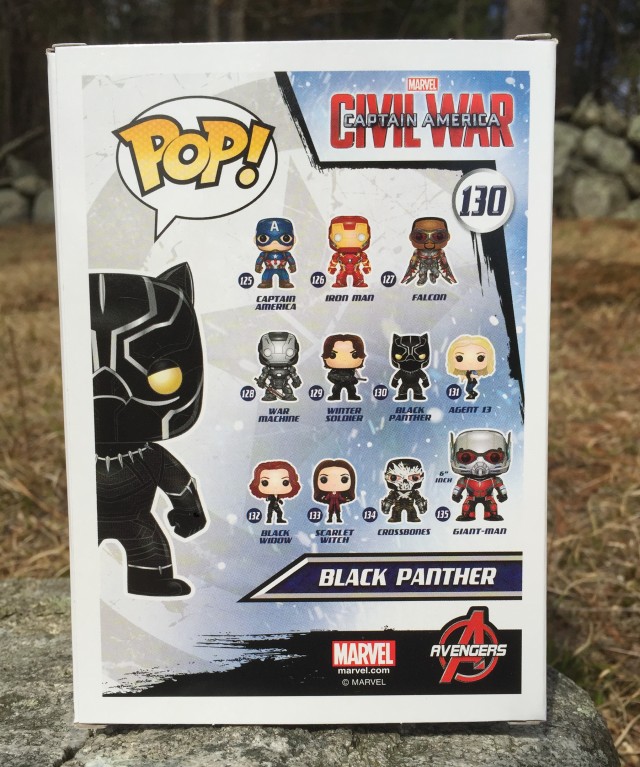 And regardless of accuracy, I think the yellowish-white or silver eyes would have been a much better choice aesthetically speaking.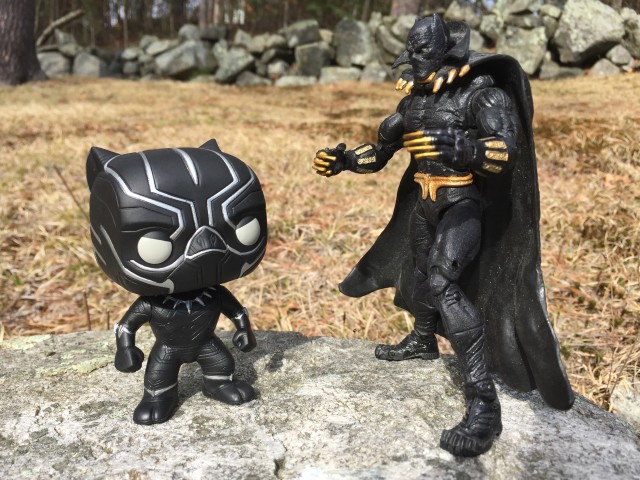 Overall: The Funko Black Panther POP Vinyls figure has impressive sculpting from head to toe, front to back. I love the cute "cat ears" on the head and think he's pretty eye-grabbing in a lineup of Marvel POPs. I think the pure white eyes on the Black Panther toy were a mistake on Funko's part that I may end up repainting myself, but otherwise this is a very solid Civil War POP Vinyl figure. If you can't find him in stores, the Funko Civil War Black Panther POP Vinyl is also available online for $9 shipped, and at that price he earns a solid recommendation.
GRADE: B+