I can only dance around talking about the most popular figure in the Marvel Legends Civil War series for so long, so after many, many requests, it's finally time to talk about T'Challa! The Civil War Marvel Legends Black Panther figure is selling for $30+ online and is next to impossible to find in retail stores right now. For all the effort finding him requires, it'd be a huge letdown if this Black Panther 6″ figure wasn't exceptional. Luckily, he absolutely is…
The Right:
Captain America: Civil War is only a week and a half away from hitting movie theaters, but Hasbro only has three Marvel Legends 6″ figures (and one Giant-Man) that will be on shelves in time for the movie's arrival.
Two of those characters are the obligatory Iron Man and Captain America variants (both of which are quite good this time, by the way), but one is giving fans and collectors the most-requested new character from the film: MCU movie Black Panther!
Hasbro could have very easily given T'Challa the shaft like they did to movie Vision, Quicksilver and Falcon in previous years, but they're giving the King of Wakanda the respect he deserves right out of the gate. Kudos.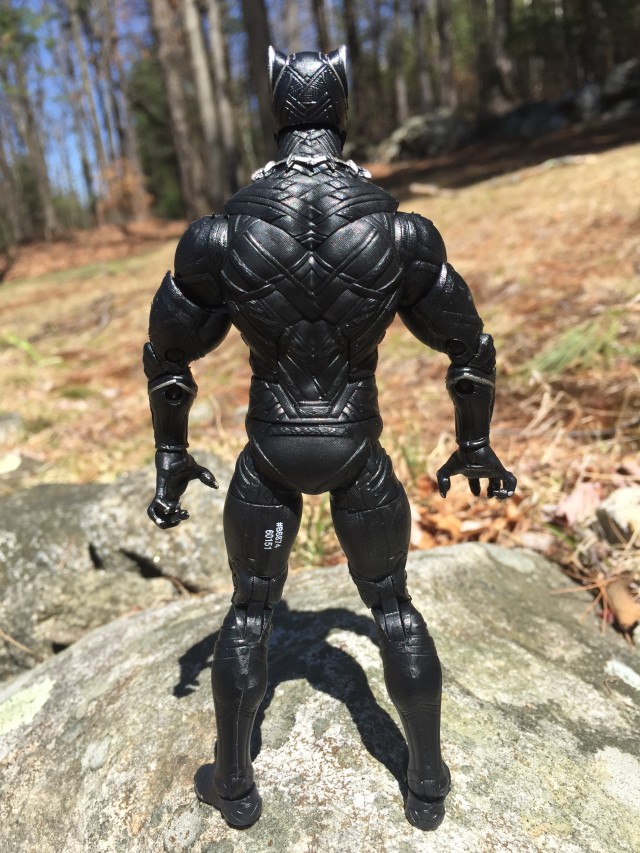 Of course, in this instance, a new head on a reused buck simply would not do. Civil War Black Panther has way too much intricate detail on his movie costume, and there was only one way to faithfully recreate that in figure form: with an all-new mold.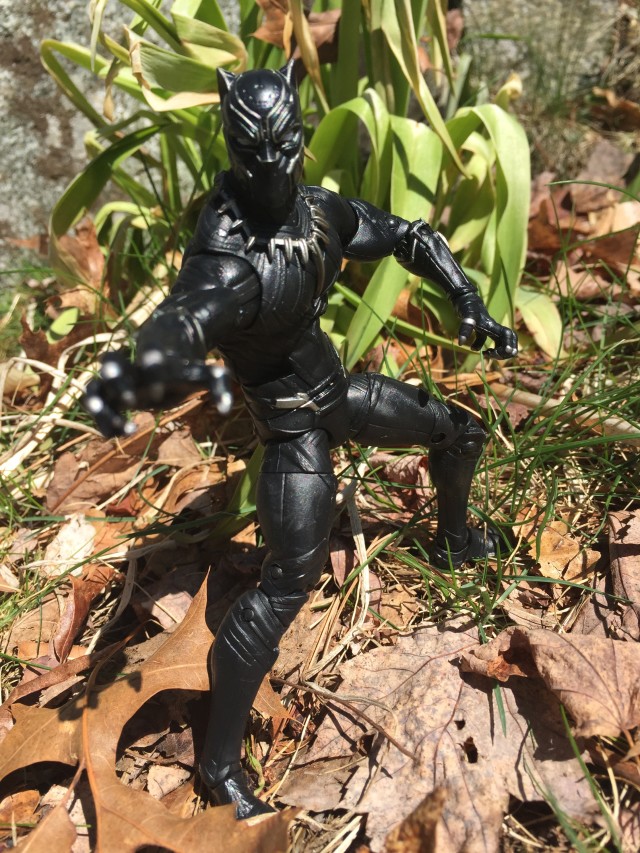 To their credit, Hasbro has created what is basically a 100% new tool for this Captain America Legends Black Panther figure–and there's very little tooling here which is reusable for other characters down the road. Hasbro deserves props for the expense they went to for this figure.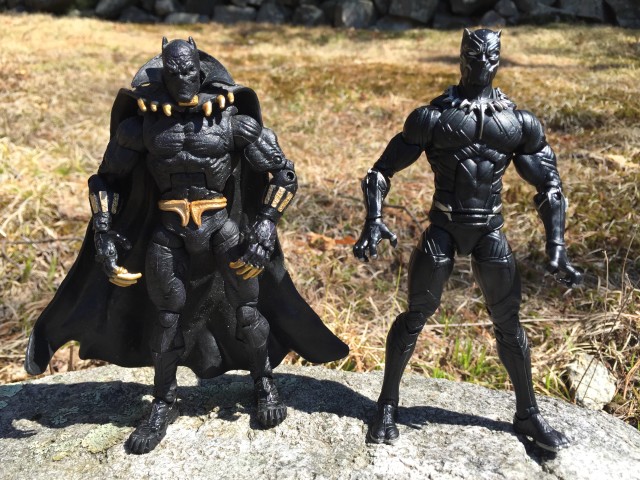 This Black Panther six inch figure reminds me a lot of the awesome Marvel Knights Black Panther Toybiz released a decade ago, with its enormous amount of costume sculpting detailing, which is high praise–that's one of my favorite Toybiz Legends to this day.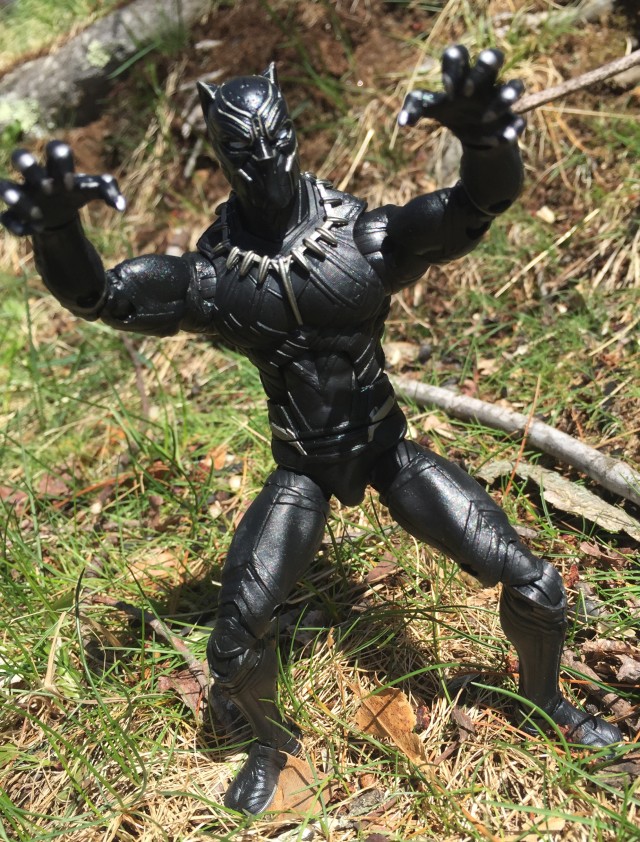 Seeing as how the tooling for this figure cost tens of thousands of dollars, I'd forgive Hasbro if they skimped on the articulation.
But they did not–almost every point of the "usual" Marvel Legends super-articulation is present, including ankle rockers, double-jointed knees and elbows, upper torso ab crunch and swivel waist, ball-hinge head and shoulders, and so forth.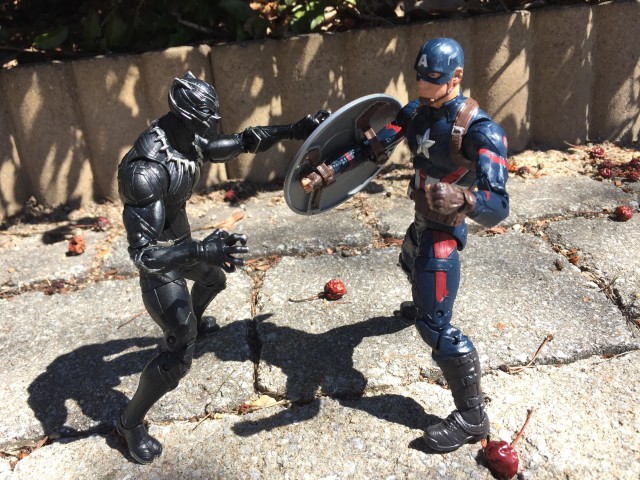 The only articulation lacking that's immediately obvious to me is swivel calves, and while I always like it when joints are present there, it's an omission I can live with.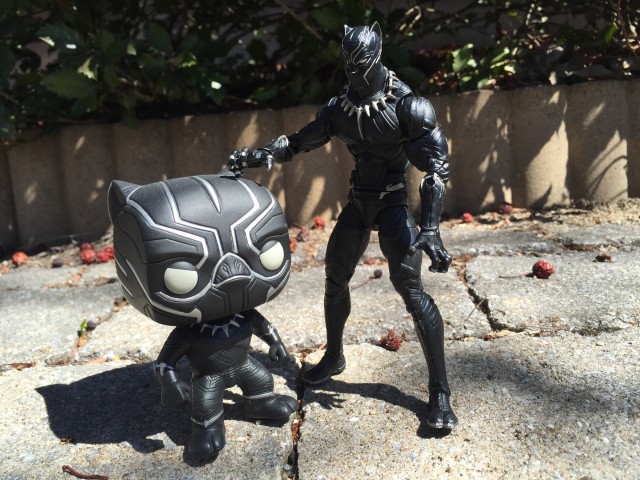 Where Hasbro was able to save some dough was the paint deco on this figure, as only a little bit of silver paint was necessary to complement the black plastic body. The silver paint is primarily on the hands, feet, face and necklace, and I particularly like how the silver looks on Black Panther's claws and knuckles.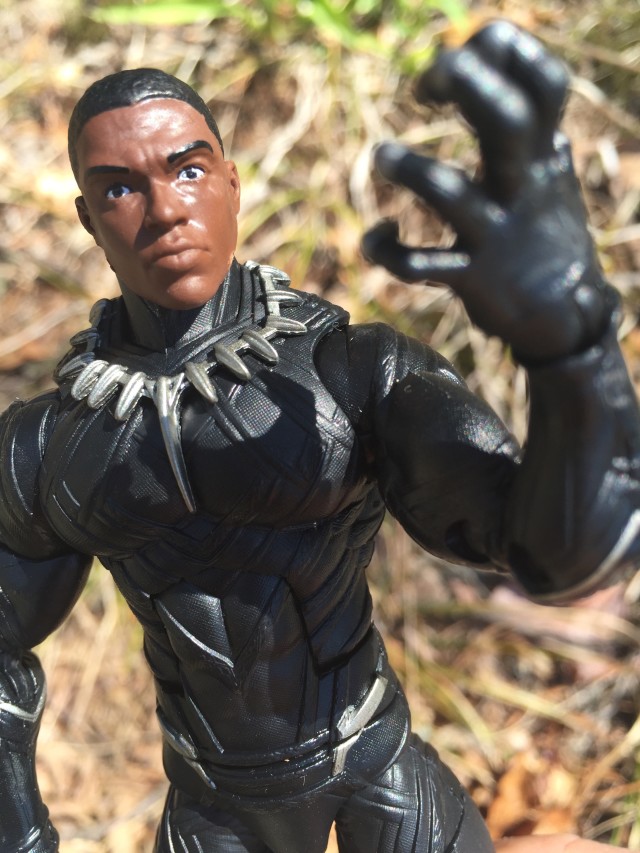 Marvel Legends Captain America Civil War Black Panther comes with one accessory (besides his Giant-Man Build-A-Figure piece), and it's a good one: an unmasked T'Challa head.
Now, while this Chadwick Boseman portrait isn't exactly Hot Toys quality, I think it's a really good likeness by Hasbro 6″ figure standards. And frankly, since Hot Toys isn't even offering a Chadwick Boseman head, Hasbro clearly wins the likeness battle in this instance.
The Wrong:
There are only a few minor quibbles holding back this figure from being a perfect Marvel Legends entry. One of which is the aforementioned missing calf articulation, which is a bit of a limitation with the "stalking" poses T'Challa can do.
Another limiting factor is that Black Panther has his default "clawing" hands, but that's it. While these are definitely the most dramatic hands and the most necessary ones, I'd have liked some interchangeable alternate hands like fists or neutral hands to change up the poses a bit with.
Even with the unique tooling costs, just one accessory and a Build-A-Figure part for a $22 action figure feels a bit stingy to me.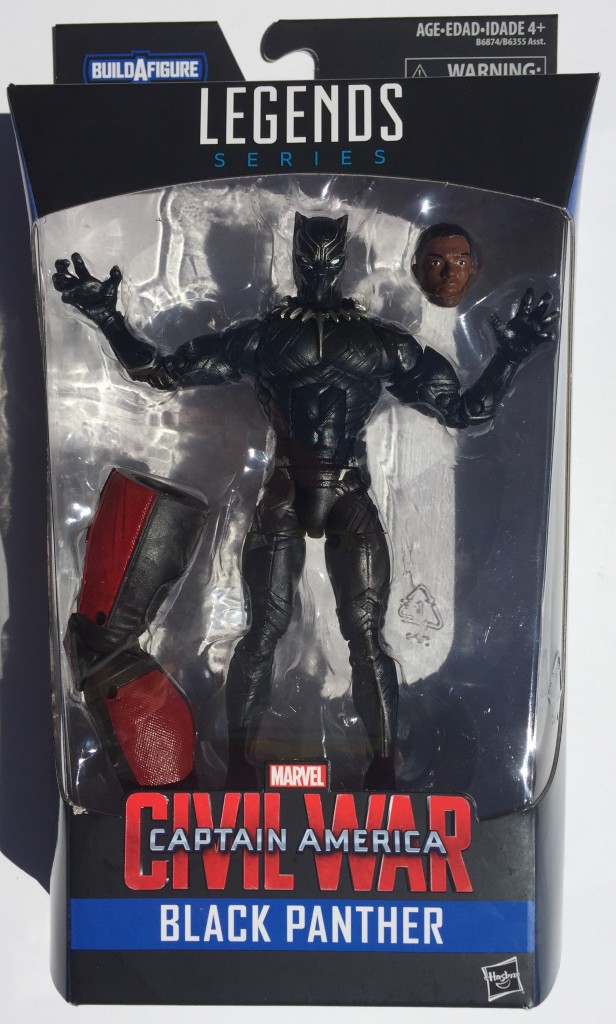 Finally, perhaps the most serious drawback to this ML Black Panther figure is that it's been horribly underproduced thus far.
I don't know what would possess Hasbro to shortpack the debut figure for a highly-anticipated MCU hero whose figure uses a unique sculpt, but one-per-case is predictably far too few of this figure to go around right now. Hopefully Hasbro has a revision case ready to go sometime soon to remedy this situation.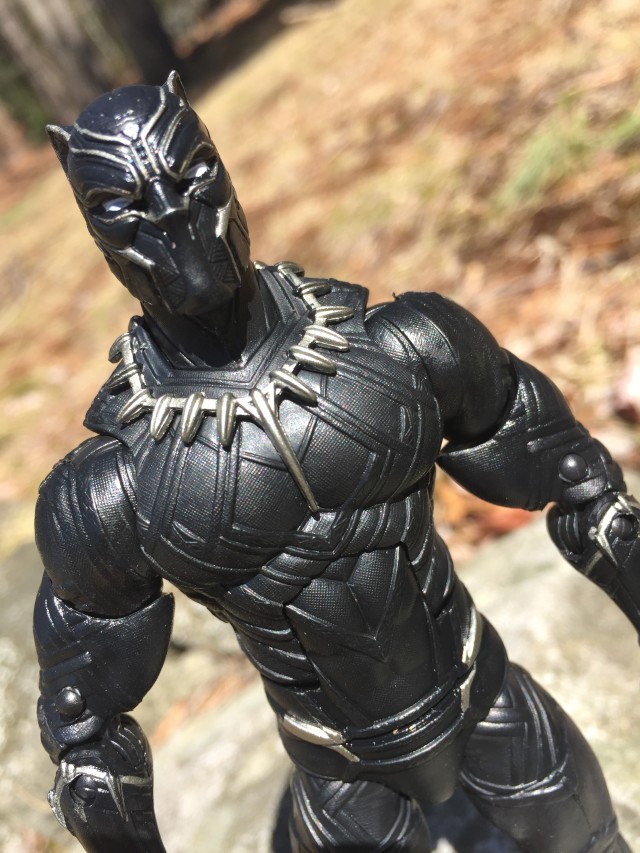 Overall: The Civil War Black Panther Marvel Legends action figure was one of the most hyped Hasbro action figures of 2016, and it does not disappoint. While I'm not utterly blown away in the manner that I was by Nuke, this is an excellent action figure that only suffers from missing calf articulation, poor distribution and a lack of interchangeable hands. There's a good reason this figure is selling for around $40 online right now: it's because it's not just rare–it's outstanding. Highly recommended.
GRADE: A