You know it's been a pretty crazy year when Cottomouth isn't the most obscure Marvel Legends 6″ figure that Hasbro releases! But while he may not exactly be a household name, the Marvel Legends Red Guardian figure is still selling excellent online and in stores–and it's not just for the Giant-Man piece! The Red Guardian Marvel Legends 6″ figure isn't just a good action figure–it's likely to be the best toy of this character ever released…
The Right:
Hasbro is giving us more crazy-obscure Marvel characters than ever before in 2016, and despite being a classic Avengers character of nearly 50 years, Red Guardian is definitely among the least-known characters to ever get the Marvel Legends six inch figure treatment.
But hey–every character is somebody's favorite, and the Soviet Captain America deserves his day in the plastic sun (and is now getting it). Thumbs up for character selection, even if this isn't a character I'm particularly enamored with myself.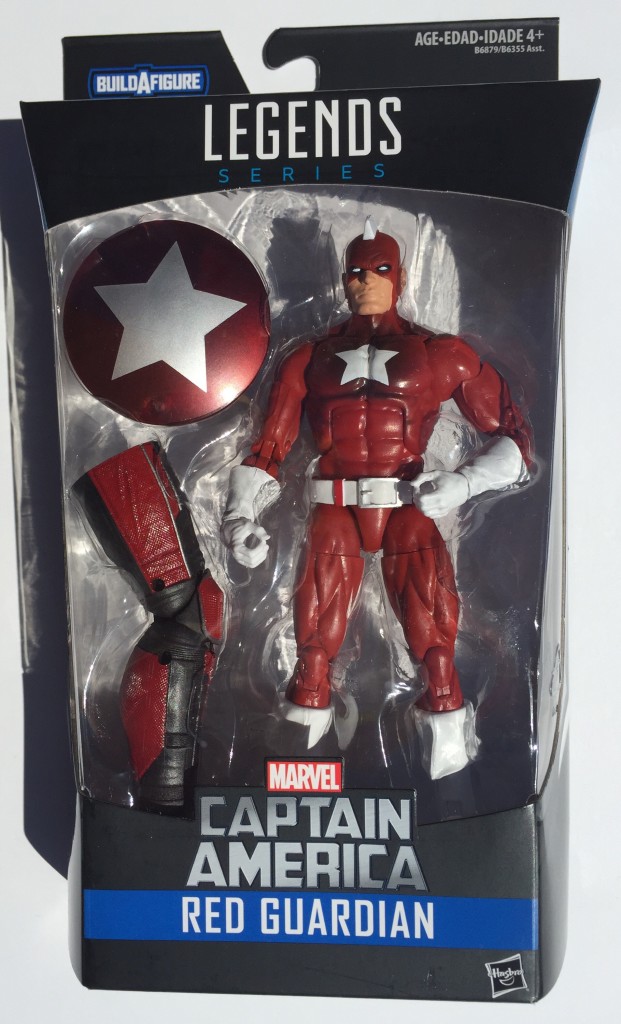 While the Civil War Black Panther figure I reviewed over the weekend was an all-new mold, Red Guardian has exactly one new piece of tooling: his head sculpt–which looks accurate and is well-done.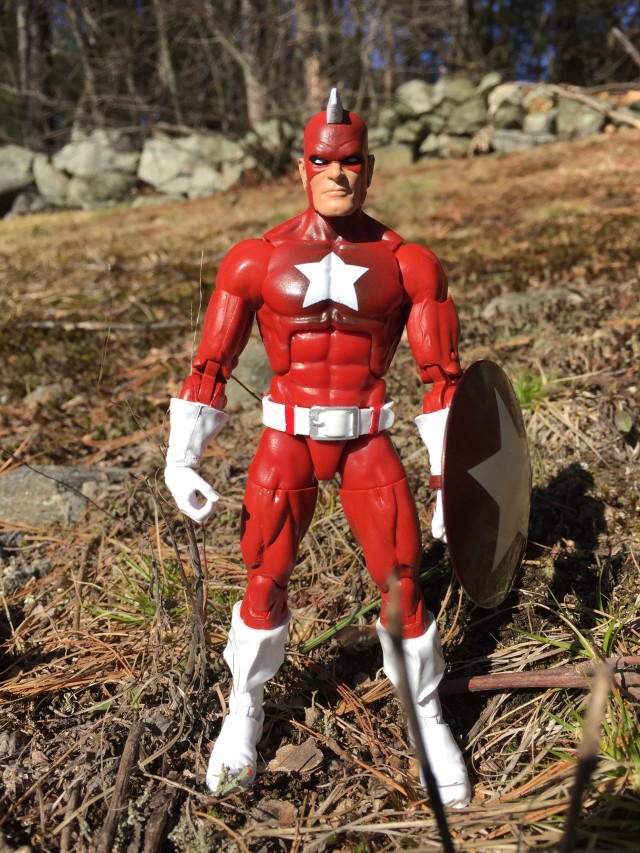 Everything else on this figure has been used multiple times before–and that's okay. The mold used here works perfectly for the character, and allows new tooling dollars to be budgeted where they're needed for figures like movie Black Panther.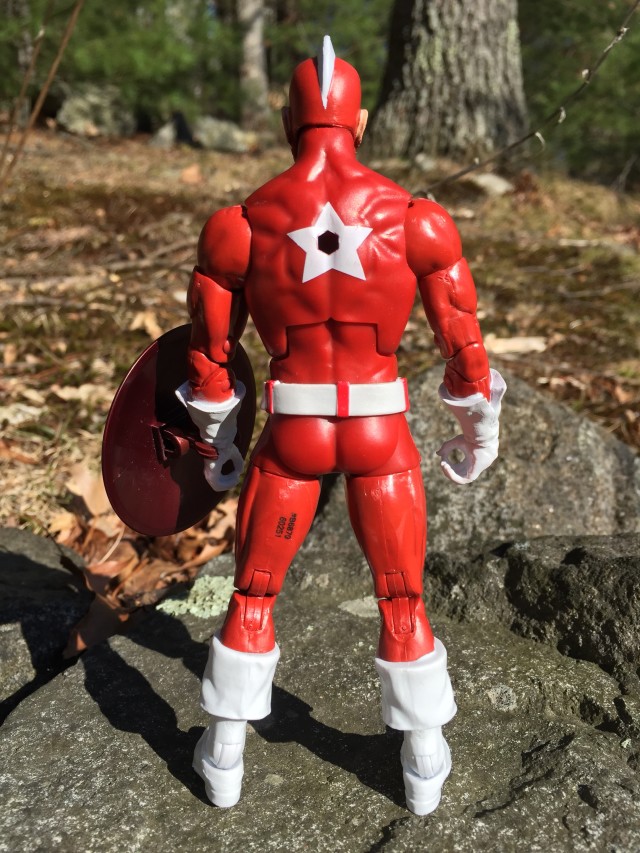 And while not a lot was spent on new parts for this figure, Hasbro did put extra care into making him authentic. My favorite detail is the little stripes on the back of Red Guardian's belt: paint detailing I absolutely would not have expected from a lesser line.
The articulation on this figure is pretty excellent–which is no surprise, since we've seen this mold plenty of times before. Double-jointed knees and elbows, ab crunch and swivel torso, ankle rockers, swivel biceps and thighs… This figure's got the works.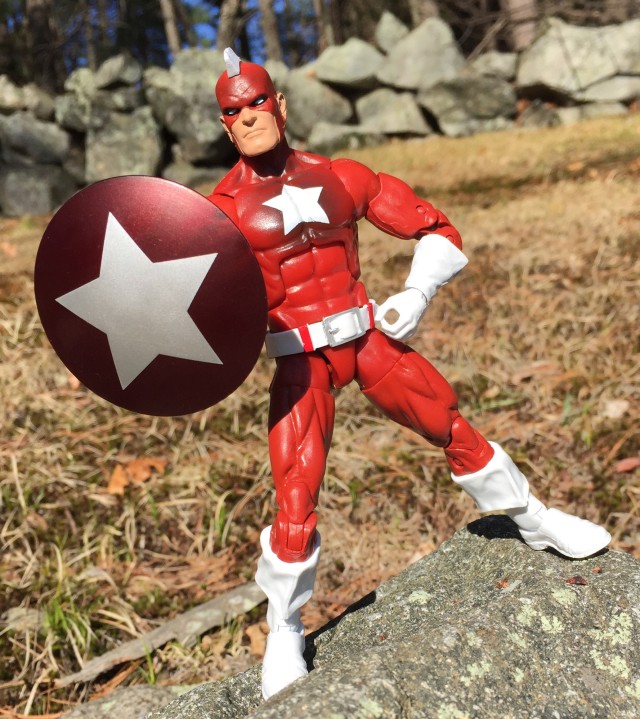 The 6″ Red Guardian figure includes only one accessory (besides his Giant-Man BAF leg), but I absolutely love it: his shield.
The shield is a repaint of the same mold we've seen used many times for Captain America (and Taskmaster), but it looks magnificent in the almost pearlescent red paint Hasbro selected. The white star pops on the shiny red, and the shield really draws your eye to Red Guardian.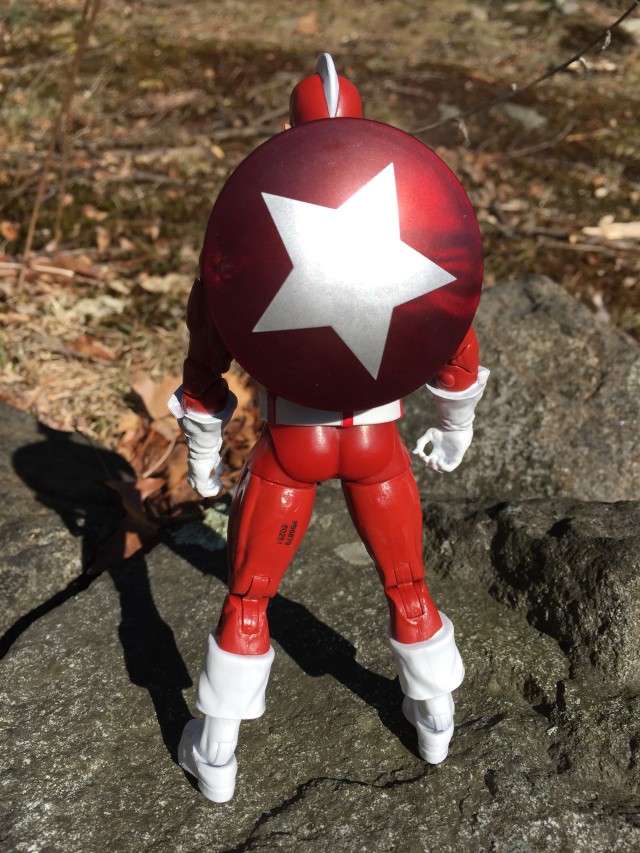 As with all figures using this mold and this shield, you can attach the shield snugly to Red Guardian's back, where it looks cool from both sides.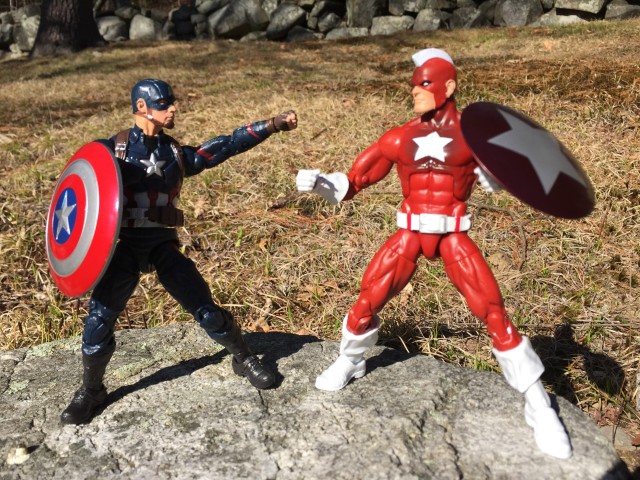 Ordinarily the one-per-case figures end up with their distribution in "The Wrong". That's not the case here, however–Red Guardian is exactly the type of obscure, hardcore fan character that should be shortpacked.
While Red Guardian is selling out regularly in stores (largely because of his Marvel Legends Giant-Man figure piece), his secondary market price has remained right around the MSRP–which is exactly where I like to see the shortpacked figures priced. Good call, Hasbro.
The Wrong:
While I'm far more impressed with this action figure than I expected to be, there are a few things about him that bug me.
One thing that's a bit bizarre about this figure is that Red Guardian's upper torso has a nice dark wash on it… but there's literally not a speck of paint wash anywhere else on the figure.
As good as the upper torso looks, it's pretty jarring to only have the sculpting depth brought out by a paint wash on a single piece of the body mold.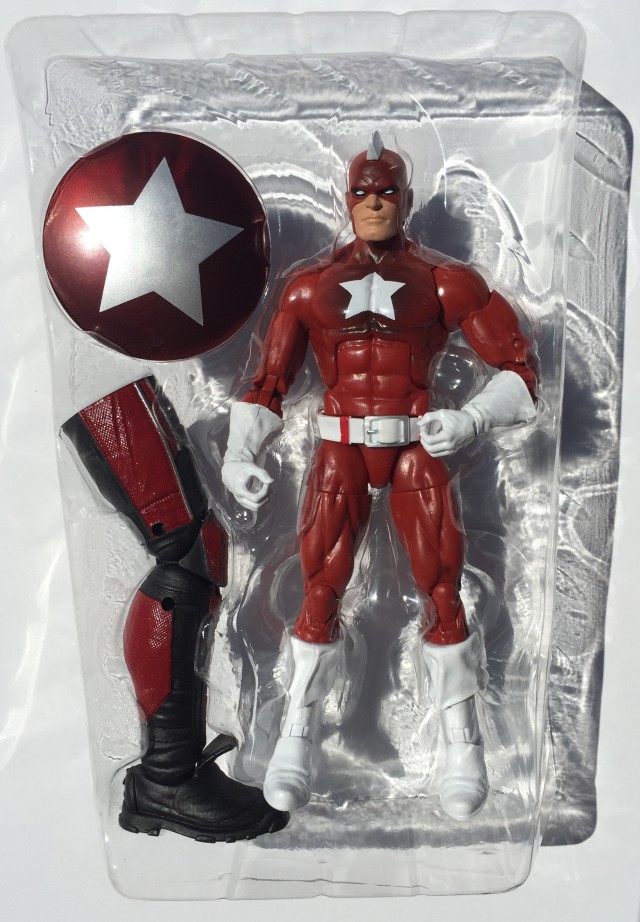 In addition, I'm disappointed that we don't get any alternate hands here. With Red Guardian being a Captain America-type superhero, I don't like that he comes with two open hands and no fists. Interchangeable hands would have been a welcome addition in this instance.
There were also a few uneven paint lines and area where there was white paint leaking into red and vice versa, although I'm happy with the paint deco quality-control overall.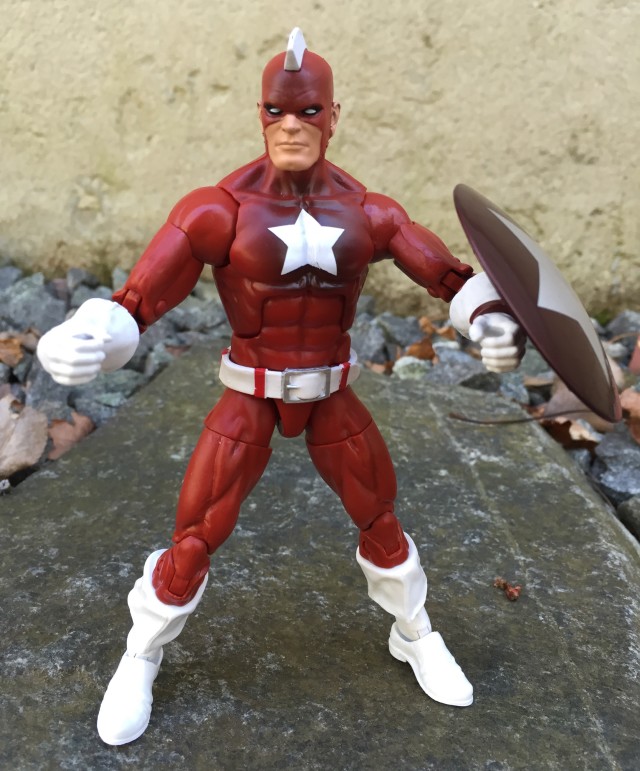 Overall: While he's not quite as good as Black Panther and not a blockbuster hit like Nuke, I'm very pleased with this Red Guardian six inch figure. I would have liked some alternate hands for Red Guardian and a more even distribution of paint wash, but the figure has excellent articulation and a terrific-looking shield. Even if you don't know who he is (and many fans absolutely don't), this is a solid figure that you won't mind getting along with your right Giant-Man Build-A-Figure leg.
GRADE: B+