If you've ever seen a new costume or character design and instantly knew beyond a shadow of a doubt that it had been created solely for the purpose of cashing in with merch, you know exactly how I feel about the Iron Skull. But while the intent of the Iron Red Skull concept itself is dubious, that doesn't mean it can't spawn some cool toys. And today I'll be looking at the latest Iron Skull action figure to go up for sale–the 6″ Captain America Marvel Legends Iron Skull!
The Right:
The Red Skull isn't exactly Spider-Man, and with the release of the Red Onslaught Build-A-Figure earlier this year, Hasbro has covered basically every mass-marketable look for Red Skull that's out there. Well, except one… but no longer! Hasbro has dug deep and created perhaps the weirdest Red Skull iteration ever: Iron Skull!
Popularized by the Avengers Assemble cartoon series, Iron Skull has appeared as a LEGO Minifigure and even a Marvel Masher in the past year. And now, he's getting what's likely to be his most high-end toy ever: a 6″ Marvel Legends Iron Skull figure!
Whatever else I say in this review, props to Hasbro for giving us something new here.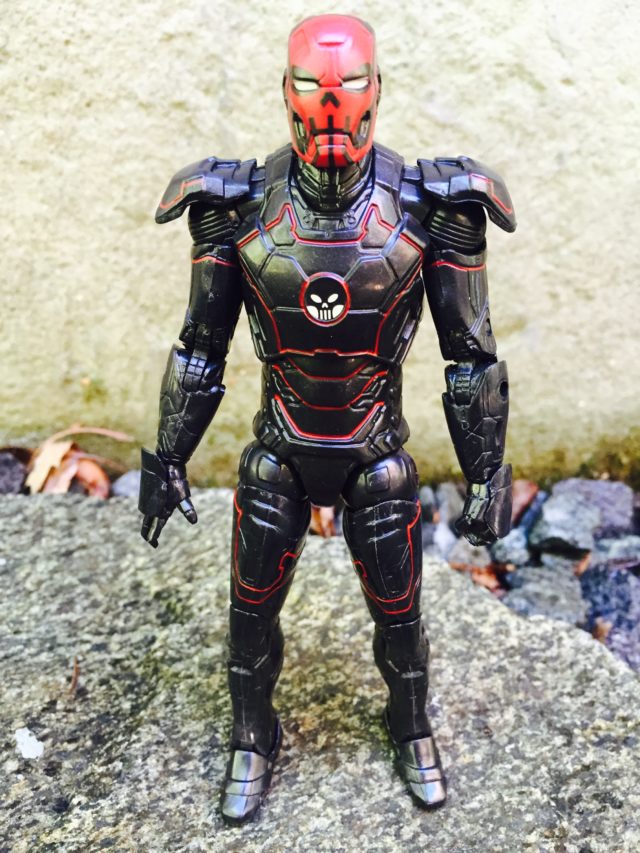 The thing I like best about this Captain America Legends Iron Skull figure is definitely the color scheme/paint deco. Hasbro chose a black-ish super dark grey color for the armor, and it looks super-slick with the red panel lining painted onto it. There's even itty bitty sparkles in the dark plastic, which looks stellar up-close.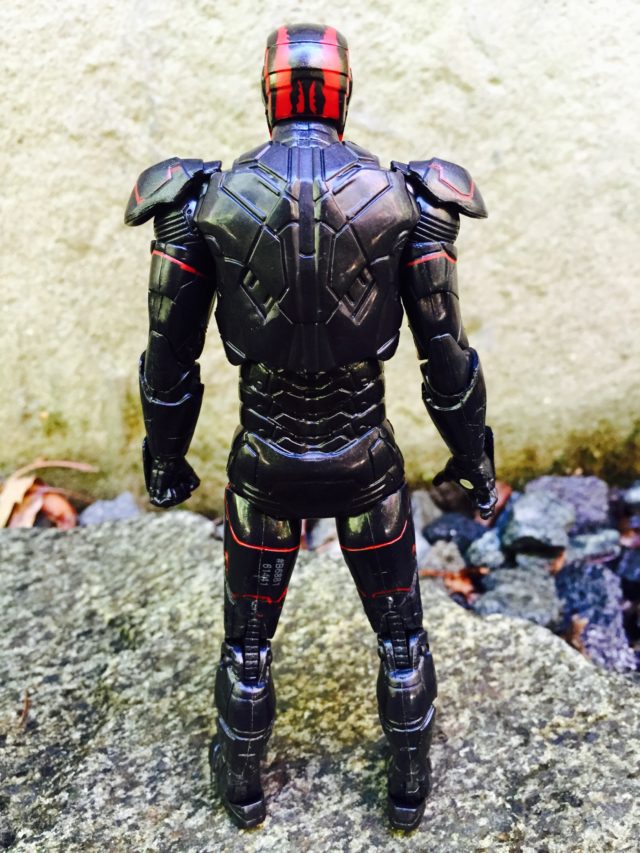 I also really dig the fact that this figure comes with a second head in addition to the classic Red Skull portrait–an interchangeable Iron Skull helmet.
The Iron Skull helmet looks a lot like a mashup of the Night Thrasher and Casey Jones helmet designs, and I love the "Hydra tentacles" spreading out across the sides and top of the helmet. Really fun stuff!
The Wrong:
While I'm okay with an Iron Skull six inch figure in theory and I do like a couple visual aspects of the toy, this particular action figure feels rather sloppy to me.
For starters, this toy is a 100% repaint of the Iron Man Mark XLII figure from three years ago, making it feel both inaccurate to the animation and outdated. This year's Iron Man Mark 46 figure has much improved proportions and articulation, but that knowledge just makes this figure look bad.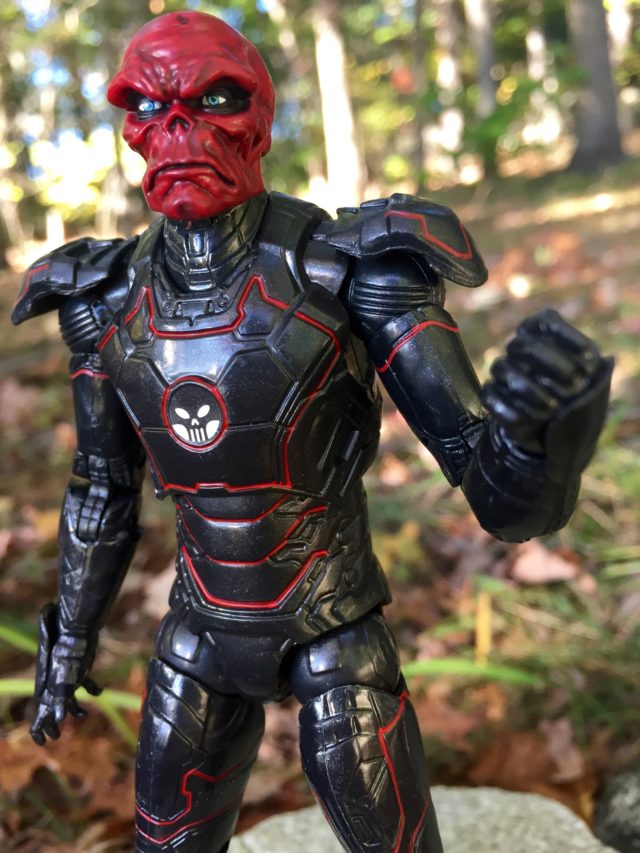 While the basic color scheme and design are inspired by the Avengers Assemble cartoon, the figure itself just don't "feel" like its cartoon counterpart to me aesthetically. Red Skull doesn't look menacing at all in this figure–and when you put the default comic-based head on top, it almost looks comical the head looks so out of place.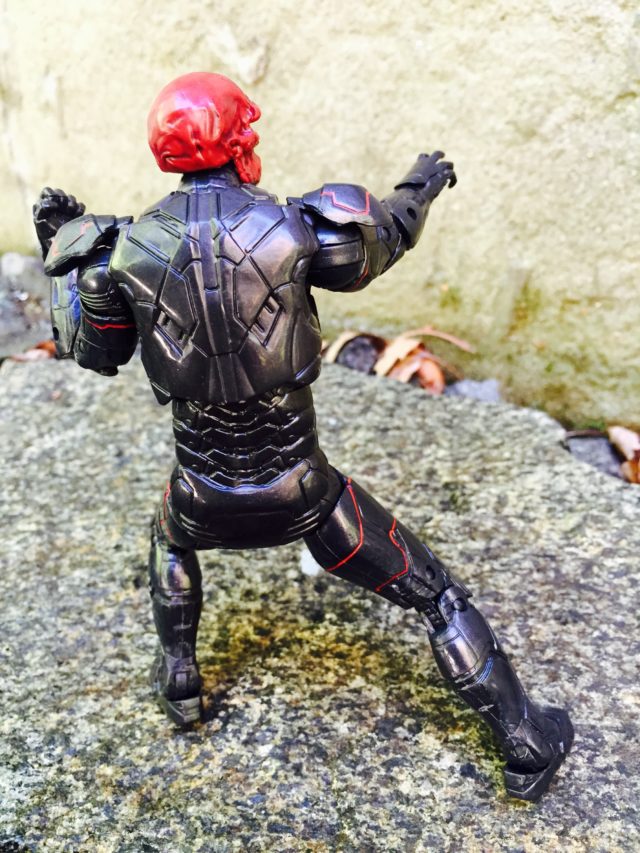 This mold has limited lower-body articulation with no calf swivel, and upper-body articulation hindered by no swivel waist and hard plastic shoulder armor. Iron Skull's head's range of motion is excellent, but his limbs all feel stuff, clunky and substandard to me.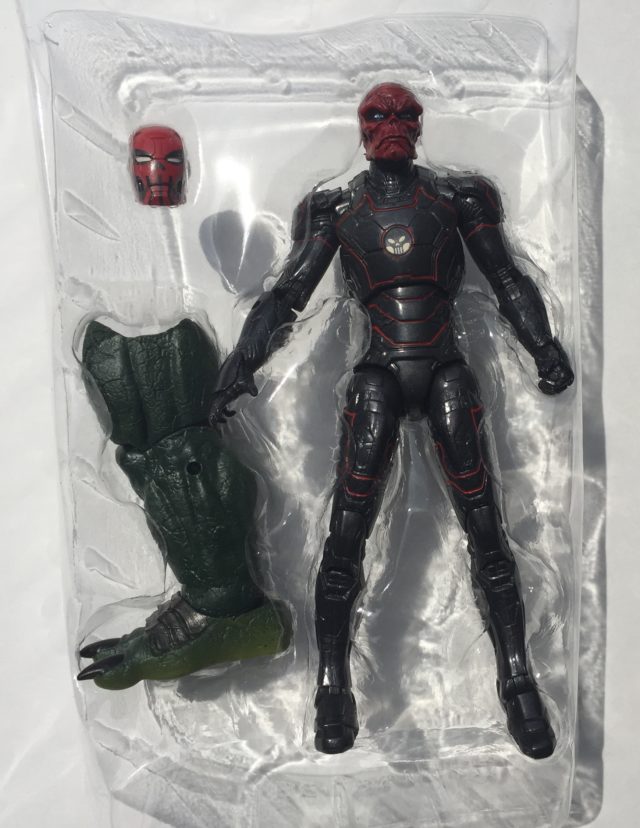 Couple the imperfect flexibility with the whopping zero accessories beyond the alt head, and this figure is just not much fun. A couple of clip-on effects pieces could have gone a long way to saving this toy in my eyes.
Even the logo sticker on his chest feels sloppy–it's not centered perfectly on the chest armor, and it's not quite aligned properly and is tilting a bit to the side and making me crazy. I legit want to like this figure, but it's leaving me really cold.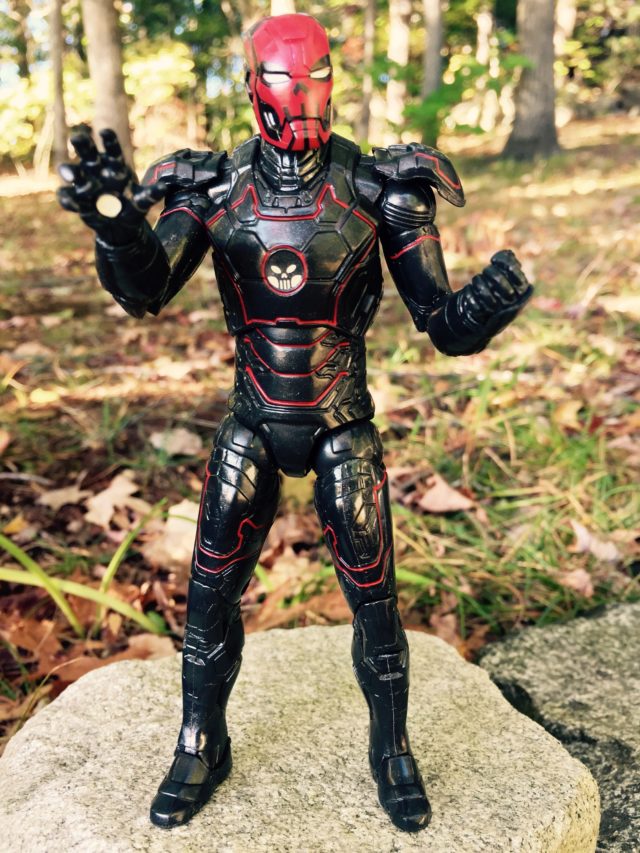 Overall: While I commend Hasbro for giving us something really different as far as Red Skull toys go, I'm just not impressed with the 100% repaint Iron Skull Marvel Legends figure. Zero accessories beyond an alternate head, a mold that's outdated and lacking flexibility, inaccurate armor design, a chest reactor sticker that's applied misaligned… while the paint deco on this figure looks sharp, it otherwise feels like one of the laziest efforts Marvel Legends figures of the year. Average at best.
GRADE: C-