While Marvel's eventual plan may be for Captain Marvel (Carol Danvers) to become the iconic woman in the Marvel Cinematic Universe, there's no question that–as of now–the Scarlett Johansson Black Widow is the breakout female character of the MCU. And with her fourth movie appearance coming up this summer in "Avengers: Age of Ultron", Black Widow is also about to get her fourth Hot Toys figure! With an absolutely loaded arsenal, the MMS288 Hot Toys Black Widow figure is now up for order!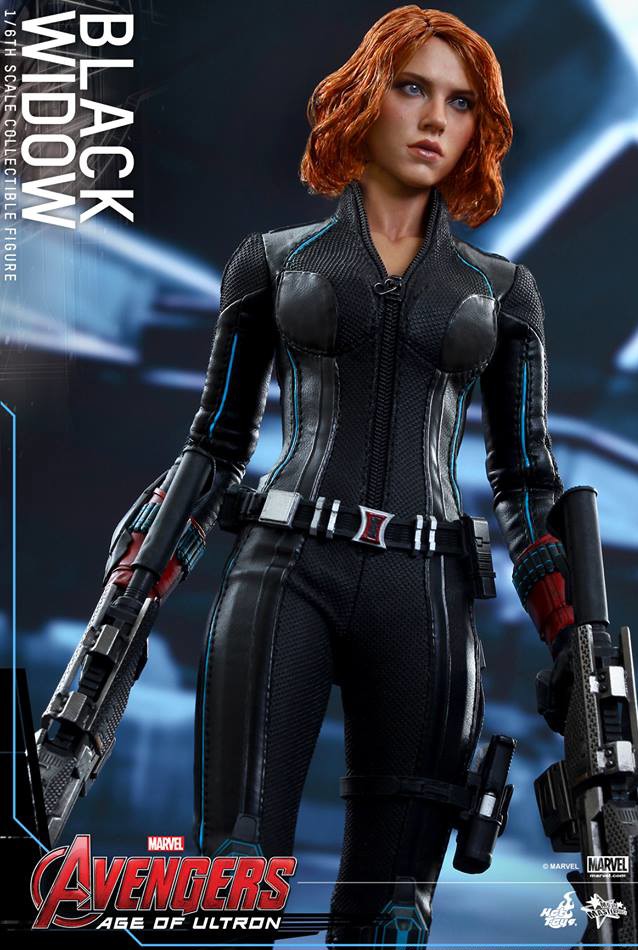 When Scarlett Johansson first appeared as Black Widow in "Iron Man 2", I was skeptical of the character's depiction in the MCU. But by the time the credits rolled at the end of the Avengers movie, I (and the rest of the world) was sold on the Marvel Cinematic Universe Black Widow.
As a result of Black Widow's popularity and defying modern toy line conventions, Black Widow is now set to appear in virtually every Avengers Age of Ultron figure line this year, with new Black Widow figures coming from Funko (POP! Vinyls), Hasbro (Marvel Legends), Disney (Vinylmation), Diamond Select Toys (Marvel Select)–and of course, the high-end line of choice for many collectors: Hot Toys.
With the Avengers Black Widow Hot Toys figure being released in 2013 and the Hot Toys Winter Soldier Black Widow figure hitting just last fall, I wasn't 100% certain Hot Toys would tackle an AOU Black Widow right away. But not only is Hot Toys Age of Ultron Black Widow on her way–she's going up for order before other core team members Thor and Hawkeye!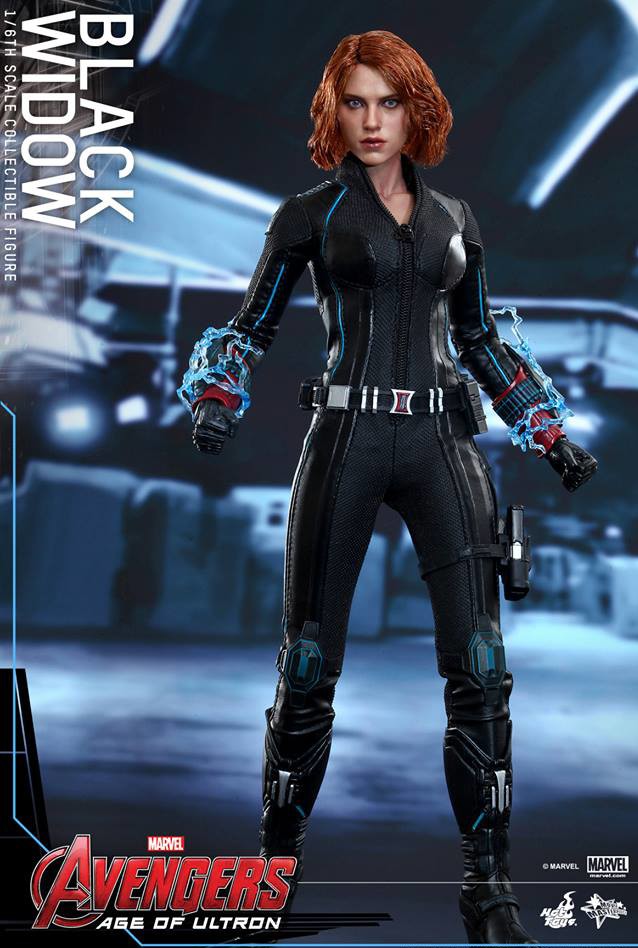 There's a lot of fan debate about Black Widow's Age of Ultron costume, with fandom being fairly divided between people who like the new red and blue highlights on Black Widow's costume and people who hate them. I was no fan of the AOU Black Widow costume when I first saw it, but it's slowly growing on me the more I look at it.
While the nearly all-black Captain America: The Winter Soldier Black Widow's costume worked perfectly for that type of movie, the more colorful outfit for Avengers: Age of Ultron seems like it may be a better fit for a traditional superhero movie. And hey–the blue highlight lines on the costume are very reminiscent of "Tron". Who doesn't love "Tron", right…?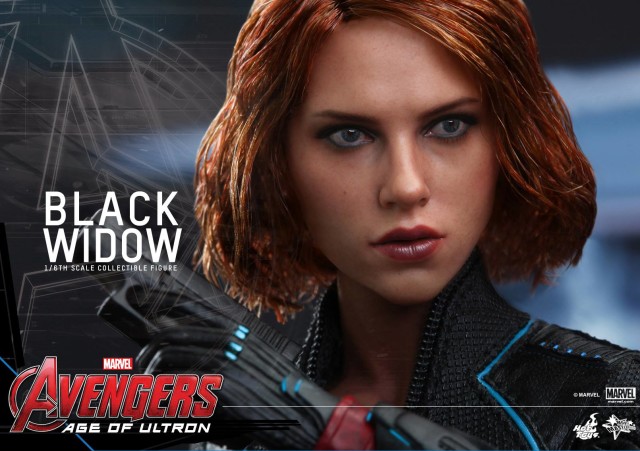 To manage expectations, let's get the one negative aspect of this figure out of the way: Hot Toys did not create a new Scarlett Johansson portrait for this Black Widow 1/6 figure. Instead, the MMS 288 Black Widow Hot Toys figure utilizes the same head sculpt that was previously released on last year's Captain America: The Winter Soldier Black Widow MMS250 figure.
I actually thought that last year's head sculpt was pretty spot-on, but I know many collectors thought that ScarJo head looked a bit zombie-eyed. So if you didn't like this Hot Toys Black Widow head sculpt last year, you're probably not going to like it now either. Me? I still think it looks gorgeous.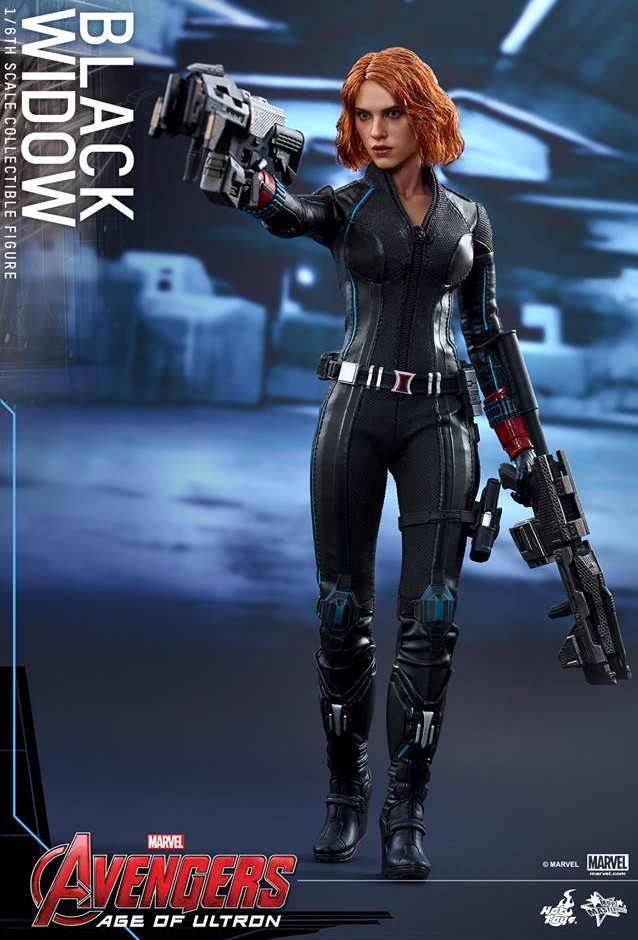 Now, on to bigger and better things. Traditionally, the Hot Toys sixth scale Black Widow figures have been a bit light on accessories. Not this time, though! This time, Scarlett Johansson is bringing her big guns (no, not those guns, you perverts)!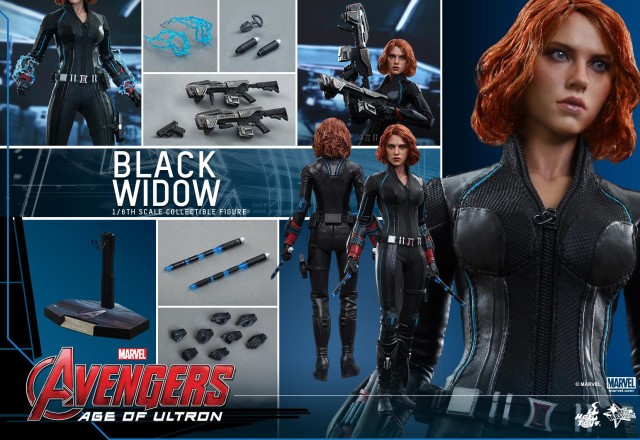 The Avengers Age of Ultron Black Widow Hot Toys 1/6th scale figure will include an arsenal with two
big
blaster guns, a pistol, a dagger, and a pair of batons with electrical energy effects pieces. In addition, Black Widow's costume will have her Widow's Bite bracelets incorporated–including energy effects to stick over them for the very first time.
Throw in four pairs of interchangeable hands and an Avengers Age of Ultron figure stand to complete the figure, and we have the most loaded Black Widow ever.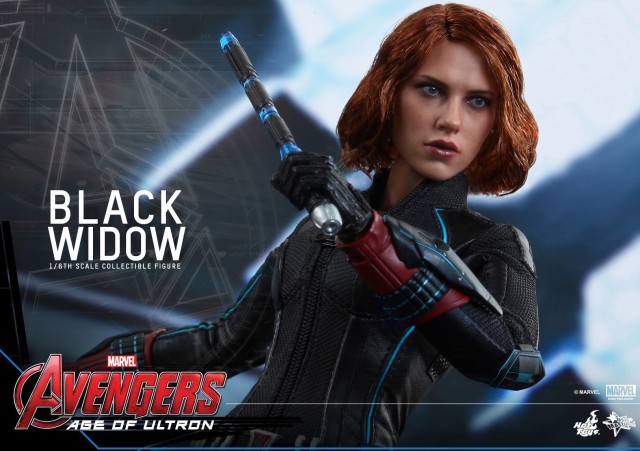 The Hot Toys Avengers Age of Ultron Black Widow MMS 288 figure is now available for order, and is scheduled to be released in Q3/Q4 2015. Black Widow tends to be one of the faster figures for Hot Toys to produce, so I wouldn't be surprised to see her show up early in the summer (although almost definitely behind Age of Ultron Captain America, which seems to be on the fast-track for an early release).
Is the fourth time the charm for the Movie Masterpiece Series Black Widow figure, Marvel fans? Or are you passing on the third Hot Toys Black Widow sixth scale figure in the past three years?