Funko threw Marvel collectors a true curveball this week, when they announced that the insanely-anticipated Avengers Age of Ultron Funko Hulkbuster Iron Man POP! Vinyls figure will not be available at regular, mass-market retail stores. In fact, you can't outright buy the Funko POP Hulkbuster Iron Man figure anywhere. The only way to get the exclusive Hulkbuster Iron Man Funko POP Vinyl figure will be by purchasing the first-ever Marvel Collector Corps Box, coming in April 2015!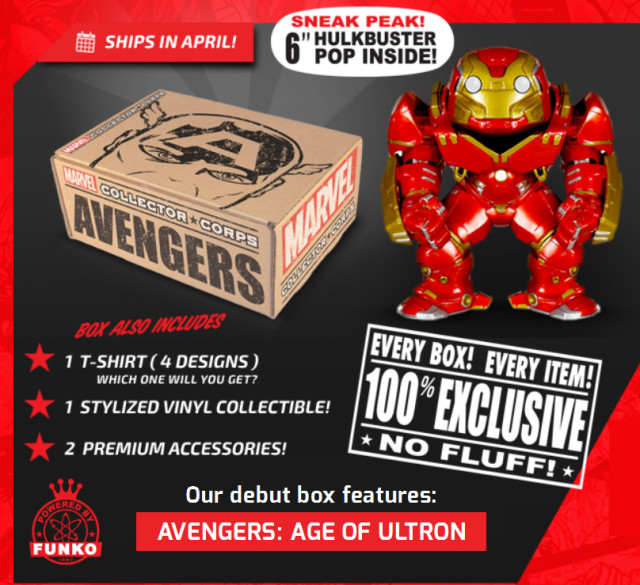 My love has waned quite a bit for Loot Crate since I subscribed last year to get my Glow-in-the-Dark Groot Funko POP Vinyls figure. I always have this hope in my heart that LootCrate will offer another Marvel exclusive that will get me as excited as that GITD Groot did, but alas–it has not been so. I've gotten Loot Crated themed around sci-fi, horror and fighting games, but none of them have had another Marvel exclusive to really get me excited.
And when it comes right down to it, that's the main thing I wanted from a subscription service: Marvel collectibles. Well, great minds think alike, and this week Marvel and Funko announced their latest (and maybe best) collectibles creation: the Funko Marvel Collector Corps Subscription Service!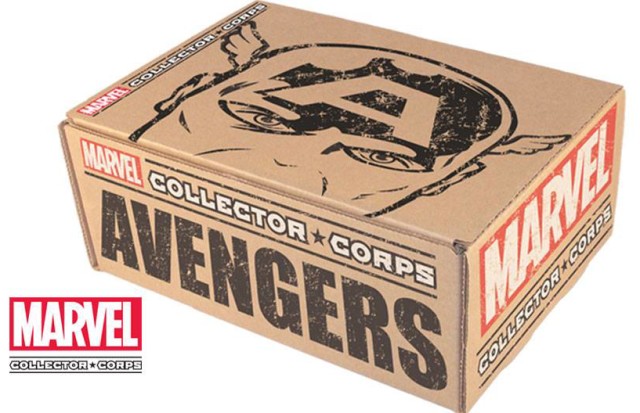 Basically, the bi-monthly (that means once every two months, or six times per year) Marvel Collector Corps members will have a Marvel-themed subscription box sent right to their doorstep. And unlike Loot Crate, Nerd Block and other similar services, Funko promises that every item in every Marvel Collector Corps box will be an exclusive.
Of course, Funko and Marvel would probably need to pick out a really good item to anchor their first box and dangle as a carrot to get folks interested, right…?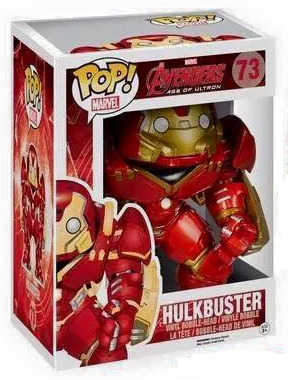 Right. And thus, the insanely-demanded Funko Hulkbuster Iron Man POP Vinyls figure is going to be available exclusively through the Marvel Collector Corps April 2015 box. Want to complete your Avengers Age of Ultron Funko POP! Vinyls collection? Surprise–looks like you're subscribing to the Marvel Collector Corps!
While this move certainly had the potential to tick off many collectors, it's tactically a masterstroke on Funko's part. After all, what better to choose as the first major Marvel Collector Corps Funko exclusive than the most talked-about, most desirable character from the upcoming Avengers Age of Ultron movie?
And while the first Marvel Collectors Corps box costs $25 plus shipping, that's really not so awful a price when you take into consideration that the super-sized 6″ Hulkbuster POP Vinyls figure would retail for $15 plus shipping all by his lonesome, and he's coming with another stylized Marvel vinyl figure of some sort, as well as a T-Shirt and accessories. Funko is promising a $50 value in each $25 box, and since it's all Marvel-themed, I'm fairly confident I'll like most of what's in the boxes.
For those who are dead set against trying out the Marvel Collector Corps, however… well, Funko sure loves exclusives, don't they? I'd be astonished if we don't see a metallic or battle-damaged Hulkbuster as an exclusive to some store (or SDCC 2015) later this year.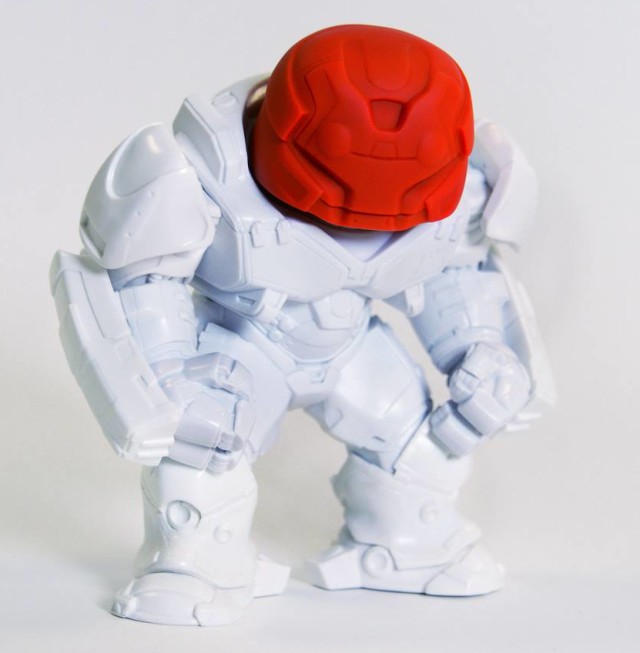 Funko is offering two ways to subscribe: joining the limited Marvel Collector Corps Founders Program and paying for the first years' worth of boxes all at once ($150 plus shipping), or signing up for the recurring bi-monthly Collector Program (wherein you pay $25 plus shipping every two months).
Note the word "recurring"–if you sign up for the April 2015 Collector Corps box, you'll need to remember to cancel your subscription if you don't want to continue being charged for and receiving the boxes.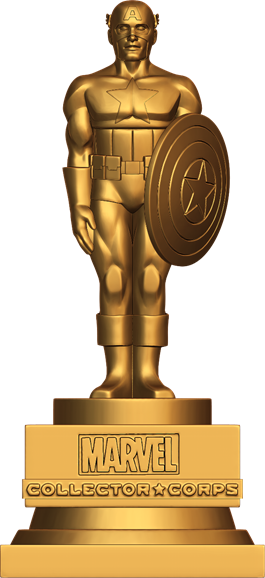 If there's one thing that made me blink and momentarily ponder not joining the Founders Program, it's the first Marvel Collectors Corps Founders Program 8″ statue: Captain America. As a free bonus for Founders members, every year Funko will send renewing members a new 8″ Marvel figure. That sounded great on paper until I saw this ridiculous Oscar-wannabe Captain America statue. Yikes.
I opted to join anyway, in case I lose my mind and decide that this Captain America Founders figure is really cool down the line, but I'd be lying if I said I was excited about these Marvel Collector Corps Founder statues coming annually. There's only a limited number of Founders Program memberships available, so definitely considering signing up soon if you're into this gold Captain America figurine.
What do you think about Marvel and Funko's new Marvel Collector Corps, Marvel collectors? Are you in for one box just to get Hulkbuster Iron Man, joining the Founders Program and paying for a whole year at once, or avoiding this new Marvel collectibles subscription service altogether?