As we're now barely over two months away from the release of this summer's sure-to-be-epic Captain America: Civil War movie, the floodgates have finally started to open and the flood of Civil War toys is beginning to pour in. Among these items is the first officially-branded Captain America Marvel Legends item, which is now drizzling into stores–the Hasbro Marvel Legends Civil War Captain America with Motorcycle!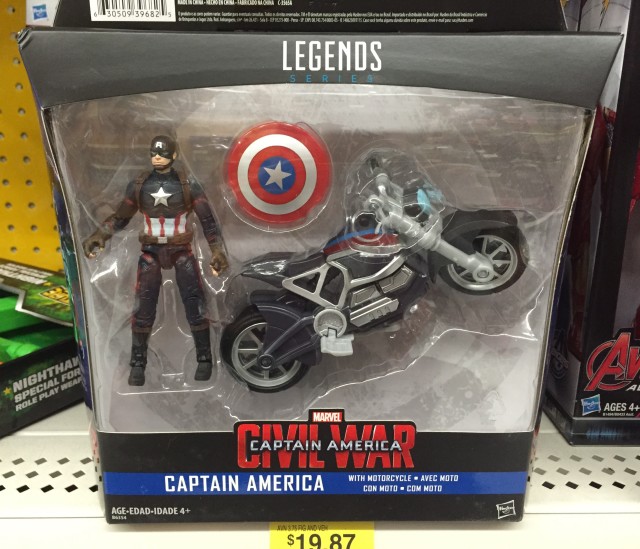 Considering that Captain America has been driving around on motorcycles in the Marvel Cinematic Universe (MCU) ever since his first appearance, it's a bit surprising that Hasbro's taken this long to release a Captain America motorcycle in one of their main "collector" lines.
But the wait is over, and the first-ever Hasbro Marvel Legends Motorcycle is now cruising into stores, packed with an exclusive movie Captain America action figure!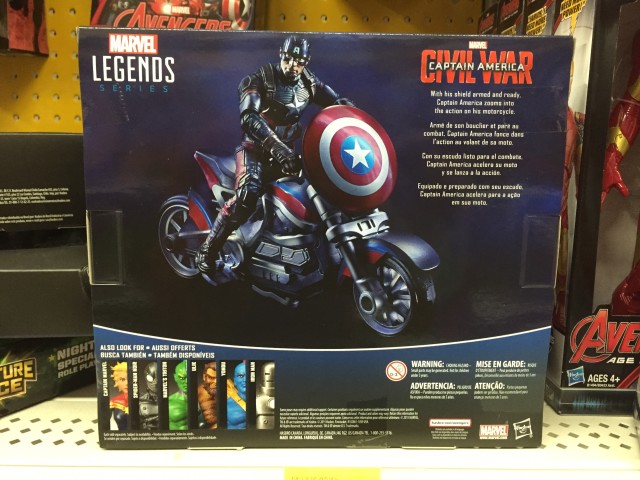 Now, while this set is sporting the "Marvel Legends" moniker, it's important to note that it is not in the 6″ scale that is most synonymous with the name. Both the motorcycle and the Civil War Cap action figure packed with it are in the Marvel Universe 4″ scale that was rebranded to "Marvel Legends" this year after being called the Infinite Series for the past two years..
That said, this set is actually quite nice, unlike the awful Ant-Man & Flying Ant set in this scale that was released last summer and plagued with quality-control issues. Whereas I liked Ant-Man & Ant-ony way less after finding the duo at retail, my appreciation for Captain America and his Civil War motorcycle has gone up since having the opportunity to check out the pair up-close in person.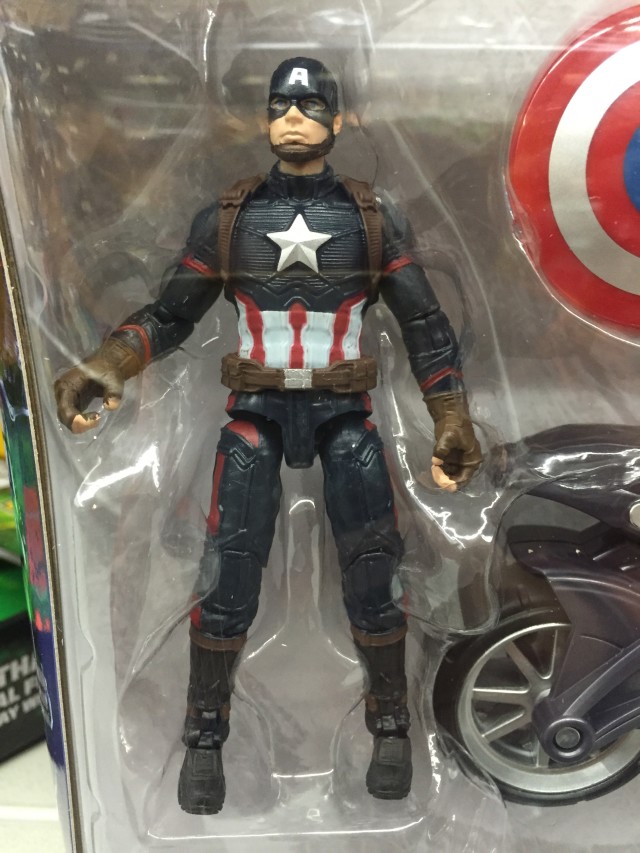 The 3.75″ Captain America figure is well-detailed and has far more than the increasingly-common 5POA (5 Points of Articulation) Hasbro is starting to favor with their various lines in this scale.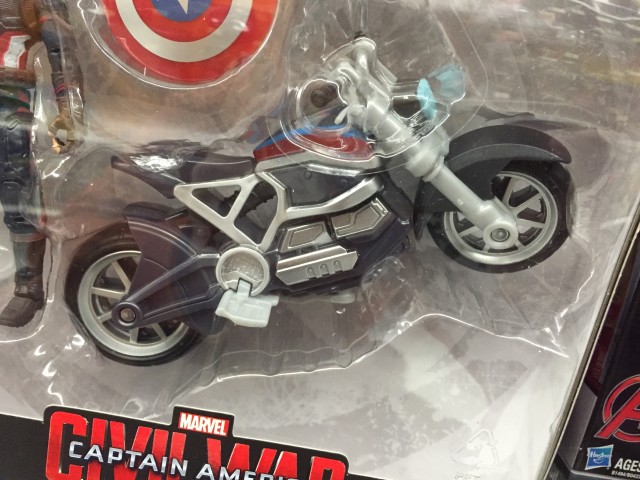 Meanwhile, although it isn't hyper-detailed like a Hot Toys or anything, I think there's a decent amount of paint deco and sculpting detail implemented on Cap's motorcycle.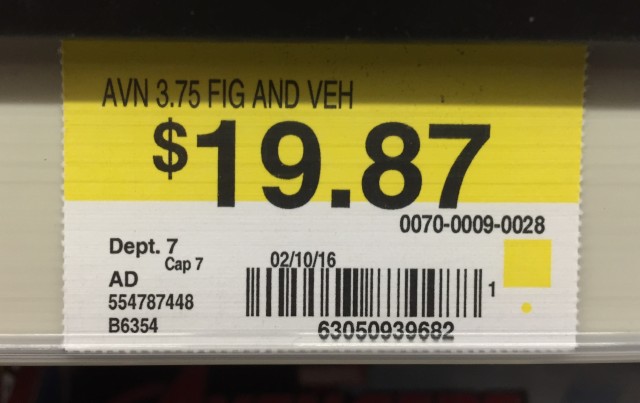 And thankfully, the set is a solid value with a retail price of ~$19.99 (or 12 cents below that at Wally World!). Considering single-packed Marvel Universe-scale figures are retailing for $13 this year, getting a new Cap figure and a decent motorcycle for $19.99 isn't bad at all.
A Civil War Falcon set (with Redwing drone!) has also been revealed, but is not shipping yet. Hopefully there won't be any distribution or availability issues with the Falcon figure when he does arrive in the spring.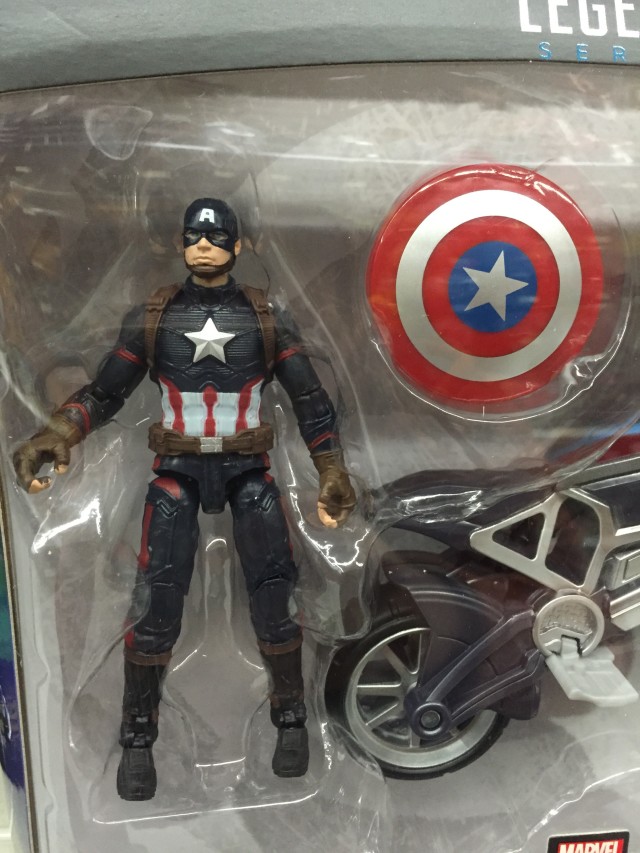 The Civil War Captain Anerica Motorcycle set is just now starting to pop up at some retail stores (I saw a fresh case of them at Walmart), and is also selling for right about MSRP online right now. I'd be very surprised if this set isn't falling off the shelves within the next few weeks, however, so if you haven't spotted this box set in your neck of the woods just yet, I wouldn't panic.
Is the 4″ scale Captain America & Motorcycle set on your shopping list, Marvel collectors? If not, would you have been more open to this collectible set if it had been in the more popular 6″ scale instead (albeit higher-priced)?