I had thought last week's sleepy week of Marvel toy news was going to end in equally sleepy fashion, with nothing of much substance being announced or revealed from start to finish. But then Mezco Toyz had to go and drop a bombshell that really got Marvel collectors psyched up all weekend long! Following in the footsteps of last week's ludicrously limited Classic Punisher, a ONE:12 Collective Old Man Logan figure is now up for order with free shipping!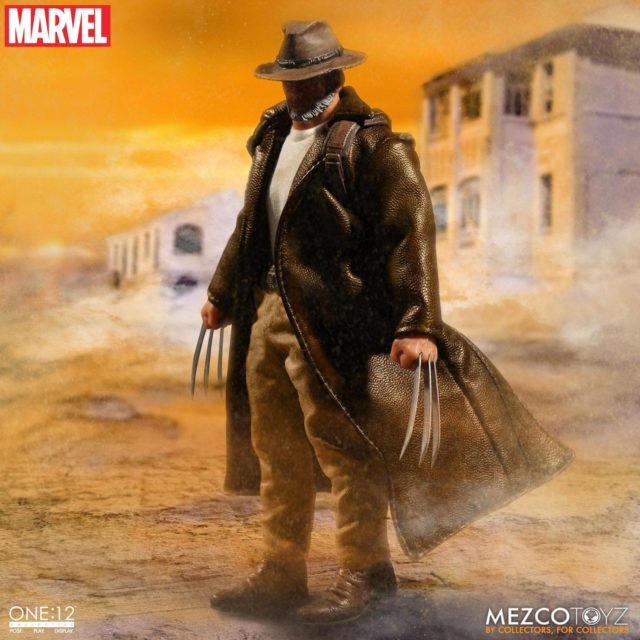 If there's one question I've been getting from readers more than any other this month, it's
"Where the heck are the Logan movie toys?!"
And the sad answer to that question is, well… there are none. No company–not even Hot Toys–acquired a license to make toys for the final Hugh Jackman Wolverine movie.
But just when it looked like we'd all have to be content with the Marvel Legends Old Man Logan 6″ figure and Diamond Select Toys Marvel Gallery statue, Mezco unexpectedly entered the fray this afternoon, announcing their own 6″ Old Man Logan ONE:12 Collective figure!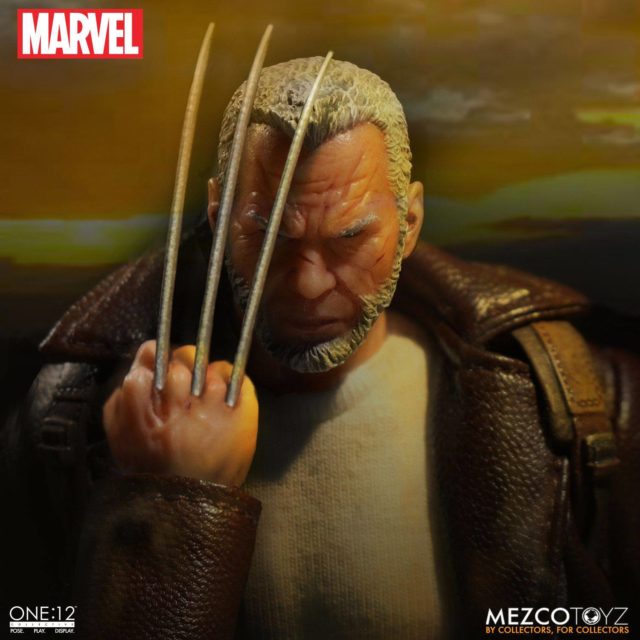 Now, before anyone gets too excited,  this is pretty clearly a comic book based figure of Logan. It's not from the new movie, and I genuinely don't expect to see any merch released for the new movie.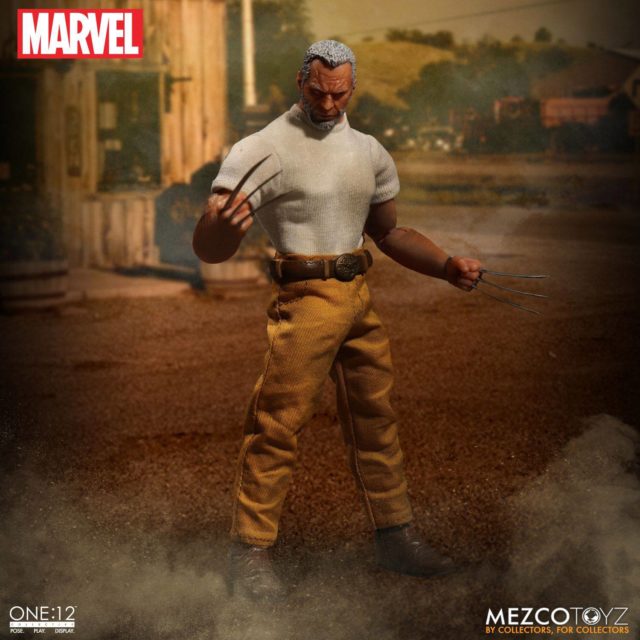 Even so, what we can see here in the official photos of the figure looks very promising, as does this humongous list of specs and accessories that the figure will include…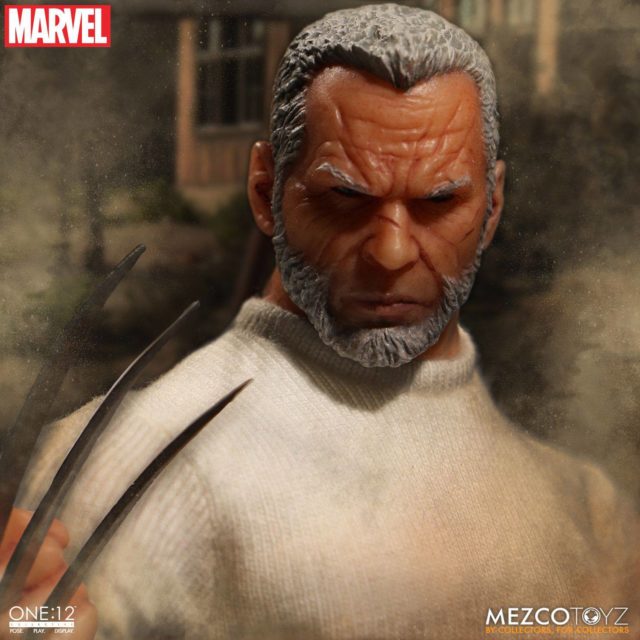 The Old Man Logan One:12 Collective figure features:
• One (1) newly developed head portrait
• One:12 Collective body with over 30 points of articulation
• Real fabric outfit with intricate tailoring
• Over 15cm tall
• Six (6) interchangeable hands including
– One (1) pair of fists (L&R)
– One (1) pair of clawed fists (L&R)
– One (1) pair of posing hands (L&R)
• Baby Hulk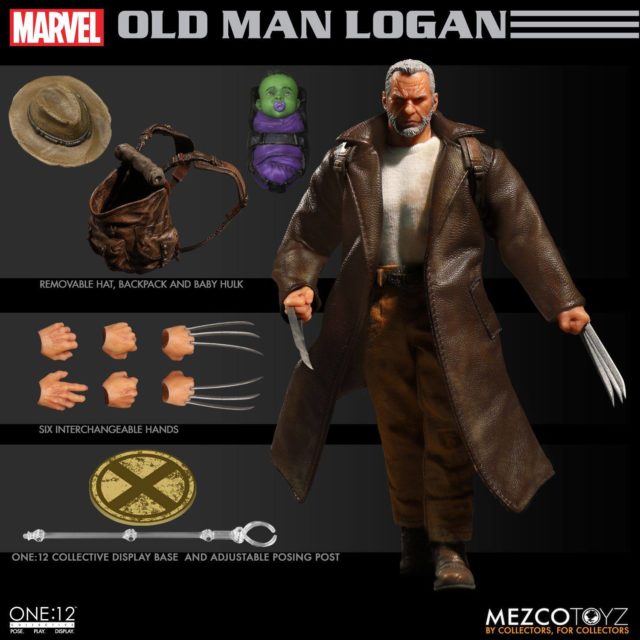 Costume:
• Leather look overcoat
• White t-shirt
• Sculpted belt with decorative buckle
• Workman pants
• Sculpted cowboy boots
Accessories:
• Baby Hulk
• Removable hat
• Backpack that holds baby Hulk
• One (1) One:12 Collective display base with logo
• One (1) One:12 Collective adjustable display post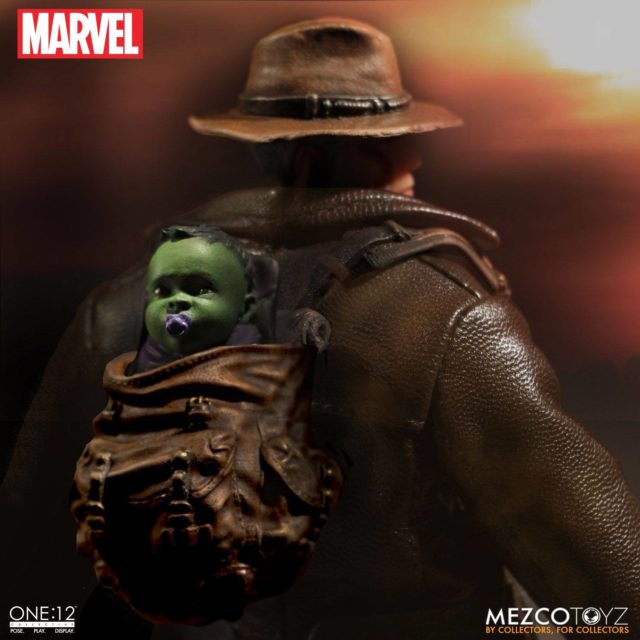 Yes, you read that right: this Old Man Logan figure includes a Baby Hulk figurine and a backpack to put it into! Now there's a pair of accessories I never thought I'd have with a high-end action figure…!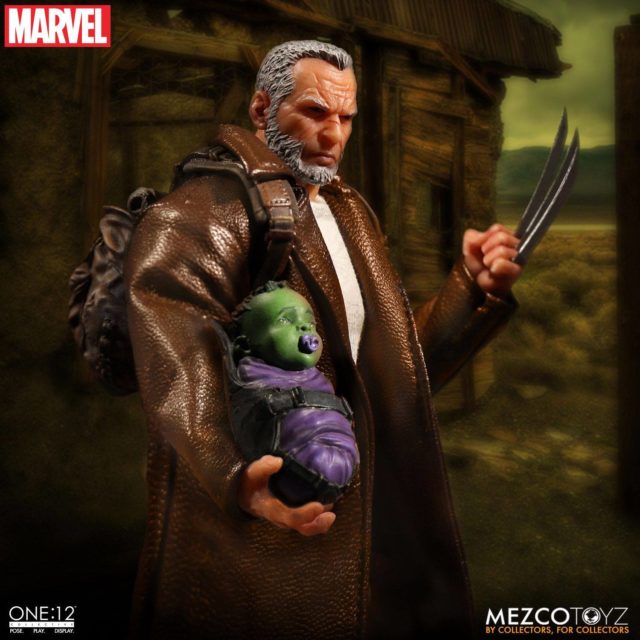 The Mezco ONE:12 Collective Old Man Logan figure is now up for order. Mezco Toyz has yet to confirm if there's a limited amount of this figure or if they'll be allowing pre-orders for a while, but after the whole debacle with Classic Punisher last week (who's currently selling for nearly FIVE HUNDRED DOLLARS, believe it or not), I can't imagine they'd want to tick off their collector base once again by limiting what may be one of their most popular Marvel figures ever.
Now that Mezco Toyz has posted fully-revealed figures of this Old Man Logan figure and his accessories (including that crazy Baby Hulk figure!), how do you feel about the sneak peek for the Mezco Logan ONE:12 Collective figure, Marvel collectors? Will you be anticipating this figure all weekend long and heading to Mezco's website to check it out Monday morning, or is post-apocalyptic elderly Wolverine just not for you?