While most toy and collectible companies have started to go quiet, storing up their secrets for next month's San Diego Comic-Con 2016, we've still got a steady influx of Hasbro Marvel Legends figures news to talk about! And today, photos have surfaced of another two hotly-anticipated additions to the Captain America Civil War Marvel Legends movie lineup: the Walmart Exclusive Winter Soldier and Falcon six-inch figures!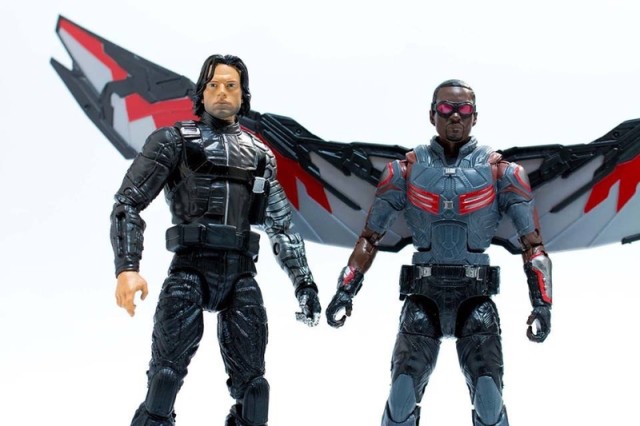 I almost wish that Hasbro hadn't announced all of their spring/summer 2016 Marvel Legends exclusives at the New York Toy Fair 2016 in February, because I've had to field about half a million questions regarding exactly when each of the exclusives was going to be released since then. An amorphous "summer" has been the best response I can give readers to that question, unfortunately.
And while we still don't have a concrete release date for any of the exclusives to share, HotKenobi has shared some hot photos of the Marvel Legends 6″ Winter Soldier and Falcon figures that are set to be released overseas at the end of June!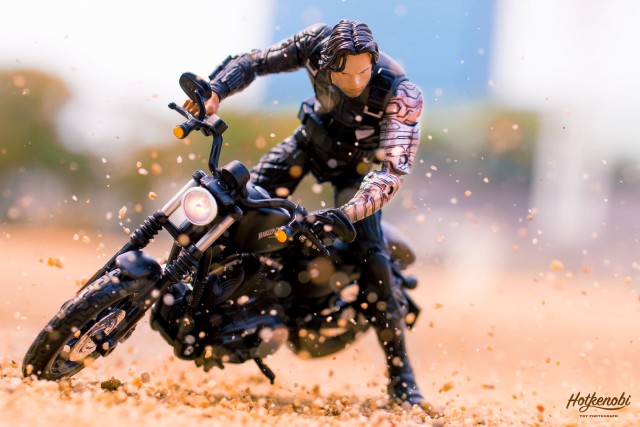 Sadly, the amazing Harley Davidson motorcycle in the above photo does not come with the 6″ Winter Soldier figure. Alas.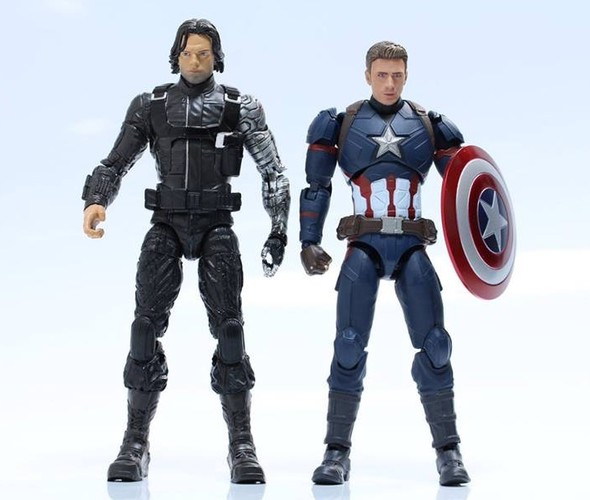 The new Hasbro Bucky figure is also too tall compared to the SH Figuarts Captain America and Marvel Legends Captain America movie figures, so he may need to be posed crouched a little bit or in the background to look appropriately scaled.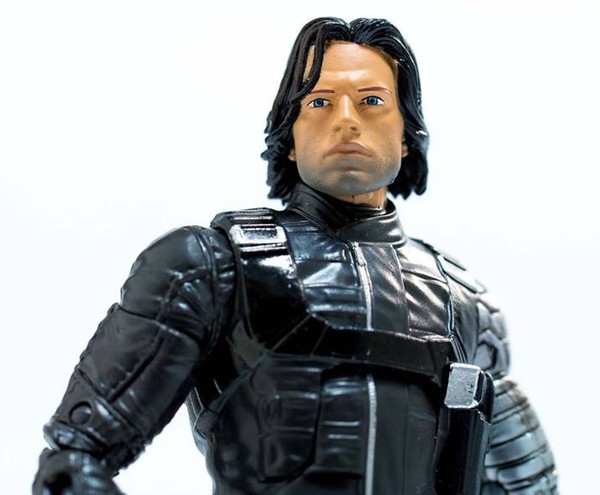 While the portrait on the Bucky Barnes isn't Hot Toys quality or the spitting image of Sebastian Stan or anything, I do think it's pretty decent for a six inch figure and an improvement over the Bucky head sculpt that we got in the Winter Soldier movie line.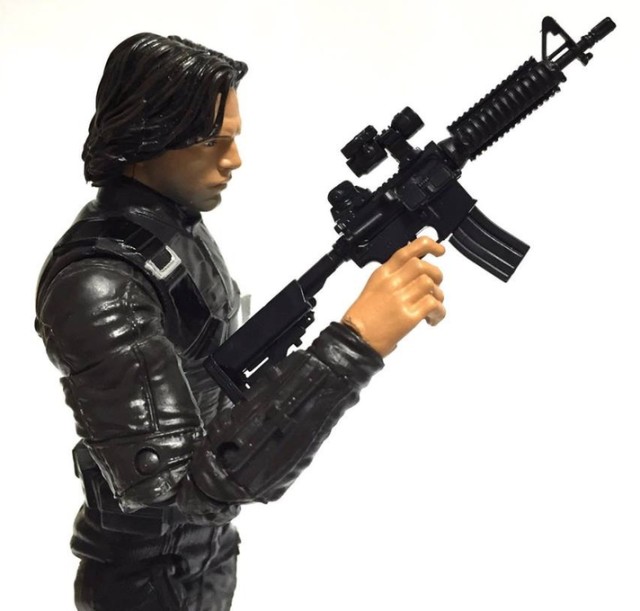 Marvel Legends Bucky also comes with just one knife and one gun, but there's enough Marvel Legends scale guns out there both from Hasbro and third parties that I don't think it'll be too difficult getting Bucky fully-armed and ready to go cause some massive property damage.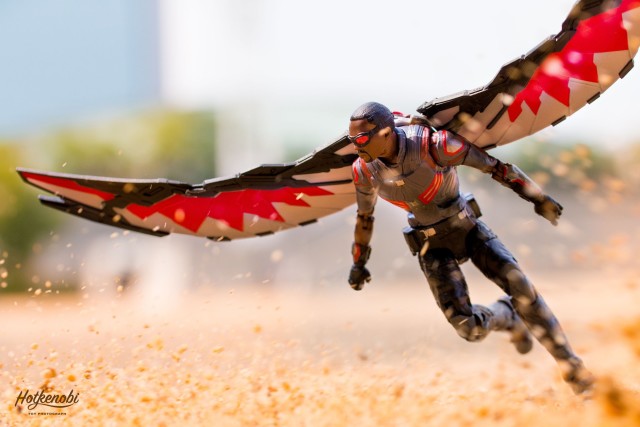 HotKenobi didn't post as many photos of the Marvel Legends 6″ Falcon figure as he did of Winter Soldier, but we can still get a concrete idea of the size of Falcon's huge wingspan based off the (awesome) photo above. I might have to make that image into a desktop wallpaper!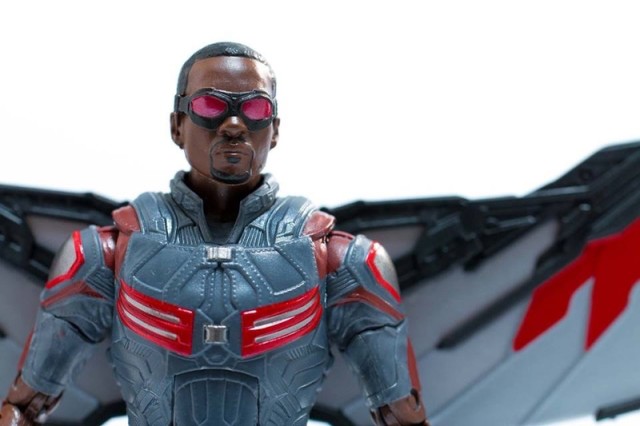 Hasbro continues to knock it out of the ballpark with their Anthony Mackie portraits! From the Titan Hero Falcon to the 2″ Falcon figure and now this Marvel Legends 6″ Civil War Falcon, I've been very pleased with Hasbro's sculpting efforts when it comes to the movie version of Sam Wilson.
The Falcon Marvel Legends figure could probably use a bit of a paint wash on the figure's armor, but the sculpting detail that went into the vest is outstanding.
With some collectors willing to pay $150 and up for the 4″ Falcon movie figure that is vastly inferior by comparison, I've got a hunch that this figure is going to be another major smash hit when it hits exclusively at Walmart.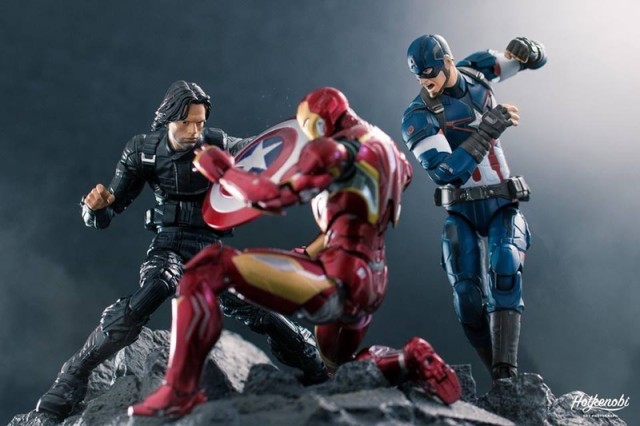 The Walmart Exclusive Marvel Legends Winter Soldier and Falcon 6″ figures are scheduled to be released in summer 2016 in the United States. I would expect them no earlier than the end of July 2016, personally, and I think it's more likely that they'll begin to appear in August 2016, honestly. Those are just guesses based off my own intuition and experience, however. I'll post more specific release details for this duo to the Marvel Toy News Twitter and Facebook Pages once additional information is available.
Now that we've seen some photos of the actual production figures of Bucky Barnes and MCU Falcon, what do you think, Marvel collectors? Are you anxious to add this pair of major Captain America: Civil War movie characters to your collection, or has our best look yet at these action figures left you unimpressed?