And the Hasbro Marvel Legends SDCC 2016 news keeps right on coming! While I was watching the Marvel Live Stream earlier today while writing another post, what should appear on my screen but the first three Marvel Legends 2017 figures!  I was watching the Marvel Live Stream myself and screen-capping these figures as they appeared, so if you borrow my images to share–credit us, please. (Or not. It's up to you.) Regardless, we got our first look at the goodness coming our way in 2017: Marvel Legends Angela, Disco Dazzler and Sam Alexander Kid Nova!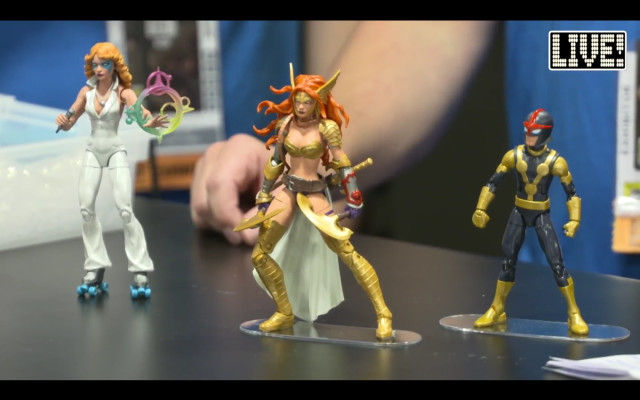 Ever since she was announced as the Marvel Legends Fan's Choice Poll Winner after SDCC 2015, I've been expecting the 6″ Marvel Legends Angela figure to debut at San Diego Comic-Con 2016. And thankfully, I was not disappointed–although I was a mite surprised by exactly where and when Angela made her first appearance!
For the first time ever, Hasbro revealed upcoming never-before-seen Marvel Legends action figures through the Live Stream on Marvel's website! My ears almost fell off when I heard the Hasbro team discussing these figures in another tab on my browser and quickly clicked over! Craziness!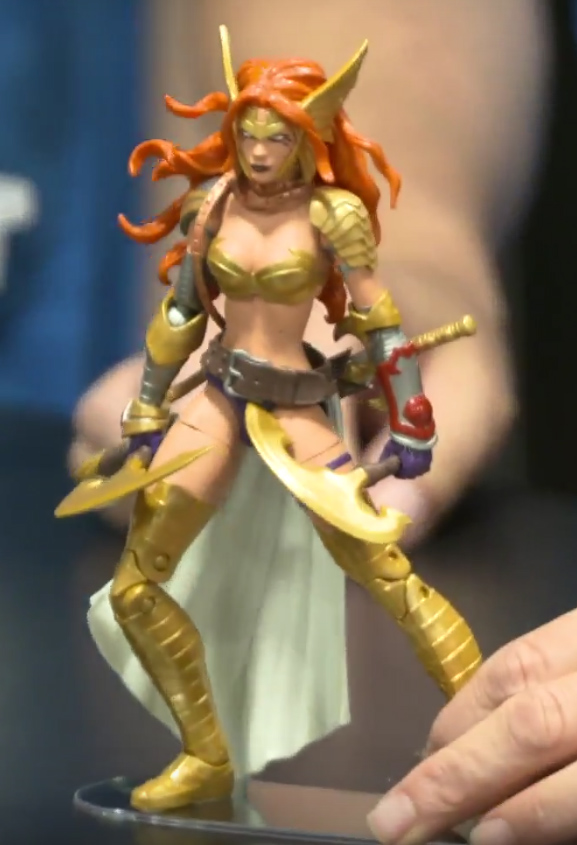 The Angela Marvel Legends figure was rotated around during the livestream video, so we were able to get a good look at her and take screenshots of both her front and back (and side). Her sword is fully-removable from its sheath–no worries about it being just for show!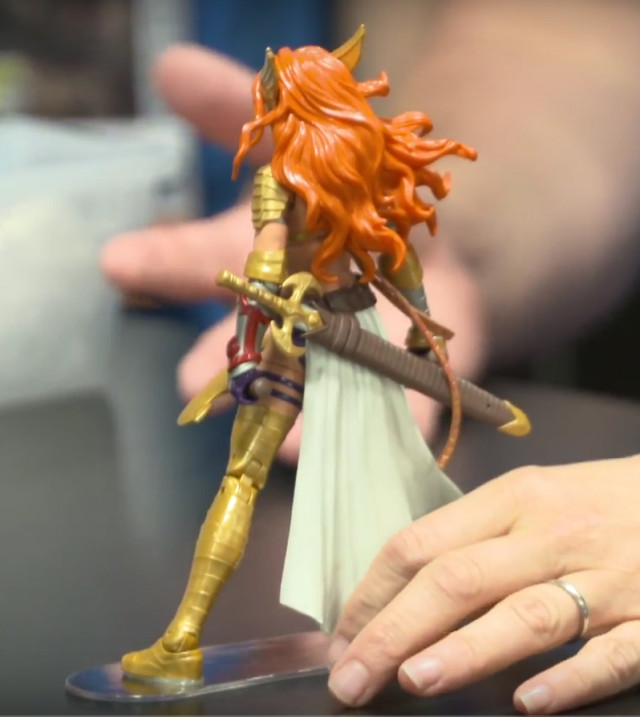 Angela will be released in the Marvel Legends 2017 Guardians of the Galaxy Wave 1 series, which is scheduled to be released in January-March 2017 and include mostly (or all) classic comic book characters instead of movie characters. Let the speculation begin!!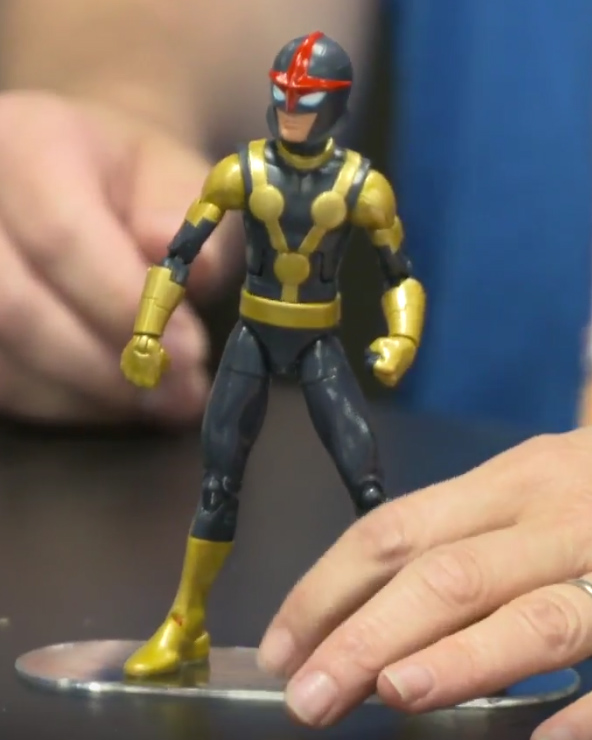 Next up, we've got the Kid Nova Marvel Legends Sam Alexander figure! The Marvel Legends Nova figure will be utilizing the new "teen boy" mold used for Ultimate Spider-Man and Miles Morales this summer, with the big piece of new tooling being his Black Nova Corps helmet.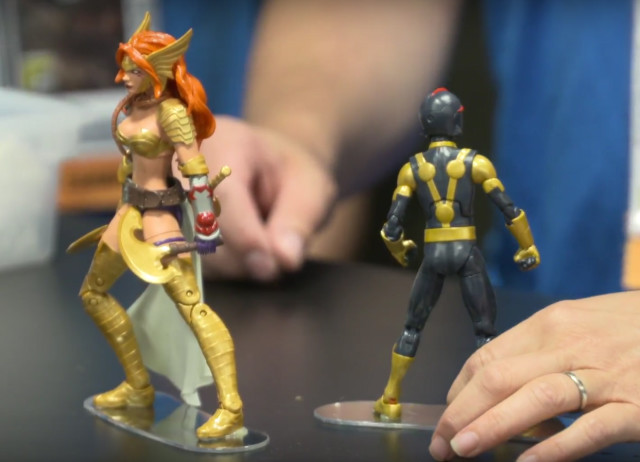 Sam Alexander Nova is one of my favorite up-and-coming modern Marvel collectors, so I'm pretty amped to see such a great version of him coming our way in 2017!
Hasbro didn't specify what series he would be a part of, but I would guess he'd be part of the first wave of 2017 Marvel Legends Spider-Man figures (although he certainly could be part of Guardians of the Galaxy Wave 1 as well).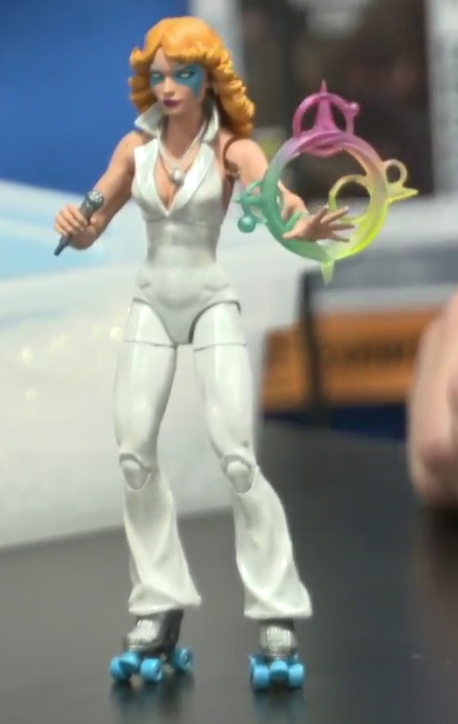 Finally, completing the trio of newly-revealed six inch figures is the 2017 Marvel Legends Dazzler! Yes, Hasbro really did it: it's the 70's Disco Dazzler costume, complete with roller skates and crazy "light energy" effect piece! We knew this figure was likely thanks to leaked retailer UPC lists, but it is still shocking to see a mass-release Dazzler Marvel Legends figure is actually happening.
Dazzler wasn't rotated during the live stream, so I wasn't able to get a good screenshot of the back of her, but we can look forward to seeing her in the 2017 X-Men Legends series.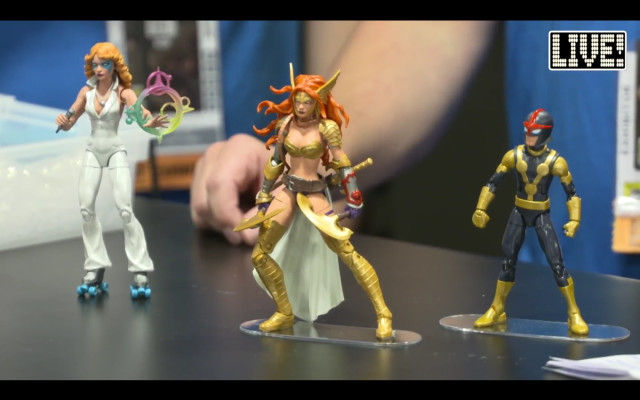 I'll be continuing coverage of San Diego Comic Con 2016 for the rest of the event, and you can follow the Marvel Toy News Facebook and Twitter Page if you don't want to miss out any photos or updates!
What do you think of the first trio of Marvel Legends 6″ figures announced for 2017 at San Diego Comic-Con, Marvel collectors? Are you jumping for joy over these hotly-desired, never-before-done-in-this-scale characters, or are you hoping that Hasbro has something even more jaw-dropping prepared for their upcoming SDCC 2016 Panel reveals?