Well, there's good news and bad news for Bandai SH Figuarts Marvel collectors. The good news is that Bandai Japan has finally announced that a Black Widow Figuarts figure is actually coming out this fall. The bad news is that the Marvel S.H. Figuarts Black Widow figure won't be in her updated Civil War costume–instead, we're getting the prototype shown last year from Avengers: Age of Ultron…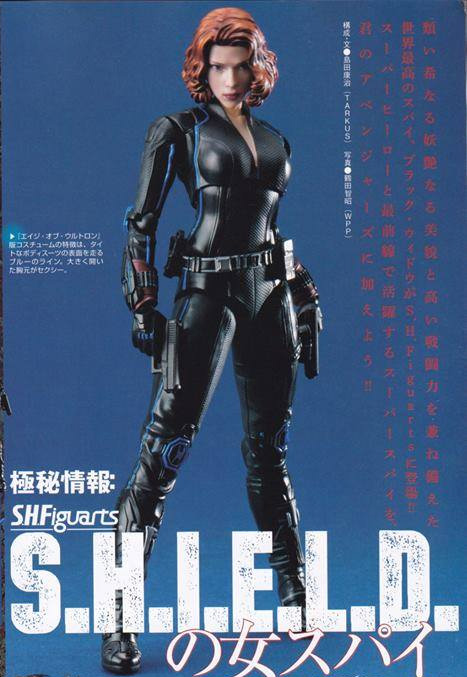 When Bandai Tamashii showed off prototypes of Hawkeye, Black Widow and Tony Stark at an overseas event last year, I had the faintest hope that any of those figures would ever see the light of day in anyone's actual collection, as Bandai is famous for showing off hundreds of figure prototypes and then quietly canceling those figures.
Once we got to 2016 and the Captain America: Civil War Figuarts figures started going up for sale, I assumed the book was closed on those AOU prototypes. Guess not!
In the latest issue of Figure King Magazine, we finally saw our first update on the SH Figuarts Black Widow since October 2015, and it confirms both the release of the Bandai Black Widow and that she will be sporting her divisive Avengers Age of Ultron costume.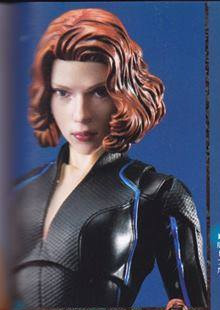 Now, I really dig the Tron movies, but even I thought that a super-spy wearing a costume that has bright, glowing neon blue highlights on it is utterly ridiculous. I liked the AOU Black Widow right up until I saw it in action in AOU and saw the light-up detailing on the costume–then I hated it.
I know some fans still like the Black Widow Age of Ultron costume, but it is definitely my least favorite of Natasha's attires, so it's a disappointment to me that that's the (likely only) Black Widow that Bandai is going to give us.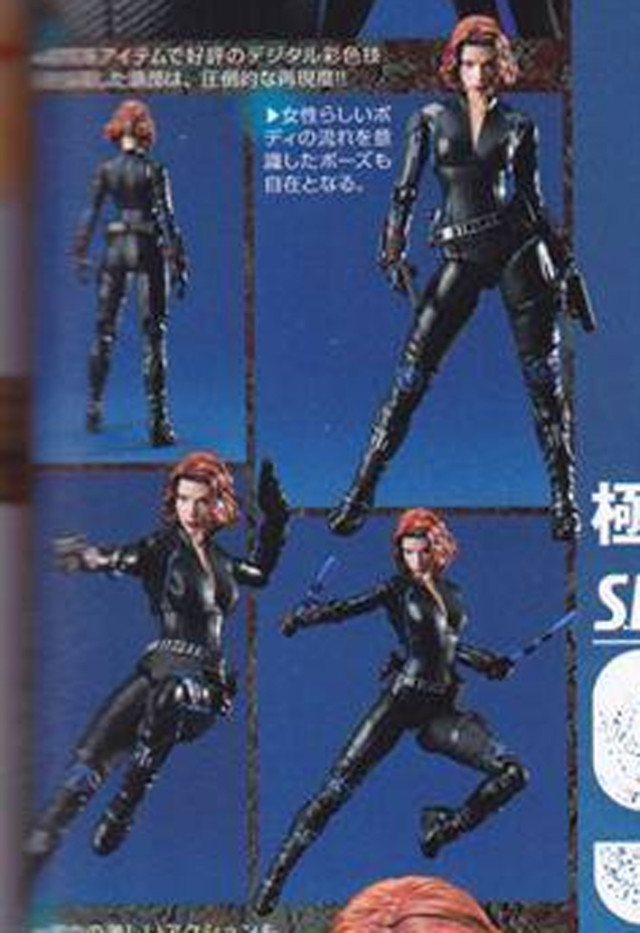 The Scarlett Johansson portrait on this figure is certainly not the best I've ever seen, but it's not the worst either. I don't think the face on this figure will be winning any awards from anyone, but it is passable.
The magazine article doesn't confirm the accessories for the Black Widow action figure, but we can see twin pistols, a pair of batons and interchangeable hands in the images. That's probably going to be the totality of what Natasha comes with.
The MSRP on this figure is set at 6,264 Japanese yen, which is currently equivalent to about $55 U.S.  Since this figure required 100% new and unique tooling, I don't think that's an unfair price at all.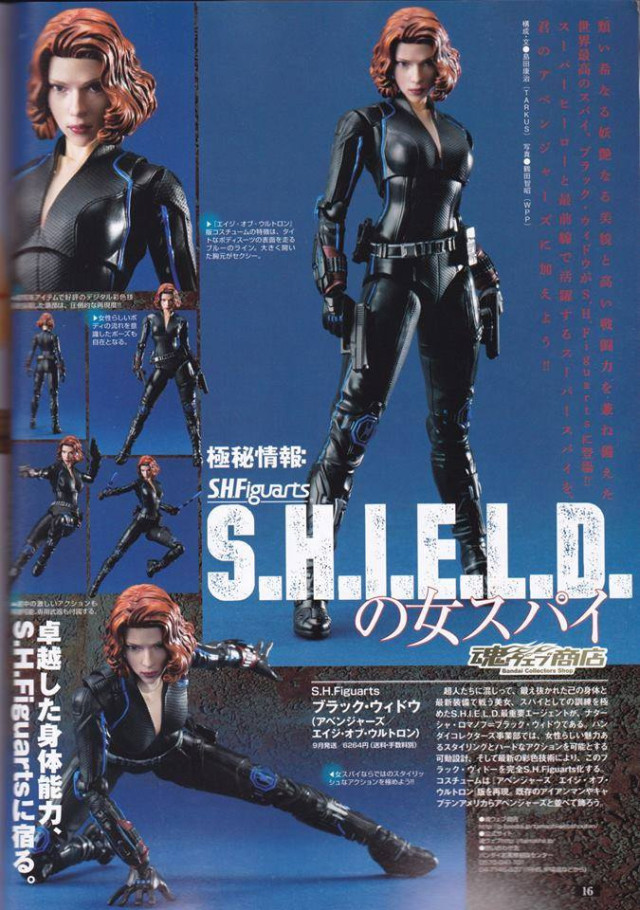 The Bandai Black Widow SH Figuarts figure should be up for pre-order in the next few weeks, and is scheduled for release in September 2016. Like the rest of the Marvel Figuarts, Bandai does not have a U.S. distribution license, so these figures must be purchased from an import shop (where they tend to sell out quickly). Keep your eyes on the Marvel Toy News Facebook and Twitter, where I'll post as soon as Figuarts Widow goes up for sale.
What are your thoughts on this 6″ S.H. Figuarts Black Widow action figure, Marvel collectors? Is this a must-have for you? Are you disappointed in the costume choice or the face?