Some computer listings leaked out the supposed lineup for the 2016 Marvel Legends Captain America Wave 3 figures earlier this month, but I was doubtful that we were close enough to the release of that series that the figures would be on display at the New York Toy Fair 2016 this weekend. And as expected, the whole series wasn't on display. But–BUT!! Hasbro did give us a pretty fantastic treat, with a look at a pair of new figures from the wave–including the hotly-demanded Marvel Legends Scarlet Witch movie figure!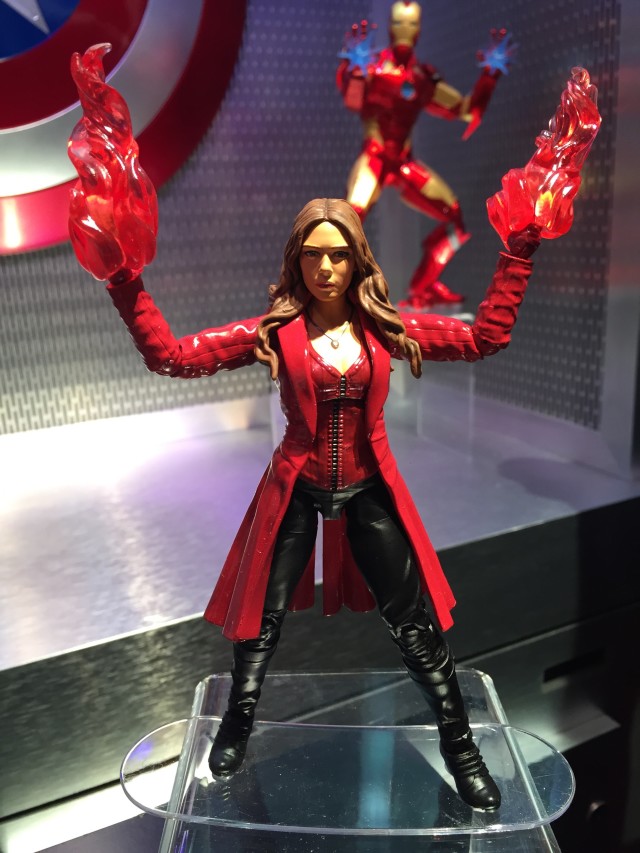 While no photos were allowed at the Nuremberg Toy Fair in Germany a few weeks back, an eye-witness report stated that there was a movie Scarlet Witch Marvel Legends 6″ figure at the show. After that, a store database revealed the UPC code for the whole Captain America Marvel Legends 2016 Wave 3 series, which all but confirmed the existence of this Elizabeth Olsen Scarlet Witch.
But hey–seeing is believing, and I actually got to see the 6″ Marvel Legends Scarlet Witch action figure today at the Hasbro Toy Fair Press Event!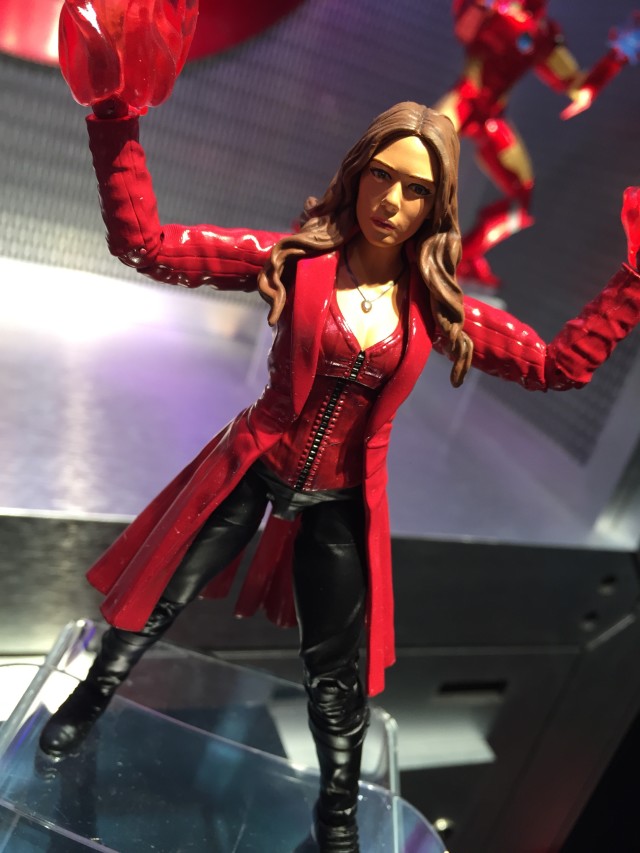 The Scarlet Witch six inch figure is wearing her New Avengers costume from the end of "Avengers: Age of Ultron", rather than the costume that she wears for the first 99% of the film. I think that's a smart choice, however, as this look much more closely resembles her "Captain America: Civil War" costume than her original AOU outfit.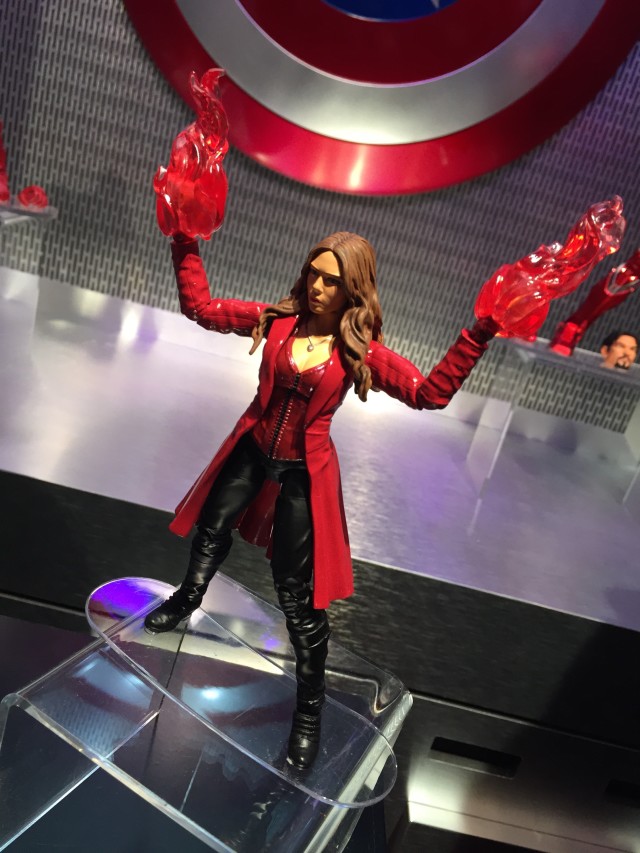 The sculpting on the torso, the jacket, the hair, and Wanda's face are all great–this is all-around one of the best Hasbro ML figures of 2016 thus far, no questions asked! And hey–you even get some new (and way cool) translucent pink energy effects pieces as accessories. What more can you ask for, right?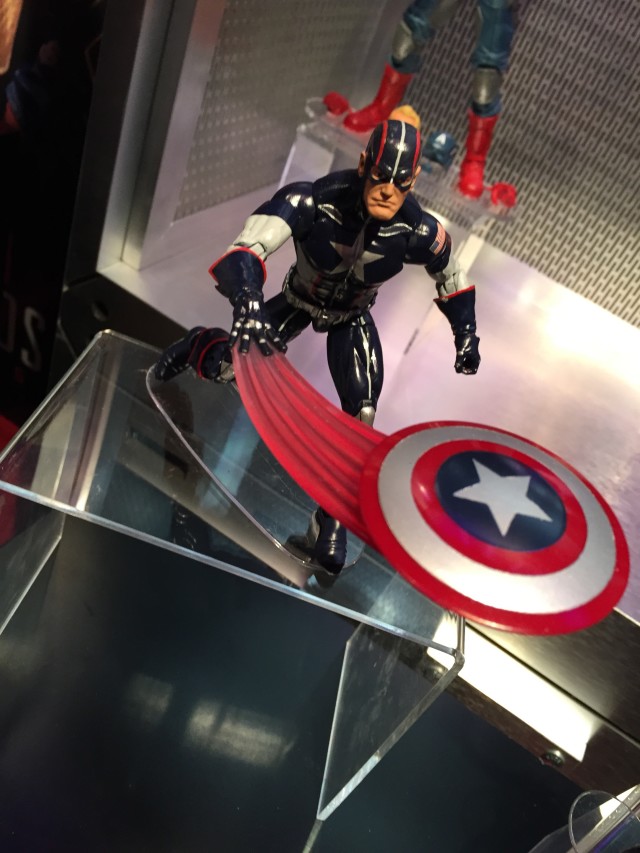 Well–how about an interesting alternate look for Captain America himself? While Hasbro is calling this figure "Secret War Captain America", I'm a little confused by that name. Isn't this actually "Age of X Captain America"…?
Regardless, this Wave 3 Cap figure looks very interesting, and is a welcome change from the never-ending parade of "classic" Cap figures that we've been getting over the last few years.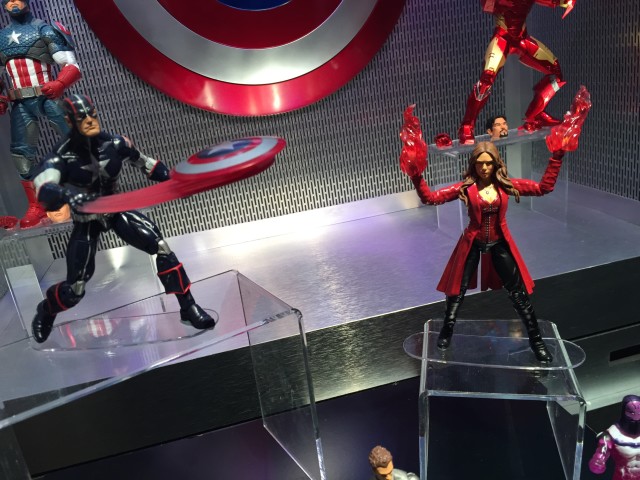 And check out that shield accessory with motion effects piece attached to it! I can practically hear the "SWISH!" as Cap throws it! Hasbro is taking a real page out of Bandai Japan's book, and I love it.
I'll be continuing to post Cap-loads of Marvel Toy News from the Toy Fair International throughout the weekend and the next week, so be sure to follow the Marvel Toy News Facebook and Twitter Pages so that you don't miss out on anything really excited (or somewhat exciting)!
What do you think of the first two figures that have been revealed for the final Marvel Legends Civil War wave of 2016? Are you interested in picking up this movie Scarlet Witch or alternate universe Steve Rogers, or are these characters not "616" enough for you?