We've known the lineup for the Diamond Select Toys Captain America: Civil War figures series for a couple months now, but DST was holding on to the Civil War figures (and their awesome 9″ Giant-Man/Ant-Man figure) for a grand debut at the 2016 Toy Fair International. And while all three characters have had Marvel Select versions before, I was totally impressed with the updated Civil War Iron Man, Captain America, and Winter Soldier–as well as the huge New Avengers Headquarters diorama backdrop that the three come with!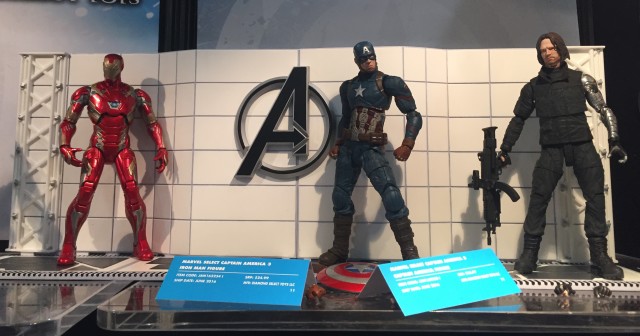 When Diamond Select teased a buildable backdrop coming with their Marvel Select Civil War action figures this summer, I thought they just meant another combinable terrain environment like we got with last year's Select Age of Ultron Black Widow and Thor.
But nope–what we're actually getting is a far cooler 8″ tall build able backdrop of the outside of the New Avengers building!
The fully-assembled wall looks really great and eye-grabbing on display–and it's turned the Select Civil War Cap and Iron Man 7″ figures from "maybes" to "definite pre-orders" for me. Of course, the figures themselves are rather nice too…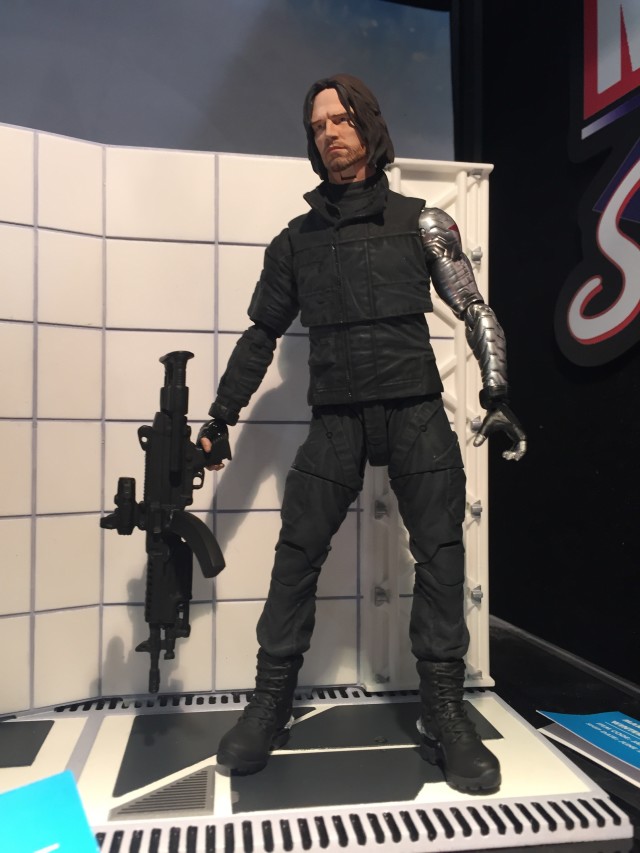 Collectors cried foul when we got a comic-based Bucky Barnes Select instead of a movie-based Bucky in time for "Captain America: The Winter Soldier" two years ago. But now, DST is making it right with the best non-sixth scale Winter Soldier figure that I've seen.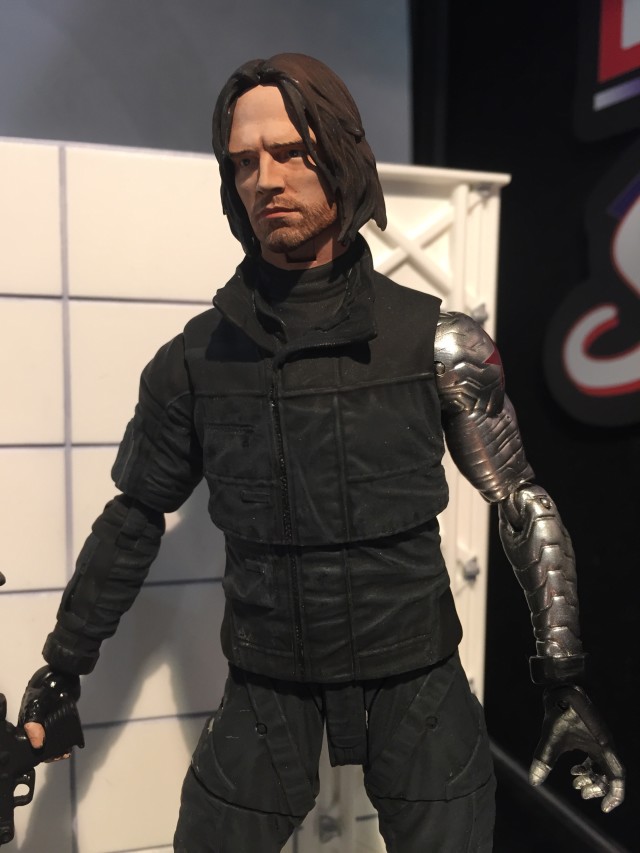 Hasbro has a Walmart Exclusive Marvel Legends Civil War Winter Soldier coming out this summer with a terrific Sebastian Stan likeness–but I think DST's is even better. I'm really happy with the way that the portrait for this figure turned out.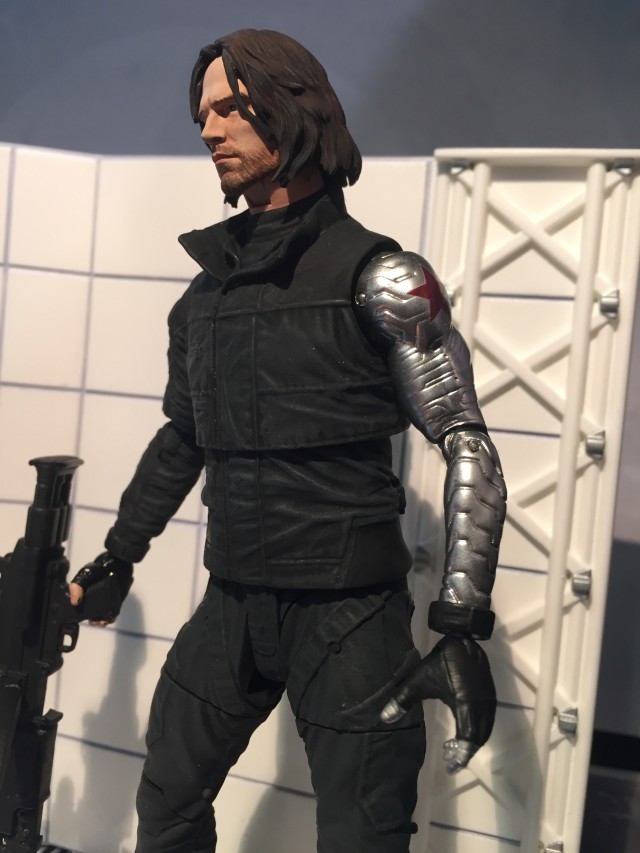 The 2016 Marvel Select Winter Soldier movie figure is a 100% new sculpt, which means that the ML version simply cannot compete with the authenticity of the DST figure. From his metal arm to the great texture on his vest and pants, this Bucky Barnes is a winner.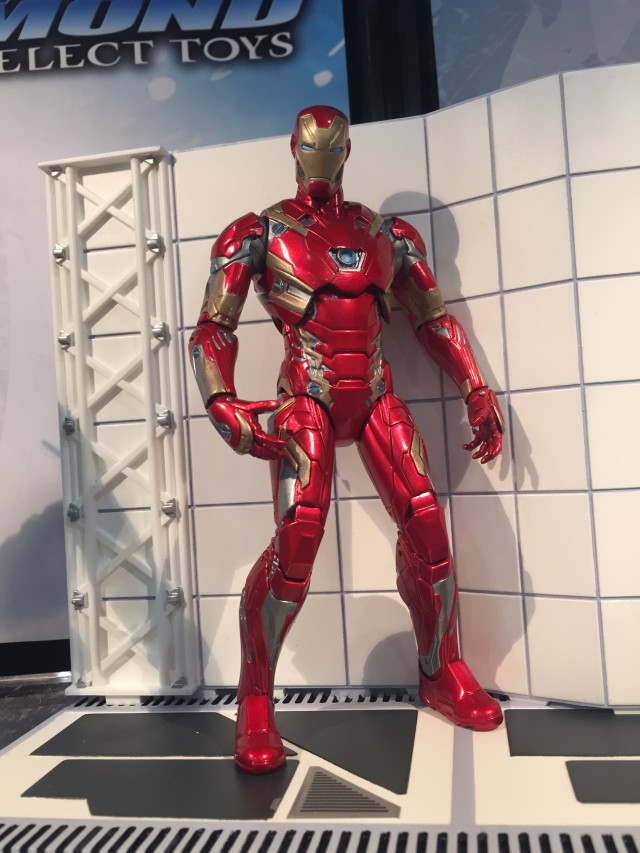 Oh yeah–and there are new Cap and Iron Man figures as well. Neither of these characters was released by DST for Avengers: Age of Ultron, believe it or not, but luckily these Civil War versions are close enough to fill out your AOU roster now (assuming you don't care about Hawkeye).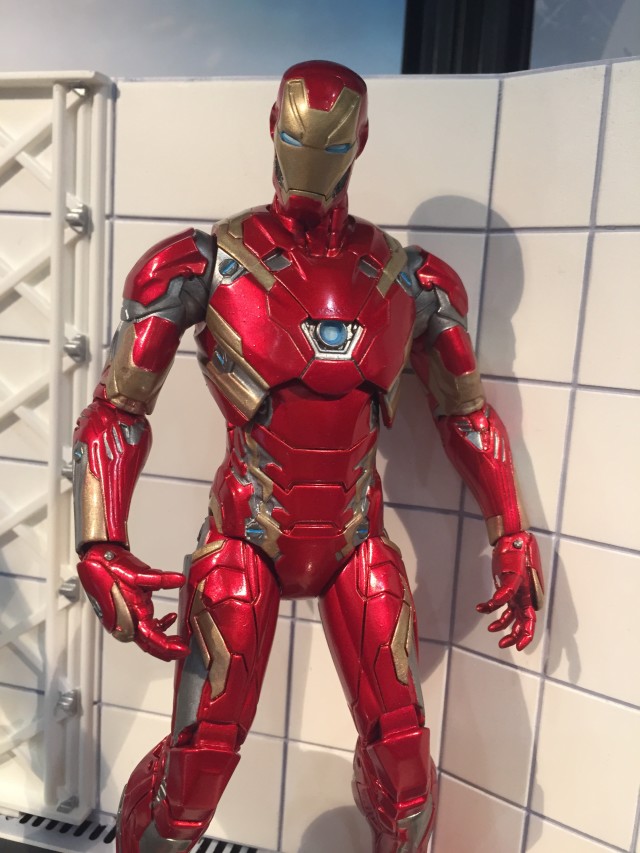 I own a lot of Iron Man figures, so it's hard to really blow me away with one. However, the Marvel Select Iron Man Mark 45 looks stupendous with its 100% new sculpt, and if I didn't already own a Figuarts Mark 45 and have a Hot Toys Mark 45 Iron Man arriving this summer, I probably would be blown away.
As it is, this is a highly-impressive Iron Man figure and one I've got pre-ordered for his backdrop as much as him.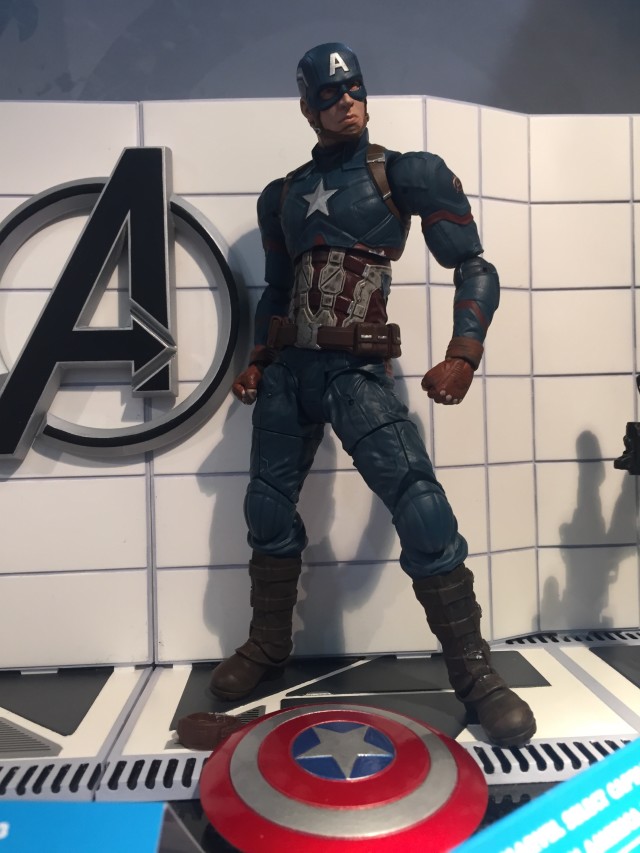 Finally, we come to the Marvel Select Civil War Captain America figure. No Avengers display looks right without having Steve Rogers as part of it, so I'm grateful that Cap's Civil War costume has only trivial differences from his AOU costume.
I own a couple really good AOU Caps already, but the backdrop and the ability to stand this in-scale CW Captain America next to the new movie Winter Soldier Select figure put this figure over the top and into "order" territory for me.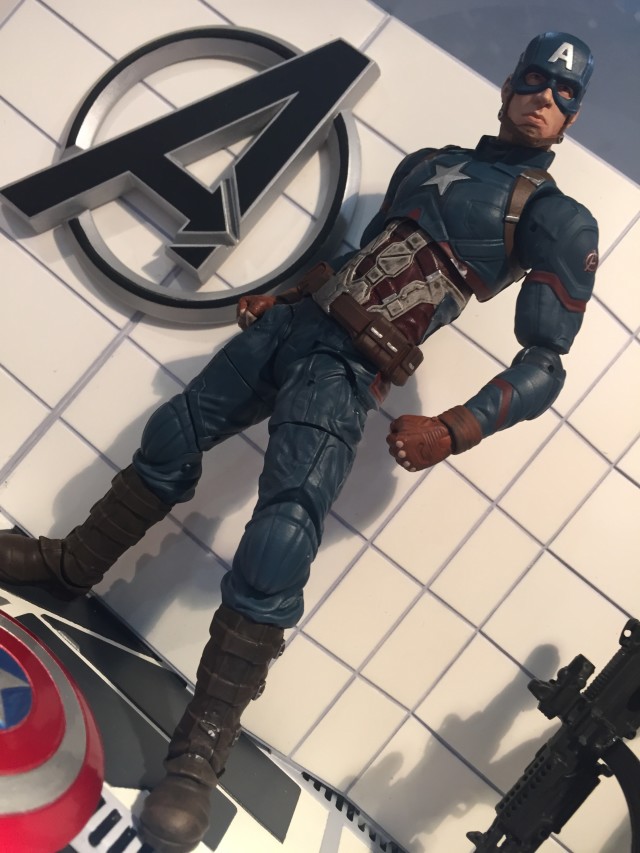 All three Marvel Select Civil War figures are now available for order, and are scheduled to be released in Summer 2016. Marvel Select movie figures only get one production run before being retired forever and tend to sell out via pre-order before being released, so you'd be wise to lock in a pre-order if you're dead-set on owning this trio (like I am).
What do you think of the Diamond Select Toys Civil War figures (and the New Avengers Headquarters Backdrop), Marvel collectors? Are you planning to add any of these 7″ action figures to your collection this summer, or do you only have room in your collection for so many iterations of these characters?