The worst-kept secret in all of the Hasbro Marvel Legends 2016 6″ figures lineup has finally arrived: the 10″ Marvel Legends Civil War Giant-Man Build-A-Figure! If you want this behemoth to join your collection, you've got two options: You'll have to buy all six figures in this wave–including the ultra-demanded movie Black Panther–to get all the pieces for this figure, or else pick up the Marvel Legends Giant-Man figure on the aftermarket for ~$65! Is Giant-Man worth the expense? Read on…
The Right:
I thought that last summer's Ant-Man movie was ultimately disappointing (though slightly amusing), so I wasn't terribly hyped about Scott Lang returning in Captain America: Civil War this summer.
But that all changed when LEGO let it slip that not only would Scott be appearing as Ant-Man in Civil War–he'd also be making his movie debut in the guise of Giant-Man!
Disney tried to put the kibosh on the Giant-Man reveals way too late, and while we didn't get to officially see the Hasbro Giant-Man Marvel Legends Build-A-Figure until a few weeks ago, he's now in our grubby hands!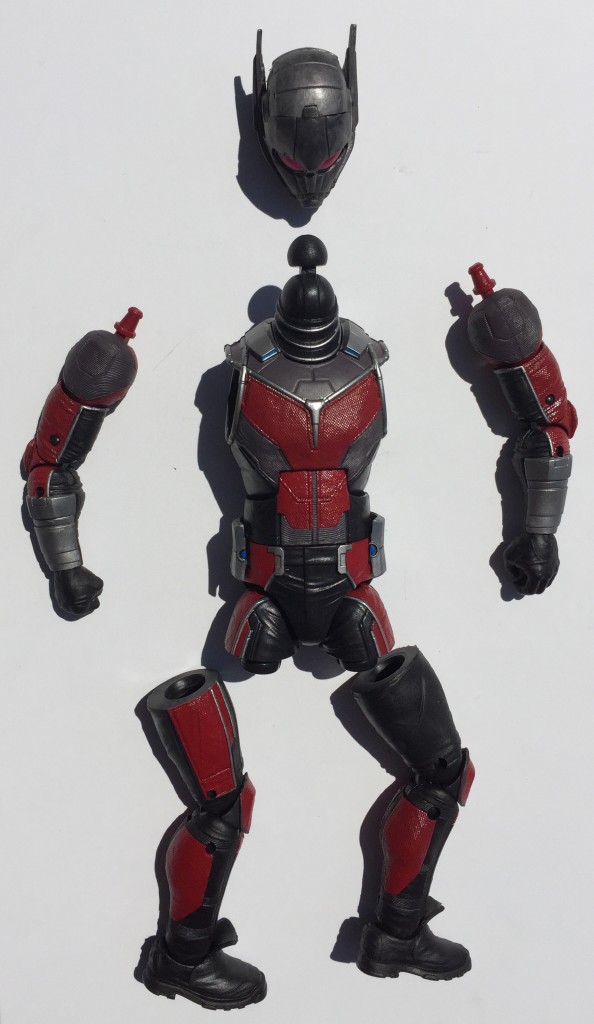 There was really no other character that would have made sense to include as the Civil War movie Build-A-Figure, so hats off to Hasbro for giving us a 100% newly-tooled Giant Man BAF to complete this wave. I'm not thrilled I had to buy characters like Nuke and Red Guardian as six inch action figures to build him, but I sure am glad I can build him at all.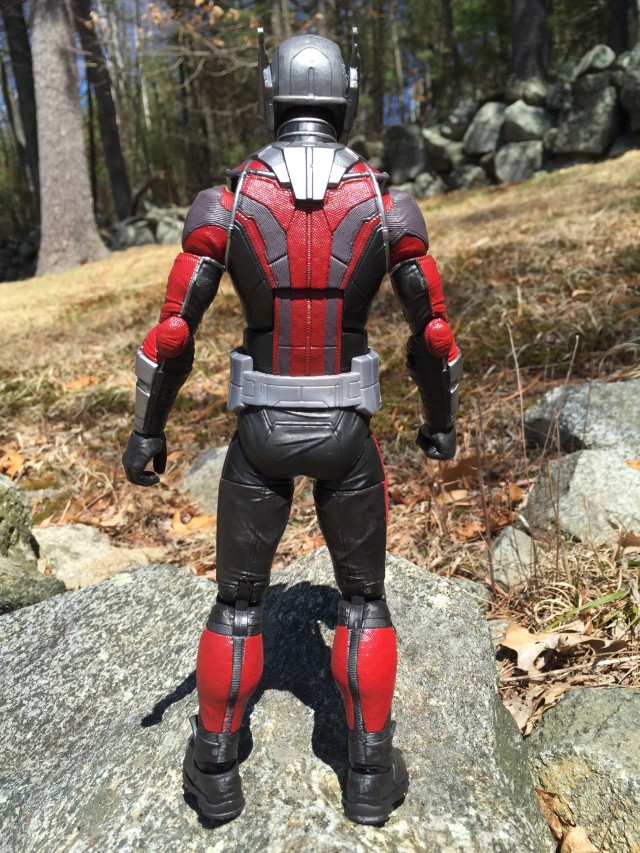 I won't lie and say I don't have my issues with this figure–I'll be ranting about them on just a minute–but this is definitely a solid figure that has more positive qualities than negative ones.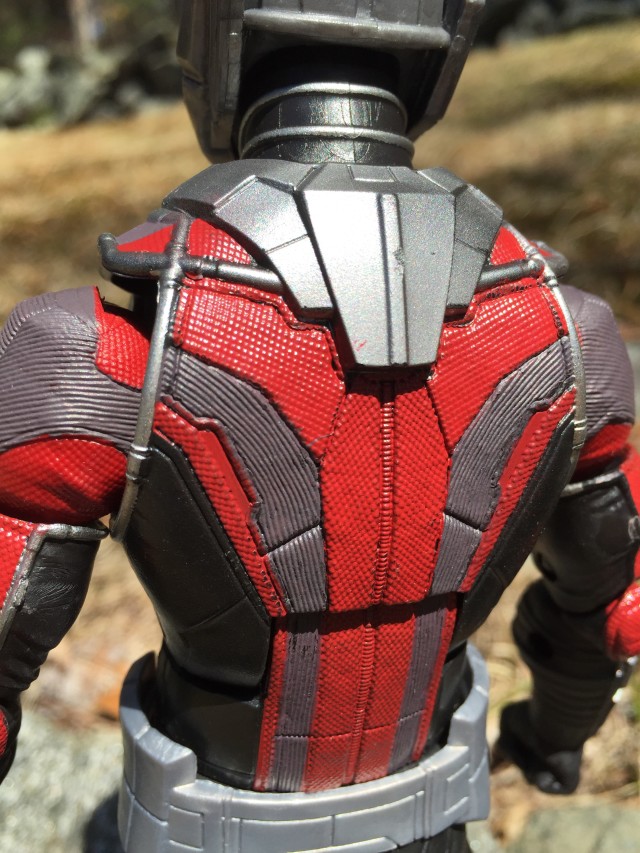 The sculpted textures on this figure are outright excellent. The sheer number of sculpted details on the mold are pretty staggering, when you consider that basically every centimeter of the figure has miniscule texture detailing on it somewhere.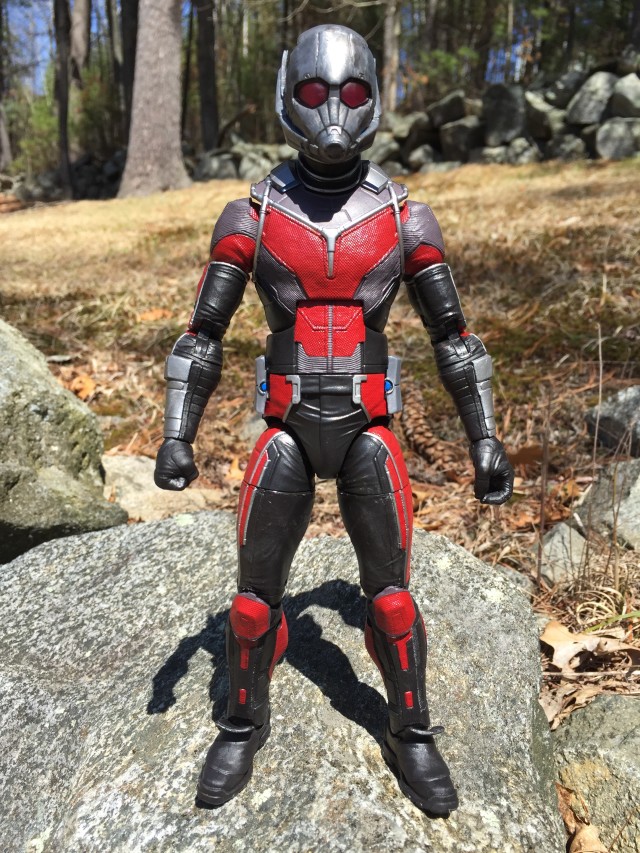 Super-cool detail: the "Pym particles" on this figure are blue, just like the blue discs that Scott Lang needed to use to enlarge himself and escape from the Quantum Realm at the end of the Ant-Man movie! Neat!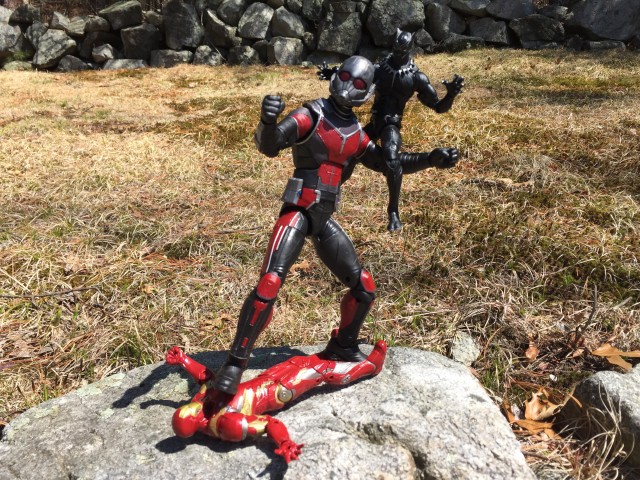 Now, no one will ever accuse Giant-Man of being a ninja, but he might as well be with all of the articulation Hasbro has incorporated into this oversized action figure!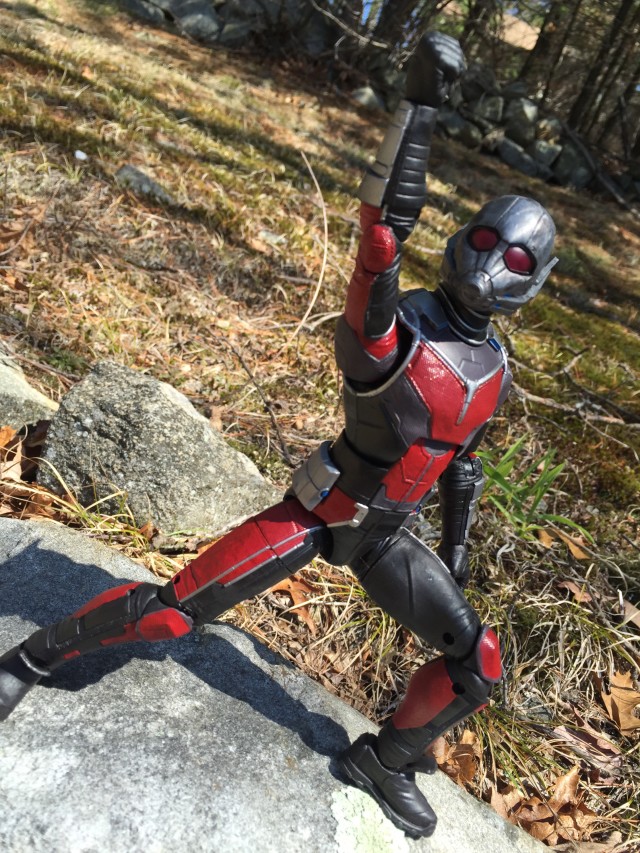 Giant-Man features an upper torso ab crunch; swivel waist, biceps and thighs; double-jointed elbows and knees; ankle rocker ankles; ball-jointed hips; and ball-hinge head, wrists and shoulders. For a 100% unique mold that Hasbro really can't reuse for anyone else, this level of articulation is pretty spectacular.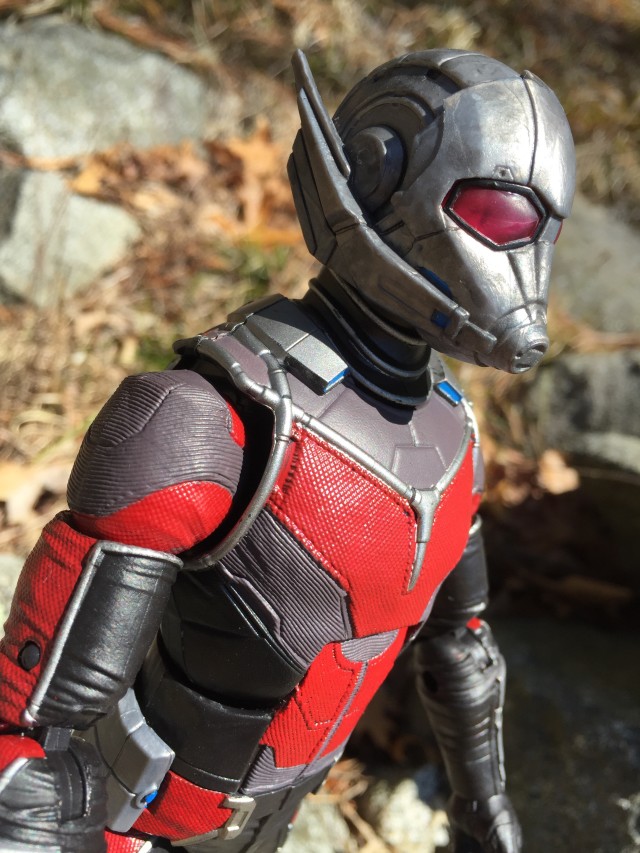 On the paint front, I'm satisfied with the work Hasbro's factories did here. There's always a lot of nail-biting when you have a figure that mixes dark colors like black with red and silver sections, but the paintwork here is close to pristine.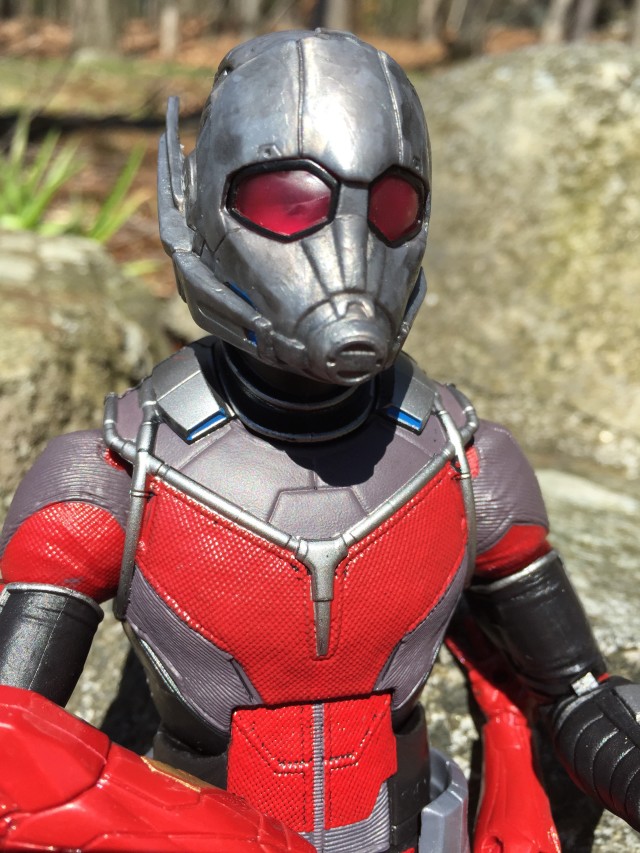 The Giantman helmet has a heavy dark paint wash on it that I wish the rest of the figure shared, but otherwise I've got no gripes with the paint here.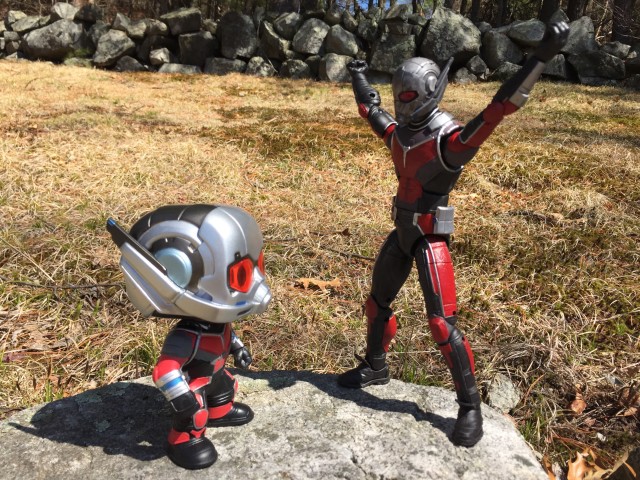 Also, just like the 6″ Funko Giant-Man POP Vinyls figure that I liked so much, the lenses of the Giant-Man helmet are translucent red here and you can (kind of) see Scott's eyes inside the helmet. This effect doesn't work quite right (more on that in a second), but I much prefer the translucent eyes to opaque, painted ones.
The Wrong:
Because the world has changed from when we got the Marvel Legends Fin Fang Foom Build-A-Figure nearly a decade ago, we're unlikely to ever see a Build-A-Figure with the size or mass of Fin Fang Foom (or Galactus or the Sentinel) ever again.
As such, the Marvel Legends Giant-Man BAF is a bit, well… smaller… than most people probably hoped. He's around 10″ tall, making him 50% larger than your typical Marvel Legends 6″ figure.
While that is pretty big (about 10 feet tall by full-scale standards), I don't know that that size is going to impress many collectors. He's more "unnaturally tall man" than "Giant-Man" at 10 inches tall, honestly.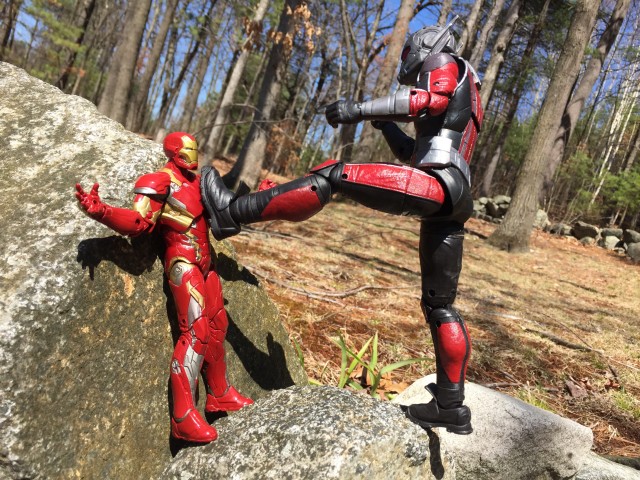 There's also some issues with the quality control on this figure. Because this figure uses a lot of black plastic–the bane of Marvel Legends figures–parts of Giant-Man tend to feel more bendy and "gummy" than they should.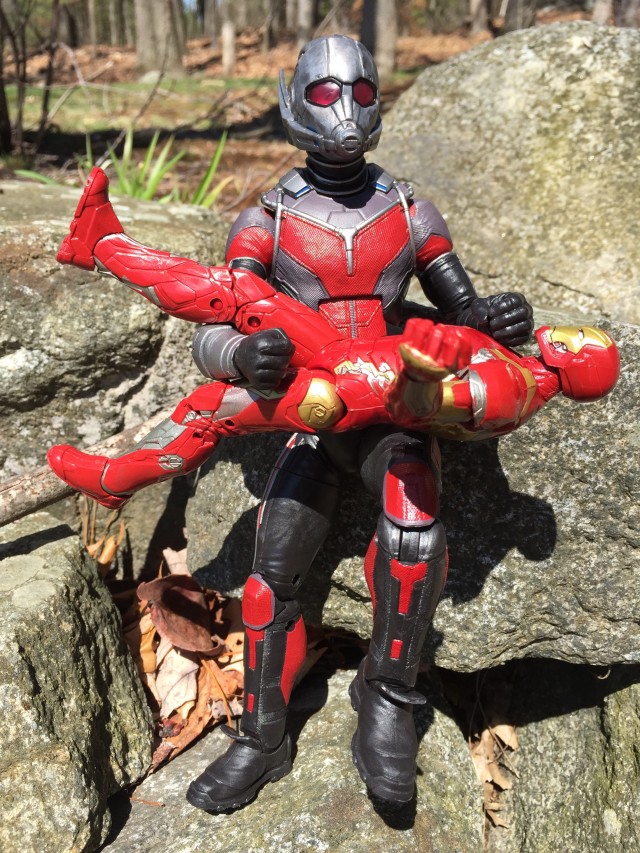 In addition, my Civil War Giant-Man Marvel Legends Build-A-Figure has an incredibly floppy upper torso ab crunch. I've heard this same thing from other collectors, so I fear that this is going to be a common problem with all of the Hasbro Giant-Man Legends figures produced.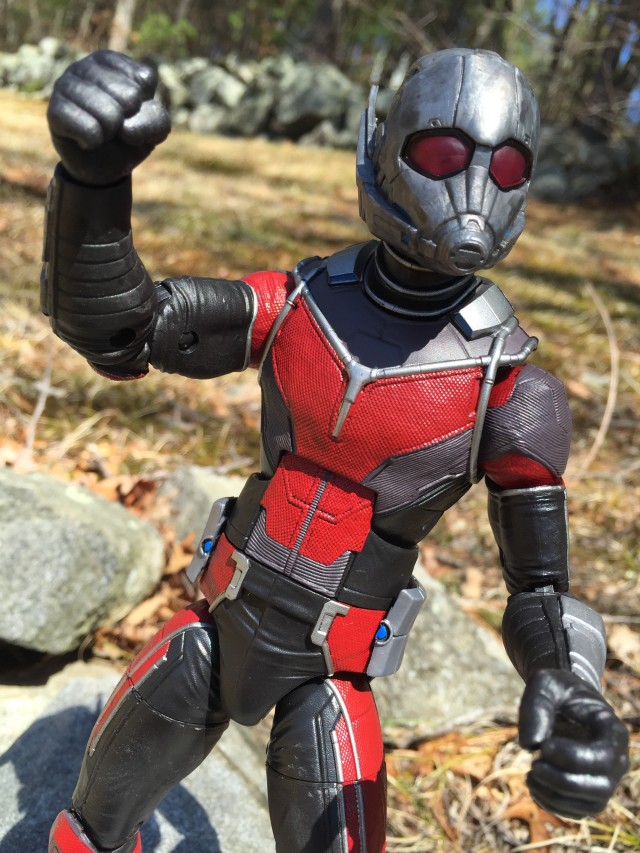 Overall: Hasbro clearly put a lot of work into this Marvel Legends Captain America Civil War Giant-Man Build-A-Figure, and the paint deco and sculpting detail definitely impress. Even so, the clouded lenses on the mask, floppy joints and undersized nature of the figure disappoint me. I'm glad that Hasbro gave us this Marvel Legends Giant-Man figure, but I really wish he were larger and had better quality control.
GRADE: B